#CentennialTips for building the perfect study space at home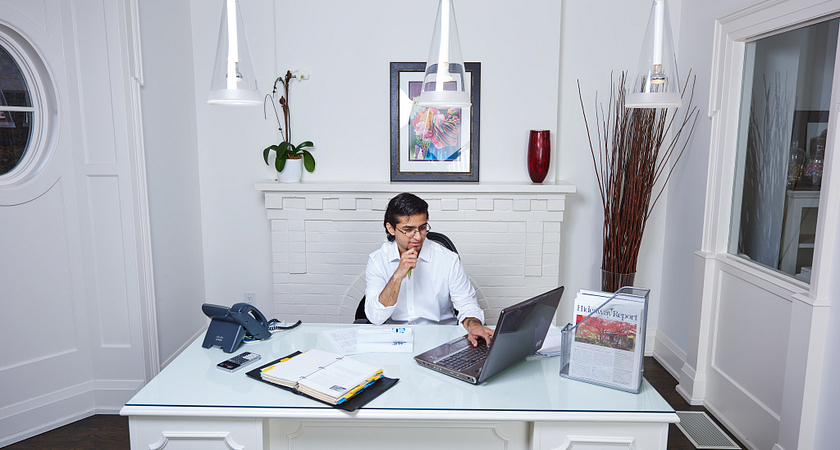 It's an extra challenge when you need to work, learn and study in an environment you usually unwind in. That's what you're looking at when you're working from home, or studying from home with an online learning course. On one hand, it's relaxing and comfortable. On the other hand, getting work done can be a challenge when you're not ready. But, if you're prepared, it can be pretty easy. I've spent a good deal of time learning and working from home over the years, so here's a few tricks I've learned to help you pull it off.
Start the day by getting dressed
When you're not planning on going anywhere or meeting anyone, it's tempting to lounge around in your pajamas all day. But I've found that it makes me feel lazy, and even sleepy. While you don't have to dress for the office, taking the time wash up and put on clothes that you'd be comfortable being seen in is a really good way to put you in the mood to get things done. Of course, they can still be comfy, lounge-friendly clothes, just so long as they're clean and fresh.
Don't spend forever setting up your workspace
Basically, don't overthink it. Spending a couple hours building the perfect little nest to work in is good once, but don't waste time you could actually spend working and learning. Take some time to think about where you're going to work, what's going to be around you, and set it up quickly. Along the same lines, if it turns out a space isn't working for you, because of noise or comfort or something else, don't spend time working out a new space elsewhere unless it's an emergency. It's better to just carry on and figure out something better tomorrow.
Make sure you've found a private place
This is really important if you live with other people, and you need to get work or studying done. Wherever you're doing your work, make sure no one's going to bother you, even if you have to lock some doors. And if all else fails, put on some headphones, cue up some music and use it to drown everything out.
Bring (healthy) stuff to eat and drink.
It turns out that when you don't have a designated lunch hour, sometimes lunch or snacks can turn into an hours-long delay. So when you start the day, set up a bottle of water and some healthy snacks, like fruits, nuts or vegetables, to keep you in that study space for a bit longer. And it's important that they're healthy snacks, because unhealthy ones will just make you feel burnt out and lazy.
Consider unplugging whatever you can
This can be tough, and depends on the kind of work and studying you need to do, but if you absolutely can't pay attention to your work, try disconnecting your computer's internet and working offline if you don't need it. Even in an online learning course, not every assignment requires an active internet connection, and it's a lot harder to tab over to YouTube when the mood strikes you.
Have someone check in on you
The biggest thing you're missing when you're learning and working at home is someone to keep tabs on you and check your progress. When the only person you're accountable to is yourself, it's easy to start slacking off or not paying attention. So, if you're living with someone, have them check up on you. Set a goal, and tell a friend or family member, then report back to them at the end of the day. And if there's no one living with you, find a friend or family member that's somewhere else, call or message them, just because it's good to hear from someone close to you when you're stuck at home. Having to show your work to someone else is a great motivator.
By: Anthony Geremia