Practice Mindfulness and Connect with Others this Holiday Season with Centennial College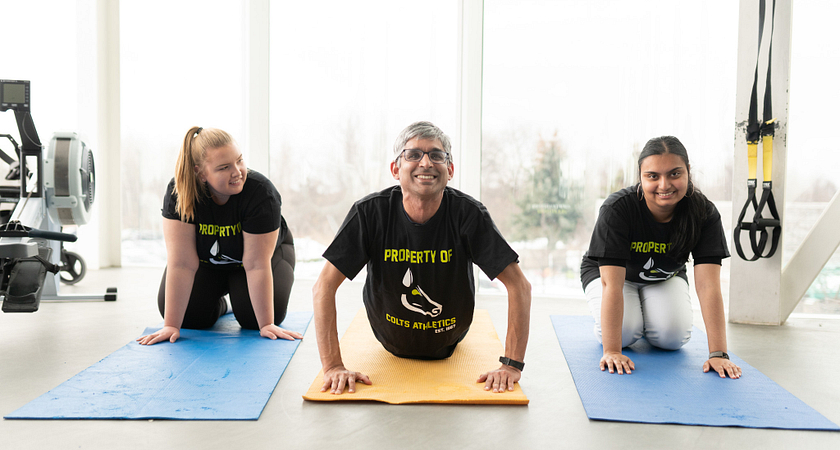 As Centennial College students close the books on the fall semester and head into a well-deserved holiday break, many are moving right into the hustle and bustle of the holidays. Students are jumping from the hectic semester's end to full-fledged holiday planning. Luckily, Centennial College offers a variety of resources for students to practice mindfulness and connect with others during this time of physical distancing. 
During the holidays, it is easy to be wrapped up in gift purchasing or fall into the holiday blues, especially due to COVID-19. It takes little effort to fall into a doomscroll or feel disappointed that many holiday festivities are no longer taking place. It is crucial now more than ever to practice activities that settle anxiety and stress from school or the holiday season. 
Often, mindfulness is confused with mediation. Another misconception about mindfulness is that it means sitting quietly with yout thoughts, cross-legged on a yoga mat for an extended period of time. However, "mindfulness is all about an awareness and the state of awareness you have with your mind and body," according to mindfulness educator Sara Kryriakopoulos.  
Mindful activities can be incredibly easy, and include exercises that focus exclusively on the breath. For example, breathing in for four counts, holding for four counts, and exhaling for five counts. These activities can also bring you out of the house on a walk while checking with the senses, considering what one might hear, see, taste, feel and smell. 
Miguel Litonjua recently conducted a mindfulness talk for Centennial College students. In this talk, he cited a study of Chinese college students who were randomly selected to participate in mindfulness activities. Those who participated exhibited lower rates of depression, anxiety, fatigue and stress.    
Centennial College offers wellness services to students all year round that support their emotional and social well-being while interacting with other students. Wellness Wednesdays is a program where students can sign up for seminars that take place on Wednesdays, including everything from mindfulness to cooking together. These sessions are also recorded and available on the Centennial Wellness webpage for students to refer back to if they missed or would like to review the session.
For students looking for more connection, Thursdays Together is another initiative that unites students with one another. This group meets every Thursday to guide students through their college journey. With topics that share experiences and ways to get involved virtually, study tips, tricks and strategies for online learning, and sharing mental and physical wellness strategies, Thursdays Together is the perfect opportunity for students to learn helpful hacks and connect with one another as the holidays approach. 
Finally, for students looking for holiday cheer while connecting with others, SaGE (Services and Global Experience) offers a multitude of holiday happenings. With activities including holiday crafts and festive hangouts, it is the perfect opportunity for students to unwind and connect over the holidays. 
Connecting with others and keeping awareness in your mind and body during the holiday season is vital for psychological health, physical well-being and balance. Despite COVID-19, there still seems to be a never-ending list of things to do and minimal time to stop and take a moment and reflect on the self.
So, Centennial students: Close the books, enjoy the holidays, and get some well-deserved rest and relaxation. Do not forget to check in with yourself and practice mindful activities to stay present in the moment and connect with others, even if it is virtually. 
by Christine Stolte