Stuck in your community services position? Here's what you can do to elevate your career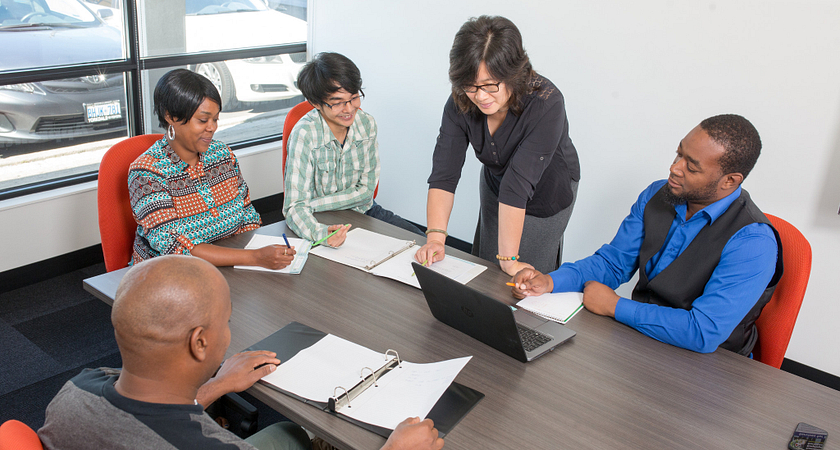 Working in the community services sector usually means you're on the frontlines of helping those who are in need of support, whether it's in providing help in areas such as employment services, mental health, shelter support or youth services. But what do you do if your role doesn't seem to have any path for you to advance up the career ladder? On one hand, if you work in community services, you might feel obligated to stay where you are, where you believe you can affect the most change. On the other hand, if your career is feeling stagnant, you may want a position that can include influencing change on another level. And of course, it is possible to elevate your career without giving up your role of helping people. Here's how to do both:
Aim for a leadership role.
That's the goal, isn't it? Working on the frontlines is great, but if you want to advance your career, a next step can be to consider a  position of leadership, such as a coordinator or manager. Remember, you're not helping less by advancing out of the frontlines and into management. In a leadership role, you can help even more!
Take a part-time College program.
 You might think that the biggest barrier to pursuing education to advance your career is the need to step away from your job. Aside from not wanting to give up the income, or have a gap in your career, if you're working in community services, you might really feel like you can't leave. Fortunately, many colleges nowadays have plenty of programs specifically targeted to working professionals. They're either taught in the evenings, weekends, or online and are designed to let you keep working while you learn. And if the cost is a barrier, you can always talk to your employer about their budget for professional development or tuition reimbursement. On top of that, if they aren't using it already, you can advocate for your organization to use funding from the Canada-Ontario Job Action program, which can provide you with up to $10,000 for training.
Get some practical experience.
Whatever education you pursue, you want to make sure it's based around giving you hands-on skills. Community services is a hands-on profession, so you will need practical skills, and more importantly, the ability to apply them to the field. Whatever you're doing, make sure it involves real-world projects that you can document, and show off in your portfolio of accomplishments. This will also help you when you are applying for new roles in the field.
Here's how:
Community Services Management at Centennial College is a part-time program, featuring blended learning that's primarily online with two in-class workshops per course to encourage practical learning. This unique method of delivering the program means you can get your education while continuing to work. It's for people that are looking for positions of leadership within community services organizations. It also includes plenty of practical experience to go with the online learning component, and best of all was created by a community services manager, based on her expertise and extensive knowledge of the field.
"A lot of times in the community services field, people can sometimes feel stuck in their career and start to ask that question of what's next," says Jodi Tingling, the program's coordinator. "This program helps to prepare people to take the next step in their career and takes the practical learning they've been through by applying it in this program to build on their leadership skills. "
"I was previously a program manager in a community services organization," she continues, "and I had thought, wouldn't it be great to have a program that would have helped prepare me for this role. I was doing a bit of research, and I didn't find anything that suited what I was looking for. I wanted to create a program that was really hands-on and practical, something that would help to elevate an individual's leadership skills and help them be prepared for challenges in the community services field. I wasn't really finding that in the current landscape."
And as for the practical side of the program, the side that you can show off to your employers?
"We have a community services capstone project," Jodi says. "That's the last, final course where individuals get a chance to work with a community services organization to really develop a program or a project where they can implement all of their learning into practice."
"It's for anyone who wants to elevate within their career in the community services field," she concludes, "so it could be somebody that has been working within a community services organization for many years or just recently started in the field, and realized they don't necessarily want to stay at the frontline level, and see themselves in more of a leadership role, helping others and driving change. It appeals to those who really want to make a difference."
So, if you work in community services, and you feel stuck in your career, it's the perfect way to elevate your status while continuing to contribute to the sector. For more information, check out the Community Services Management Program online.
 Written by: Anthony Geremia