What you need to do to make your workplace friendly for people with disabilities.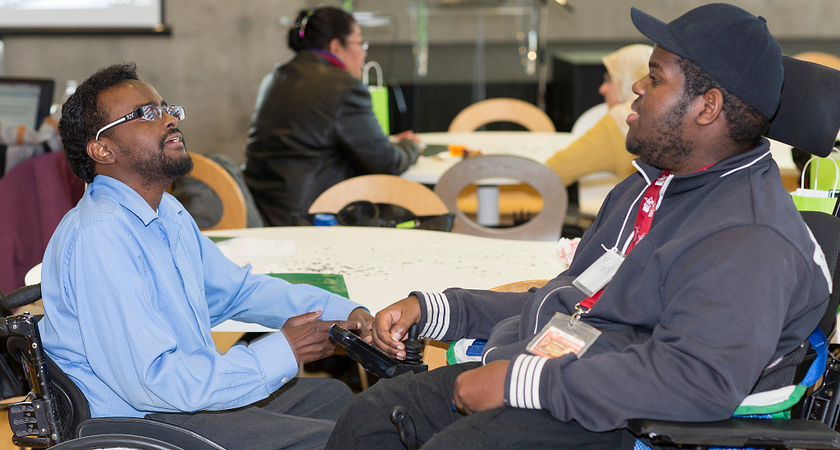 There can be real benefits to hiring employees with disabilities. According to Vancity, differently-abled employees are five times more likely than other workers to stay on the job, and 90 per cent of them rate average or above average in terms of performance and attendance. Regardless of the benefits, though, everyone deserves to work in a space that's welcoming to them. Whether you're a boss or a fellow employee, here's what you can do to make that happen, sourced from Vancity, HR People and Marketwatch.
Don't be afraid to ask.
If you don't ask, you won't learn. Politely asking a disabled employee what they know they need is the first step to accommodation, since seeing beyond disabilities doesn't mean pretending they don't exist. Of course, it's also important to ask respectably, as you find out how their disability changes their work-life and ability, and how they'd like to have it discussed. And when possible, let them set the pace. After all, no one knows an employee with a disability better than themselves. They know the extent of their abilities, and how they can get their jobs done. Providing the best working environment for them means an open dialogue, and that means listening to what they say about what they know they can or can't do. In other words, work with them as much as possible when setting up accommodations. Speaking of accommodations…
Different accommodations fit different needs.
People with disabilities are a diverse community, so what exactly accommodation depends on the person. It might be a physical change in a workspace, like moving a keyboard, making a stand-up desk, or creating more space for mobility. On the other hand, accommodations might mean flexible work hours, more breaks, a different schedule, or a change to how tasks are performed. It could also mean assistive technology, which means tech, apps and online tools that help disabled employees carry out their jobs, like colour-coded keyboards, braille displays, assisted listening devices, or screen reader software. Everyone's different, and no two disabilities are the same, so take the time to collaborate and discover which approach works best.
Consider making a new job, or reshaping one.
Vancity calls this a "job carve," and what it means is creating a list of tasks and responsibilities based on what the individual can do, instead of them having to fit a pre-existing role. This might mean making a new job entirely or changing the specifics of an already-existing job. Doing so will help you capitalize on the specific skills the employee has.
Be loud and proud.
An environment in which employees feel comfortable asking for accommodations is the goal. So if it isn't already, make it a big, visible part of your company's policy that you support people with disabilities, and that you consider a free, accessible workplace to be a priority. It'll improve reputation, morale, and attract more employees with disabilities, now that they know you're willing to work with them to give them the best working environment you can. So, send a strong message right from the top, and make a commitment to hire and support employees with disabilities.
Call in help.
You don't have to figure this out alone, and companies can call in professionals to help them figure out accommodation and train employees. In fact, there are whole careers dedicated to this, in the form of person-centred planning.
"To become a facilitator means that you're interested in supporting people with disabilities, or people who have been marginalized in some way, to help them live their best possible life," says Anne Bruno, who teaches Person-Centered Planning at Centennial College. "It comes from a framework of self-determination. Helping that person live a life of their choosing, and figuring out what it would take to get to that life is essentially what you're supporting people to do."
Person-centred Planning at Centennial College is a fully-online course that gives you the theory and practice to be a facilitator and advocate for people with disabilities.  
"This program is the first of its kind in Ontario, and across Canada, there are very few programs like this," Anne says. "It gives students the foundational knowledge to be a good facilitator."
"The reason I was hired to do this was because I had been working in the field, and most of my career has been in supporting people and families with disabilities," she continues. "When I was managing a program and looking for facilitators, it was really obvious when we were hiring that people didn't have these skills outright, and a lot of this was going to have to be taught. So when I had the opportunity to create a course, it was wonderful."
"Because it's fully online, it allows people who are not only coming directly out of school but people perhaps who are professionals who want to update those skills to be able to do this part-time alongside their current role," she explains. "Even though it's a fully online program, we've worked hard to make it very interactive and practical, so people are engaging with content online, and one another through various mediums, and are taking the theory and work we are doing and applying it to real-life situations they're going to be practicing with."
"Graduates could work as a person-centred planner independently, there's a lot of people who do this as an independent business, and provide this service to people," she says. "They're also able to work in various developmental services organizations."
There's plenty that you can do in your workplace to advocate for support people with disabilities, or you can take the Person-Centered Planning program, and make a career out of being the one that makes those changes happen. The choice is yours!
Written by: Anthony Geremia