New Years and Beyond: Getting Healthy — and Staying That Way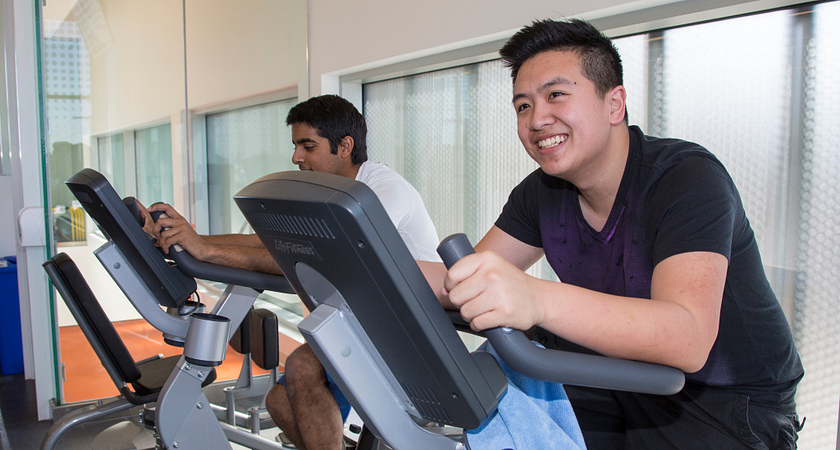 Ah, the New Year. It's an opportunity to wipe the slate clean, start fresh and set a new goal or two. If you're like most Canadians (nearly 70 per cent, according to a 2017 survey by Tangerine), you've made or make resolutions. Thousands of articles have been written about this very topic, news stories have been produced and despite the statistics that eight in 10 Canadians (that's a whopping 78 per cent) fail to keep resolutions, the phenomenon continues. So, what's the top resolution? Well, over half of Canadians want to improve their physical health.
Fitness and healthy eating is a pretty universal two-part goal. That's why at Centennial College, season two of the Centennial College Podcast is focusing on just that — staying fit and healthy on campus. Episode one highlights resolutions. It examines why they're popular and why people have such a difficult time sticking with them. The host and his guest also continue the discussion with topics such as best times of the year to start working out and the questions you should ask yourself when setting fitness goals.
Meet the Host
Joshua Delgado is the Centennial Podcast host. A fitness expert in his own right, Josh has always been an avid athlete, competing to the college level and training athletes of all ages. In fact, he's had clients that include professional soccer players, high-level track athletes and Olympic weightlifters — impressive. Now, he's taking all that expertise, including various college programs and certifications from organizations such as the Ontario Fitness Council, to help the Centennial community achieve its goals by speaking to guests and sharing resources. When he's not talking New Year resolutions, Josh teaches in the School of Health Studies.
Meet the Guest
Josh's guest on the first podcast of the new year is a familiar Centennial fitness professional. Jordan Tam not only graduated from Centennial's Fitness and Health Promotion program (and then completed his Bachelor of Science at the University of the West of England) but he also trains people at Centennial's Athletic and Wellness Centre. Like Josh, he grew up playing various sports and was even a varsity goalkeeper for the Centennial Colts. Eventually, he decided to further his knowledge in strength and conditioning and injury prevention and management to help athletes reach their full potential. On the podcast, Josh shares some of his personal fitness goals and the ways in which he achieves them.
Meet Your Fitness Resources
Luckily for the Centennial community, there are lots of resources on campus to help you not fall into the trap of new year, new me failure. All your fitness needs are covered at the Athletic and Wellness Centre (AWC), through Colts recreation and at the Local Café and Restaurant. You'll find fitness experts such as personal trainers at AWC as well as classes such as Strength and Fat Loss and Strength and Performance. There are also 44 cardio machines, multi-purpose rooms, a rock-climbing wall, running track, strength training area and three gyms. That's a lot of ways to meet whatever your goal is but if it's not enough, you can always join intramural teams for three-on-three basketball, indoor soccer, six-on-six volleyball, badminton and more. When it's time to fuel your body after a workout, look no further than the Local Café, which always has healthy options for brunch (on weekends), lunch and dinner.
By Izabela Szydlo