#CentennialTips for Self-Caremongering When You're Learning at Home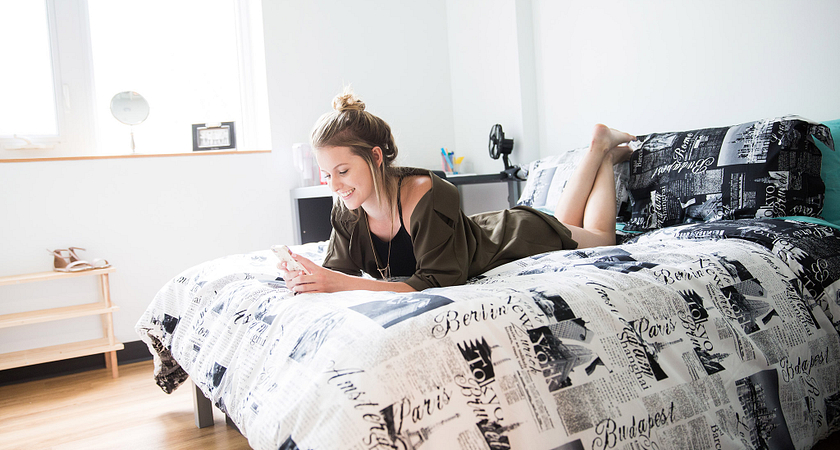 If you haven't heard, Caremongering is the new Canadian movement where normal people band together in the name of helping the most vulnerable members of our population during the COVID-19 pandemic. But before you can help others, you need to make sure you're taking care of yourself. As you learn online, or maybe even work from home, make sure you're taking the time to consider your mental and physical health, and exercising plenty of self-care. Here's how to caremonger yourself, featuring tips from Business Insider, Country Living, Inc, My Possible Self and Silicon Republic.
Start your day off with a routine
There's going to be a common theme here, and it's having a routine and schedule you stick to, which starts at the beginning of the day. Wake up with enough time to make yourself breakfast, tidy your space and get washed up and dressed, to put you in a productive and healthy headspace. The important part of it is that you have "you" time before you do whatever you need to do.
Make a list
Making a to-do list is important when you're on your own. It'll help you figure out what needs to be done, and if you're feeling overwhelmed, will help you organize your thoughts, prioritize what actually needs doing and what you can save for another day. Plus, crossing things off that list is a good feeling.
Create a separate workspace
Don't just study at the kitchen table, or on a couch, or in bed. In fact, looking at a laptop screen while lying in bed can damage your back and neck. Wherever you set up your workspace, try to make it so the top of your screen is at eye level and that you're not hunched over. What's bad for your mental health is working in areas that you associate with relaxing, because your mind will start to equate them with work, which is why it's important to make sure that where you work and where you relax are two different places, so that one doesn't become associated with the other.
Keep your home tidy
It's not just because it'll look nicer. Clutter is distracting, and can make you feel stressed and anxious, since your environment often affects your mindset. So be sure to take time to clean up, vacuum, do laundry, organize your workspace, and anything else that needs doing.
Let the sunshine in
Work near a window for light, if you can, and be sure to open your blinds and let plenty of sunlight in throughout the day. Natural light is good for your mental and physical health. Lack of natural light can mess with your concentration and your mental health, and more daylight will brighten your mood. So make sure wherever you're working is bright enough that you can read without straining and without turning the lights on during the day.
Schedule your work or study time, and keep it separated
Teachers, employers, workers and students all worry about being distracted when they work and study, since there's nothing to stop you from watching YouTube, Netflix, and generally goof off when you have a wi-fi connection. In reality, the opposite tends to be true. People work and study more when they're at home because it's harder to "switch off," and the separation between work and home life can seem blurred. That's why it's important to set hard work and studying hours, and stick to them. When they're over, they're over, and you're off the hook until tomorrow. It's equally important to have time to yourself, and keep that separated, too. Having a clear end to your work or study times helps you focus when you're "on the clock."
Get up and get moving, and go for lunch
It's not just good for your physical health, but your mental health to check out of the grind every once and awhile. Every half hour or so, get up and do something else, even if it's just for a moment. And take time for a lunch break, too, one where you're doing something fun. It'll help avoid feeling lethargic in the afternoon. Speaking of lunch breaks…
Stock up on healthy snacks (and drink water)
If there's one thing you'll want to make sure you do when you inevitably go out on that grocery run, it's to make sure that you're stocked up on fruits, nuts and vegetables. It's more important than ever when you're stuck at home that you're eating healthy. It'll give you more energy and improve your mood. Plus, keeping a bowl of something next to you while you work or study will keep the hunger away and help you focus. Be sure to drink plenty of water, because it keeps your hunger at bay and prevents mindless eating.
Take care of your sleep cycle
Another part of sticking to a schedule is sticking to a sleep schedule, too. Working from home can throw your cycle off, and leave you overtired at first, so it's important to correct it. While we're all different, you should aim for about eight hours of sleep each night, to give you enough energy. At the same time, don't oversleep, because that will also make you tired during the day, so set an alarm, and get up when it goes off. Meanwhile, to help you get to sleep, keep your computer and phone out of your bedroom if you can, so that work doesn't invade your sleeping space.
Stay in touch
Even if you're doing your absolute best to self-caremonger by keeping your mood up, working on a schedule with plenty of breaks, healthy food and lots of sunlight, it can still get lonely. So take the time to call, text or video chat with at least one person every day. We're all in this together, and we need each other to thrive, which is the whole point of caremongering.
Written by: Anthony Geremia