Centennial College talks accessibility on our Podcast's newest season, the UDL Conversation Café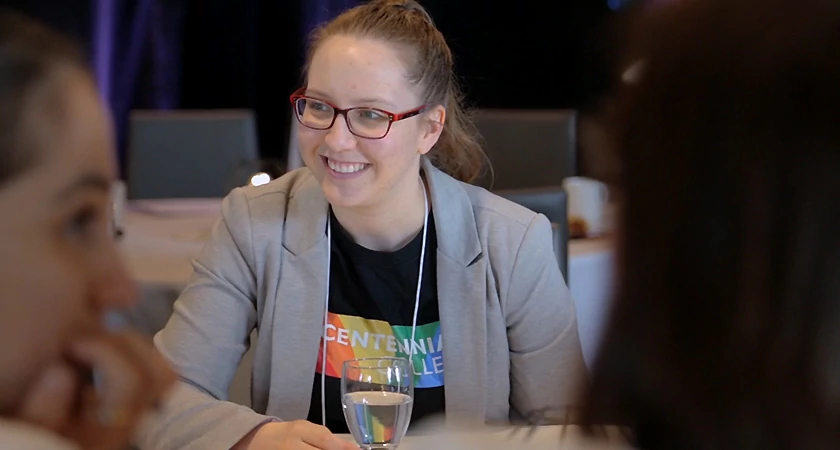 For six seasons, the Centennial College Podcast has helped students and faculty become informed and engaged to get the most out of college.
Knowledge is everyone's right, and at Centennial College, we ensure all students receive a quality education, no matter their abilities, through a philosophy called Universal Design for Learning (UDL). UDL aims to create a more effective learning environment for students of all abilities and provides more flexibility, while erasing barriers to learning. For our seventh season we're tying the podcast into National AccessAbility Week, and naming the series the UDL Conversation Café. Whether you're a student, or a faculty member, here's why you'll want to tune in.
How it begins
In the first episode, launching June 2, we meet two Centennial College students, Lou and Suma. Lou is in our Addictions and Mental Health Worker program. As a person with a disability, and someone in active recovery, she really related to the content of the program. Suma, meanwhile, just graduated from the Developmental Services Worker (DSW) program. She had worked as a counselor with Deaf and hard of hearing adults and children like herself, and wanted to learn about being a DSW. The two of them go on to talk about their experiences with accessibility, what it means to them, and how it empowers their education using examples at Centennial College.
Why you want to listen
If you're a Centennial student, listening to their stories and those included in the subsequent episodes in the series means that you'll learn what the college is doing to create inclusive and accessible spaces, including resources you maybe didn't know about. At the same time, faculty members can learn about strategies that they can weave into their own practices, creating inclusive learning environments for all students.
Tune in!
The UDL Conversation Café will continue to feature honest conversations on Universal Design for Learning and inclusion, including more insights from students, and chats with faculty about their challenges and successes creating flexible, equitable and accessible learning opportunities. Discover the ways in which the Centennial College community honours and embraces the rich diversity of our students, whether you're a student we can help, or a teacher who can help out.
By: Anthony Geremia