How to get the most out of Centennial College's Virtual Open House (and why you want to go)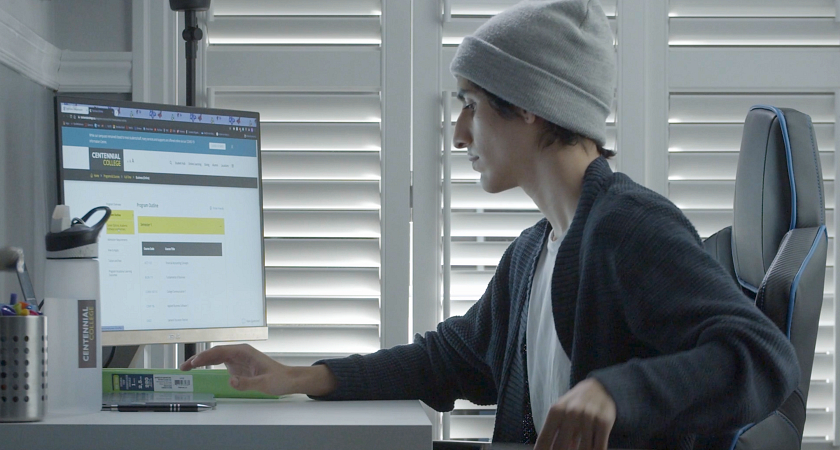 If you're planning to go to college, you're probably deep into researching the best school for you, what programs they have, what's special about their education, and such. But there's more to choosing your school than that. To make the best choice, to see if a college is really right for you, you need to experience it through an "open house." But in 2021, at a time of social distancing, can you still experience an open house properly?
"Safety is of the utmost importance for students, faculty and staff," says Alex Stewart, a Student Recruitment Specialist working on Centennial College's Virtual Open House. "With COVID-19 being a prevalent issue, we're taking all the safety precautions. So it is an online open house." Our Virtual Open House, bringing Centennial College to you for a second year in a row, will take place on Sunday, November 21, 2021. On the day of the event, you will have the opportunity to engage in different ways including text chat, video chat and watching presentations and videos.
 "Upon registering," Alex explains, "you will enter our virtual platform. We have a schedule listed with all the different sessions that we have available, and it's up to the individual to see where their interest lies and what specific sessions they want to go to. So folks know that they're in the right place, there will be someone there welcoming everyone to the Centennial Open House, and giving general information."
"I'll actually be a presenter at this open house," Alex says about his role in the day's events, "doing a general Centennial presentation, talking about our different campuses, perks and programs that we have there. I'll be answering some admission questions, as well."
Speaking of answering questions, here's what you should be asking at an open house, both of yourself and of the college, to make sure you get the most out of it.
Am I prepared?
"I would say to ask as many questions as you can," Alex advises. "That's what the Virtual Open House is intended for." But to make sure you're ready, it's best to have done your research about the school ahead of time, so you're not just asking about things you can easily look up on the internet.
"Make sure that you're doing your research before coming into the session, just so you're making use of the opportunity. Do research on programs and other services as well, so you have a general guide, and can ask even more specific questions."
What's the program like that I'm interested in and who's teaching it?
Most Schools will profile programs through their virtual presentations. "If you're a potential student, I would be checking out the presentations that you're interested in," Alex recommends. "For example, if you're someone looking to start a career in business, or nursing, go to those sessions that are specific to that career, because you're talking to representatives that actually either worked in that field or have some really insightful information about your curriculum."
"You could even ask about your career afterwards," Alex adds, "because a lot of the faculty and staff who work at Centennial have tons of experience in the working field, as well. So you could ask them not only about the program curriculum, but also about life in the working world as well. It's going to give you some insightful information to see if that's specifically what you want to do, especially if you're someone that's not 100 per cent sure."
Could there be another program that suits me better?
Speaking of being not 100 per cent sure, it's okay to head to the Open House without a clear idea of what program you want to take, and if you find out the one you were interested doesn't feel like a good fit, it's a perfect time to see what else the college can offer you.
"Be open-minded to different program options, because I feel like a lot of folks come in with an idea of specific career, then they go into the session, and it's not what they wanted," Alex explains. "So I suggest going into different academic school sessions, doing a scan to see what else we have to offer, and seeing if something else strikes your interest." It's the perfect opportunity to explore new options!
What can the school offer me on top of education?
At a good open house, you'll be able to learn everything from how to apply, to the services we offer, such as financial aid, and extracurriculars like clubs and sports. At Centennial College, we have gyms, libraries and study spaces that are safe and socially distanced, along with some weirder services you've probably never heard of, such as legal advice and a business clothing store. An open house is the time to learn about them.
"We have a ton of services that students aren't always aware of," Alex says. "I'm such an advocate for services because as a student, these are freebies, and in the realm of post-secondary, we don't hear the word 'free' being tossed around a lot."
"We have $3.5 million dedicated towards scholarships, bursaries and awards," he adds, "so I definitely recommend folks go into those financial aid sessions and ask what the process of acquiring that financial aid is, and seeing the opportunities that they have available."
Does the campus culture fit me?
The best program ever can be tough if you don't like where it's being taught. That's why it's important to be comfortable in the space you're learning in. Will you be okay spending a lot of time there? It's an important question, and one you need to find the answer to.
"Ask what the culture might be like, as well," Alex says, "because I'm a strong believer that if you're going to an environment where that campus or specific culture doesn't align with your values and beliefs, you're not going to feel motivated to go to class. So this is why I always tell folks to actually do the virtual tours, making sure you're coming out to the open house, go to the sessions, so you're getting a feel of what the culture there is like."
What can I do if I miss the day?
Not to worry! After the show, there's going to be an on-demand version that you can look at whenever you want. You'll be able to view the video series, direct links to areas of study, information about services, as well as a webinar series and virtual self-guided or guided tours.
"I feel like every session is unique in its own way," Alex says. "What the sessions really do a great job of is highlighting Centennial's points of difference. So when you're talking about programs, you're going to hear real passionate faculty and staff. You're getting insight and information that you wouldn't normally get."
Make sure you don't miss Centennial College's Virtual Open House, and be ready on November 21 to come and see where your learning can take you!
By Anthony Geremia