Canada's First Stories: A Journalism Student's Journey through our Indigenous Studies Certificate Program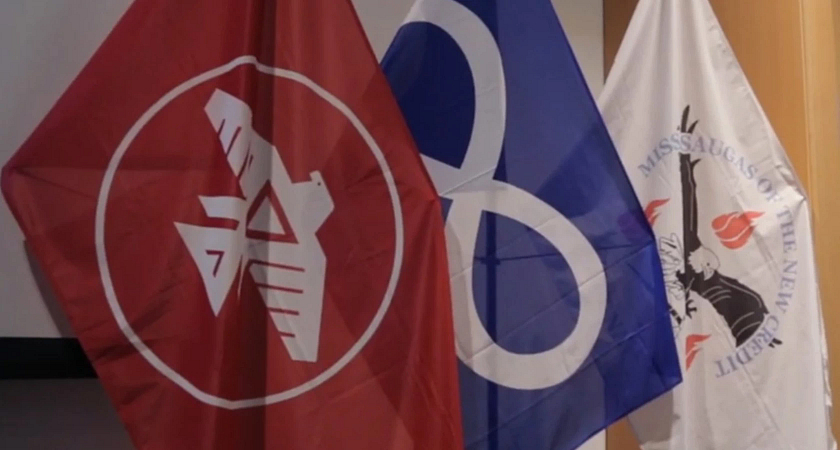 As residents of Canada, it's important that we know about the people that came before us. Centennial College's Indigenous Studies: First Peoples in Canada certificate is for all students, as an extra credential you can take along with your college program. It's a series of four courses that teaches you about Indigenous cultures, the issues that face Canada's Indigenous people and social action that can be taken. It can help your career, but much more importantly, help you grow as a person through the insight you gain. No matter the program you're studying, you can benefit from it.
Jesse Gault went to university for Anthropology, the study of people. He then came to Centennial College for Journalism, out of a wish to write about people. And that led him to the Indigenous Studies certificate. Here's why he took it, and what he gained from it.
The College difference
"I like the idea of being a journalist," Jesse says. "At university, they taught me how to think about things, and they taught me what important issues there are. So, I can talk about stuff, and I can write about stuff. But how do I actually put that together? At Centennial College, the journalism program showed me, this is how you interview somebody. This is how you put a podcast together. This is how you put an article together. So now I know how to talk about stuff, but I also know how to package that and deliver that to the audience."
"I've got a degree in basically reading and writing about people," he says, referencing his anthropology background. "So what do I want to do with it? I could probably find a pretty decent job, where I can live comfortably. But the idea of taking journalism really seemed attractive to me. One journalist and writer, her name was Jeannette Walls, she said that journalists are people who know what's really going on."
And it was that desire to "know what's really going on" that led him to the Indigenous Studies certificate.
What you learn in Indigenous Studies
Jesse had taken a science elective that wasn't going well, and as an alternative, Indigenous Studies was suggested to him, which he eagerly accepted.
"In the Indigenous Studies program, they talk about issues," Jesse says. "So, now I know what to take a photo of, now I know what to actually make a podcast about. Because the Indigenous Studies program, it teaches you not only the issues that are going on around us, but the most critical, important issues, and, why we should have taken action on these issues 100 years ago."
"At the start of it, we talked about the term 'Indigenous,' what does that even mean?" Jesse says. "Who are the different groups? What are the regions they've traditionally occupied? And what are some of their spiritual beliefs, since every culture has its own traditional religious beliefs."
"By the end of it, we were talking about very serious issues that are going on now, whether it's residential schools and all the horrible problems that emerged out of that, or issues like access to clean water, mental illness, closing gaps in educational achievement."
"I sat through discussions and activities and readings on Indigenous people and Indigenous issues," he continues, "But then we took a field trip to a former residential school, and I got to see the actual building. I also got to listen to a survivor talk about her experiences related to the school, and residential schools in general. And so that was a moment where I was like: this stuff is real, this happened in my backyard."
How he grew
"I'm a white man and I'm a devout Anglican," Jesse explains. "So I'm part of a group that historically has not been very nice to Indigenous communities. This is so obvious when you look at residential schools. So I had to navigate this sort of tight rope. On the one hand, I'm not perfect. But on the other hand, I want to make sure that I can talk about things like leaving the world in a better place than we found it, having an ambition like that, and navigating that whole situation. That took a long time. I think I'm still working on that."
"We have to look at mental health problems that emerged out of the residential school system," he continues, "families that were destroyed because of the residential school system, communities that have been trying to get access to clean water for two decades, and they still don't have adequate access to it. Going through the Indigenous Studies certificate was like getting my foot in the door into discussions that are going on about how to make this big multicultural society an okay place. That was an opportunity for my career, where I'm at as a sort of apprentice journalist, as well as my broader life."
Is it for you?
"Indigenous Studies, for students who are going through that program, it's not always very fun," Jesse admits. "In fact, if we're talking about stuff like residential schools, it can be pretty unpleasant. But you're going there because you see that it's important to do, and you feel good about doing the right thing in talking about, and facing, residential schools. That's what happened. Now, what are the solutions? What can we do to make things okay?"
"If you're interested leaving the world better than we found it," he adds, "then maybe this program is for you."
By: Anthony Geremia