Power in Paris: Centennial College Energy Systems student goes international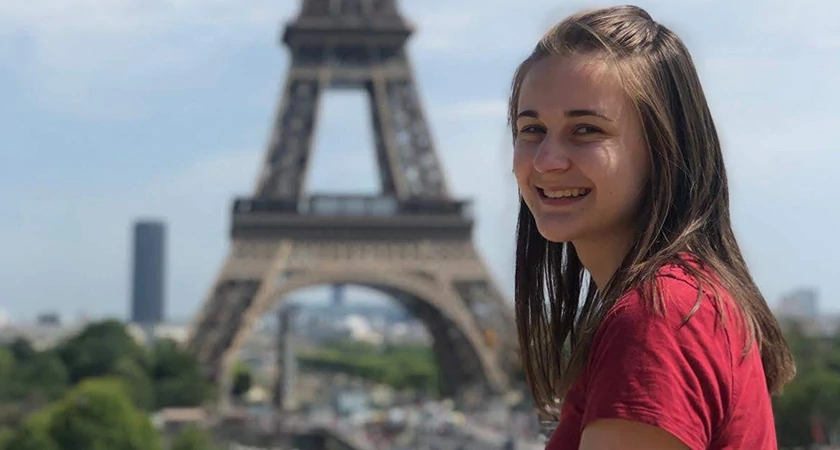 Green energy is a worldwide goal to combat climate change, so it makes sense that Centennial's programs, including Energy Systems Engineering Technology, incorporate global experience in the curriculum. Emily Sherret found this out while taking the program, when she not only received a practical education, but also got the chance to study abroad in Paris, France, as part of one of the college's Short International Programs (SIP). Here's how she got this opportunity, and what a SIP is like.
Going Into Energy
"In high school, I was always interested in electronics, physics and robotics," Emily says. "I did a high school co-op for a solar company, and I really enjoyed that. So, this energy systems program that combines the electronics and the solar energy aspect seemed like a perfect fit." Emily lived in the small town of Petawawa, and was also interested in moving to the big city, to broaden her perspective.
"I really wanted to be in Toronto; I thought Toronto had a lot of opportunities," she says. "And I thought that getting a co-op in the city might be a little bit easier than some of the co-ops in the smaller towns, since not a lot of colleges offer the energy systems engineering tech program."
Power in her Hands
"Co-op was definitely the best part of the program, I got a lot of hands-on practical experience in the field," Emily says, about her learning at CLEAResult, an energy company. "Starting this program, I wanted to do solar energy or wind energy, renewable energy. My co-op was in energy conservation, which is a little bit of a shift. But doing that during my co-op was a great opportunity, because it kind of let me know that I was interested in the energy efficiency aspect of the career path."
"Centennial also has some really great lab classes," she adds. "I really enjoyed the solar and wind classes, where we would, for example, install real solar panels, but you're just on a fake roof. So those labs were really fun, small-scale learning of how things worked. " But none of this would compare to taking her learning international, and travelling to France.
A Canadian Student in Paris
"SIPs, or Short International Programs, are offered by Centennial as long as you're in second year, and you're returning the next year," she explains. "I just got an email, saw it and I was like, I might as well apply. They had different places you could pick from, like Italy, Denmark or France."
"These programs are typically two to four weeks," she continues. "And, if you're selected, Centennial will sponsor you to go abroad to different schools in different countries to learn a short program, and you get a certificate at the end of it."
"So I applied, they interviewed me, and then they said I was chosen," she says. "So in 2019, I went to Paris for three weeks, and I studied energy efficiency and renewable energies at ECE Paris."
What Learning Abroad is Like
"ECE's a graduate school, kind of like French university," Emily explains. "They had us on a full-day schedule. We had three different classes, one about renewable energies, one about the energy efficiency, and then a third one that was a combination of the two. So we got to learn about energy in the world."
"My class had one Canadian, one Australian, and then some people from Mexico," she continues, "so it's interesting to hear about energy in their countries, as well. And then every Friday was an activity day. So we went to a geothermal plant, we went to a museum, and we went to see different things within the city." It wasn't all education, though, and she still got a chance to experience Europe.
"It was an opportunity to learn in a different country about things that go on there to do with energy, and that was really great," she says. "But also, the food was great. And so was meeting friends from around the world and touring the sights. Typically, when you go on vacation, you're there for maybe a week or so, and you don't get to see everything you want to see. But we spent so much time in Paris that we went to everything and more."
Post-education
"I work at CLEAResult," Emily says about her former co-op provider. "I went back in January to finish my program, graduated in April, and they hired me just a week or two afterwards. I'm working full-time."
"For what's next, I think I'm just going to stay put here for a little bit and get some more certifications, my Certified Engineering Technologist. And maybe some energy courses like Energy Manager, or Measurement and Verification practices. So I'll work on that, and then maybe reassess later what I want to do." And as for anyone else thinking of going on a similar journey?
"Take advantage of any opportunities that you can," she says. "It doesn't hurt to apply. And if you don't get chosen, then it is what it is. But then you never left wondering, what if? There's different opportunities at Centennial that are great for experience and skill building. So definitely take part in everything."
By: Anthony Geremia