Arts Management Grads Make Industry Impact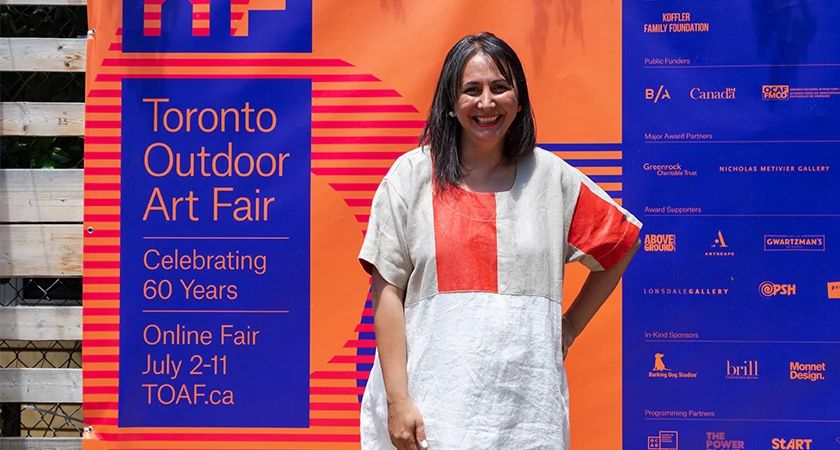 Anahita Azrahimi arrived in Canada from Iran in 2003 with a clear goal: study arts management and launch her career. One degree, eighteen years, and various notable arts positions later, Azrahimi is the executive and creative director of the Toronto Outdoor Art Fair (TOAF). In her role, she oversees many aspects of Canada's largest and longest-running annual contemporary art fair. Simultaneously, Azrahimi is helping to nurture the next generation of arts management professionals — including Centennial College's Arts Management graduates.
"Arts Management students from Centennial have been an integral part of the TOAF team in recent years," says Azrahimi, who has been in her role at TOAF since 2016. "I think the hands-on and practical experience Arts Management students receive is incredibly important. They are prepared through mock interviews, networking, and by completing hands-on assignments with actual organizations. They come with a fresh set of eyes and many are determined to learn."
Azrahimi herself got her arts career start as the manager of a small theatre company through a mock interview. She also began her relationship with Centennial in the same way when the program's then coordinator invited her to mock interview students. Over time, Azrahimi's initial involvement seven years ago evolved into her participation in the Arts Management Program Advisory Committee (PAC), hosting field placement students, and even hiring three Centennial graduates.
"We look for people who are really eager and committed," she says. "I have had students who volunteer to stay on past their placement and see the event through. That is always a great indicator of how invested they are. A generation of arts managers who truly understand and are passionate about the Toronto arts sector are key to its health. I was really taken by our latest Centennial recruit, for example, because during the mock interview I was asking her more conceptual questions, and she immediately detected that the interview style was different. She applied, did her field placement here and then we hired her."
Azrahimi hopes to pass on her role on Centennial's PAC to another Centennial hire at TOAF. If the College moves forward with the switch, in this role they will help to build the program's quality and reputation, guide the program in delivering relevant learning and training, and ensure students are well prepared to contribute to advancement of the Toronto arts industry. As a five-year PAC member, Azrahimi says she has taken notice of Centennial's willingness to evolve with industry needs.
"A few years ago, there was much focus on larger arts organizations, but Toronto's arts sector has many small organizations doing amazing work, so I've encouraged the program to include skills students will need to successfully enter small organizations," she says. "In fact, grads who start at small organizations actually fast-track their arts careers because they have the opportunity to work on tasks it would take them three or four years to be responsible for at a large arts organization. I also encourage Arts Management students to use their time in the program to discover their passion and their relationship to the arts. It will help them to succeed."
By: Izabela Szydlo