QUESTIONS
P.O. Box 631 Station A
Toronto, ON, M1K 5E9
Episode 2: Do you have what it takes? Faculty and staff go abroad!
Episode 2: Do you have what it takes? Faculty and staff go abroad!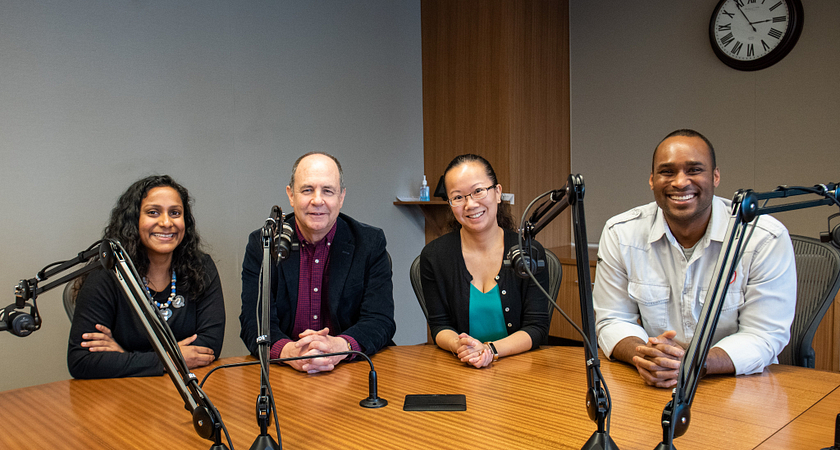 Summary
On today's episode, we'll be talking about what it takes for faculty and staff to go abroad. Whether it's leading a group of students on a faculty-led program, or traveling independently on a faculty or staff exchange, we have options for everyone!
Our episode host, Pearl Vas, will be talking to faculty and staff, Tim Doyle, Shannon Bramwell, Lyle Williams about their Global Experience.
For a full list of Global Experience programs, please visit: sage.centennialcollege.ca.
Disclaimer
The videos and podcasts were recorded when our campuses were open, prior to March 2020. Centennial College has transitioned to offering academic and co-curricular programs online. We value opportunities to engage with our students to support their learning and professional goals. For all Global experience programs, SaGE will offer Virtual Global Experience programming in the Fall 2020 and Winter 2021 semesters until travel advisories have been lifted and the Canadian government has deemed travel for education is safe. Students can still take part in fulfilling opportunities such as studying virtually with one of Centennial's international exchange partners, participating in an applied research project with a partner in Morocco, or completing a virtual internship with agencies in Costa Rica and China.
Transcript
Pearl Vas: Welcome to season four of the Centennial College podcast, Through a Global Lens. In this season, the International Education and Services and Global Experience Team, or SaGE, explores topics that affect international students, and internationally-minded students, staff and faculty. Whether you've traveled a long way to study at Centennial, or you're considering traveling abroad, this podcast is for you.
Pearl Vas: Hello and welcome to Through a Global Lens. I'm your host Pearl Vas. On today's episode, we'll be talking about what it takes for faculty and staff to go abroad. Whether it's leading a group of students abroad on a faculty led or applied research program, or traveling independently on a faculty or staff exchange, we have options for everyone. Our guests this week are Lyle Williams, adaptive technology specialist from the Center for Accessible Learning and Counseling Services or CALCS. Lyle went to Finland on a staff conference to share some of the amazing work we do at Centennial. Hi, Lyle.
Lyle Williams: Hi, Pearl. Thanks for including me on this podcast.
Pearl Vas: We have Tim Doyle, professor and coordinator of journalism programs. Tim went to Germany for a global solution summit, Argentina to attend a T-20 summit, and has set up an amazing recurring opportunity for his students to attend conferences with world leaders as part of their program. He also was part of a group that went to Rio for the Paralympics in 2016. Hi Tim.
Tim Doyle: Hi, Pearl. Thanks for having me here.
Pearl Vas: And finally, Shannon Bramwell, professor and coordinator of the Special Event Planning program. She's led a faculty led international program, or a FLIP, to Spain, and has been in a proposal to lead another group to Singapore and Indonesia. Hi, Shannon.
Shannon Bramwell: Hi, Pearl. Happy to be here.
Pearl Vas: Awesome. So, thank you all for joining me today. To get us started, can you tell us a little bit more about your global experience and why you decided to get involved? Lyle, we'll start with you.
Lyle Williams: Sure. It was really just an amazing opportunity, Pearl. I saw this email, it checked boxes for me. It had sharing, it had technology, which is my field in the center for Accessible Learning and Counseling Services. And it was just really neat. And then of course, it was in Finland. I got to give you a big thanks, and Jocelyn and Laura for allowing me to go.
Lyle Williams: I got to go with some amazing people. I got to go with Imran Ingar from our Information Technology department, as well as Kristi Knapp from our School of Hospitality. And this journey to Finland gave us a chance to really share some of the amazing work we do here at Centennial.
Lyle Williams: We got a chance to talk about our leadership programs in the form of leadership, some of the social action initiatives that we do here, we were able to write a proposal, one called Free the Tampon, which worked to provide free menstrual products in washrooms. Our global citizenship initiatives, some of our Smart Services programming to support our equity seeking students, and of course, enhanced services for our students with disabilities. In terms of what I hope to learn, it was a great to have conversations about universal design for learning accessibility and accommodations, how to design learning environments, as well as talking about staff professional development. And did I mention that it was in Finland?
Pearl Vas: Awesome. Tim, how about you? Why did you decide to get involved?
Tim Doyle: I've been very fortunate, Pearl, to go on a number of these excursions. But I'll talk a little bit about one of the more recent ones, which was the Global Solution summit in Berlin. This actually came to me through your department, apparently the Munk School of Global Affairs and Public Policy at the UFT was looking for a journalism partner to attend a global summit experience with some students and faculty from UFT and UBC.
Tim Doyle: So, when it was pitched to me, I thought, "Well, there's only one answer for that, which is yes. And then we'll figure out how to make it happen." So, this turned out to be an incredible opportunity for exceptional journalism students to explore the world beyond their communities, and to gain a greater understanding of global issues from healthcare to climate to global governance and more. Your department, Pearl, was really supportive to help make this happen. And the students really benefit from it.
Pearl Vas: Happy to hear. And Shannon, how did you get started with Global Experience?
Shannon Bramwell: For me, learning is really something that I encourage outside of the classroom, anywhere at any time. So, when the opportunity presented itself to partner with the University of Nevara in Pamplona, Spain, I had to say yes. There's absolutely no better way to learn about the San Fermin Festival, or the Running of the Bulls, than standing right outside the Colosseum where it's happening.
Shannon Bramwell: These global experiences provide students with a chance to experience not only the subject matter, but also to build global competencies such as critical thinking, internationalization, and respect for diverse cultures. Really preparing them for the global workforce. And like Tim said, without the amazing support and work of the SaGE team, these would totally be impossible.
Pearl Vas: So, let's start from the beginning from the birth of the Global Experience program, it all starts with the faculty members submitting a proposal to SaGE. Shannon, you've written a couple of proposals now, why do you think your proposals got accepted? What kind of work did you do to prepare?
Shannon Bramwell: So, I'll start by saying thank you to the SaGE team, because they start with the actual template, and the template provided is super helpful and very easy to follow. Whenever I'm thinking about preparing another proposal, I tend to try to focus on three main criteria, the subject matter, the alignment to the college's Book of Commitments, and academic deliverables. I want to assure that the subject matter that we're going to be experiencing abroad cannot be done in the classroom here.
Shannon Bramwell: For example, my upcoming Singapore and Indonesia proposal hopes to study design trends in social leisure events. We're going to the epicenter of where these design trends are emerging from, and those trends won't make it back to North America for another six months to a year later. I want to align the trip's focus with the colleges Book of Commitments. This helps to solidify that the learning taking place is not only representative of the program's learning outcomes, but also our college's values and overall student experience. After all, one of our commitments as a college is to provide an unparalleled student experience.
Shannon Bramwell: And lastly, I'm always thinking about and worried about the academic deliverables. How might these students that are on this trip, share their learning with their peers upon their return, and how can the students leave a legacy piece for future students to experience? The Singapore and Indonesia trip will see our students embracing another commitment from the Book of Commitments, empowering technology, to empower people. The students will be using technology to capture VR segments of the design classes that they'll be partaking in. And upon their return, there'll be writing a module on design for a new course in our program.
Pearl Vas: Tim, how about you? How did your program begin?
Tim Doyle: Well, the proposal was really straightforward because the opportunity came to me from SaGE. The fact that the Global Summitry Project, as it's called at the Munk School, was looking for a journalism partner and selected Centennial, that it came to Centennial was pretty exciting and pretty flattering, frankly. We at Centennial want to offer students unparalleled learning opportunities, and this clearly was one.
Tim Doyle: The challenge though, was the subject matter. The Summitry project is really focused on the study of international governance and the world order. That's deep, especially for journalism students who might mainly focus on local stories. But they're curious, the students are, they've got interests beyond East York. They care about these big issues. So, the question came back to me, "How could we make this work?" And again, it's easy to make something like this valuable work.
Pearl Vas: Lyle, your experience was a little different. You didn't lead a group abroad, but you went on an independent global experience for staff. Can you tell us how this was different from a regular professional development conference?
Lyle Williams: Absolutely. Primarily, what was different is we're all used to attending conferences in Ontario, maybe across Canada, possibly in North America. But with this conference, it was in Europe. It was in Scandinavia, in Finland. And so, we had a collection of people coming in from across Europe. In the EU, they have an Erasmus Plus program, which is designed to fund staff to attend conferences, do training, do education.
Lyle Williams: And so, a lot of staff from all across the EU, UK, Spain, Germany, Netherlands, et cetera, all came in to this conference just outside of Helsinki in Finland. And so, the audience was broad and bringing experiences in terms of what they do to support students in post-secondary. What was also different was that it was a sharing style. We're, again, we're used to presentations, workshops, maybe a panel discussion, where this was designed to share what you do well at your institution.
Lyle Williams: My areas of focus involved, research, development and innovation, if I can nerd out for a second, we were talking about virtual reality, augmented reality, we talked about social inclusion and accessible living. And of course, it was in Finland. So, we were just outside of Helsinki. We got a chance to see some of the old architecture, some of the war artifacts which remain there, we were in a town named Turku, which is beautiful, right near the Baltic sea.
Lyle Williams: When we came together after the conference, we had a chance to sort of tease out some of the elements which stood out for us. And we talked about how it built capacity, how it gave us a chance to look at our hidden competencies, the actions we can take. And so, Pearl challenged us to put together a presentation. And so, we developed a narrated video that sort of talks about some of these elements.
Lyle Williams: Some of the key ones that stood out for us was they have an entirely different approach to workspaces where they have a mix of setups, which include quiet spaces for concentrated work, calming spaces for quiet breaks and meditation, active spaces which include treadmills and yoga balls and weights, and inspirational spaces where you can be vibrant and noisy. And just imagine that, having a workplace which has got these different rooms in it for you to engage with people differently, or to have peace and quiet to do your work.
Lyle Williams: We also had a chance to talk about learning management systems. At Centennial, we have one called Bright Space, or East Centennial, or Desire to Learn, whichever term you know. And what approach they take is one where they utilize their LMS, not only for student engagement and communication, but also for staff and faculty engagement. And so, many of their conversations and discussions and people are dialing in through these LMS systems, which I think is a unique approach that we could utilize back here at Centennial.
Lyle Williams: Something else was the Fins seem to have struck a great balance in terms of work and play. And they have a great sense of connectedness in their culture. And I think that that's something that we can steal, we could bring back here at Centennial and I'm sure throughout many institutions across this country. So, that's kind of why I felt like it was a different event.
Pearl Vas: That doesn't sound like any conference I've ever been to. I'm wondering if any of you were able to share a funny anecdote, something that was a little bit quirky while you were traveling? Lyle, we'll start with you.
Lyle Williams: Sure. Let me set the scene for you, Pearl. Imagine a movie title, the Search for Surströmming. In other words, the search for stinky fish. And that's what we went on. We went on a journey in the beginning of our trip in Helsinki, looking for this thing called surströmming. Surströmming is salted herring. And so, before I went on the trip, I was Googling, YouTubing, and I came across a video talking about surströmming and how it's such a delicacy for many in Scandinavia, but to those who don't eat this, it is putrid.
Lyle Williams: So, we had to get a can of surströmming. and you would think it's easy, but it was a good day and a half search to find the illustrious can of surströmming. And it wasn't until right before we were about to head out, to go to start our actual conference, that we found a little fish shop, a little market, right by the Baltic sea. And they sold this. Of course I bought two cans, it cost me 35 euros.
Pearl Vas: Whoa.
Lyle Williams: Quite expensive. And I wrapped it and I put it in my luggage. And I was told by my travel mates, "Do not touch it." Because they were fearful that it was going to explode. And if you looked at the can, you would see this can is under tremendous pressure, like the fish is fermented in there. So, trip ends, come home, and I had a surströmming party at my house. And the idea was to invite my family and friends over and open one of these cans. And in my head, I was like, "Yeah, it's probably pretty stinky." But I wasn't prepared, my God.
Lyle Williams: Within half a second of opening it, the table cleared in my backyard, flies flew in, flying around this can of surströmming. It was horrible, horrible. No disrespect to our Scandinavian friends, but we couldn't, we couldn't do it. And I had to wrap it up, put it in a bag and take it to the local park, because I couldn't put it in my own garbage.
Lyle Williams: Why do I tell this story? I tell this story because it sort of highlighted something for us, which is that for some people, an idea might be a delicacy and for others it might be a can of stinky fish. And so, it presented this idea of bringing up ideas and sharing what you think with your colleagues and with your students, because you never know what might be positive and encouraged and supported versus what might not be.
Pearl Vas: I have to ask, did you try it?
Lyle Williams: I chickened out. My wife was not very happy. I begrudgingly did put a little piece in my mouth and it was foul, incredibly foul. So no, I wouldn't buy it again.
Pearl Vas: Well, your pronunciation of all the Finnish words is on point.
Lyle Williams: Thank you.
Pearl Vas: How about you, Shannon? Any strange and stinky stories?
Shannon Bramwell: Definitely no stinky stories. I don't know that I have a quirky story. I do remember us planning this trip to Pamplona, Spain and thinking about, "Wow, we're going to send a group of students to the Running of the Bulls, what an amazing opportunity." And then realizing through some of the risk analysis that SaGE does with us before our trip, that's not happening.
Shannon Bramwell: And so, we traveled the week before. And that was actually a really great opportunity for the students to see kind of the setup and how the town came to life. But unfortunately we did fly out the day before just to be safe, so we wouldn't be trampled by a bull.
Pearl Vas: For those who don't know. Can you tell us what the Running of the Bulls is?
Shannon Bramwell: So, the Running of the Bulls is a traditional Spanish festival that originated in Pamplona. But it does happen in other cities and towns around Spain as well. And it's rooted in deep culture and actually to this day is still celebrated, but with a bit of controversy now. So the students had an opportunity to study the ethics around it, on the animal cruelty portions, and also how the newer generations of Spaniards are now looking at opportunities to change culture and history.
Pearl Vas: Cool. How about you, Tim?
Tim Doyle: Well, I can think of one. Perhaps from the trip to Rio, with the sports journalism students. We had been there for maybe 15 days. The students had been covering the Paralympics and meeting these athletes and eating many of their meals in the media village, which is just cafeteria style. And we had been out for a nice meal in Rio, in Brazil, known for beef among other things.
Tim Doyle: So, we thought the last night we would ask the students, "Where would you like to go?" Well, we, the faculty and staff who they're with, we'll take them out for dinner. And of course they said, "How about the Outback?" We go, "Wow. You know, an Outback restaurant. A North American perhaps or Australian chain that happens to be there." They knew there was one because they'd already been there, but we didn't know there were two Outbacks in that city, if not more, because once we got into two cabs, or three cabs and drove, we ended up at different Outbacks.
Tim Doyle: So, I was leading one group and I'm thinking, "Where's the other group?" And the other group was being led by our former president Ann Buller, and she's wondering where our group is. But it's true, we found there were two Outbacks. So, we didn't have that final meal together.
Pearl Vas: You just had two separate dinners?
Tim Doyle: Two separate dinners.
Pearl Vas: Oh, man. Okay. I'm going to be honest here. Lately, I've heard a few rumors about the horrors of leading a group abroad. I even heard something about a rhino chasing one of our students. So, let's squash some of these rumors. Shannon, can you share a little bit about your experience leading a group to Spain?
Shannon Bramwell: Well, I can't say there were any rhinos on my trip, but I will say that traveling abroad with the students is definitely a life-changing experience. One that's really helped me grow as an educator and as a professor. You're really no longer just their faculty. When you spend this much time with the students, you become their travel guide, their mentor, their counselor, and so much more.
Shannon Bramwell: There was a story that I remember where I felt like almost a parent trying to teach one of our students how to use the blinds because they had never seen European blinds in their room before. And when you're on these travel abroad experiences, life doesn't stop, and life's emergencies don't stop. So, in my case, which is rare, we ran into a situation where one of our students had a medical emergency, and we were now in a foreign country, navigating a foreign language in an ambulance, and in a hospital.
Shannon Bramwell: I can honestly say that the SaGE team, Laura, Pearl, Jocelyn, were my rock throughout the entire ordeal. They prepared us well before our departure. And this was so beneficial when we got to the hospital and I was frantic having to pull insurance information and the like. The team was able to take my phone calls at every hour of the day, including through all of our time zone differences, and were in constant contact. So, they were able to keep in touch, help keep me calm, help rearrange trouble assessments and arrangements as needed. And so, I honestly can't thank the SaGE team enough.
Pearl Vas: Thanks for saying that, Shannon. We're not paying you anything, just to clarify for our listeners. Now, as fun as these experiences are, we are trying hard to incorporate global experience into the curriculum. Most of our opportunities allow students to get credit for the work they're doing abroad. Tim, the way you created your opportunity for journalism students is a great example of how global experience is incorporated into curriculum. Can you share a bit about how you structure your internships?
Tim Doyle: Sure. You hit it there, that's a challenge, how to fit this into curriculum. So, we're fortunate, the Story Arts Center, we have an innovative course called Storyworks. It's in most of the programs at the school, and it provides opportunities in advance of an internship for students to work with, per our case, professional media outlets and other organizations interested in mentoring emerging journalists and storytellers.
Tim Doyle: So, students are assigned to mentors or projects in groups, usually from two students to six. Occasionally there might be a single student project, and the Global Summitry Project, so far, has fit that spot as a single student project. So, for me as a faculty member, that meant creating assignments for the student before, during and after the summit meeting. That would give them a chance to dig deeper into some of the issues for some of the stories, and explore not just what's happening at a particular conference, and the issues being raised there, but also do it to try to explore the community.
Tim Doyle: So, in Berlin, or in Buenos Aires, and do stories from there. Key was the support from the school, and the Dean and the Chair backed it without reservation. But I thought maybe we could try and do more, maybe from a multidisciplinary perspective. So, I meet regularly with a colleague from the Munk School, and we've talked about some next steps. One potential opportunity focuses on the Global Summitry Project website. And they're looking for a new site, and we have students at the Story Arts Center who can work with them to reimagine it, and students perhaps elsewhere at Centennial who might be able to build a site for them.
Tim Doyle: So, we're taking some initial steps this semester, as you look forward to another visit to Berlin, another Global Solutions summit. But we're taking those next steps to think, "How can we have a larger impact on more students, have more students involved and still keep it under the umbrella of our Storyworks course?"
Pearl Vas: Amazing. That's a great example of industry and educational institutions working together. The key to a good international program is a strong partner. In order to implement our global experience programs, we work with other institutions or a local partner, someone who is an expert in the area who can help us understand and navigate the landscape of that specific destination, and someone who can help us with logistics. Tim, what do you think makes a good partner?
Tim Doyle: Good question. Good partner. I think someone who's enthusiastic, generous, supportive, understanding, and knows how to have a little bit of fun, and someone who perhaps has a similar work ethic, but with the set of skills and interests that'd compliment yours. So, our colleagues from the Munk School, and from the university of British Columbia, because they're involved and they bring students to some of these summits as well.
Tim Doyle: They're very supportive of Centennial's journalism programs. They are open to discussions and to being interviewed and to introducing journalists to their colleagues and to potential sources. They've been really supportive of what we're trying to do, and they see us as equal partners, which is, I think terrific for Centennial to be in that environment with people from those schools.
Pearl Vas: Let's now take a look at why we do these programs. Shannon, can you tell us about the impacts this experience has had on your students?
Shannon Bramwell: Sure. For many of the students, this is a once in a lifetime opportunity. Without the funding and the help provided by the college, this trip would only be a dream to some of them. Upon our return from Spain, we were able to share with the college community here, and create a engaging experience at the local restaurant here on campus. We invited our college community to come and celebrate an evening of Spanish gastronomy and wine, as the students shared pictures and videos, and even some 360 degree content with our guests.
Shannon Bramwell: The students were really excited to be able to share their experiences. And as well, they're really grateful to be able to see all of their supporters in person. As our students now are moving and continuing along with their studies, and some of them even in the workforce now, they've had the opportunity to leverage what they did in Spain, citing their learning and the credits that they received from the university of Nevara on their resumes, and during job interviews,
Pearl Vas: Tim, a couple of your students have now covered these conferences with world leaders. Can you talk a little bit about the impact this has had on them, and where they are now in their careers?
Tim Doyle: Sure. Always exciting to talk about where the students are. And maybe I'll talk a little bit about some students from another excursion you supported. When we took a number of journalism students, sports journalism students to Rio for the Paralympics. In that case, the students had a chance to cover a world-class event, larger than anything that they'd covered before. And to tell stories of Canadian heroes.
Tim Doyle: And they were able to leverage that, in many cases, to full-time jobs with a major media companies and in Toronto and elsewhere in the country. And they're working there now, whether it's Toronto Star, or Yahoo Sports, or CBC, it's terrific. Now for the Global Summit Projects, it's pretty interesting. One of the students who went to Berlin last year is now working full time at Global News in Toronto. She came back just last week to our campus and talked to students about Storyworks projects.
Tim Doyle: Two of them, in fact, one was how to get an opportunity to work at Global News, and what students can learn from that. But also she spoke about her experience with the Global Summitry Project. And with our partner from the Monk School, who also attended, and she told students about what it meant to her. And I think I can say fairly for her, and for the other student who traveled to a global summit, it was really life-changing.
Tim Doyle: They realized they could do this. They could ask questions, they overcame any kind of intimidation or fear factor, and realized the people they were speaking to who are from around the world and who are policymakers and decision makers from around the world are just ordinary people. And with their training and the confidence they have, they ask good questions. They were good listeners, and they have leveraged those opportunities into jobs.
Pearl Vas: It's always amazing hearing about what the students do after they come back.
Tim Doyle: It's a difference maker on a resume.
Pearl Vas: Incredible. Lyle, can you tell us a little bit about the project that you're working on? Something that was inspired by your trip to Finland?
Lyle Williams: Absolutely, Pearl. So what surprised us was that, heading to Finland, we thought we'd see a lot of blue eyed, blonde haired individuals. But we saw tremendous diversity in Helsinki and in the small town of Turku, because it's a university town, the Turku University of Applied Science, and other universities are out there. And what surprised us was that this institution to us is doing an amazing job of highlighting the diversity of their student body, of their staff that worked for the institution. And we thought, if a nation like this, if a school like this in this remote area of Scandinavia is doing such a good job at recognizing and showcasing their diversity and how inclusive they are, and we have such tremendous diversity here at Centennial, this is a great opportunity for us to highlight that as well.
Lyle Williams: And so, my travel colleagues Imran Ingar, Kristy Knapp, and a manager from IT, John Bertie, wrote a proposal to look at how we can showcase this diversity through the utilization of a world map. Almost like with pins on it. You can envision that highlighting where all of our students coming from, all of our staff are coming from those who choose to put their pin on the board, of course. And so we're looking to build this in this 2020 year to be a flagship at the front of the institution to sort of highlight this for all guests and students to see.
Pearl Vas: Amazing, thanks for sharing. Okay. So, the thought of leading students abroad can be daunting for a lot of people. What is your advice for those who've never traveled before on a college trip? Tim, we'll start with you.
Tim Doyle: Just do it. Find an opportunity, and bring it forward. The college is pretty clear. It wants students to see and explore the world. It wants faculty members to explore beyond the confines of traditional classroom teaching. The international department, thank you very much again, handles all logistics. So, as faculty members, we can focus on the learning experience with the students. So, my advice, take a chance and see the world.
Pearl Vas: Lyle, any advice?
Lyle Williams: Absolutely. Fear not. You will not be building a house. You will not be doing anything dangerous. This is an amazing opportunity. I would recommend, learn as much as you can, do the research, know the different programs that are offered through SaGE.
Lyle Williams: Talk to people. Talk to people who've been on these trips, who've traveled abroad through SaGE. And apply. The SaGE team will walk you through the process. Pearl and Jocelyn are amazing, they have incredible executive functioning skills. They will keep you on point and answer every question that you need answered. And ultimately, this experience, at least from my perspective, will tremendously benefit you personally and professionally. I think it's priceless.
Pearl Vas: Shannon?
Shannon Bramwell: I'd say, take that first step. Take that first step and talk to your chair and bring your intentions forward. You'll be surprised to see how much support there is and how many resources are available to you from both your own department and the SaGE team. And really, it's okay to lean in on the SaGE team. They're really are the experts at this, and so I love working with them and learning from them each time we get a chance to do so.
Pearl Vas: If given the opportunity, would you do it again, Tim?
Tim Doyle: Yes. Simple answer. It's really quite rewarding to be there as a coach and mentor, as the students discovered that they really do have the skills that are needed to track down and interview people, and work alongside journalists from big cities and small around the world. It's a difference maker in their confidence, and as I mentioned, on their resumes. The students who have done it in the past, we talked a bit about them, but they really freely credit Centennial experience with helping them get to where they are today.
Pearl Vas: Lyle, would you do this again?
Lyle Williams: A hundred percent, Pearl. The people, the places, the food, and most importantly, the abundance of learning that we got throughout the week. It was really neat. Student-wise, what stood out for me was that in this institution, to us, they pay so much attention to the learning spaces for students. They provide them with a tremendous wealth of access to study, stay in institution and work, they have pods all over the place and private areas to study.
Lyle Williams: One thing that sort of stood out for me was how accessibility is something that they recognize and they implement. But I think here at Centennial, we do a really good job. So, it was a chance to highlight how much we do to support students from an accessibility lens. The laughter, the discussions, the sharing of stories, meeting these people from across the ocean. It was all fantastic. There's an expression in Finnish, which is kiitos. And kiitos means appreciation or gratitude. And that's exactly what I feel after coming back from this adventure. So, thank you.
Pearl Vas: Awesome. Shannon?
Shannon Bramwell: In a heartbeat. In a heartbeat, I would do it again. For me as a faculty member, it was such a life-changing experience, not just for the students, but for myself. And we were fortunate enough, when we were in Spain, to partner with a post-secondary institution. And that gave me a really nice opportunity to learn and network with faculty from other institutions outside of North America.
Shannon Bramwell: Overall, I have such an appreciation for our students and an overall holistic view of education and our students. When you spend so much time with them, you learn so much more about who they are, their struggles and their aspirations. And I have such a greater appreciation then, for the journey that each of our students are on.
Pearl Vas: Amazing. Lyle, Tim, Shannon, thank you so much for sharing your experience. If you're a faculty or staff member at Centennial College, if this podcast has sparked something in you, we want to talk to you. If you have an idea, start to write your thoughts in our proposal template, it will guide you to think about things like destination, timing, costs, activities, partners, risk and safety, how to incorporate the experience into your curriculum and much more.
Pearl Vas: There's a lot that goes into creating a global experience program, but don't let it scare you away. We are here to guide you at every step. For more information and resources, you can visit our website, sage.centennialcollege.ca. Before we finish up, I have one more question for our guests. What is one thing you would bring back from the country you visited? It could be an idea, or a person, or item, or food. Maybe Lyle, we'll start with you.
Lyle Williams: Sure. When I went to Ghana on my GSL, we got a chance to try this condiment called shito. I'm not cursing. I apologize. It's called shito. And it's a hot chili condiment that you put on rice and plantain and vegetables. But we found an incredible use for it, which was to put it on pizza. And this transformed the pizza, it was the most delicious pizza I've eaten in my life.
Lyle Williams: Maybe it was that I was in Ghana, but it just tasted really good. And then the idea I'd bring back, the one that we talked about earlier, the idea that we're going to really focus on how amazing that diversity is here at Centennial. So, I got to thank you and the Turku University of Applied Science for really highlighting the diversity that they showcased, encourage us to do it here at Centennial.
Pearl Vas: Cool. Tim, is there something that you would have brought back from any of those countries you've gone to?
Lyle Williams: May sound a trite to say the memories, but I think one of the most important opportunities for one of these excursions is to just to get outside and see the community that you're visiting. In my case, we had specific events to be at. Whether it was the Paralympics in Rio, or the Think 20 conference in Buenos Aires, or the Global Solutions summit in Berlin. In each case, those were important. The highlight is getting out to the community, to the country or the city you're visiting, exploring that, seeing some of the sites. Be a little bit of a tourist and enjoy that, because that those memories will last forever.
Pearl Vas: And finally, Shannon, what would you bring back?
Shannon Bramwell: I miss the Spanish way of life. The laid backness, five meals a day, and a siesta.
Pearl Vas: That sounds like a good life.
Shannon Bramwell: It is. But if I had to bring something back Spanish olive oil and moscato.
Pearl Vas: Amazing. Once again, thank you all for being here today. Lyle, Tim, Shannon, thanks so much. Thank you for listening to this week's episode of Through a Global Lens. Join us for next week's episode, Unpacking Cultural Differences. Make sure to listen and subscribe to the Centennial College podcast on SoundCloud, Apple Podcasts, Google Podcasts, and Spotify.