QUESTIONS
P.O. Box 631 Station A
Toronto, ON, M1K 5E9
Episode 3: Unpacking cultural differences
Episode 3: Unpacking cultural differences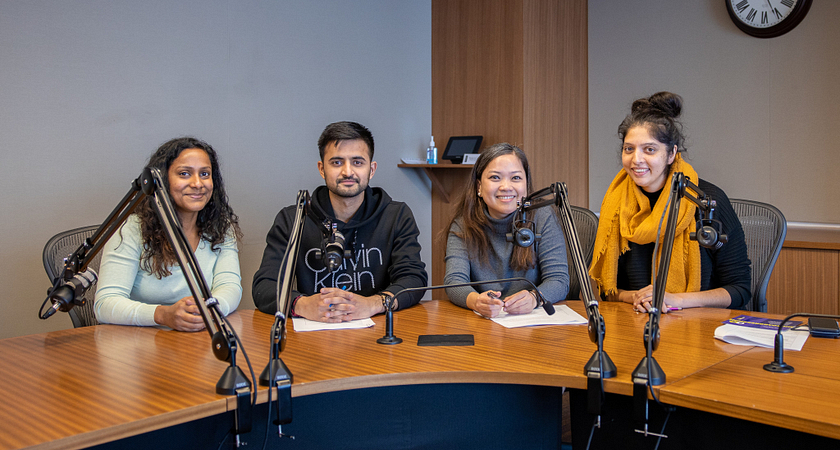 Summary
On today's episode, we'll be talking about culture. We'll explore the cultural nuances of international students' transition to Canada. And we'll talk about what we can do, as students and employees, to help make Centennial a bit more welcoming and inclusive to all.
Our episode host, Pearl Vas, will be talking to students, Krunal Shah and Beatriz Delgado, and to Global Citizenship and Equity Learning Advisor, Nita Saini, and faculty member, Jane Sakay. In addition, this episode features short clips from several students and employees who shared their stories. Sincere thanks to all of them for their candidness.
Disclaimer
The videos and podcasts were recorded when our campuses were open, prior to March 2020. Centennial College has transitioned to offering academic and co-curricular programs online. We value opportunities to engage with our students to support their learning and professional goals. For all Global experience programs, SaGE will offer Virtual Global Experience programming in the Fall 2020 and Winter 2021 semesters until travel advisories have been lifted and the Canadian government has deemed travel for education is safe. Students can still take part in fulfilling opportunities such as studying virtually with one of Centennial's international exchange partners, participating in an applied research project with a partner in Morocco, or completing a virtual internship with agencies in Costa Rica and China.
Transcript
Pearl Vas: Hello and welcome to Through a Global Lens. I'm your host, Pearl Vas.
International Student 1: For some of us newcomers to Canada, or even for that matter international students, we may not know what had happened here five years ago. So, you feel a bit awkward asking and back in the class that "By the way, what happened?"
International Student 2: I felt really homesick initially when I came to Canada.
International Student 3: So, in terms of the language, the lingo, it's so different here. We stay "petrol station" and if you say "petrol station", even a couple of Indians who have stayed for sometime here, they're like, "Who says petrol station? It's gas station." Or sometimes it's just the way people behave when you say something, it makes you feel that you are so out of place. That makes you feel that you are not in your homeland.
Pearl Vas: On today's episode, we'll be talking about culture. This is a big one to tackle, but we'll attempt to scratch the surface in the short time we have together. We'll explore the cultural nuances of an international student's transition to Canada, and we'll finish up with what we can do as students and employees to help make Centennial a bit more welcoming and inclusive to all.
Pearl Vas: Before we get started, just a heads up that this episode will feature our guests' personal experiences. It is not meant to represent the experiences of all international students. Our guests this week are Krunal Shah, an international student from India, studying financial planning. Beatriz Delgado, an international student from the Philippines studying financial services. Nita Saini, global citizenship and equity learning advisor. Hi everyone. Thank you for being here today.
Beatriz Delgado: Hello Pearl, hi.
Nita Saini: Hi.
Pearl Vas: Can you tell us a little bit about yourself. Beatriz, we'll start with you.
Beatriz Delgado: Hi everyone. I'm Beatriz. I'm from Cebu, in the Philippines. I was an ESL teacher in China for five years before coming to Canada in 2018. I have worked as well in Singapore and Dubai, so I'm pretty much very interested in moving to new places and new countries. I'm in my last semester in the financial services program here at Centennial. I also work in campus as a peer tutor in our learning center, so I'm thrilled to share my experiences with you today.
Pearl Vas: You've lived in many countries.
Beatriz Delgado: Mm-hmm (affirmative).
Pearl Vas: That's amazing. And now you're here in Canada.
Beatriz Delgado: Yes.
Pearl Vas: And Krunal, how about you? Tell us a little about who Krunal is.
Krunal Shah: Yeah, perfect. So, first of all, I like to thank you for inviting me to this podcast. Feeling really thrilled to be here. And I feel that what you are doing here, what Centennial is trying to achieve through this podcast is something really amazing because there are few things like cultural nuances, cultural transitions, homesickness. These are some of the topics that are so important for international student, but are rarely talked about. And I'm really glad that I can share my experiences and in some way try to help those students out.
Pearl Vas: Amazing. Krunal, when did you first come to Canada?
Krunal Shah: So, it's been one and a half year now. I came in September of 2018. I'm from Gujarat, India. This is my first international trip. So, there is only two countries I've been, in India and Canada. So, I'm like Beatriz. I don't have any references as to how a place should be, what should I expect. But as I'm from India, it's always been that we are a land of diversity. We have different cultures. Somehow that helps you when you come to Canada because you have already lived with people who do not speak your language, who have different beliefs and sentiments.
Pearl Vas: When you first came to Canada, maybe in your first few weeks, what was your first impression of Canada, the people and the culture, compared to what you were used to growing up?
Krunal Shah: Okay. So, before I even came to Canada I had really seen ... My friends were already here. They have been here for five years now and they always used to talk about how inclusive and how amazing Canada is, and how amazing people are, and how respectful they are towards every ethnicity and every people around the world. So, I was quite comfortable in that respect.
Krunal Shah: When I landed, of course it's my first international flight, so I was quite tired because it takes around 24 hours for me to get here from India. So, I was tired and I was scared because immigration, of course, it's scary for everyone, I believe. But even in immigration, they were so nice. They were smiling and that was kind of surprising, but in a way, they made me feel really comfortable. They issue your study permit at the end of ... I mean, your immigration is done, they issue a study permit. And after that, the officer who I was talking to, he said, "I hope you enjoy your stay and don't mind our weather so much." So, that was really nice of him to say that.
Pearl Vas: Mm-hmm (affirmative). Beatriz, you're smiling. Did you experience something similar?
Beatriz Delgado: Well, yeah. Before coming to Canada, I had been made aware of the Canadian's reputation for being friendly, for always saying sorry for things. So, coming here, I had that in mind. And true enough, I experienced it myself. So, even at the airport, you can ask anyone and it's just really open and welcoming. So, I kind of proved that reputation myself when I came.
Beatriz Delgado: Right when I started school, that's three semesters ago, so you don't know anyone in the classroom, right? But then you get to connect because your teachers force you to say hi and be partners with people who you don't know in class. And then, most of them, when they realize that it's your first time or you've just moved in, they would really ask you, "Do you need anything? Do you have blankets? Do you have anything you need in the kitchen?" That's very, very heartwarming for me.
Beatriz Delgado: Yeah, I've experienced that with my good friend now, Sarah. So we were classmates in math class during the first semester, and she realized that I just moved. And she's like, "Do you have blankets?" So, that touched me a lot. So, yeah. Sort of very good impression.
Pearl Vas: Awesome. And we often talk about the culture shock curve. When people first come to a new country, they are on some sort of high because everything is new, everything is exciting. And then, you start, as you're getting used to your new home, you perhaps have a little bit of difficulty. Maybe Beatriz we can start with you. Did you have any ... What were some things that you struggled with when trying to make Canada your new home?
Beatriz Delgado: The worst struggle, I guess, starting out in Canada is looking for a part time job, which would be okay with your flexibility and schedule, you know what I mean? Because you don't know your schedules each semester, so they have to be aware that it might change in the next four months. So, that was really, really the worst part for me. How about you, Krunal, did you feel the same way?
Krunal Shah: Yeah, I am. Of course, the weather is definitely something that has been quite impactful since I've moved to Canada because in India, this is not the weather that we have. We're used to sunlight. And over here it's always gloomy for most part of the year. And job of course that you mentioned, it's really difficult to find a job when you don't have experience actually from back home. If you are just graduated from your school and you've just done your Bachelor's, you don't have experience. And most of the places that you go to to ask per a part time job, they require some sort of experience, as well as they require some Canadian experience. So, that's really tough, but if you keep trying you will eventually find a job. That's not big of an issue.
Krunal Shah: The second thing that was really tough for me to grasp was how long does it take for me to get from one place to another, the commute, because back in India, we have our own vehicles and motorcycles and cars and everything. So, it's fine, but over here, you have to use the public transport. And that takes the majority part of your time during the day. And you have to account for that, for everything.
Pearl Vas: You brought up a good point about jobs. I heard people say ... Well, you're an international student. In order to get your study permit, you are supposed to demonstrate that you have enough money to come here. Can you shed some light on that issue? Even though you are able to demonstrate that you have enough fees for X number of years, there is still a need for a job, maybe more than one job. Can either of you talk a little bit about that?
Krunal Shah: Yeah, sure. I can take up on that. The Canadian agencies, Canadian CIC, I guess, they require a certain amount of money to be there in your bank account for you to get that so that you know that you are good enough to pay your fees and everything. And you will be focusing on your studies. They also allow you for 20 hours of off campus work that you can do, but believe me, 20 hours, with the minimum wage rate, it's not enough to survive in Canada. You need to find something, some other odd job to do, or you need to cut down your expenses, and make some changes in your lifestyle, which also plays an important role because you are used to a certain lifestyle for N number of years that you have been in your country. And then, you suddenly have to make that transition, that's something that you need to focus on.
Beatriz Delgado: So, I think coming here, as an international student, what we all have is enough budget for the schooling. But you don't anticipate that you have to pay for your transport. You have to pay for food. Maybe you want to go out with your friends sometimes. Girls want to go shopping. You find something new in Canada and you're like, "Aww." So, the part time job is some sort of an extra income. We have enough for the schooling to get by, like the rent and everything, but we also want to enjoy a bit of being here. So, I guess that's the main reason why sometimes it's depressing to not be able to find a job as soon as you want to.
Beatriz Delgado: And the thing is looking for a part time job, you don't have experience. And you're like, "Just let me try one day and you will know I can do it." And I think it's implied that most of us, it's a frustration that most international students feel because it's like it's a "No no, no experience." But in your head, "Come on. Let me try one day and you'll see." You know what I mean?
Pearl Vas: Yeah.
Krunal Shah: Definitely.
Pearl Vas: Nita, I'll loop you in. How long have you worked at Centennial College?
Nita Saini: I've been here for almost four years now.
Pearl Vas: Okay. And you and your team at GCEI, you facilitate a lot of workshops for students and faculty about microaggressions, about managing unconscious bias, and lots of other great workshops. Have you experienced or have you heard stories similar to Beatriz and Krunal's about having a hard time finding a job or even having a hard time adjusting to Centennial, to a classroom in Canada?
Nita Saini: Yeah for sure. And I think it's really important, and I think, Krunal, you brought up the point of the Canadian experience barrier. It's really important to acknowledge that for a lot of our folks coming to Centennial, many of our international students are also mature students. They have all this rich experience, education, work experience, everything. Lived experience. And coming to Canada and feeling like you have to start from scratch. And I think it's really important to recognize that the kind of toll that can have on a person because there's a lot of systemic reasons and barriers that are created within Canadian systems that can prevent people from being able to access gainful employment.
Nita Saini: And I think it's really, really important to recognize that because sometimes when people are looking for a job, they feel like, "Oh, it's me. I've sent out 100 resumes into the ether and did I put my wrong phone number?" I know folks have had that experience, but it's also understanding that our system is currently designed to privilege certain people in the labor market. And things like your name, like your country of origin, all of these things, your gender, your sexual orientation, your gender identity, all these things can impact you in the job market because a discrimination is real, it's lived, it's systemic. And that can be very difficult for someone if they are looking for work and continue to face these barriers that can start to internalize that experience. That there's something wrong with them, that they're not being able to access gainful employment.
Krunal Shah: During my first month in Canada, my weekends were ... I used to send at least 500 resumes per day via online. Used to go to Subways or Pizza Huts and McDonald's and stuff every weekend because on weekdays I have college five days a week. And then, on weekends, I used to spend my entire time sending out resumes and expecting calls from them. It's a long procedure, but eventually, you will find a job.
Pearl Vas: I'm going to pick up on something that you said, Nita. When I came to Canada 20 years ago, people would come up to me and say, "Oh wow, you speak English so well." That's the only language I speak, so I didn't know what to take from that. I wasn't offended necessarily, but as the years went on, I kind of got a little bit defensive. Beatriz or Krunal, have you ever experienced something that people have said or did that may not ... I mean, we like to think that we're good people. We don't mean badly. We don't want to make you feel unwelcome. But have you ever experienced anything, maybe in the classroom or just even walking on the sidewalks? Beatriz, did you want to ...
Beatriz Delgado: Yeah. Actually, about that. "You speak very good English." I get that a lot, like, every day. It doesn't offend me. I'm like, "Okay. Nice. Thank you." And then, the next question will be like, "Oh, I thought you were from Canada because you speak very good English." And in my head though I'm like, "I've always spoken English. It's nothing different to me." But I guess they don't mean anything when they say that, so I don't take it offensively, but it's okay. It doesn't flatter me either. So, I guess, it's just because of how diverse Canada is that sometimes in their head people are like, "You look different. So, I suppose, you don't speak very good English." Right? But it's not a barrier to me or anything at all.
Krunal Shah: Actually, funny thing about that is people might know that you're brown-skinned and you do speak English, but they don't expect a fluent English coming out from your mouth because they take the reference of Simpsons in that respect.
Pearl Vas: Apu.
Krunal Shah: Yeah, Apu from Simpsons. That's what they take the reference from. They're like, "Okay. How come you don't speak like that?" I was like, "Nobody speaks like that. Nobody wobbles their head so much. That's not how we speak."
Nita Saini: Or Raj from Big Bang Theory.
Krunal Shah: Oh yeah, exactly.
Pearl Vas: So, Nita, if we're not offended by this or if Beatriz says, she's not offended by this, why does your team spend so much time talking about microaggressions and how that impacts the experience of the individual?
Nita Saini: So, I'm going to try to keep this succinct. I could talk about this all day. But I think it's really reflecting on ... So, microaggressions are sort of these every day verbal or behavioral experiences that people can have. And sometimes they can be intentional, they can be unintentional. But what's really important to understand that there's nothing small about them if they're cumulative, if it's something that people are experiencing all the time because of their identities. So, I think it's really important we think about the word microaggressions to reflect on history. So, where does this word come from?
Nita Saini: So, in the 1970s, Dr. Chester Pierce, he coined this term to specifically describe the insults that were perpetuated by non-Black people towards Black people in the context of the United States. And he actually called these subtle cumulative mini insults.
Nita Saini: And so, the idea is really to kind of almost not think about it as an individual person is offended by something or not. That's another conversation, but it's thinking about the systems. Like, why does it matter if you speak English well? What's so great about English in comparison to any other language? It's privileging that knowledge and also understanding that English has been imposed on a lot of people around the world through really brutal, historical systems. And many of our students ... I mean, are so incredible. Like, I've met students here that speak five languages. I don't care if you speak good English. That's incredible thing that you have. So, it's that piece.
Nita Saini: But when they are talking about systems, it's also to think about how a lot of this is about relationships and context, right? So, rather than thinking about in binaries, is this a wrong thing to ask? Is it a right thing to ask? Is it an okay thing to say? It's how do you know this person? What's your own identity in relationship to the identity of the person that you're talking to? And do you hold different kinds of power when you're asking these kinds of questions? And power, it can come from your identity, it can come from your position. So, a lot of it is really about relationships as well.
Pearl Vas: People have said to me, "Pearl is such a beautiful name. What's your Indian name?" That is my Indian name. What's problematic about this? Usually, I just kind of brush it off and just say, "Thanks" and walk away. What's wrong with that?
Nita Saini: So, I think it's a really important thing to think about. For me that's a hot topic as well. So, I go by Nita, but that's not my legal name. My parents had a more typically Indian name as my legal name. And it makes me a really kind of sad that in some ways that my parents felt when I started school to give me an English sounding name because they felt that that would help me go through a schooling system that was predominantly White and didn't reflect the communities that I am from.
Nita Saini: And that I think is really sad because there are names given to us often from a place of a lot of meaning and a place of a lot of love. And because we feel that we need to succeed or our families feel that we need to succeed in kind of the capitalist and neoliberal society that we exist in. We take on these identities and it's a lived reality. I understand why people do it as well.
Nita Saini: So, there's a really famous study by Oreopoulos I believe is how you say his name. He looked at employment and basically found that in Toronto and Montreal, you're 40% more likely to interview a job applicant with an English sounding name than someone with an ethnic sounding name, even if the education, skills and work histories were similar. And so, again, it's these small things that might seem small, have these really big systemic impacts on people's lived experiences and finding work and housing, in the justice system and education. They're connected to these bigger systems. It's not just about an individual interaction.
Krunal Shah: What I feel right now what's happening is with the world becoming such a small place, everybody is having accessibility to internet and everything, people are becoming more respectful and more inclusive of everybody's culture and their names. I have seen people struggle with speaking our names but still they would want to say it correctly. So, I think that is changing now. People are more respectful towards you, towards your culture, towards your name. They don't mind if you have some odd name, which they cannot pronounce. And so, this is what I would like to think that it gets better and better as we move forward.
Pearl Vas: That's great to hear that that's your experience, Krunal. That's really enlightening.
Pearl Vas: I'm going to switch gears a little bit to the classroom. Just because we are at a college and school makes up such a big part of your experience as international students. Krunal, can you tell us a little bit about your experience in the Centennial classroom and how it was different from the classroom, if it was different at all, from the classroom back home?
Krunal Shah: Okay. So, first of all, the classroom structure wise is pretty much the same. Even India, we do have smart classes. We have projectors and computers and everything. So, that's pretty much the same. But what you experience different in Centennial is the wide range of people that you are with in the classroom. The number of ethnicities or cultures that are around you, and how you interact with those people, that's really I know that something helps you transitioning into Canada because when you see people who are also not from Canada around you, you feel much more comfortable knowing that you will do good along with these guys as well. My friends in the first semester that I was in were from Ukraine, Turkey, Colombia, Mexico, Philippines. So, I had those friends around me and that really helped me because they were also in the same situation that I was in. We were all trying to figure out how to get comfortable in Canada.
Pearl Vas: Mm-hmm (affirmative). Beatriz, can you share your experience?
Beatriz Delgado: Okay. So, wait, where do I begin? So, at Centennial for me, the most amazing part of being a student is the diversity in the classroom. How the world comes together to learn, right? And how everyone in class carries with them totally different experiences. And then, sort of, hmm, they want to connect with each other. And then, the professor comes and puts you in a group. And you're like, "Hmm. I don't have a choice."
Beatriz Delgado: But what I realized being at the fourth semester is that those are very, very happy, good opportunities. So, you would have one in your group who was like a Master's in whatever, who owned a business in Brazil. And there's one who's a fresh graduate who doesn't know anything. One who owns Subway franchises. So, how amazing where you come together to submit Lyle's project to come up with a presentation for Tammy or something. How you all come together from different parts of the world to do one thing. To me, I'm going to miss it, you know? When I graduate, I'm totally going to miss that one. Hopefully, in the workplace it's kind of the same.
Pearl Vas: That's awesome. Nita, from your experience, have you noticed differences in classrooms across different countries?
Nita Saini: Yeah, I think it's really interesting question because I feel like there is so many different ways of being and knowing and teaching and learning all around the world. But a big challenge is that because of globalization and because of western knowledge and pedagogy has infiltrated worldwide actually and really impacted a lot of global education systems to become very similar to western systems. But I do think that there is so much that we can learn from other world classroom systems on how to also change sometimes the power dynamic between the students and faculty.
Nita Saini: So, I know that in some different classrooms around the world, folks may sit in a way, perhaps more in a circle, so that there's not ... I'm sorry, a teacher or an educator seen more as a facilitator rather than a topic expert. So, there's lot of different ways I think to teach and learn around the world. And for someone who's coming to Centennial, if you've learned in a different way, learning how to learn in this context is a journey in itself, not just the content.
Pearl Vas: Do you have any tips for students who are trying to understand or wrap their head around a Centennial or Canadian classroom?
Nita Saini: Yeah, for sure. I think one of the biggest things I would say is really try to understand that it's not necessarily that you might be experiencing something different, but that your experiences have not necessarily been good or bad. They're just different. And one of the really important things is to allow yourself to have a whole space for yourself to have feelings about it, right? It's okay if you come in and you're like, "This doesn't make sense to me" or "This is not the best way for me to learn."
Nita Saini: And one of the things that allows us to do is also to seek support. There's lots of support through libraries or through our wonderful faculty, through clubs you can join at our student association, through meeting other peers. I know migration and all the associated challenges that come with it, that's no small feat. So, really building a community around you that allows you to be your whole self that uplifts you, that shares your experience, I think that's one of the biggest advice I would give to students in helping them navigate some of these changes in the classroom.
Beatriz Delgado: I totally agree with Nita. So, Centennial has this international student's orientation day. Like, the very first time you come to school, and then, meet people who you absolutely have no idea who they are. Like, you don't know. And I think that's one of the most important days for me in my college life that set me off to a path of friendship and community because it was the best decision ever. Like, I met people there and they've become my closest friends to this day. We're not in the same program. Some of them have graduated. There's probably four of us, but we stick together. We stuck through. And because we met on orientation day. So, I think Centennial is actually doing a lot to help us build communities through these events. So, if you are new to Centennial, come to school, join orientation day, do the activities on the bridge. That's where you make friends definitely.
Krunal Shah: And something else that I would like to add on that is it's really amazing over here. What happens that in India, there is an invisible barrier between faculty or professor and the students. There's always certain kind of respect that you give and some hesitation because of that barrier. Over here in Centennial, your professors are more like your ... friends I want to say. They are kind of your friends. They would help you out in every aspect of your studies. They are really supportive. They would let you know if you are facing any troubles. You provide your feedback form so that they know what they are doing wrong or right, which never used to happen in India. We never used to have a voice or what I feel wrong about this professor, which we can over here. So, that is something that's really important. That's amazing.
Krunal Shah: Something else that I would like to share and advise the students who are coming for the first time in Centennial is that to attend orientation. Of course, do attend your classes regularly because the more you come ... What happens is when students come from India to Canada, they are trying to find a job, earn money. They see some fancy things outside that they want to buy, they want to earn money for that. And what happens as that they miss out on education and the classes. Eventually is going to damage them. So, that's some advice that I would like to give to students is do attend your classes and get yourself involved in all the activities that college does.
Pearl Vas: We are going to have a clip of a faculty member who has incorporated an intercultural learning module into COMM 161. That's the English course.
Pearl Vas: So, Jane, can you tell us a little bit about how you got involved with the intercultural learning module?
Jane Sakay: So, the intercultural learning module was brought to my attention from the Chair of English at the time, which was Shawn Brake. The reason that Shawn brought it to our attention was because there are a lot of international students now at Centennial College as opposed to even four years ago. There are about 60% of the college intake is international students. So, there's more international students than there are domestic students in our classrooms. And what we're finding with this mix of international students in the classrooms that we want to ensure that everybody is having a positive experience in the classroom. And through talks with the Department of International, they decided that it would be a good idea to incorporate intercultural learning into the communications courses because all of the model roots for the program at the college require students to have a communications course.
Jane Sakay: When international students or when any students come to the college, they are assessed in terms of which course to go into. They discovered that 95% of the international students are assessing into the 16 level communications course or below, which means that if we incorporated intercultural learning into the 161 communications course, we would be hitting 95% of our international student body. So, we thought that that would be a good idea.
Jane Sakay: Currently, I'm the program coordinator for 161, so that's why they brought me in.
Pearl Vas: Awesome. Can you tell us a little bit more about what that module looks like?
Jane Sakay: So, it is still in the pilot process. What we've been doing is after we've had some of our own ... The faculty have engaged in learning about cultural awareness. I've participated in a number of workshops now that has been hosted by Laura Wood of the International Department on cultural awareness, which has been very informative in terms of providing materials for the classroom.
Jane Sakay: Myself and colleagues have now put together learning activities within the class in trying to amalgamate the intercultural learning into the curriculum. And I think we've had quite a bit of success.
Jane Sakay: Originally, the students would take a survey, which was the intercultural development inventory, which is an IDI survey. And the purpose of the IDI survey basically is to build intercultural competence, basically to find out where people's orientations are, I guess, to cultural differences and commonalities. What we found was that when the students participated in the survey, at the beginning and at the end of the course, there didn't seem to be great variance in the results.
Pearl Vas: Oh, like in the before and the after?
Jane Sakay: Yeah. There wasn't a big variance in results. So, we went back to figure out if it's something that we're not doing or we're doing. And what we've learned through that is that it's just more solidifying how important culture is. That culture is so informative in terms of our decision making, in terms of our values. And coming to a three hour class once a week isn't going to move the needle on that particular continuance too, too much.
Jane Sakay: However, from an anecdotal point-of-view, I think the students have enjoyed being able to participate in a group where they can meet people from a lot of cultures. Where we are purposefully putting students with students from other cultures in order for them to enhance their learning.
Jane Sakay: And so far it's been quite successful. The culminating task in the course is for students to interview somebody else from another culture within the class, and then, present that student to the class in an oral presentation. They also write a poem about their culture. It has been quite impactful I think for the students. They seem very engaged in this presentation part of the curriculum, and so, I'm encouraged by that. The feedback has been really good.
Jane Sakay: So, we're hoping in the end the students will just be more willing to engage with others in different cultures because we have basically a microcosm of the world here at Centennial College. We take in more international students are at post-secondary institution than other institute in North America. So, as a result, it's a very unique situation. And many students travel thousands of miles to have this international experience, and yet, when they are here, we find that they are not engaging the way I think they would want to and the way I think the expectations have been with other students. There tends to be a little bit of polarization where students will stay with the people that they feel most comfortable, which is very natural.
Jane Sakay: So, the idea of this particular module is to get students to come out of their comfort zone and to engage more. And using English, the language of English, as the means for integrating with the different cultures.
Pearl Vas: Amazing. So, is there something that other faculty can do in their classes that incorporates some of the learnings that you are using in this intercultural module?
Jane Sakay: I think absolutely. I think really it comes down to simple teaching methodology. So that you're being more conscious of the written material that you're choosing, that you're choosing material that is more culturally oriented, that you're choosing material that the students can engage with, that we are making sure that that's in terms of our writing material and our textbook material. Being conscientious about integrating students purposefully into cultural groups. And to make sure that the students understand the importance of having that group interaction. So, facilitating different ways in which students can more actively engage with other cultures using English as their means of communication. I think the more that we do that within the classroom, the greater the facilitation I think of this intercultural learning.
Pearl Vas: Can you elaborate a bit more about the group work? I feel like group work is pretty much everywhere, in all classes across all disciplines. So, as a faculty member, but I'm very intentional with how I divide them up into groups.
Jane Sakay: I think that's exactly the point is being intentional. Often people will let students choose their own groups. We want them to be autonomous in terms of being able to make those kinds of choices, and that makes a lot of sense up one level. But this is actually when faculty are going to have to take a greater role in trying to purposefully put students intentionally into groups of different cultural backgrounds. So, often it's helpful to have a survey at the beginning where the students will indicate where they're from, what language they prefer, all sorts of different information that's helpful for the teacher so that the teacher can in the end be able to work with that information through the different teaching methodologies.
Pearl Vas: Oh. That's awesome. Was there anything that you noticed in yourself, things that you didn't realize that you were doing, in the way that you were thinking?
Jane Sakay: Well, it taught me about what culture really is. I had always assumed that culture was very closely tied to ethnicity. That culture was very closely tied to your country of origin. But I learned that that's only part of it. That culture in a sense is very fluid. That everybody's personal culture is very unique and that culture is very important in terms of informing our decision making, informing in terms of how we react to certain situations, our values. A lot of it is formed through our social interactions.
Jane Sakay: So, for example, whatever group affiliations that I happen to be in, whether it's by choice or by design. For example, my family, whether I'm an urban person or a rural person, my religious affiliations, the groups I choose to affiliate, the sports teams that I choose to be on or cheer on, all of those inform my culture. And so, they impact my decision making and my values. So, understanding that all of those things can be even more impactful than my ethnicity, but for some people the ethnicity is more impactful than those others. So, it varies from person to person, and is very unique. So, that's what I learned about culture and that's what I'm really trying hard to pass on to the students.
Pearl Vas: Nita, what advice do you have for faculty and staff who deal with international students every day? How do we ... maybe we'll start with faculty first. As a faculty member, how can I ensure I'm engaging with international students who come from all over the world, who are used to very different classrooms?
Nita Saini: Yeah, that's a really good question, Pearl. I think one of the really important things for anyone to do is really start with self reflection. So, think about your own social occasion, your identity, the ways in which you hold power and privilege in the classroom space, and think about your students, and how can you disrupt that a little bit, how can you acknowledge that and understand that. Think about your own biases. What did you learn in school and how are you presenting that content and what biases are you bringing in? I think that's a first place, a really important place to start.
Nita Saini: I also think curriculum, thinking about the content that you're teaching. Does it reflect diverse perspectives or is it really only reflecting one or two dominant perspectives? Does it offer opportunities for our students to bring in their own rich experiences, their own rich learning, their own knowledge into the classroom? And to create those opportunities really intentionally because I think our students, we can learn so much from them as well as staff or faculty.
Nita Saini: I also think that our students, as both members here on the panel, have shared, really have a lot of respect for their faculty. The faculty hold a lot of power in the sense of setting expectations and setting the tone of the classroom. So, from the beginning if you as the faculty member can really demonstrate the values that you hold and how this will be a respectful place, how everyone is welcome, and how you are all going to engage together in learning with respect, that is really, really important.
Nita Saini: So, even small tips like if we want to be more inclusive of folks with diverse gender identities, introducing yourself at the beginning of the class as a faculty member and perhaps the pronouns that you have, if that's something that you're comfortable doing, kind of indicates or signals to folks of diverse gender identities that this is somebody that I can trust, I can talk to. So, there's many different ways that we can do as staff and faculty, I think.
Pearl Vas: Can I ask also, if I were a faculty member and I have maybe heard some comments from other students about a group of students from a different country, how do I encourage conversation or how do I tackle this issue instead of just ignoring it, and maybe sweeping it under the rug just to get through this lecture?
Nita Saini: Yeah. That's a really good question. And I think context would play a big role. If it's something that was happened quite publicly within the classroom, I think it's really important for the faculty member to try to address that and understand where are these comments coming from. They are often coming from a place of discrimination, generalizations, stereotypes, and addressing the whole classroom I think is really important because there's other folks in that room who may have not been directly part of that conversation, but also may feel impacted. But also, pulling aside the individuals that are impacted and having a deeper dive into that.
Nita Saini: I think it's really important for our students, all students to sort of understand that if they are walking through any space in the college that they see their faculty and the staff here as allies and supporting and respecting their whole selves and their diverse identities. So, if we sweep things under the rug, when we see them, they're not going to see folks with institutional power, like staff and faculties. It's people that they can tell and they can share these experiences with.
Pearl Vas: That's amazing. And as students, how can we be more inclusive and how can we be kinder to one another?
Krunal Shah: First thing that everybody needs to understand is be very respectful of every culture and ethnicity. Knowingly or unknowingly you might do somethings that might not be so right in the context. Like, when you first enter your classroom ... In Centennial, let's take. The first day that I entered, I found out that every person that is in my classroom, none of them are Canadians. Everybody is from different country and from different ethnicities. So, you have to be considering that aspect in how you behave, how you talk, what you say out loud. And second thing that will be really helpful to students is that be very observant of what people are doing. Try to pick on things. When I first entered into Centennial, there was someone who held a door for me. That was really nice of that person. It was something that I took in and I'm doing it every now and then that I would hold a door for someone who's walking behind me. Be enthusiastic, be accepting of the change that is going to happen in your life. So, that's something that I would like to tell.
Beatriz Delgado: I know it's hard to blame it on human nature, but we all have that bias. Even personal biases and beliefs and stereotypes and generalizations. But coming to school, you have to strip that away from you and try to open your mind into how amazing it is to understand that this is how it is there, but then you respect that.
Beatriz Delgado: We know in this world there are stereotypes to being Filipino, to being Indians, to being Jamaicans or something, right? But it's not something that you are not open to changing, I guess. And being an international student changes that because you're like, "Ooh. My friend Sarah is from Jamaica. And she loves jerk chicken," but then you're okay with that. You want to try it. It's not something that you label her as Jamaican and jerk chicken, or something like that, yeah? And that's I think one of the most valuable takeaways being an international student because then when we graduate, in the workplace, it's going to be the same. It's going to be the same diversity. There's going to be the same stereotypes, right?
Nita Saini: Yeah, so I think echoing I would be interested in saying is that it's really important that we all recognize that we're on a learning journey. Each and every single one of us. And we have to be really open to critically self reflecting on the things that we think, do and sort of learn ... We're often very defensive, right? So, you might do something and you'll go, "That was just a joke or I didn't mean anything by that."
Nita Saini: And really to say if somebody asks you or tells you that they didn't like something you said, you kind of get the sense that something you said might have offended somebody, that's a gift. If someone is actually willing to approach you and say, "You know, that wasn't the best thing that you thought" or "What you said is kind of a stereotype" they're offering you a gift because you're telling you and that means that they think that you have this openness and capacity to actually change your behavior. If I really don't think that someone's going to be open to that, I probably wouldn't even bother with them. I probably wouldn't even bother telling them that what they've done or said is offensive.
Nita Saini: So, I think just creating a space for yourself to understand that it's okay if folks tell you to do something differently, or that we can learn. That's kind of a culture that I think that we can all work towards building. One of more compassion and empathy for each other, but also to be able to receive that feedback, accept it, and change our behavior. So, I think that critical self reflection is a really, really important piece.
Pearl Vas: And Nita, can I ask you to share some of the resources that you have available for students and faculty and staff?
Nita Saini: Yeah. So, I'm at the Center for Global Citizenship, Education and Inclusion. We do work with staff and students. We offer a lot of workshops, trainings. We offer a lot of programs for students to get involved on campus about social issues, environmental issues that you might be passionate about. We have volunteer opportunities. Lots of places to have these really great conversations about how can we make positive impacts in the communities that we live, learn, work, play. This is a place students and staff can feel comfortable coming and interacting, and engaging in that journey of self reflection.
Pearl Vas: So, thank you all for being here today and sharing your very personal experiences. I think it's a very important conversation to have, especially in the world we live in today, the city that we live in, the college we go to. So, I really appreciate you all taking the time to share your stories.
Nita Saini: Thank you so much, Pearl. It was so wonderful to be able to join you all on this panel. And always great to hear of the experiences from students.
Beatriz Delgado: Thank you Pearl. It has been so insightful and it's good to look back to my almost two years of experience now here at Centennial. So, thank you for giving this opportunity to share that to everyone and to help them moving forward as they build their roots in Canada.
Pearl Vas: Thank you for listening to this week's episode of Through a Global Lens. Join us for next week's episode, "International students and mental health." Make sure to listen and subscribe to the Centennial College podcast on SoundCloud, Apple Podcast, Google Podcast and Spotify.