QUESTIONS
P.O. Box 631 Station A
Toronto, ON, M1K 5E9
Episode 4: Understanding mental health as an international student
Episode 4: Understanding mental health as an international student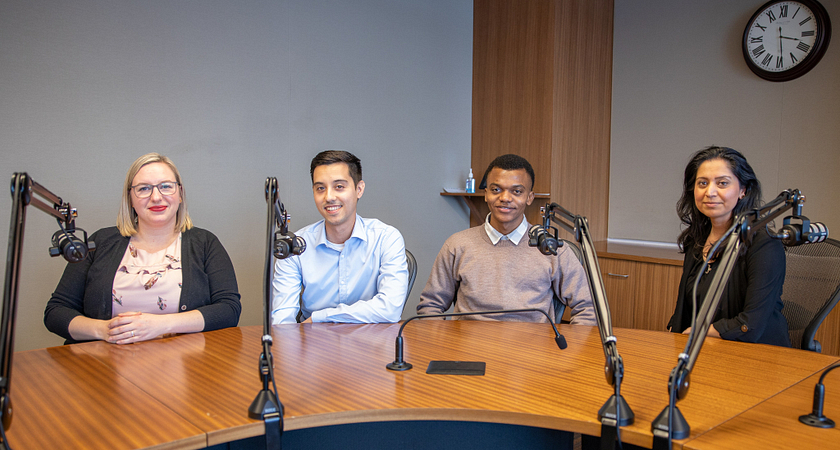 Summary
On today's episode, we'll be talking about the mental health challenges unique to international students. We'll explore what international students can do to nurture mental and emotional wellness, and what staff and faculty can do to help their students.
Our episode hosts, Lauren Atmore and Pierre Ross, will be talking to Lawrence Everest, an international student, and to Roma Rashidi, a student counselor at the Centre for Accessible Learning and Counselling Services.
Disclaimer
The videos and podcasts were recorded when our campuses were open, prior to March 2020. Centennial College has transitioned to offering academic and co-curricular programs online. We value opportunities to engage with our students to support their learning and professional goals. For all Global experience programs, SaGE will offer Virtual Global Experience programming in the Fall 2020 and Winter 2021 semesters until travel advisories have been lifted and the Canadian government has deemed travel for education is safe. Students can still take part in fulfilling opportunities such as studying virtually with one of Centennial's international exchange partners, participating in an applied research project with a partner in Morocco, or completing a virtual internship with agencies in Costa Rica and China.
Transcript
Pearl Vas: Welcome to Season Four of the Centennial College podcast, Through a Global Lens. In this season, the International Education Services and Global Experience team, or SAGE, explores topics that affect international students and internationally minded students, staff, and faculty. Whether you've traveled a long way to study at Centennial, or you're considering traveling abroad, this podcast is for you. Today's hosts are Lauren Atmore and Pierre Ross.
Pierre Ross: Welcome to this episode of Through a Global Lens. I'm Pierre Ross, and I'll be your co-host for today's episode: Understanding Mental Health as an International Student. And here with me today is my co-host, Lauren Atmore.
Lauren Atmore: Hello. Nice to be here. On today's episode, we're talking about the mental health challenges unique to international students. We'll be focusing on how those challenges might be different for international students versus domestic students; what international students can do to create life balances; and, for staff and faculty, the lives of your students. Lastly, we'll be looking at what resources are available to our students on campus.
Pierre Ross: Joining me and Lauren today are going to be two Centennial community members, Roma Rashidi and Lawrence Everest.
Roma Rashidi: Thank you, Pierre.
Lawrence Everest: Thank you, Pierre. Thank you, Lauren. It's so nice to be here with you guys.
Lauren Atmore: We'd like to thank both of you for joining us today. We're going to discuss some very important topics. Roma, you are a student counselor here at Centennial College's Centre for Accessible Learning and Counseling Services, also called CALCS. We're also joined by Lawrence. He's an international student from Tanzania, studying electromechanical engineering with a focus on automation and robotics. Thank you both for joining us.
Roma Rashidi: Thank you for having us.
Lawrence Everest: Thank you, Lauren.
Pierre Ross: In today's episode, we want to explore some of the mental health challenges that are unique to international students; what students can do to prepare for those unique challenges; how staff and faculty can support them; and what resources are offered at Centennial, both on and off campus.
Lauren Atmore: Before we really get into it, though, I wanted to go over just some stats, because it's important to know that mental health struggles are really common amongst international students and across the entire college. According to the National College Health Assessments Spring 2016 study of almost 44,000 post-secondary students, over 64% of those students felt overwhelmed by anxiety in the last year, and 44% of those students were also depressed so much that it was difficult for them to function.
Lauren Atmore: That's a huge percentage of students struggling. It can be so hard for some students to even see that they need help, let alone know how to reach those resources. Hopefully, we can shed a bit of light on that today, so our students know how to better navigate the environment here at the college.
Pierre Ross: So, let's get into it. Starting college isn't always easy, and coming from another country can make things even more difficult for international students. The added implications of a new climate, a new culture, and a different class environment can cause stress and anxieties for international students. Roma, based on your experience working with international students, could you walk us through some of the issues they face when they start at a new school?
Roma Rashidi: Yes. I would love to, Pierre. International student organizations around the world have done a great job of researching the needs of international students that might be different from the domestic students. To illustrate that, I'm going to illustrate some points that the European Association of International Education notes.
Roma Rashidi: First, language barrier, I believe, is a very common one for a lot of international students. Not only does the Canadian classroom typically require students to give presentations, students may feel like written content or lectures are hard to completely understand. On top of that, social interaction can be harder when you share a different set of language skills than others in your classes, or when you're engaged in other activities.
Lawrence Everest: I actually remember when I first landed here, I actually struggled with the language barrier. It was just awful. It was just awful. I remember I couldn't talk to my friend, I couldn't ask for help. I remember missing my classes because I just couldn't figure out the right block for the class, or the floor. So, I actual ended up walking around, and by the time I came to figure out the right block and the right class, I actually missed the class.
Lauren Atmore: I know another common issue is culture shock. Can you tell us about that?
Roma Rashidi: Yes, absolutely. It's not just the logistics of moving from one country that can cause stressful situations. International students have to adjust to everything from new types of cuisine to the weather patterns, and to a different set of cultural values, and all the varieties of teaching styles that they might not be used to. I mean, we're all Canadians and we haven't really adjusted to the climate. For international students, it's that much harder.
Roma Rashidi: Next, is the unrealistic expectations that students bring with them, the expectations not only of their parents and people back home, but also the expectations of their own success, too. Some students may even feel like the family might withdraw their support if high grades aren't maintained.
Lawrence Everest: I would love to add something on that. I actually had a friend of mine, he was from India. I remember one day talking to him, and this guy was like, "Oh, man. When I was back home I used to think coming to Canada would help me to get a lot of money. But actually, I mean, back home we used to think that Canada has a lot of money, and we could actually find money on trees. But when we actually landed here, the best thing we could find is snow.
Roma Rashidi: A lot of it, too.
Lawrence Everest: So, they actually have this kind of belief from back home that once they land here, they're going to find a lot of money. But once they land here what they actually find is snow, and that kind of disappoints them and discourage their mentality.
Roma Rashidi: Absolutely. Also, international students that come here, they still have ties to back home. So, a crisis originating at home is another point of distress for many students. While Canada is a pretty politically stable country, it can be stressful to know that there are family members and friends back home, or in their region, that might be impacted by disasters, by war, and other areas of distress. Students also have to deal with being away from families if illness or death strikes back home, leading to them feeling guilty, and helplessness, and even further isolation.
Pierre Ross: Coming from the perspective of a domestic student, I know Lauren and I were domestic students at one point, these are just issues that we don't really think about. And on top of just the common stresses that students have every day, some of the topics you pointed out, there are specific issues related to international students that really aren't on the radar for domestic students.
Roma Rashidi: Yes, Pierre. Like, really well said. Also, to add to that, Pierre, is that seeking medical help can be very stressful, too. Not only are international students more vulnerable to physical and mental health issues, such as viruses, mood-related stress disorders and other issues, they're also less likely to seek medical help. This could be attributed to many factors, but including not really knowing where to go and where to get help, but also that mental health issues might be stigmatized back home.
Lauren Atmore: Roma, you must hear so much about this in your day-to-day work. Lawrence, maybe you could speak to some common issues you've heard amongst your friends, or perhaps something you've dealt with yourself?
Lawrence Everest: Absolutely. Personally, I've had many different experiences and, I believe, so have my friends. Some of these experiences actually include homesickness. Trust me, it's really hard being here without the support network you're used to. Oftentimes, we can be paralyzed with the fear of losing friends because it's so hard to make them in the first place, so we don't want to lose them. It's so scary to be unable to reach your old friends, and unable to make new ones here, too.
Pierre Ross: Did you have difficulty reaching your old friends since coming to the new country?
Lawrence Everest: Yeah. Man, I was struggling. I remember ... Okay, so we have this kind of group, WhatsApp, so I connected with my friends back home. We just kind of keep the conversation going. But lots of times what I find is that once they realize that you left, you're not with them, they kind of try to isolate you. Like, you don't want to have that feeling. You don't want to bring that feeling with you when you go to bed at night.
Lawrence Everest: And here, too. When you first land here, you don't know which friends are good ones and which are not. You're kind of just trying to make as many friends as you can, without considering somebody's background. So, what happened is, most of those very first friends that we meet here actually are not the right ones, so you end up struggling into bad relationships. And at the end of the day you're like, "Hey, you know what? It's no use. I'll just be alone."
Lauren Atmore: In my own experience, even something as minor as five hours time difference can be so disruptive. Like, you can't call your parents at the right time, or they're having dinner, or they're asleep. And you're maybe not out of bed, and they're already having their lunch. It can be so disruptive.
Lawrence Everest: Trust me. And trust me, it's not about friends, too. It's about families. I remember before coming here, my mom didn't actually want me to leave but I had to leave, anyway. I told my dad, "Hey, I've got to go. I have dreams. I have to pursue my dreams. I don't have time to stay here."
Lawrence Everest: That actually brought me into bad terms with my mom. I was really struggling, trying to talk to my mom for about a couple of months. It took her about a year to understand my situation. But I just had to let her know that, "Hey, I had to leave, and it was all because of my dreams, and I'm sorry." So, it's not just friends. It's about families, too.
Lauren Atmore: In terms of the sort of different aspects of group culture, or loneliness, is there anything that you would like to add to that?
Lawrence Everest: Yeah. There also comes another challenge of group thinking culture. One thing that, as international students, we need to try to do is to make and keep positive relationships. Some people aren't as open to exploring new cultures, but we can actually choose to hang out with those that are. Oftentimes, we can learn to trust our intuition, so we don't have to learn things the hard way.
Pierre Ross: On top of all those things you just pointed out, just add in things like getting assignments in on time, dealing with roommate conflicts, managing budgets, and housing. These are all things that domestic students have to deal with, too, but just compound that with some of the past issues you talked about as well.
Lawrence Everest: Exactly. Exactly. So actually, students ... they have to get involved, It's not just about the faculty, or it's not just about the resources that we having in here. We can have the best faculties in the city, we can have the best resources in the city and in the country, but if students are not involved, it's just not worth it. So, students need to realize that. First, they need to trust their own intuition, and they need to understand why they came here in the first place.
Roma Rashidi: That's a really good point, Lawrence, because students are very resilient. They just need to tap into their resilience and stay on top of their priorities.
Lawrence Everest: Exactly.
Lauren Atmore: Given what we know about the unique struggles that our international students do face, what can teachers and staff do to help that specific group?
Roma Rashidi: Lauren, I guess the first thing the faculty should know is how to spot a student who is in need, and sometimes it is much easier to help those students that are visibly distressed. But some other things to watch for include a sudden decline in academic performance or unexpected changes in grades, or class participation or attendance.
Roma Rashidi: Also, students feeling demotivated. So, if there are drastic changes in the student's demeanor, such as if the student starts the class with being very cheerful, very happy, and participating all the time. If the faculty sees that all of a sudden they're withdrawn and they're to themselves, it's probably a good indication to reach out to that student.
Lawrence Everest: I would like to add something on that. She just talked about students being demotivated. What are the things that can make students feel demotivated? Well, one of the things that I think can make most students feel demotivated is once they start going in the wrong way, like they start going the wrong direction, start pursuing things that have no value to their lives. You know what I'm saying? Like, trying to pursue things that give them short benefits. So, what they need to realize is they should stay focused on their long-term goal. They should actually stay focused on what brought them here, and just trust the bus. They should just try to ride with the bus.
Lawrence Everest: About the faculties. Students need to realize that they have to create that relationship. If you don't create it, it doesn't exist. I remember when coming here, I actually couldn't talk with any of my professors, but I was actually doing really good in class and that made me have a really good relationship with my professors. As a matter of fact, I'm actually talking to them. I'm still emailing them if I have a problem.
Lawrence Everest: For instance, I remember struggling with career planning. I had about, I don't know, about four careers that I wanted to do. I remember I wanted to be a pilot, then I wanted to be a writer, and then I wanted to join the army and such. But due to the relationship that I had with my professors, and especially those that I really trust them and I really respect them, I just email them and they give me really good advice. They actually helped me to put my ducks in a row. So, it's about students being open to their faculties and trying to create that relationship, because if they don't do that it just doesn't exist.
Roma Rashidi: That's a really, really excellent point, Lawrence. Students should take the initiative to ask for help from faculty. They could reach out to their faculty in person, by email, phone, or through their [e-centennial 00:13:22] portals. In terms of resources that faculty and staff can offer to a student, they could suggest the students to connect with Good2Talk, which is a 24-hour hotline, support line; and Keep.me SAFE services, mostly for international students.
Roma Rashidi: They can also check out Big White Wall. Especially if students are not comfortable talking to someone over the phone and they prefer chatting, Big White Wall would be a really good resource. And also, campus resources such as CALCS Services Counseling, or if it's after hours, they could always reach to our Security department. I think Security is an excellent resource for our students, especially after hours. They can be connected to emergency services or even counseling services. They really are a good support system to our students.
Lauren Atmore: Yeah. Teachers and faculty have to remember that they're sort of the lifeline. They see the day-to-day of students, so it's sort of their job on the ground to be able to translate the needs of the students into ... They're like the first point of contact for a lot of students who are struggling, so it's kind of a ... It's a very crucial role that teachers play.
Roma Rashidi: You're absolutely right, Lauren. I'm just going to point out that they have actually a really good app, too, for students that are traveling on TTC, or feel like they need more safety tips and stuff. I would encourage them to download their app.
Lawrence Everest: Yeah. Another thing that I would love to add, for international students especially, is that those faculty that they see in class, they're actually your friends. So, don't be scared of them. Just approach them, talk to them, be open to them, ask them questions. They could be your role models. They could be the person that will take you to where you want to get in the future. So, just approach them, talk to them, and see how they can help you out.
Lawrence Everest: Trust me, they are really good people. They are your best friend. If you're here, you have no relatives, the faculty you see around the school, they are your best friend. They are your parents. So, if you have anything ... For instance, you don't know where the counseling department is or you're not familiar with any counseling services, just talk to your professors and they will take you there.
Pierre Ross: For sure. I mean the Centennial College faculty definitely want to make sure that their impact is felt in the classroom, as well as outside of the classroom. So, a great point, Lawrence. Roma, what would you suggest students do for themselves in terms of staying ahead of stresses and other mental health struggles?
Roma Rashidi: Absolutely. I think there are so many things that students can do to keep their lives and minds balanced. Some of the things that they could do for themselves is ... It's a cliché, but really taking good care of themselves and prioritizing themselves, such as eating balanced diet, getting enough rest, and moving your body. It's been proven that an active lifestyle really does reduce your stress level.
Roma Rashidi: It's also a good idea to create a good routine and focus on a balanced life, such as balancing your school, your work, and also adding in some social time for yourself there. Many also find that practicing meditation, mindfulness, and journaling, could be a good form of self-reflection and grounding. Of course, students can always reach out to their support systems, such as counseling support or their family or friends, right? The counselors could recommend other strategies that are more geared toward their needs and their lifestyle.
Lauren Atmore: Lawrence, is there any sort of advice that you could add on to that?
Lawrence Everest: Yeah. One piece of advice I will offer is to find a way to set boundaries for yourself, and always remember that every time you're saying "yes" to one thing, you're actually saying "no" to the other thing. For instance, if you're saying yes to an overnight job, that will mean saying no to a morning class on the following day. And trust me, you don't want to be missing those classes, because you may end up feeling resentful, overwhelmed, and exhausted.
Lawrence Everest: It also helps to have realistic expectations. For instance, knowing that a late submission of your assignments or group projects will eventually affect your final grade. So, we need to think of what choices we make to get the best outcome.
Lawrence Everest: Also, it's good to view failure as temporary. Nothing will last forever; and everything, good or bad, will eventually come to an end. Failure is an opportunity to learn from your mistakes, and grow from them. So, embrace your failures and move on.
Lawrence Everest: Lastly, don't wait to get help if you need it. It took me a few semesters to learn about counseling services and CALCS, but I'm so glad I did it. You can find them online at centennialcollege.ca/calcs.
Pierre Ross: This is an excellent point you bring up. A lot of times students wait too long to access certain resources, so I guess part of the goal of this is to make sure that we inform students about these resources well ahead of time, so that they can access them as soon as they need them.
Lawrence Everest: Right, right. That's really important.
Lauren Atmore: This is great advice. Thank you, Pierre and Lawrence. It's good advice for all of Centennial's community, certainly international students. That brings us to our last bit of conversation for today. We're very lucky that Centennial has been focusing on supporting students with so many different services and initiatives around campus, and international students also have access to different options through their student insurance. Roma, would you be able to tell us a bit more about where students could go if they need help?
Roma Rashidi: I definitely can, Lauren. I guess to start off with, I could probably talk about CALCS services. At CALCS, not only do you get counseling services, but if you're not sure where to go, we can refer you to other services on campus or off campus.
Lauren Atmore: You might be able to refer if some students aren't able to fill their fridge. You might be able to help them connect with a food bank, or different services like clinics, different workshops that are happening around the city. I know that in Toronto we have a lot around youth employment, for example. You'd be able to connect students with those different community partners?
Roma Rashidi: Yes, Lauren. Absolutely. We have really good community resources and partnerships with community resources. We could definitely do that, and if they're in need of GP, group support, aid groups, or any other thing. Because as mentioned by Lawrence and Pierre, international students have many needs, and they need to build themselves that natural community support system. We'll definitely be able to help with that.
Lawrence Everest: Another thing that I would love to add, for international students especially, is that you have to remember, you cannot eat an entire elephant by one bite. So, get out of your comfort zone. Just get out. Look for that person, look for that faculty or look for those services. Talk to that person, you know?
Roma Rashidi: That's a really good point, Lawrence. I would also add to that, that sometimes it's also a good idea for international students, and for all other domestic students, to look after each other. So, if you see your friend struggling or not doing well and stuff, reach out to them and talk to them. As Lawrence says, sometimes we reach that point in our life where we need somebody else to direct us and help us. So, let's look after each other.
Roma Rashidi: But I would also like to point out to some internal resources that we have here at Centennial College, such as the Student Experience Office. They can help you with everything, from conflict resolutions to different workshops. Also, the Learning Centre in the library is an excellent resource for a lot of students. They have tutoring, but they could also help you develop better study skills. And, of course, the Career and Co-op Services, which could help with resume preparation, job interviews, and also other career options that you might want to explore. As Lawrence said, he had three or four careers in mind, and just having that conversation ... it really helps to have it with someone.
Roma Rashidi: The International Education office is another excellent resource for a lot of students, such as if you have questions related to immigration details or implications, or changing your course load, or while looking for a work permit, or any other sort of international issues. I would also say CCSAI is also a good resource for a lot of students. They do quite a bit of social events and clinics, and much more.
Lauren Atmore: And that's our Student Association?
Roma Rashidi: That's right. That's right, Lauren. And of course, don't forget about the Athletic and Wellness Centre, which is home to our gym services. But they have so much to offer, such as group classes and everything else to keep you healthy.
Pierre Ross: And the frontline team at our SAGE office is always redirecting people to the HUB, where you'll go for your student needs such as finances, enrollment, registrar office issues, and more.
Lauren Atmore: Yeah. Start here.
Pierre Ross: Yeah. Big orange sign.
Roma Rashidi: That's a really good message. Because, yes. The help and support is out there, but nobody can read minds, right, so you have to initiate that conversation. I think it speaks volumes. Centennial College is a very excellent community and supportive community, and quite honestly, there is no wrong door approach. No matter who you speak to, they will be able to connect you to the right services.
Lawrence Everest: Go right now. I'm telling you, go right now to centennial.ca/calcs and you'll be amazed. Thank you.
Lauren Atmore: Thank you for covering that, everyone here. You have provided a lot of great advice. Before we wrap up, I just wanted to remind international students of the great coverage that they already get through their student insurance. Your medical insurance is through guard.me. If you go to Centennial College's website and use the search bar to search for guard.me, the first search result will be more information about your student insurance, as well as navigating the Canadian medical system, finding clinics near you, and more.
Lauren Atmore: Keep.meSAFE is the mental health component of your insurance coverage, and it's amazing. The service is free, confidential, and is available to you 24 hours a day, seven days a week, 365 days a year. It also comes in 200 languages, so you can speak in whatever you're most comfortable with. It allows you to connect with an advisor over the phone or online. You can talk about anything, big or small, that might be affecting you.
Pierre Ross: Thanks, Roma and Lawrence, for joining us here today. I think there are some great topics that we covered. One of them would be that while international students face unique challenges compared to domestic students, they aren't alone. The best thing they can do is to take note of when they're not doing well, and be proactive and seek that help, knowing the staff and faculty at the college are working to support you in the classroom and beyond. We talked about the fact that you reaching out to your faculty and your-
Lawrence Everest: So, there are not excuses. It always begins with you. There is no excuse.
Pierre Ross: If you're having trouble with your assignments or with your new learning environment, your teachers are there to help you succeed, and you can reach out by email if that's easier. And lastly, Centennial has a lot of resources for students that are there specifically for international students.
Pierre Ross: Two great places to start are the Counseling Centre, or by seeing an international student advisor on your campus. If you want to connect with CALCS, you can email them at calcs@centennialcollege.ca. That's C-A-L-C-S@centennialcollege.ca. You can also check out the keep.meSAFE tool at keepmesafe.org, and you can find the Good2Talk post-secondary student helpline at 1-866-925-5454.
Lauren Atmore: Thank you, Pierre. We have covered so much ground today. Thank you, Roma and Lawrence, for joining us on this episode of Through a Global Lens, and thank you everyone for tuning in.
Roma Rashidi: Thank you for having us.
Lawrence Everest: Thank you.
Pearl Vas: Thank you for listening to this week's episode of Through a Global Lens. Join us for next week's episode: Being Successful as an International Student. Make sure to listen and subscribe to the Centennial College podcast on SoundCloud, Apple Podcasts, Google Podcasts, and Spotify.