QUESTIONS
P.O. Box 631 Station A
Toronto, ON, M1K 5E9
Episode 5: Being successful as an international student
Episode 5: Being successful as an international student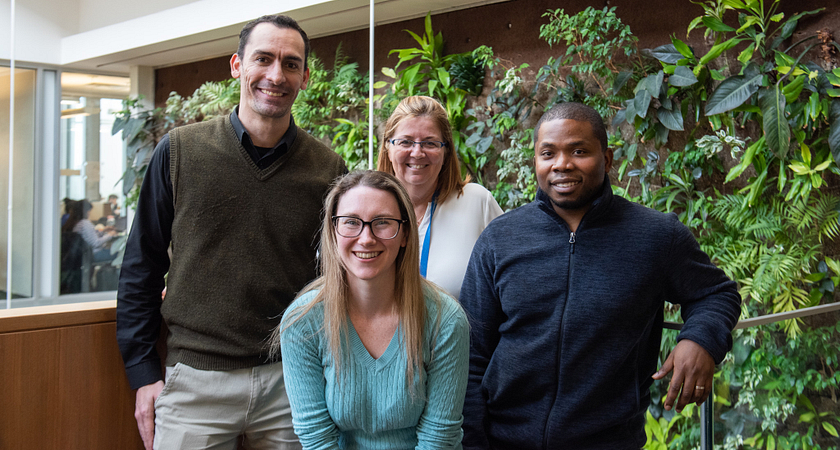 Summary
Today's episode is for all international students. We'll be discussing strategies for ensuring success in your new home away from home, utilizing the resources available at the College, and hearing from personal experiences of a student just like you.
Our episode host, Jennifer Cabell, will be talking to faculty member, Linda Traill, Success Advisor, Sanjay Pottinger, and international student, Gabriel Coelho.
For more resources available to international students, please visit Services and Global Experience.
Disclaimer
The videos and podcasts were recorded when our campuses were open, prior to March 2020. Centennial College has transitioned to offering academic and co-curricular programs online. We value opportunities to engage with our students to support their learning and professional goals. For all Global experience programs, SaGE will offer Virtual Global Experience programming in the Fall 2020 and Winter 2021 semesters until travel advisories have been lifted and the Canadian government has deemed travel for education is safe. Students can still take part in fulfilling opportunities such as studying virtually with one of Centennial's international exchange partners, participating in an applied research project with a partner in Morocco, or completing a virtual internship with agencies in Costa Rica and China.
Transcript
Pearl Vas: Welcome to season four of the Centennial College podcast, Through A Global Lens. In this season, the International Education Services and Global Experience team, or SAGE, explores topics that affect international students and internationally minded students, staff, and faculty. Whether you've traveled a long way to study at Centennial, or you're considering traveling abroad, this podcast is for you.
Pearl Vas: Welcome to this week's episode, Being Successful as an International Student. Today's host is Jennifer Cabell.
Jennifer Cabell: Welcome to Through a Global Lens. I'm your host, Jennifer Cabell. Today's episode is for all international students. We'll be discussing strategies for ensuring success in your new home away from home utilizing the resources available at the college and hearing from personal experiences of other students just like you. Our guests today are Linda Traill, professor from the School of Business, Sanjay Pottinger, a success advisor from the school of Communication, Media, Arts, and Design, and Gabriel Coelho, an international student from Brazil studying in the School of Business. I'll let our guests introduce themselves a little more.
Jennifer Cabell: Linda, how long have you been teaching international students? What courses do you teach?
Linda Traill: Thanks for that question, Jen. Hello everyone. Thank you for including me in this important podcast. Jennifer, I'm proud to say that I've been teaching now at the college for 12 years. I teach both in the undergraduate and graduate student programs. All the students that I'm teaching are pursuing careers in the field of marketing and/or sales. My teaching specialties are focused on marketing communications and solution selling courses. I hope I get the opportunity to meet some of you that are listening today.
Jennifer Cabell: Thank you, Linda. Sanjay, can you talk more a little bit about what a success advisor entails? And let me just add, there's success advisors at every single campus specific to your program, and each and every success advisor is here to help you ensure your academic success. So drop into your academic office and say hello.
Sanjay Pottinger: I'm a success advisor specifically for the Art and Design programs at Centennial. And what I do is basically help remove as many barriers as possible to help students succeed at Centennial. So, that means providing academic advising services. We help students build their schedules, create academic plans that accommodate a student's unique circumstances while working within college policy. We refer students to various services that they might need in order to help them succeed. We also build really good relationships with students and to help them take advantage of all the co-curricular activities like trips and events, and provide advice and coaching on personal development during and after college.
Jennifer Cabell: Well thank you Sanjay. I really appreciate it. I'm looking forward to working with you over at the Story Arts Centre in the coming weeks. Gabriel, how long have you been in Canada? How you liking it so far? Surviving the cold?
Gabriel Coelho: Yes, Jennifer. I'm surviving. I'm a business student. I'm taking a leadership and management program since May 2018, so almost two years for now. I'm enjoying this multicultural atmosphere, but you know what, it's not a surprise me because I visited Canada three years before I came to Centennial just to do my good research. And I'm in love with that.
Jennifer Cabell: That's really interesting. I kind of want to learn more. All right, so let's just jump into it. Success inside the classroom, that is the primary purpose of all international students. Gabriel, can you tell us a little bit about what it was like coming to Canada?
Gabriel Coelho: I can say that I got a little bit surprised about the multicultural environment. Especially here at the college I would say that 70%, 80% of the students are international. So I had an idea it would be like that but not as foreign here. But I'm really enjoying to be here. One of the most concerns about the language, so when come here especially if you are not native English speaker you get a little bit worried about if you'll be understood, if the students are going to understand you, the professor as well, but here you can see that you have tutoring. So you have the options to balance all of that and improve your English day by day.
Jennifer Cabell: Well that comes to a question for Linda. What have you noticed with new international students in the classroom? Apart from the actual subject matter, what are some areas you seem to provide the most guidance for?
Linda Traill: Thanks, Jen. I think that's a great question. First and foremost, I just want to build on what Gabriel was talking about, because one of the great value added services we have here is tutoring. And what I want to just remind everybody is that you get a certain amount of free tutoring as part of your tuition. So this is not an added cost, which I think is also a benefit. But I guess the other things I'm hearing, Jen, is that students have mentioned to me several times how different the testing is here, especially in the post grad program, where they're coming from another country to Canada for the first time academically.
Linda Traill: When it comes to doing assignments and testing, they're used to perhaps a mode that is they'll go to class for three or four months and then be tested once at the end, one large very, very comprehensive test. And one of the things that we do to really drive academic success for our students, is we test on a continual basis in smaller amounts. And it's really important because there's so much information coming from all of our courses, that we want to make sure that students have an opportunity to be successful.
Linda Traill: I think this sort of leads into my next conversation, which is students have always been concerned about the workload sometimes, where there's a lot of different courses and a lot of different assignments being due around the same time. So again, coming from past experiences where they do one large test per class, now they have six classes and they could be getting tested in each sometimes in the same week. So one of the things that, again we're really proud of here at the school, is we have not only our academic advisors, but we also have our counseling office and we have our student success advisors helping in terms of helping students build good time management skills, because it could be really stressful. And we don't want that experience for the students.
Jennifer Cabell: That's a really good point. I guess you mentioned the amount of times they're tested throughout the semester, but the different types of ways we test students-
Linda Traill: Oh, yes.
Jennifer Cabell: Might be so drastically different than what they might be used to. In a lot of the business programs I'm sure that you have a presentation component. They have midterms, essays, we have that lovely, what is the... Gabriel, help me out with this. Plagiarism that's a big topic of discussion.
Gabriel Coelho: Yes, for sure. It's very important.
Jennifer Cabell: Was that different in your home country?
Gabriel Coelho: It's the same. Every serious institution, right, they talk about plagiarism, is concerned about if the work, the projects that the students do are really in their own author. They'll be sure. Of course, you have to mention it someone, you have to quote, but they are be sure that you are doing your own work.
Linda Traill: Yes.
Jennifer Cabell: Yes.
Linda Traill: And I think one of the other things we have here at the college is, again, a fantastic library support system, huge resources online to help students understand when they're doing research how to cite those references and avoid any concerns with copyright laws or plagiarism. Because it's really important that we recognize sometimes we do want you to research other people's work, and that's okay. We want you to share what you learned, but we always want to give credit to the people who did that work originally.
Sanjay Pottinger: And just to touch on that as well, two things. One, with the library and the resources there's also a learning strategist. So that particular person, they can help you with time management, they can help you with study skills, they can help you with note taking skills, and also kind of work around plagiarism as well.
Sanjay Pottinger: And the second thing is really, is if you're unsure, just always ask the instructor. They will be able to provide you with a good guideline as to what might be considered plagiarism versus not. Because I know at my particular campus, at the Story Arts campus, we are more arts, designs, and communication. And so most of our evaluations are around projects. So not so many tasks, per se, but it's very much project heavy. And you will have those five or six courses. There's five or six projects and they're all due around the same time. And sometimes getting content from the internet, or getting content from somebody else, or using even your own content from the past, those could all be considered borderline plagiarism. So it's just always good to talk with your instructor as well if you feel like maybe you're getting close to that line.
Jennifer Cabell: That's a really good point. Thanks, guys. We've just told you all about the number of services that you can take advantage here at the college to help ensure your success in the classroom. All of these are the ultimate goal for us is helping to ensure that you keep up your GPA, and you are successful upon completion of your program. Just personally I'm one of the international student advisor and I have a strong background in immigration. To ensure you maintain your immigration status is directly linked to how well you do at your school.
Jennifer Cabell: When you're awarded a study permit to come to Canada, the government is intending for you to study for the duration of your time here on that permit. And so if your GPA drops and you are placed on probation or you are suspended, unfortunately that will have a long term impact on your status. You may have to take a leave from your studies, which will prevent you from being able to work off campus, and it can prevent you from maybe obtaining your ultimate goal upon your completion of your program, receiving that post graduation work permit. I'll touch on that a little bit later, but I cannot emphasize more, use the services that are free and available to you. We're here to help.
Jennifer Cabell: So, back to it. What advice, Linda, would you give new students to help ensure their overall academic success?
Linda Traill: I think what's really interesting is I always ask students, students that I meet are in their second, sometimes third semesters so they've already got a semester or two under their belt. And I always ask students on a questionnaire that's confidential, "If you could redo last semester over again, what would you do differently?" I always find it interesting after 12 plus years of teaching, I usually get one of two answers.
Linda Traill: The first is that they wish they had attended classes regularly. And I know that sounds almost silly to say because I know that everyone's coming here because they want to learn and they want to maximize obviously their career opportunities because they're learning these new skills, but sometimes what I find, Jen, is that the students are always struggling between having to choose sometimes between the part time work that they've also taken on and their courses. They're trying to be as flexible with their new Canadian employer so they can get that Canadian experience, but one of the things they always end up telling me is, is that they wish that they had attended class on a more regular basis, because it just creates a domino effect where they have to do catch up. Sometimes you just need that extra guidance from your teacher or for some of the activities live in class and you don't want to lose that.
Linda Traill: I think the last thing they always tell me is they wish they had done their assignments a little bit more proactively. I have a lot of students acknowledging that they tend sometimes to procrastinate. It's a big word which means just delaying things until the last minute. And we all know that if you were a runner in the Olympics and you're getting all excited about that race, we're all excited when we're in the thick of something really important. But we don't want to create that much stress on a regular basis, that it becomes distrustful to students. So again, I go back, I know I'm harping on my time management plug of earlier, but a grade point average, a GPA is really important to student success, and I do believe that attendance and just proactively managing your assignment schedule is the key to success.
Jennifer Cabell: 100% agree. I think Sanjay and Gabriel would both agree with you on that.
Sanjay Pottinger: Yes. I just want to just build on that attendance. For me, my other piece of advice is asking for help. But sometimes you don't even know that you need help unless you've attended class. I've had students where they haven't attended class and then the dream is to then come in, talk to the instructor, get an assignment, and then maybe just do it. But then it doesn't really work out because they might get the assignment but they've missed too many or maybe a key class. And then it's, "I don't know how to fully complete this assignment." The attendance is so key, but also attached with that, when you do attend and you realize this content is not, I'm not getting it or there's something that's not right, I'm not feeling it, then definitely ask for help as soon as you can. We only have a 14 week semester, and 14 weeks sounds like a long time, but when you break it down into 14 classes within... By the time four classes goes by, that's a third of the semester. So definitely early is better when asking for help, and attending.
Jennifer Cabell: Mm-hmm (affirmative). Because again, to go back to Linda's point, it's not just one final task at the very end of the semester.
Sanjay Pottinger: Yes.
Jennifer Cabell: You have multiple assignments, multiple tests, and they're not as heavily weighted. So that last test is not necessarily make it or break it.
Sanjay Pottinger: Exactly.
Jennifer Cabell: You've got lots of chances, lots of opportunities to reach out to ask for help and it's a wonderful structure once you learn to adjust to it. I don't know if Gabriel, would you like to jump in there?
Gabriel Coelho: Yes, I totally agree. I think the key word here is consistency. As Sanjay said, it's 14 weeks so it's not a sprint, it's a marathon. It has to be consistent, because you never know with that key class, if you miss that you can just lose the point for the main project.
Sanjay Pottinger: Socially as well, attending class becomes a big thing. Because when you're there, people get to know you. They see you, they interact with you. And all of a sudden now you have this network of people that can help you. Even if you do need to miss a class, now you know you have people that can say, "Hey, here are the notes," at least. Or, "Let me sit down with you to go over what you may have missed." So attending classes, it really does... It's like the starting point, a cascading effect of so many different positive things that can happen from it.
Linda Traill: If I could just add, I love the social implications of highlighting the benefits of attending class. It's so important. And the other component of that is, we're just so thrilled to have such a diverse group of student body that you not only learn... Missing class, the students miss and the teachers miss learning from you, because you bring a wealth of information from your country, from your culture, from your business experience that is one of the reasons why we pride ourselves here at Centennial on being such a diverse institution. The world is global, it's continuing to grow globally, and we learn from each other every day. So when you don't show up, what that means is someone doesn't get to hear about your experience. And that is a big, big opportunity that we don't want you to miss out on either.
Jennifer Cabell: Very good point. I'll leave this open actually to anyone that wants to step in and answer my final question. If you could leave one piece of wisdom to help them succeed in the classroom, to help a new student from day one, what would it be?
Linda Traill: I think the only other thing that I would add, Jennifer, is I really, I cannot stress enough the importance of sharing your own wisdom with everyone else. One of the things you were mentioning earlier Jennifer is the fact that we have such a diverse group of ways to evaluate students. One of those ways we evaluate is in groups. The opportunity to not only academically be successful individually is important, but working with others in the classroom. It's such a great opportunity to get to know other people and really build your network and that social network that Sanjay as mentioning. And I'm sure Gabriel you've experienced this yourself. So let us have an opportunity to help you experience that.
Sanjay Pottinger: I would say my one piece of advice would be to... When you get here, find your supports. There will be an orientation and there will be a lot of information coming at you. There will be so many things happening at the same time, but at the college there's so many people that are willing to help that it's really good if a student can find their supports early. Jennifer is international advisor, so if you know Jennifer, that's fantastic. It's a really good person to know.
Jennifer Cabell: Thanks, Sanjay.
Sanjay Pottinger: Myself, a success advisor, if you know myself. So there's a success advisor for each program as Jennifer was saying, and if you find that person, that person can connect you to all sorts of different resources at the college. But if you find that those one or two people that can provide you with accurate information within the college that can help you succeed, I'd say definitely make it a priority.
Linda Traill: Mm-hmm (affirmative).
Gabriel Coelho: Yes, I agree. From the student perspective I would say since the beginning you have to look for the college resources. We started, for example, with the Head Start program. It's a program that is on web now before you are coming to the college. We have the first weekend before the classes you have the orientation days, they're important as well, know all the resources that are available for you. And for sure the first class, the first class is the presentation of every course so you have an outline and you could see all your future for the next 14 weeks. So be updated on all of that and put it in your schedule is definitely my tip of that.
Jennifer Cabell: Thanks, guys. I think that's a great segue into the next part of our podcast, about success outside the classroom. Gabriel, I think you're a great example of how to get involved at the college. Can you tell us a bit about what else you do outside of your classes?
Gabriel Coelho: Yes, for sure. I think it's most important, it's getting involved. Explore these expression and the make sense as possible. So I started for example looking for volunteer opportunities here at the college. There's a program called CISA, Centennial International Student Ambassador. It was very important for me since the beginning, the first semester where I get more involved in the volunteer events, some events like different departments, community events, job fairs, all of those get me important networks that can be successful after the classes. So that's why I get an on campus job based on that, for example.
Gabriel Coelho: Also, look around the campus itself. I live at the residence, and at the residence I looked for opportunities as well, supporting about my point of view. I get a position there as the assistant as well just exploring the opportunity that I have. And of course, looking for work. That is important for us as students. Encourage me to develop my career path and professional skills that I've had to develop and I use the career service tips to that.
Jennifer Cabell: That's amazing. How do you manage to keep on top of all these additional things that you do, and your schoolwork?
Gabriel Coelho: I put everything in a calendar. I am very, very organized. I put everything during the week, during the month, I know exactly what I have to do for the next days. I'm not saying that I will do exactly that is only there, but at least I put on that list and try to put on my priorities.
Jennifer Cabell: That's really great.
Linda Traill: Fantastic.
Jennifer Cabell: Love using those agendas. Why do you bother doing all these things? Why do you find it beneficial?
Gabriel Coelho: Network is important for many purpose. Sanjay said before it's important inside the class, for example, to know what is going on especially if you miss one of these class, so you can always record for a classmate who understand a little bit more about a particular project, the details. It's important also to the social life, of course. Make new friends. And of course in the work you can start to look for opportunities when you do all of those, especially support can be helpful especially when you are struggling some points, like personal life, missing your home country, or you're sick, or you're sad. So it's important to create all these networks.
Jennifer Cabell: Yeah, kind of like building your new family. So even over the holidays it's like your new social network you can have a good family dinner. I know when I was living overseas and couldn't speak the language for the few years overseas, one of my favorite experiences is celebrating the Christmas holidays internationally with my new family that I had kind of created in that environment. And that's important, right? For your own mental health and your own well-being and happiness is tied. Make friends to the best of your ability.
Gabriel Coelho: For sure, that what I try to do.
Jennifer Cabell: You've done great at it.
Linda Traill: You have. That's amazing.
Jennifer Cabell: Okay. And so in addition to building a strong social network, it's also helpful to start building your professional network. Linda, how important is a professional network when looking for a job after graduation? How have you assisted in helping students to understand the importance of building a good professional network?
Linda Traill: Excellent question. Jen, your professional network is just so important to your career successes. All of us can attest to. Many students are concerned about how they start to build their network given that they're new to Canada. So the business school has designed within its programs, some students listening today might be part of a human resources program, or part of our management and leadership program. Throughout all those programs, we have at the course level many opportunities for students to engage with industry. In some cases the assignment is helping them learn how to do that. We are proud of the fact that we provide most of the programs have an employment preparedness course, which I know sounds like a big word or title, but what we're trying to do is help every student feel really confident and comfortable in what they have to do to manage to that career success goal they have. From obviously getting prepared for interviews and writing resumes and cover letters, but most of all, networking. So it's a huge part of that.
Linda Traill: All the schools are really great partners with, again, all the inside resources. We'll obviously with with our career services team. There was a job fair here just last Friday. There was over 35 industry representatives looking for obviously new hires for full time new hires. And our co-op department is there to obviously help build that extended network as well through the co-op opportunities in the program.
Linda Traill: One thing I want to mention, Jen, is that we really take a lot of pride in making sure we help by bringing guest speakers into the classroom. In the marketing department we are bringing in three industry guest speakers every semester as an extra-curricular activity where the students almost like a Ted Talk have an opportunity to ask questions and get answers from industry professionals who are in roles just like themselves. And we've been doing that for over three years. We've had over 90 different industry representatives come and meet over 6000 of our students. It's just been such a gift for learning.
Linda Traill: And we also have student competitions. And a lot of the competitions are judged by industry experts, which competition always sounds like pressure. And it's always challenging the students to be their best, but one of the greatest part of it is, is that the students get to meet industry professionals. They're in roles that they aspire to as well.
Linda Traill: I know that our student association is also doing their part on the networking front. They're pulling together student clubs, which also allows students to work together with common goals and work with industries as well. So I think the key is, is that there's lots of opportunity. What's important is that you understand, again back to Sanjay's point, what is available to you and which one would work best for you given your schedules, given your availability, given your interest. Because we try to bring as many people to the campus as possible, or even take our students to the industry, the business, for tours as well.
Sanjay Pottinger: Just to add onto that, while you're in your course looking for ways to engage in the industry is going to be something that's super important. I know for the Story Arts campus and the School of Communication, Media, Arts, and Design we are super big on experiential learning and problem based learning. We just recently embedded Storyworks of course into all of our programs where aside from having a placement and the career services, and the career's class itself, Storyworks is another touchpoint where we touch base, we work with industry professionals to complete some sort of project. The students are also getting that value added approach in their program. And so they get to see, okay, this is something, this is a project that is done by a professional and this is what it means to be working as a professional. This is how I am collaborating with people to do an actual assignment or project. How do you work through all the things that come along with collaborations?
Sanjay Pottinger: So if you have disagreements, if you have ideas, if you have to change directions all of a sudden, all of these things you get to experience along with bringing in guest speakers, along with having events where we have industry professionals there, along with having industry professionals judge various final projects. So we're always looking for ways to integrate the college experience into the work experience. And so that transition between college and working becomes a bit more seamless for both international and domestic students.
Jennifer Cabell: Thanks, guys. That's very well said and so, so important to think about and know from day one. The time to network is now. You never know until you know.
Jennifer Cabell: When I'm not a lovely podcast host for all of you students out there, I'm an international student advisor. I'm a regulated Canadian immigration consultant an RCIC, which means that I can provide you legal Canadian immigration advice. Myself along with my other colleagues are also licensed. Immigration, well we are all aware on this panel is such an important part of an international student's life. So let's talk a little bit about it.
Jennifer Cabell: We know that immigration is linked to your success not only inside the classroom, outside the classroom. If I could just share one piece of advice, it would be come in and double check. Don't assume that the information that your friend received two years ago hasn't changed. The law is constantly changing. The law is also up for interpretation. So come in to see one of your international student advisors and double check with us. We want to make sure that you the relevant information when it becomes available. We will provide you updates by your email, so it's very, very important to be reading every piece of information that is given to you to make sure that you do get up to date information.
Jennifer Cabell: But also, asking us the questions, even the little ones. I don't know how often I have a student drop into my office and they tell me, "But my friend said." "My boss said that I can work 24 hours because the other student is allowed to work 24 hours and that's not a problem. The government's not going to notice." The law states you can work up to 20 hours a week when you are a full time student as long as you're meeting Regulation 186. Please, please, please double check to make sure that you understand the law correctly and accurately so it doesn't impact your overall success and time here in Canada.
Jennifer Cabell: I don't want you to get caught up in this lovely game of broken telephone. I don't know, have you guys played the broken telephone game where you sit in a circle and you whisper a sentence to your friend next to you and then they whisper a sentence, that same sentence to the next person and so on and so on? It's never the same sentence at the very end. So you can imagine with social media, the different types of communication networks that we have nowadays, how that piece of information, that critical piece to ensuring your success and maintaining your immigration status can be misinterpreted. We're here to help. I love to chat and I love to provide you my insights, so I'd appreciate saying hi.
Jennifer Cabell: Sanjay, SAC is a little different. There isn't an international student advisor present at all times. Well, I do come twice a week so come say hi. Is there something you'd like to highlight for students just to ensure that they don't miss a really key important part of their success?
Sanjay Pottinger: I guess for us one of the misconceptions that comes up a lot during, especially I would say in the fall semester because placement is usually in the winter semester, so starting in January. And sometimes... There's a couple things. One is if a student isn't working or doesn't think they're going to be working in the winter semester, they might feel that they don't need a co-op work permit. And so, that might not be the case. We end up having this thing where sometimes I know it takes months to get the co-op permit and it just becomes much more of a bigger deal once you get into the winter semester and then the application process and all of that becomes, I would say, a task.
Jennifer Cabell: That's a very, very good point. The co-op work permit can take over four months. And like we said, your success outside the classroom, what if you don't receive this co-op permit? You may not be able to start your placement.
Sanjay Pottinger: Exactly. And I would say also for us at the Story Arts campus, our co-ops are called placements, and there are co-ops, for instance, in the business school. And so they're different in ways but they're similar in some others. So sometimes when a student might see placement on their model route, which is the course that they need to take for their particular program, then they might look at a co-op work permit and feel that they don't need to apply for a co-op work permit because a placement isn't a co-op.
Jennifer Cabell: Right.
Sanjay Pottinger: But at the same time, it is the same thing and they still need a co-op work permit in order to do the placement, so that also comes up a lot. And it's definitely something to watch out for. And this kind of goes back to making or finding a network of trusted college supports that can provide you with accurate timely information. It's very, very, very key.
Jennifer Cabell: Thank you. It's very... Yes, you're right, very important. Gabriel, you also work at the front desk of the international office. Are there some common immigration issues that you come across?
Gabriel Coelho: Not personally. I would say that documentation is always important points for the students. For example, before I came to Canada I just renewed my passport just to have more time until the next expiring date. And I see for instance some students that they have study permit, of course link it to the length of their program, but they decide for a particular change the program or change the extension. It's okay for them to study more, but you have to look for extended study permit. And sometimes they don't look for the dues to do that. So they struggle a little bit about that.
Gabriel Coelho: In my case, it was the reverse because my program is pretty good to finish in three years, but I didn't take any breaks so I finish in two, I do it in advance so I am the opposite direction. But what I can see about the immigration, it's very important nowadays, is the fear of all the scams. Most international students come to us concerned about that. So I would say that for all the students that worry about that, just take in consideration that every official communication usually comes by mail, never from a single phone call. Be sure that you are doing the right thing, especially for the CRA, the revenue taxes. Pay the right tax, get the right documents, do not fall in a temptation to use a shortcut.
Sanjay Pottinger:Yeah. Gabriel, you mentioned that emails and most of your official information comes by email.
Gabriel Coelho: By mail.
Sanjay Pottinger: Oh, by mail. Mail, but also I just wanted to take this opportunity to plug the myCentennial email just because a lot of the official college information goes to your myCentennial email and not all students check it. And especially if you're an international student, a lot of the opportunities, a lot of the communication around registration, a lot of your guard.me insurance goes to your email. So much vital information goes there, and sometimes it's just not checked. I've had students come to me and it's October and I will say, "Oh, have you checked your myCentennial email?" And the answer will be, "What's that?" Definitely, definitely, definitely check that.
Jennifer Cabell: We also within our office in international, we send out immigration updates by email. We will send you an international student newsletter a number of times in a semester which will tell you about workshops that we're hosting to help you learn about extending your study permit, applying for your post grad work permit and your co-op work permit. So if you don't check your email, you're going to miss these pretty significant events. We even bring in the government to talk about express entry twice a year. And if you don't check your email, you're not going to know about these wonderful opportunities that you have that we are working on to help you succeed not only in the classroom, but outside the classroom. Because we understand you and your family in Canada might have a long term goal and we want to make sure from day one that you've reached that ultimate goal and you don't get caught up in the broken telephone catastrophe.
Jennifer Cabell: And that you double check. If something doesn't seem right, Gabriel was touching on scams, and he mentioned that the government, they don't call you. They mail. They're one of the few places that will still send you actual physical mail to your mailbox. They're not going to call or threaten you. The Canadian government has pretty strict policies in place for making sure that they treat every citizen equally. So if someone's not being kind to you, think twice. Please stop and think twice. Come and ask for help. Ask your professors, ask your success advisor, come see us in international. There's no stupid question. Every question's a wise one, so we love having a chat.
Jennifer Cabell: Well we're coming very close to our broadcast. I was hoping we could each provide a quick little piece of tip for our audience. Sanjay, if you could give new international students a secret tip for success, what would you say?
Sanjay Pottinger: Honestly, just enjoy yourself. Try to take advantage of as many opportunities as possible. Try to make your experience at Centennial as best as possible. And just know that everyone, we are literally here to help students have a good time in their programs. Instructors are here to make instruction fun, learnable. I'm here, as a success advisor, to help. Jennifer is here as an international advisor to help. And so, try to have fun. And once you touch base with these people in the college and find out how you can have as much fun as possible and learn as much as possible, I think that's the secret sauce or secret tip I should say. Just enjoy it and just know that people care.
Jennifer Cabell: I love the metaphor, secret sauce. It just sounds good. Linda, what is a hidden power you can unlock for international students?
Linda Traill: I always am just so mesmerized by the amount of languages that the students that I teach know and learn. It is such a huge, huge advantage I think competitively in the Canadian marketplace to be proud of the languages that you have. I only have the privilege of speaking one, and I know many of my students speak on average sometimes two if not four languages. So please, make sure that you are leveraging that in your network, that you're communicating that skill, that added value skill that you have.
Linda Traill: And I think the other thing I just wanted to share, Jennifer, is that everyone comes to a new country. I've been in China with some of our students and experienced what it's like to be in a place that you just don't know enough about. One of the things that I want all the international students to realize that are listening to this podcast today, is you have such a great advantage in that you understand from your experience and the country that you come from or countries that you come from, because many of our students have traveled and lived in multiple cities and locations before, you bring such a diverse world perspective because you have been exposed to those different cultures and those different consumer needs, and those different markets, and those different priorities. So don't hesitate to think that you're here learning from scratch. I think you are also teaching, as I said earlier, about your experiences and the different cultures that you have.
Linda Traill: So I guess I want to summarize by just saying, be confident in yourself. You have a lot to offer. And even though when you don't know, as Sanjay said and as Jen said, I cannot stress, always ask questions. There is always someone, I guarantee you if there's a student in the class who has a question to ask there's probably five others that are hoping that someone's going to ask it for them. Don't be shy. We pride ourselves on engaging students, and the best way to do that is to make sure that we're listening and we're helping. So if you don't understand something, don't hesitate to ask.
Jennifer Cabell: That works inside the classroom, but also outside the classroom. Your employers can have a similar perspective to Linda on that. You've got this exceptional skill set that your employer may very, very much value because you understand different markets. Talking about that experience, that's going to be beneficial to your employer. Or in an interview, explaining the skill set that will set you out from the other individuals that may also may be competing for that job. You have a very vast profile, so it's just learning to sell it. Sell yourself in a very professional manner.
Linda Traill: Yes.
Jennifer Cabell: Gabriel, you've been there, you've done that. What is one thing you'd tell new international students to do so they make the most of their time at Centennial, just like you have done?
Gabriel Coelho: I would say do more than be a student. Be an enthusiastic learner. Go beyond the classroom, look for the world around you. On the campus you have different departments and projects. For example, exchange programs that you can apply in the international department we have some of those. And provided the community around you, networking for friendships or for work as well. And the cities itself. You have the social life and you can look for opportunities. You can check that after your program look for your future career.
Jennifer Cabell: Thank you so much Linda, Sanjay, and Gabriel for sharing your insights with us today. This was a great conversation and hopefully helpful to all of our new international students and returning international students out there in our audience. Thank you for joining us this week for this week's episode of Through a Global Lens.
Pearl Vas: Thank you for listening to this week's episode of Through a Global Lens. Join us for next week's episode, Our Global Impact. Make sure to listen and subscribe to the Centennial College Podcast on SoundCloud, Apple Podcasts, Google Podcasts, and Spotify.