QUESTIONS
P.O. Box 631 Station A
Toronto, ON, M1K 5E9
Episode 6: Our Global Impact
Episode 6: Our Global Impact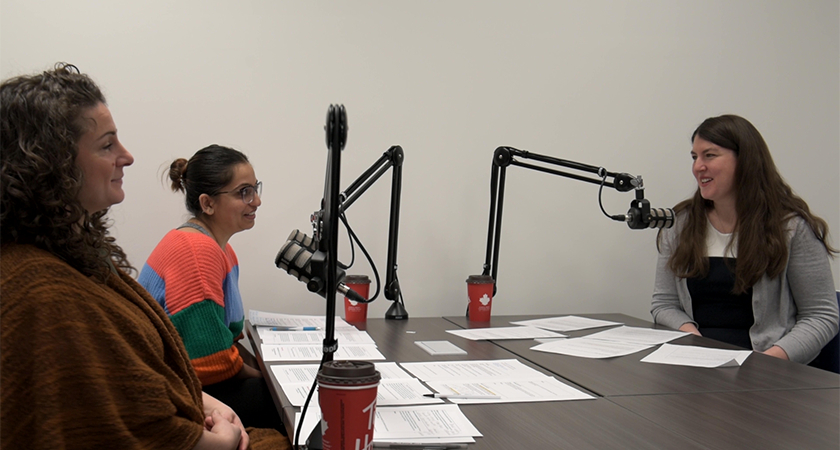 Summary
On today's episode, we'll be talking about our Global Experience programs and the impact the work is having on our Centennial community and around the world. We'll also talk about what's in store for Global Experience at Centennial College.
Our episode host, Jocelyn Babudri, will be talking to faculty member, Rachel Larabee, Success Advisor, Jenita Shah, and Director, International Education - Services and Global Experience, Laura Wood.
Disclaimer
The videos and podcasts were recorded when our campuses were open, prior to March 2020. Centennial College has transitioned to offering academic and co-curricular programs online. We value opportunities to engage with our students to support their learning and professional goals. For all Global experience programs, SaGE will offer Virtual Global Experience programming in the Fall 2020 and Winter 2021 semesters until travel advisories have been lifted and the Canadian government has deemed travel for education is safe. Students can still take part in fulfilling opportunities such as studying virtually with one of Centennial's international exchange partners, participating in an applied research project with a partner in Morocco, or completing a virtual internship with agencies in Costa Rica and China.
Transcript
Pearl Vas: Welcome to season four of the Centennial College Podcast: Through A Global Lens. In this season, the International Education, Services and Global Experience team or SaGE, explores topics that affect international students and internationally-minded students, staff and faculty. Whether you've traveled a long way to study at Centennial or you're considering traveling abroad, this podcast is for you. Today's host is Jocelyn Babudri.
Jocelyn Babudri: Hello, and welcome to Through A Global Lens. I'm your host, Jocelyn Babudri. On today's episode, we're going to be talking about a few of our Global Experience programs and the lasting impact their work is having both on our Centennial College community and in the destination communities. We're also going to talk about what's in store for Global Experience in the future. We are very lucky to have two fabulous panelists today, Jenita Shah and Rachel Larabee to share with us what they do.
Jenita Shah: Hello everyone, my name is Jenita Shah, and I'm the success advisor at school of engineering technology and applied science, the author of Global Citizenship Equity Learning Experience that happens in Rapar, Gujarat India.
Rachel Larabee: Hi everyone. Thanks for having me. My name is Rachel Larabee. I coordinate the community development work program at Centennial and I also guide students on a Faculty-Led International Program, otherwise known as a FLIP to the Dominican Republic in the Puerto Plata region where we study community economic development in action.
Jocelyn Babudri: Thank you so much both for being here. It's an honor to have such ambassadors for Global Experience here today to share with our extended college community, the real deep and meaningful impact that we're having in these local communities and the relationships that we've been able to build over the past four years in both Porto Plata and in Rapar, India. So, just to get started, maybe Rachel, can you tell our listeners a little bit more about what your Global Experience program is all about?
Rachel Larabee: Yeah, absolutely. This FLIP, Faculty-Led International Program takes place in Puerto Plata and it's situated within a course, it's a second semester course in community development work all around community economic development. So how do we focus on engaging people in their own community in ways that can empower themselves economically? So, we traveled down to Puerto Plata and we meet the stakeholders and the community members who are involved in a regional Community Economic Development program. So there's about 14 regions that form something called a Community-Based Tourism Network. It's really interesting because we've been tracking this program for about 10 years now.
Rachel Larabee: It's fascinating to see how the community develops, so every year we take students, they're a little bit further along in their development process, and of course they're influenced by what's happening in the globe and the rest of the world. It's amazing, it's just amazing to see the different stakeholders pull together. Our partner down there is the president of this network and this whole movement was spawned by, probably everybody has heard of Punta Cana, Dominican Republic. So, Puerto Plata used to be the heart of traditional sun and sand resort tourism, and with the birth of Punta Cana on the opposite end of the Island, Puerto Plata saw it's tourism business, I guess, or field industry go from a million visitors a year to about 30,000 visitors.
Rachel Larabee: So imagine the economic impact that had, it was devastating for the urban communities, but also the rural communities. So we've started to see people having to leave the land of their ancestors that they've shared for generations and generations to migrate to urban centres to find a better way of life. So, what's happening now is this community-based tourism has formed a way to rejuvenate their tourism industry by both revitalizing their traditional resort tourism, but also engaging and initiating this process of community-based tourism, which is an alternative to an all inclusive. So it encourages people to get off the resorts and to travel into rural communities and see all of the assets that they have there.
Rachel Larabee: So, it's really asset-based community development, and so you can plot your journey where you want to go and you see all generations of people in these rural communities, all of a sudden realizing, "Wow, we have these amazing things in our community that people want to visit." So, seeing everyone get involved in that and seeing it evolve is really what the students take part in.
Jocelyn Babudri: So when you mention about community-based tourism, can you describe a couple of things or projects that our students have been able to work on in Puerto Plata?
Rachel Larabee: Yeah, yeah, for sure. So the methodology is broken down into three parts and we fill in the details as we go. So the first part is to go there and analyze, to put on the lens of both tourists, but also a community development worker looking specifically for things that happen to empower community economic development. So, we start by looking at traditional tourism and then we travel into the rural communities and look at the alternatives, the community-based tourism, and each day we debrief those experiences, and that brings us into our second phase where we assess.
Rachel Larabee: So, analyze, assess, and then create, create or evaluate after students have taken in the experiences, had some presentations and lectures from key stakeholders, met the community members themselves, there's some kind of either evaluation process or a creation process. So for example, one year we did a SWOT analysis and offered our feedback to the community on what the experiences were like, another year we worked with a cruise ship who was focused on social responsibility. So people who are visiting the location, but want to get in to the rural areas to take part in a meaningful experience that works with communities in their own development.
Rachel Larabee: Then this year we're actually engaging in a design process, so the students are going to, like I said, analyze and assess what's going on and then design a community-based experience in the area where we're staying, and they'll have some of those key stakeholders in the conversation, almost like a think tank and give them feedback like, "Yeah, this is a really great idea, this could take off, we're going to talk to the community members and see what they think, or this wouldn't work, and here's why." So students will be able to learn the viability of their own ideas and also create our think of some ideas that the community members might be interested in implementing as they continue to go along.
Jocelyn Babudri: What's amazing to me to hear about the development of your FLIP and the progress that you've been making, starting from analysis, and now you're building towards a complete design project, but why you've been able to do that is because you've been building trust with the community in Puerto Plata over these years. Can you talk a little bit about those relationships and why they're so important to the continued success of this project?
Rachel Larabee: That is the skeleton, the bare bones of community development work, really nothing happens without relationship building. So, I'm really proud to work at an institution that has committed and invested in a project like this for almost 10 years now, maybe a little bit ... Yeah it's 10 years exactly, the first GCELE was in 2010 and here we are in 2020. So, really the community values, Centennial College, Centennial College is a name that they talk about. It's only because of those relationships over time that they do trust us, and they know that there's integrity and that this is a learning process, this isn't a Mickey Mouse act of feel good, go home and bring some donations and think that ...
Rachel Larabee: It's not patronizing to the community at all, it's really collaborative, and it's only because of those relationships that he would even give us the opportunity to do a design project like this. So at first it was evaluation and they really valued our feedback we presented. On our second year, we went down, we presented the feedback from that SWOT analysis to the director of the chambers of commerce in Puerto Plata. It was really official, like they had everything set up. It was like a UN delegation, all the students had their own glass of water with a portfolio to look at, and it was all recorded and the feedback was presented.
Rachel Larabee: It's really official, and students feel important and they often say, "You Know I really didn't get exactly what community development was until we came here." It's one thing to be in the classroom and read about it and look at case studies, but to see it happening and to talk to the people from all different levels of society and see how they're collaborating and working together, to see the children involved, the elders involved, it's really powerful, and so students come back and they're like, "Okay, I get it now." Sometimes they say, "I know what I want to do within this career field now as well." So those are really special moments when we hear that.
Jocelyn Babudri: Wow.
Jenita Shah: Wow.
Jocelyn Babudri: That's amazing. Yeah. We had the same reaction there, Jenita, "Wow."
Rachel Larabee: Impactful.
Jocelyn Babudri: For sure. It's interesting that we're talking about these relationships and the power of that, because that's really how your project started, there was a Centennial connection. Can you share a little bit about how that all got started and what types of things have you been working on these past four years in Rapar, India?
Jenita Shah: My journey about being an author from India started from my trip to Jamaica on a Global Citizenship Equity Learning Experience. That two weeks in 2012 made a huge impact on my life, because at some point you get so busy with your own life, school work, family, social responsibility that you don't realize that you need to take that time off your routine and see the world outside your cube. When you try to explore the world outside that cube, you realize there is so much potential of building a community, holding hands, being the change that you want to see in the world, because you always think you grew up with a lot of changes happening around you, but you never self consciously think about it. Like, "Is this true?" Like, "Can it make the significant impact?"
Jenita Shah: But when I went for Jamaica, I felt it, it's not about just building a school, but it's building that hope, building those relationship, building that little bit of brightness in the darkness that we all live in. That little work, that little five hours of your life that you contribute to a community makes a huge impact to a community, which is even broader than your thought process. So, when I came back, I vent into my childhood and in my childhood, I used to be part of the stage drama. So in India, there's a lot of literacy issues all across India. India is definitely growing economically, but there are still that parts and parcels of India, which needs a significant change, and that change you don't see it when it comes to Bollywood, you don't see it when you talk about Mumbai and Bangalore, but you see it when you go into the rural part of India.
Jenita Shah: While growing up, my parents always used to volunteer me to be part of those little stage dramas that have social messages attached to it, and I would be like little that tap talking about saving water. I would be the little girl crying to go to school, and at that point I thought it was just a joke. For me, it was like, "Oh, I get to travel. I get to skip school." I never realized that, and when I came back from Jamaica, I'm like, "There was a reason why my parents involved me in such activities." That's when like another there was a rebirth. You know what? I started it, but I lost it somewhere while growing up, too busy and makeup in high school. I went back to the people that I used to work as a child volunteer and see what's happening. That point they told me about the project happening in Rapar.
Jenita Shah: The Rapar is located in Gujarat, bordering Pakistan, but it's also desert area. So it's considered as waggered meaning there's no livelihood. So people don't get their daughters married there, people don't like to go in that community because they see no future. So, years ago when that place was considered as just a wagger mean, good for nothing, they came up with a system called exchange marriages, barter of girls. That system over the years has evolved to an extent where girls have no place to go, but have to be part of that social barter exchange of marriages.
Jenita Shah: I found it very interesting because this project talks a lot about women empowerment, the socioeconomic factors that women get impacted by, the importance of education, and that's when I thought about project Rapar and I started writing it, it's a lot to show the difference between the rural India versus the urban life in Toronto. The difference between being privileged and being not privileged, women domestic violence, inequalities all across the world, it's probably happening next to us, but we never have the lens to view it or to understand it.
Jenita Shah: So, my project talks about more connecting students to being global advocates of women empowerment and understanding the role of women in the society from a global standpoint of view, not just because they went to India, but just connecting it with their experience in India versus how they look at it in Canada. So, in my trip, we go to Rapar for two weeks, the student work with the local community, we are working to build a safe space, or we call it a shelter home in Toronto, of women affected by domestic violence, women sexually abused, or women who just want to get out of this circle of life that they have been attached to unwillingly, and they see no hope like because they don't see that they can be economically responsible for themselves or their children.
Jenita Shah: So, this is a place where they come, they can be who they are, we have activities that goes on for every day. We do organic farming, we do life skills, which talks about women empowerment and self-sustainability just from being a farmer to being a woman who can sew their own clothes. So, from past two years, we started actually, it started in 2012 and I initially wrote it, and then international loved the project, the GCELE team, the global citizenship, and then one of the managers of India recruitment Mark Coote came to analyze the whole project, and it started in 2014.
Jenita Shah: We started with the land that was barren donated to us, which was one acre, had bushes all over it. So our first trip was basically cutting down the cactus, the bushes, layering the land and starting with the little office, which is one bedroom, though today we have a working office, two libraries and four residential buildings, like four residential apartments, and it's all because our first students hard work we started and they finished it.
Jocelyn Babudri: Wow. Jenita, you've certainly painted a lovely picture of the kinds of lasting impact that we've been able to create in Rapar, India. Can you share a little bit about the impact that this project which has been going on for about four years now has had on the Centennial College community, students, faculty, and staff?
Jenita Shah: So I recollect two impactful stories, which has always touched my heart. One is from a recent trip in 2019, there was a student, and when he came to India, we all have our own little expectation and mindset of how India would be, or how Rapar would be, talking about domestic violence here, talking about impact of education. Doesn't actually make any sense to students, they think, "Yeah, yeah, yeah." It's just about how they show it. You know how will Slumdog Millionaire movie is, but when they go to India, when they talk to these people who have been empowered, when they talk to kids who come and they show them projects that they have done without even attending school, is when they realize that the world is not what they thought it is. Education is necessary, but education is just a part of life, but there's so much social development that comes through the community.
Jenita Shah: So, what this student did before leaving India, he made a promise to all the kids, to send them books every year, to send them stationary supplies and get a letter saying how much they have educated themselves in that year. So, because we provide education, which is outside of school profile because they are different age kids, they are basically kids of the labourers or saltpan workers, we bring them and we train them at least to attain a high school diploma. So, they can be eight years old, they can be 15 years old, they can be 14 years old, but we provide this open learning as we call it adult learning in Toronto, and based on that, we prep them to do a high school exam.
Jenita Shah: We have about 35 students right now, and all of those 35 students, at least five of them who now can write pretty well and connect with the student, and he comes and tells me, "You know what? One of the student's name in India is Hiroh. He's like, "Hiroh told me he did this." I was surprised when he told me that Hiroh made his own bicycle headlight after Shah giving him some directions and YouTube videos on how ... do your own, DIY, I think, sorry, I'm not that YouTube person.
Jocelyn Babudri: DIY bike light.
Jenita Shah: Yeah, and he showed a picture.
Jocelyn Babudri: Wow.
Jenita Shah: This was pure self learning, and just the sharing of a YouTube video. I think hat's impactful. The other story that is always in my heart is of late Mark Koot, he was the manager of International South Asian region. He was part of the first two trip of GCELE. He's the one who encouraged me to write this GCELE after he visited India. When he got diagnosed with cancer, he called me, and he's like, "Hey, I need to talk to you." I went, and to my surprise, he told me that he would like to donate a certain percentage of his asset to Rapar to build a school because he sees a significant impact that the school would make and how this trip had impacted him, and how he visions education like lifelong learning and the life of this woman and children in Rapar.
Jenita Shah: So we have a centre called Learning Centre, it's SRT learning and experiential science centre, which is ... thanks to Mark. We have Centennial alumni, Carleton University alumni, a McMaster student funding the operational of the school. So, the two alumni of Centennial, one was part of the trip to Cuba. He was part of GCELE to Cuba. The other was part of the equity learning experience in Peru, and they didn't just want to leave the experience there, they wanted to make a change. So they all decided to donate $100 every month to the school, and now we have about 10 students giving their earning every month to educate this kids in India.
Jocelyn Babudri: What an incredible legacy, and what a great way to honor Mark Koot's memory is to continue to invest in that community and see them invest in themselves, and everyone soon in Rapar is going to be building their own bike lights.
Jenita Shah: It's impressive when you see, and we also started a workshop of woman where we have started making table mats. Then we have also made scarves and we will be soon bringing it here. That's part of the women empowerment program that we have started in Rapar.
Jocelyn Babudri: Keep us warm.
Jenita Shah: Yes.
Jocelyn Babudri: And I know Rachel, you have some impactful stories over the years. We've probably sent about 40 to 50 students from community development on the faculty, that international program, but we also do placements, field placements there and over an extended period of time, two to three months, do any stories come to mind?
Rachel Larabee: Although I have a bunch of questions for Jenita now. So fascinating, there's stories from students. I mean, it truly does define transformative education. When you have these experiences, like you said, stepping out of your box, your cube and realizing like, "Oh my God, there's this whole other world and this whole different way of doing things." My experiences of being in the Dominican Republic completely transformed the idea of poverty for me. I realized that poverty is not just an economic thing, right? You could have all of your material needs met and still have a poverty of the heart, you could have a poverty of the spirit, and which one is worse, right? I'll let you think about that for yourself.
Rachel Larabee: But I think exposing students to different ways of life and different lifestyles where the material things that are just a part of our everyday life are not present, and yet there's this joy in this community and this vibrancy in their lives, it brings hope. Right? I hear that in your story too, Jenita, there's so much hope that happens when you can get out of that narrow view of the routine, the mundane of our everyday lives. So I see students like light up with this hope like, "Oh my gosh, when I get back home, I'm going to look at my community differently, I'm going to look at my presence in this classroom differently, I'm going to look at my teachers differently."
Rachel Larabee: It's really cool, I've been able to bring two different colleagues specifically on this FLIP trip, but also when it began as a GCELE, as a Global Citizenship and Equity Learning Experience, which is a mouthful, it's easier to say these acronyms, but at the time the vice associate academic came down, the registrar came down and another chair at the school of business. So all of these people also are impacted by this. They go down and they experience new place, they experience how this thing, community development work can evolve. It gives them a little bit of inspiration on how they're going to do their work when they come back to Canada differently, it helps them think about their own communities, both here locally in the GTA, Centennial, or the communities where they live.
Rachel Larabee: But also like we have such a diverse population of staff here at the college, it inspires them to think differently about their communities back home as well, which is what I hear you saying you went to Jamaica, but then you thought of these incredible experiences you had as a child that you didn't realize at the time. But then that made all these connections, which I think is like every parent's dream to know that that time you invested in bringing your child, which is so meaningful, probably for your parents later on as an adult, you put all the pieces together and now look at the work you're doing. It's incredible.
Jenita Shah: Exactly. Adding to Rachel's point, the students have this relationships with the community partners even after they come back from the trip. You are amazed when you go back to the community to hear that they have been in touch with what's happening in Canada. I think it's building relationships. I think the purpose of Rachel and I is, we don't want to make a change overnight, but we are just here building that bridge that will eventually lead to the change that we all are hoping for. Were just holding hands and just hoping that this hands connect to eventually be a chain of thought process, which trains them to see the world that we all want to see being a global citizen at the end of the day.
Rachel Larabee: I think that is so important to understand that it's a process.
Jenita Shah: It's a process.
Rachel Larabee: There's no way you could have that impact in a one, two week trip, right? There has to be those relationships built so that when you come back to Canada, stuff is happening-
Jenita Shah: Happening, the footprint are still there.
Rachel Larabee: ... on the ground. One of the things we do because there's academic outcomes attached to the FLIP, students have to create this presentation of their learning journey in the class when they come back. We're connected with, I'm going to use an acronym again, GCEI, the centre for global citizenship education and inclusion. We connect with the office there, and they're really promoting this thing called globally networked learning, where they bring in people from all over the world into the classroom.
Rachel Larabee: So when students do these presentations on what they understand now, that Community Economic Development is as a result of having gone to Puerto Plata and experiencing it, we bring the stakeholders into the classroom via satellite, via Skype or WhatsApp video or whatever works really. It's like whatever method work we bring them in. They're down in the field doing the work every day. So, as you can imagine, development is a very slow process. You're not only like changing economic or social outcomes, but you're changing minds, you're changing culture. Those things don't happen overnight.
Rachel Larabee: So, one of the most powerful feedback we received after our stakeholder via satellite, watch these students presentations because they infuse the theory into it. He's just doing it. They're just doing it, they're not studying it, they're just doing it. They know there's a need, it's their neighbors, so they do the work. But to see the theory mixed with the practice together in this presentation by the students, he said, "Wow, li sometimes I don't know if what I'm doing has any impact and to see you all present it with images and video of our community and what we're doing, I feel totally rejuvenated in my mission to keep doing this work." Because a lot of it is volunteer work. Right? You do it because you care about people and you're addressing a need.
Rachel Larabee: So sometimes you wonder if it's in vain, but then for our stakeholders to see how it has impacted students and how they've taken that experience and situated it within their career development field, it makes the stakeholders, or what they shared was that, all of a sudden I see this renewed value in the work that I do. So, I might think it's frustrating and it's not working and it's taking so long and what is this worth, but then to see it come together in that package in the student presentation gives them hope too, right? It's like some little, some gasoline to keep the car moving. That at the end of the day is what we want to do, what I hear you saying, just keep the car moving, just keep it going because new generations will get involved and it'll keep sustaining.
Jenita Shah: I think it's not about the materialistic satisfaction you get, but it's just that you don't realize, but when just a hug makes a huge difference in your life, like smile is just when you see that smile, it's like you have attained all the things you have ever dreamed of, and that's students when they come and say like, "Thank you. I never knew it was like this, or I never felt like this." Those little words, they sound small, but when they touch your heart, it's a feeling that I think you will never feel no matter how rich you are, but you will never feel that content that you feel when you see those students coming to you and saying, "I'm blessed to be part of such an experience."
Jenita Shah: At the end of the day, we thank Centennial for giving us opportunity to write projects like this and thanks to our student and our leads for helping us execute this. Because it's not a small thing to go across the world and take 15 students. No, it's a huge planning process, commitment that goes into it, a lot of academic, the global outcomes that goes into it and putting all of this thing together, it's a huge teamwork. I think we would also like to thank everybody who has helped us over the years planning and putting these pieces together because we just write it, but there's a team that helps us execute it. So, I think it's a learning experience all across Centennial.
Jocelyn Babudri: We certainly want to thank you because without your leadership, without your inspiration and your continued commitment, which is the most impressive, your continued efforts to do more with that one partner or to find ways to allow our community to contribute to the ongoing success that you have in both of these destinations. You've clearly given us a lot of hope. I think sometimes when we're faced with these global challenges, us global citizens can be really overwhelming, how am I just one person going to make a positive change on the world when there's so much I feel so helpless, but what you have shown through your work in these communities and with these partners is lasting change as possible.
Jocelyn Babudri: There is hope, and the impact is deep. It's deep, it extends far beyond just like you said, Jenita, just a material impact. It can change people's lives in ways they expect or don't expect. So, it's been a real honor to hear you share these kinds of stories. I'm curious, maybe Jenita, you could share with us. What's next. So as we're talking about the future, where does the future of your project take you? It's coming up in October, what's going to happen?
Jenita Shah: Yeah, it's our fourth GCELE happening in October at Rapar India, and this time we're going to work to create a clinic, in our clinic, we are planning to have a psychologist on campus and also a nurse. So in case of extreme emergencies, we are not running around to find resources because it's a rural area, and a lot of things are not easy to get. The hospitals are like a 100 kilometers away. That's our next target. So we want to make it a one shop stop, maybe we can assist, make that little difference, and we can give them a hope of having a better future. But at the same time, professor Hemmer who was part of our trip last year is doing a research project on the dropout ratio of girls from the age of four to 14 in this part of India and the impact of the dropout and the social economic factors that has resulted in the high girl dropout.
Jocelyn Babudri: Wow, that's fantastic, and she participated in the GCELE to India last year and she's taken that on. Wow.
Jenita Shah: She was really moved by the project and she was always pushing to do something outside the GCELE to keep the legacy, to share the experience on another level, and she was approached for a research and she got approved.
Jocelyn Babudri: That's fantastic. Wow. And Rachel, you've mentioned about the next level is the design project, but maybe you can speak to some, I know you're thinking two, three years ahead in the future always, maybe you can share some of that with us.
Rachel Larabee: Yeah. I'm really excited. So we have the FLIPs that we take students to, but we also have an opportunity for students in the community development work program to do their final semester as an international placement. So, last year we had three students placed in the same area that we work with. Two of them are community development work students, and one of them was a Social Service Work student. So, we started doing some research last year as well, and so we started a participatory action research project that the students implemented and upon the request of the president of the Community-Based Tourism Network, who noticed that as I mentioned, a lot of young people, and I'm sure this is a global thing, a lot of young people leave rural communities to migrate to urban centres for better opportunities, whether it's better education or employment.
Rachel Larabee: So, students actually stayed for one month, they stayed in the home of a community development worker in an urban centre. It was one of the poorest barrios in Puerto Plata. So they literally got to experience barrio life. While they were there, they did a census of all the community members. There was over a 100 interviews that this student did and just ask them, "How long have you lived in this community? Where did you come from? What are your reasons for leaving that place? What were you hoping to experience when you came down to the city? Have you experienced it? What are some of the challenges you now experience?" The overwhelming response was that a lot of these people came from rural communities seeking a better way of life and then got, for lack of a better word, somewhat trapped in an urban barrio where poverty had a different face, and it was a lot more intense, and it was a lot more crowded, and some of the social determinants of health were a lot more challenged.
Rachel Larabee: So the research became the study of what happens when young people leave rural communities to migrate to urban centres, do they always achieve that dream of a better opportunity or what some of the outcomes where there is greater rates of diabetes, greater rates of mental health issues, to the furthest extreme suicide, depression, anxiety, teen pregnancies, drug addiction. So just so many more things to throw you off track. It doesn't always have to be that way, but this is what the research showed.
Rachel Larabee: So, then students spent their last month in the rural community where our partner is, and then talking to young people up there, "What do you want to do after you graduate from high school? Where do you want to go to school?" And overwhelming, "I want to get out of this community, I want to go to this city, I want to go to that city, I want to go to this country because everywhere else seems like a better place."
Jenita Shah: Yeah, and it's economic drive that drives them to take such decision, whether it be India or the place Rachel works for, it's the same, it's all about where they can see themselves having a better living, but they don't see the other side of it and the sacrifices that they end up doing, which doesn't hit them later.
Rachel Larabee: So now, as a result of that research, we're working with the community on how do we get young people in that rural community excited about where they are, what are some of the assets? So in the Yasica Arriba, which is the rural community we work in, they have a really important river, and that river brings the water down the mountain and provides water to the whole city of Puerto Plata. So, conserving that river is a really important job, but also it has the potential to be an incredible tourist attraction, and these young people can become the guides and the designers of these experiences.
Rachel Larabee: So, now we're working on developing a youth development centre, can be a training facility of young people to become educated on their local assets and then employment opportunities to become guides and small business owners, et cetera, to, again, bring hope back to that region because what ends up happening when young people leave is all the elderly people are left in these rural environments without support of their family. So just trying to change those intergenerational dynamics that people stay on this beautiful land, where they live with fresh air and clean water and rivers to swim in and connection to nature, it really touches on all three elements of sustainability, it's environmental, it's social and it's economic.
Rachel Larabee: So, getting young people involved in that, and I'm really excited that this community is going to be the focus of our next year's global capstone project, because in order for us to achieve this, we need to bring in more skillsets than community development work. So, we'll be partnering with the sustainable tourism program and the school of business to have students working on creating design and support systems for these young people to have a centre. So those are some of the benefits to the Yasica Arriba community, but for students in all three programs, again, these students get to have real world experience implementing the skills they're learning in the classroom in a global atmosphere, which improves their resume when they graduate, because they can say, "I worked on this project. I have global experience skills, which is one of the most employable skills you can have. I have critical analysis skills, which is one of the most important skills employers are looking for today."
Rachel Larabee: So, not only does it benefit the development and the whole happening for young people in that rural community, but it also leverages a strong portfolio for our graduates moving forward, looking for meaningful work to do in the world.
Jenita Shah: I think the most important thing it teaches is resilient, very important. Inclusion and definition is one thing, but an inclusion and feeling is different, I think, and that's another big factor that we teach our graduates to have, is resilience and inclusion.
Jocelyn Babudri: You've certainly both given us a great example of the kinds of deep and meaningful work that's being done every day at the college, but that also illustrates where we're trying to go as SaGE and what our future looks like is we are looking at ways about how do we maximize or optimize the relationship that we've already built there instead of it just being a one of, "Okay, we'll go for two weeks and donate some supplies." That's not the direction we're going because of the examples that you've led, you've really, really demonstrated the lasting benefits and positive change that can happen when you continue that partnership and you deepen those relationships, and that's certainly where we're going, but also we're not just looking out anymore, we're really starting to look inside Canada as well, and we're looking at creating more indigenous programs in the future as well.
Jocelyn Babudri: Something we've also been exploring too, is how do we use technology to really continue these relationships and these partners. So something we're exploring is virtual internships. Technology allows us to really keep that personal contact without actually traveling. When it's interesting that you're already using that, Rachel, with hosting your partner on Skype and allowing them to be part of that final learning outcome without actually physically being there. So, really technology has the power to really keep us connected in this world.
Rachel Larabee: I'm also exploring right now with Laura and faculty member from the school of engineering and Nimo Kaur who has a strong relationship to educational empowerment in Pakistan, and so we're starting to create a project where it's a virtual internship, where a student can work with educational leaders in the area because something like 60% of kids in Pakistan never at formal schooling. Then even the schooling that's there because a lot of it is private, depending on the institution can be a little questionable in terms of what students are getting for or what they're paying for, and this is what Kaur tells us from his travels there.
Rachel Larabee: So we're creating this internship where students won't have to go to Pakistan, they can virtually meet and interact and collaborate with the educators down there and pedagogically support them and empowering a more dynamic educational facilitation. That's in the dream process right now.
Jocelyn Babudri: Wow, you've given us a lot of food for thought today. It's been an inspiring conversation, but there's still also lots for us to learn and think about, and there is an ever-changing landscape of internationalization and student mobility, and I think Centennial is on the forefront of that. So there's some definitely some exciting things in our future. That brings us to the end of our episode today. I would really like to thank Jenita Shah and Rachel Larabee for sharing this time with us and for talking so passionately about your projects in India and the Dominican Republic.
Jocelyn Babudri: We are so excited at SaGE about the next phase of our global experience programs and also about what's next for you in these individual projects. So, thank you both so much for being here.
Jenita Shah: Thank you for inviting and keep inspiring us to do this amazing work, and keep supporting us. So then we can come up with even better ideas, make SaGE a global platform.
Rachel Larabee: I 100% agree, and one of the things I enjoy so much of working with you and your team is how collaborative the process is, and it's just amazing to work on these great ideas, but then to actualize them and to work with a really professional team of people who care about the integrity of actualizing it and sustaining it. So, thank you. Thank you, Pearl. Thank you, Laura. Thank you, Marla. Your whole team is fabulous.
Jocelyn Babudri: Oh, that's so sweet. Thank you so much.
Jenita Shah: Thank you for dealing with all our tantrums while planning the trip. It's like, "Okay, last minute change." But your spirit keeps us going. We can deal with all because our vision is the same, we all want to see the change. Thank you very much.
Jocelyn Babudri: No, no, no. Thank you. So we've been talking today about our global impact and this episode wouldn't really be complete without a few words of inspiration and wisdom from our director, Laura Wood on the future of Global Experience. Hi, Laura, welcome.
Laura Wood: Hey Jocelyn. Thank you for having me today.
Jocelyn Babudri: So, Laura, we've really started to grow our indigenous programs at the college, and I was wondering if you could tell us a little bit more about that, and where we're headed?
Laura Wood: Well, we've always dabbled in with indigenous experience programs, but it was only in the last year that we thought, "More and more people are coming forward, wanting to engage in these kinds of activities, it really aligns with our new book of commitments." So as a team, we came together and developed a proposal that we brought forward to the executive team asking for funding to specifically develop and deliver indigenous experience programming, leveraging the programs that we have for our global experience projects.
Laura Wood: The great news, exciting news is that we did succeed in getting that funding, and so we have launched a new phase of global experience that really focuses on engaging with indigenous communities. We've done a little bit internationally through a project in Morocco that we've just run working with an indigenous group with Berber women's bakery. We've run a FLIP to Costa Rica for several years now to share knowledge and traditions with some indigenous communities there.
Laura Wood: Moving forward, we are going to continue some work with a group in Manitoulin Island and addictions and mental health community centre, where the students get an opportunity to actually see land-base therapy in action, and we've developed a case study out of it, and now that case study has been delivered to students within the Social Service Worker program and addictions and mental health program every year, and we have students going up and actually engaging in land-based therapy as part of a 10 week internship on Manitoulin Island, every winter, two very exciting projects there. And of course, most recently we've developed a partnership with Qaggiavuut cultural hub up in Iqaluit, Nunavut.
Laura Wood: This project has been quite exciting. It launched in the fall of 2019 with a performance from the Inuit artist, dancers and throat singers here on campus. That was very exciting. Then it led to a project that was up in Iqaluit for our arts management and business school students in February of 2020. The exciting part was the students got to work together on this project with the professionals from the cultural hub, they developed a marketing strategy, and that was really just the start of what is going to become a very long and prosperous relationship where we will likely have interns go up and spend time at the cultural centre and likely a few projects will come out of it as well.
Jocelyn Babudri: So we're talking a lot today about the positive impacts that our Global Experience programs we're having around the world and in Canada, but there's also the carbon footprint that is associated with some of these programs, and I'm wondering if that's something you've been thinking about, and if you could share some of your thoughts?
Laura Wood: It's interesting that you ask about the carbon footprint because it's not the first time we've been asked that question. A number of people who are very conscious of the impact we have on the environment and that our activities have on the environment have come forward to say, "What are we thinking about it? What are we going to do about it?" We have to obviously take some action on this as well. When I first came here, the goal was to get 20% of students abroad by 2020, and that's when I started colouring my hair because of all the stress of coming up with that plan. I think at the end of the day, though, what we realized is for a variety of reasons, for funding reasons, for the personal situations of our students, for the impact that we have on the environment, we were never actually going to get 20% of our student body abroad by 2020.
Laura Wood: So we figured we had to be a little bit more creative in how we did that. So, I think what we've done is come up with new and different ways to leverage the existing Global Experience programs, increase them a bit, but actually figure out a way to maximize the impact from those who actually get to go abroad. Part of that would be leveraging the existing programs in the sense that we're going to ask more from the faculty, we're going to ask more from the students who do get to go abroad, every time a project is developed, we want to make sure that it has some kind of lasting impact for the college. So we're not just going to send people away for a couple of weeks to have fun, we want to make sure that that learning is brought back to the college through the development of curriculum or development of case studies that can be incorporated into curriculum at a later date.
Laura Wood: In addition to asking more of the students and faculty who get to participate in these activities, we're also looking at new and different virtual opportunities. Can we partner with our Suzhou campus in China to create a global classroom environment where the students in business programs there and the student in business programs here get to be in the same class together and work on projects with students from the other campus. We are looking at virtual research projects and virtual internships for our students. So they get to engage in an activity that has a global flavor or a global topic at the core of it, but there isn't actually any travel involved.
Laura Wood: So, we're looking at these new and different ways of making sure that our students get access to working on projects and concepts and working with technology to work with partners around the world so that they have that experience without actually having to go abroad, and I think that is the way that we will actually reach our 20%, maybe not by 2020, but maybe by 2020.
Jocelyn Babudri: Thank you so much, Laura, for sharing such inspirational words of wisdom with us, and we're really excited about the new direction that global experience is taking. So thanks for being here today.
Pearl Vas: Thank you for joining us for season four of the Centennial College Podcast. Make sure to listen and subscribe to the Centennial College Podcast on SoundCloud, Apple Podcasts, Google Podcasts, and Spotify.