QUESTIONS
P.O. Box 631 Station A
Toronto, ON, M1K 5E9
Episode 1: Diverse Figures in the Past that Have Shaped Public Relations
Episode 1: Diverse Figures in the Past that Have Shaped Public Relations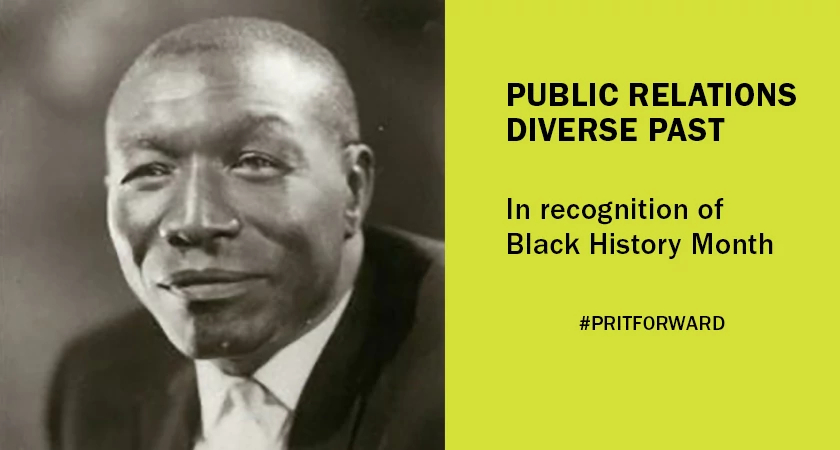 "In recognition of Black History Month, students feature Black PR pioneers as highlighted in the Museum of Public Relations."
On today's episode, we focus on the diverse figures of the past who have shaped the public relations (PR) industry. In recognition of Black History Month, we would like to acknowledge Black PR pioneers and historical figures as highlighted in the Museum of Public Relations.
Listen in to see how diversity, equity and inclusion (DE&I) played a role in PR's past. Diversity had value even then, and helped the Black community survive. This episode features diverse voices from Centennial College's Bachelor of Public Relations Management Program: Mikhail Grishin, Greer Rynax,and Jerome Kitenge.
Stay tuned for episode two, launching on March 3 where we share new stories, hearing from recent graduates and PR professionals on what diversity in PR looks like today. And make sure to read our blog post this week, where we provide more nuance and dialogue on today's episode.
Also available in Google Podcasts, Apple Podcast, SoundCloud, and Spotify.
Guest Speakers
Greer Rynax
Highly motivated and hardworking first-year Public Relations student, aspiring public relations consultant. My passion for media brought me to Centennial College, where I am studying to get my bachelor's in public Relations Management.
Mikhail Grishin
My name is Mike, I'm Russian. It's my first year of study in Centennial College's Bachelor of Public Relations program. I love to create many things such as music, videos, custom clothes etc.
Jerome Kitenge
I'm in my first year of the public relations BA, my passion is photography and I love to discover and learn new things in every subject. Some fun facts are that I'm a wealth of useless knowledge, so when it comes to trivia, I'm definitely the person you need on your team if you want to win. I have also worked in social media and marketing before, I chose PR because I want to understand both sides of the industry and use them to be able to tell better stories that reflect and can speak to all demographics rather than just what a client may be asking for.
Transcript
Rebecca (Podcast Intro): Welcome to the Centennial College Podcast Season 6: The Future of PR Looks Like Us! Join our team of students in the Centennial College Public Relations and Corporate Communications program. This is the first of three episodes where we have partnered with the Canadian Council of Public Relations Firms (CCPRF) to explore diversity and inclusiveness in the PR industry. We will be looking at the past, present and future through the eyes of experienced and emerging PR professionals and students who are interested in the profession.
Rebecca: Today's episode is on PR's diverse past. We'll be featuring work done by Jerome Kitenge, Mike Grishin and Greer Rynax, all students of Centennial College's Bachelor of Public Relations program. They will be discussing the diverse voices who have shaped the PR industry into what we know it as today.
Rebecca: Before we dive into their work, we would like to recognize that this month, February, is Canadian Black History Month, so today, we will focus on the diverse figures of the past who have shaped the PR industry. We would like to acknowledge the Black PR pioneers, as highlighted and worked on by the Museum of Public Relations. Today, you'll be hearing about the PR pioneers Joseph V. Baker, Moss Kendrix and Inez Kaiser. All three are Black PR pioneers who revolutionized the industry and fought for representation in their personal and professional lives. Let's begin with a profile of Joseph V. Baker by Jerome Kitenge.
Jerome: Joseph V. Baker was born in 1908 in Abbeville, South Carolina. He was the youngest of nine children. He was described as a slight man; this was because of a disability, which resulted in him having one leg shorter than the other. However, he was described as a happy child who used to run around with his crutches all day playing baseball. He never let his disability hold him back, something you could say that applied to all the aspects of his life in the future. He wasn't going to let anything stop him from striving and achieving his goals.
Jerome: He went on to be the first African American to write for The Philadelphia Inquirer, which was one of America's oldest and most credible publications. Following his time at The Enquirer, Joseph V. Baker went on to start his career in PR. He worked as a PR consultant for the Pennsylvania Railroad, and it was this experience that led him to start up his new PR firm, Joseph V. Baker and Associates, in 1934 at the age of 26. This was the first ever Black-owned PR firm in the U.S.A.
Jerome: Once Joseph V. Baker started his PR firm, we start to see his rise to success. Baker's client list was one that was envied by many. It included some of America's biggest corporations, such as NBC, Dupont, U.S. Steel, American Tobacco, the Associations of American Railroads, Procter & Gamble, and Chrysler.
Jerome: What separated Joseph V. Baker from the pack was that he worked with these companies and persuaded them to feature Black people in their advertising. He did this to integrate the Black community into the PR marketing conversation. He also encouraged these companies that hiring Black workers was a surefire way to generate a greater brand loyalty. He used his life experience and his ethnicity to vastly improve the campaigns for his clients, appealing to a larger audience group that may have been previously ignored and opening a new marketing stream for these companies as well.
Jerome: A quote from a former employee Kendall Wilson said that, "More than anyone else, Joseph V. Baker opened the eyes of the corporate community to the Black consumer market." Being a pioneer in this field, he was the first African American president of the PRSA in 1958, as well as being the first African American to earn an accreditation in PR designation. This just solidifies how he continued to pave the way for the future African Americans to excel in the career of PR and be a great role model.
Jerome: Joseph V. Baker is essentially an unknown African American civil rights pioneer. It is stated that Baker had a deep passion for PR, and wanted to motivate and drive others to share his passion. He was very focused on helping young people getting started in their careers, particularly young African American women.
Jerome: The legacy that Joseph V. Baker has left behind has changed the PR landscape in an enormous way. He led the way to not only diverse campaigns to be showcased, but also diverse workforces for large corporations. I believe without Joseph Baker's courage and groundbreaking ideas, we wouldn't have the Nike ads or the H&M ads that prominently feature people of colour. Or even in the current environment we find ourselves in now, we see companies of all walks diversifying staff and creating more opportunities for diverse stories to be told and featured as part of their brand.
Jerome: We hope that diversity is the propeller that will launch PR forward and we hope that it continues to break ground on new ideas in the industry.
Rebecca: Next, we'll be hearing a profile of Moss Kendrix done by Mike Grishin.
Mike: Moss Kendrix showed in which way that PR people should lead their work in the way that helps people. So, who is Moss Kendrix? Moss Hyles Kendrix was born in Atlanta, Georgia, on March 8, 1917, where he spent the majority of his earlier life. As claimed by the PR Museum, he graduated in 1939 from Atlanta's Morehouse College and during his studying years, he has worked at the school newspaper and co-founded the first journalism society for Black students.
Mike: After two years, the United States was involved in the Second World War and Kendrix was drafted to the U.S. Army. During the Army period, he has worked for [the] Treasury Department in the War Finance Office, and after the war in earlier 1950s, the meeting of his wife happened. The meeting was in the Coca-Cola brand [office], when Mr. Kendrix came to the company's office and presented the plan: How to promote the brand to African American consumers. Coca-Cola hired him, and as the time showed, it was the right decision.
Mike: Let's look at how Moss Kendrix changed the view of buyers and attracted more attention from the African American market. His plan was built around Jackie Robinson, the first Black player that entered modern baseball. There were two corps organized: the Jackie Robinson Bat Boy and Girl Good Citizenship. Boys and girls aged 14 and under could enter the corps by submitting short, good slogans. Each boy or girl who submitted a slogan got a certificate and a button with the signature of Robinson on both of them. Their advertising of this campaign was focused on Afro-American press, newspaper and magazines. Parents of participating kids were impressed by such [a] venture from Coca-Cola, because many children kept the certificate throughout their life in a memory of their favourite player.
Mike: Also, there was another campaign with Jackie Robinson called the Coca-Cola "Leading Negro Citizens" contest. Boys and girls between the ages of 14 and 18 have answered through essays Mr. Robinson's question, "Who are America's 12 leading Negro citizens?" For the best essays, awards were indebted. This contest brought a huge amount of attention to the company from [the] African American community. Besides the attention, public relations involving youth tend to cultivate future markets.
Mike: Just think about the scale of Kendrix's projects -- he not only attracted the current consumers, but also formed the next generation of them. It's incredible! And let's look at the long-term effects of Kendrix's work. According to Marion Nestle's book "Soda Politics: Taking on Big Soda (and Winning), " during [the] 1940s to 1950s, many Black celebrities were involved to the soda's advertising. And especially Moss Kendrix's projects paved the way for the soda companies' response to the Civil Rights Movement. This moment was about making product accessible to African American customers, opening jobs in companies, and doing business with the companies owned by African Americans.
Mike: Moss Kendrix impacted a lot, and what's more, was interesting. His legacy lives [on to] these days. As mentioned by PR Museum in 1953, he launched the National Association of Market Developers and the company is still in operation. Kendrix's son, Moss Kendrix, Jr., claimed that the association was viewed by his father as a support for minorities in the public relations field.
Mike: Overall, he impacted the Civil Rights Movement, affected the diversity issues in advertising, and influenced the public relations field. So, how is [this] related to modern days? Many people don't want to speak about minorities even today, when Moss Kendrix did it 80 years ago.
Mike: And oh, I want to say we have to speak. If we won't speak, nobody will listen.
Rebecca: Finally, we'll be hearing about Inez Kaiser. This profile was written by Greer Rynax and is being read by Sarah Heiman.
Sarah: Inez Kaiser: First Black woman to own a PR firm by Greer Rynax. Inez Kaiser was a fierce, determined African American woman. She fought for Black business women up until the day she passed away in 2016. From starting her own public relations firm to never backing down from anyone or anything, she broke down barriers for many public relations professionals of colour.
Sarah: Inez Kaiser was born on April 22, 1918, in Kansas City. This was only 53 years after the end of slavery in America and 36 years before the civil rights movement. Needless to say, this
would not have been an ideal time for a woman of colour to grow up. This is not something Kaiser would let stop her from achieving her goals. "Whatever the mind can conceive and believe, it can achieve" (Napoleon Hill) were the words Inez chose to live her life by. She was determined. When she was ready to pursue post-secondary education, it was a time when African Americans were not allowed to gain a higher education. Regardless she applied to Pittsburg State Teachers College of Kansas, where she received her bachelor's degree in education.
Sarah: She said in an interview recorded by the Museum of Public Relations in New York: "The sewing teacher told us to all go home. She didn't want any Black students in her class. I told her I wasn't going anywhere...and I stayed right there and got my degree."
Sarah: She was determined to pursue higher education and would not let her skin colour be a barrier. She had high hopes for herself and continued with her education by receiving a master's degree from Columbia University and an honorary doctorate from Lincoln University.
Sarah: After pursuing her post-secondary education, Inez Kaiser taught home economics for 26
years in Kansas City. In the mid-1950s, she began a fashion column titled "Fashion Wise and Otherwise" that was run in African American papers. She covered fashion shows in New York, California and Paris. Inez also used her column to voice her want for designers to not only showcase white models but models of other colour as well. She demanded more representation in fashion then, and society continues to demand more representation now.
Sarah: In 1957, Inez Kaiser decided she was done with teaching. This was when she decided to pursue a career in Public Relations, a field suggested to her by an editor at the newspaper she wrote her column for. This again came with complications because of her skin colour. When looking for office space, real estate agents kept telling her there were no spaces available. She then informed them that if she did not get a space by the next day, she would contact NBC, CBS and ABC to see the discrimination in Kansas City. She immediately received her space without ever having to contact a news outlet. This was the start of Inez Kaiser & Associates.
Sarah: In 1957 after quitting her job as a teacher, Inez Kaiser started her own public relations firm, Inez Kaiser and Associates. Inez was the first African American woman to head an agency with national clients. Her company became the oldest African American, female-owned agency. Some of her major clients included 7-up, Sterling Drug, Sears & Roebuck, Lever Brothers and more. 7-up was Inez's first major account, landing it due to her honesty and integrity. When asked a question by an executive, she responded she did not know and would get back to him the next day with the answer. This is what landed Inez the account. Her career then began to lead her to many successes from there. Kaiser was the first African American to join the Public Relations Society of America.
Sarah: A 1997 resolution read, "Kaiser's public relations firm has earned a reputation that even few majority firms achieve. She ... remains well-respected for her ability to lobby passionately for what she believes is right."
Sarah: Inez was well-respected for her public relations skills, as well as her ability to stand up and speak out for what she believes in. She became a trailblazer for African American women in the industry and a civil rights activist. As well as her public relations achievements, Inez was the first African American woman to join the Greater Kansas City Chamber of Commerce.
Sarah: Inez Kaiser was very politically involved, whether it be civil rights movements or women's rights. Kaiser claimed to be a Republican because all of the people who helped her get her business started were Republican. "The Nixon administration sent her to represent the U.S. at an economic conference in Africa. She served as an adviser on minorities in business during the Ford administration." She had political supporters who saw her potential to change the world. She was more than a public relations consultant/leader. She was an activist and a world changer.
Sarah: Not only did Inez Kaiser pave the way for African Americans, but she is one of the women who helped open more doors for other females trying to enter the public relations field. Men used to dominate the media industry, with a minimal number of females working alongside them. Inez is one of the pioneers of media that made it possible for other women to join the field. Because of Kaiser and other women like her, women in the public relations field has grown to 63 per cent. She has helped completely change the way the industry is run. Not only did Inez Kaiser help women by simply striving to do her best, but she also helped by creating foundations to help young women pursue higher education. The foundation, Del Sprites, helped disadvantaged black high school girls build up their resumes and self-esteem to get scholarships for college.
Sarah: Inez Kaiser was a strong African American businesswoman who helped shape the public relations field and society as a whole. Kaiser was a part of the civil rights movement. She grew up during a time where she was oppressed for her skin colour and her gender. She was not only a good businesswoman, but also worked with high ranking government officials to help her build a strong political presence. In 1997, she was named the National Minority Advocate of the Year.
Sarah: "Dr. Kaiser has set a positive example for minority business people everywhere, and it is a pleasure to see her impressive accomplishments receive the recognition they deserve" (Schmitt, 2016).
Sarah: She represented a group of people who needed a voice. They needed to be heard, and she listened. She was willing to push to the extreme to get what she wanted. She preserved, and pushed others to their limit. She created an impressive career for herself while struggling for basic rights that she was denied due to her skin colour. Because of her struggles, she has helped minimize the struggles of African American people, as well as women trying to enter the industry. She was a determined civil rights activist and businesswoman who never backed down.
Rebecca: Thanks for joining us for Episode 1 of The Future of PR Looks Like Us on the Centennial College Podcast. This topic is important in helping us recognize how diversity, equity and inclusivity played a role in the past. We see that it had high value in helping the Black community survive and paved the way for communicators of the future.
Rebecca: Join us next week when we share new stories, hearing from recent graduates and PR professionals on what diversity in PR looks like now. Make sure to subscribe to the Centennial College podcast on Soundcloud, Apple podcast, Google podcast and Spotify.