QUESTIONS
P.O. Box 631 Station A
Toronto, ON, M1K 5E9
Episode 2: Diverse Voices of Emerging PR Professionals Today
Episode 2: Diverse Voices of Emerging PR Professionals Today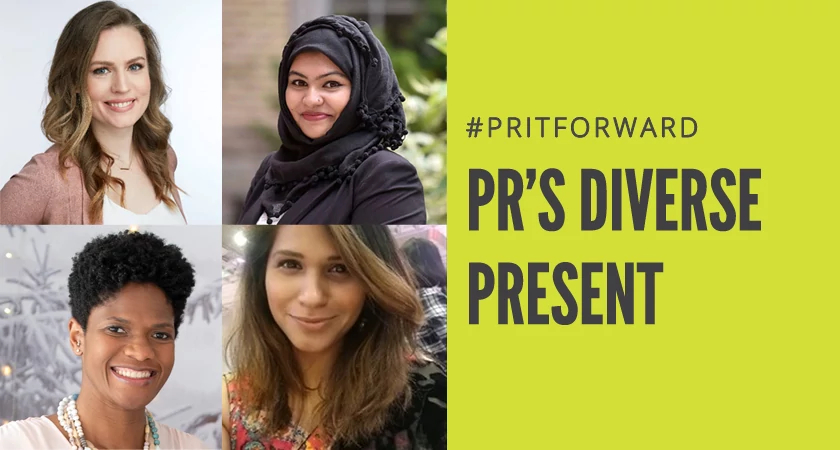 On today's episode of The Future of PR Looks Like Us, we speak to recent graduates and PR professionals from diverse backgrounds and sectors. Current diversity, equity, and inclusion initiatives in the industry, like the Canadian Council of Public Relations Firms's anti-racism commitment, make this an exciting time to be in PR. This episode offers some perspective on their experiences as diverse professionals practicing PR.
This episode features the voices of Meghan Cox, Fatyma Khan, Jeannette Holder and Mubashira Farooqi.
Join us next week, when we launch the final episode of the Future of PR Looks Like US series. Listen in as we talk about strengthening DE&I in the workplace, in career development and its importance for the future of the industry. Don't forget to read our blog post this week where we provide more nuance and dialogue on today's episode.
Also available in Google Podcasts, Apple Podcast, SoundCloud, and Spotify.
Transcript
Rebecca (Podcast Intro): Welcome to the Centennial College Podcast Season 6: The Future of PR Looks Like Us! Join our team of students in the Centennial College Public Relations and Corporate Communications program. This is the second of three episodes where we have partnered with the Canadian Council of Public Relations Firms to explore diversity, equity and inclusiveness in the PR industry. We are looking at the past, present and future through the eyes of experienced and emerging professionals and students who are interested in the profession. Last week, we showcased some of the Black pioneers that shaped the PR industry as we know it today.
Rebecca: Today's episode is about diversity in PR's present. We interviewed communications professionals from diverse backgrounds and sectors. These conversations offer some perspective on DE&I in the industry and how it's evolving.
Rebecca: Our very own Sarah Heiman sat down with Fatyma Khan. Fatyma is the senior lead of communications at the Ontario Brain Institute. She brings a wealth of knowledge to the industry and her role. She has a Bachelor's degree of Psychology from Brunel University London, a Master of Science in Risk Analysis from King's College London and a postgraduate certificate in corporate communications and public relations from Seneca College. She's lived on three different continents, in three countries and is working on learning her third language. And, she says that her main drive is to help people make better decisions.
Sarah: How did you find the world of PR?
Fatyma: So it was a journey, I think it was a journey… It was a more for discovery journey in the sense that I wanted to do something that was meaningful and I liked to pick up new projects all the time. So I felt that healthcare communications would be an interesting aspect, because at the end of the day, it helps communities that help the general public. I can convey an important or positive message. At the same time, healthcare is so broad so I would be able to do a number of things at the same time. I wouldn't be stuck with the same thing over and over again. That's how I kind-of landed with communications and PR.
Sarah: And when you walked into your communications department and you looked around the room, how diverse was the field? What did it look like when you walked in?
Fatyma: It's interesting that communications is diverse, is pretty diverse, because I think communications is a field for where people want to tell stories and and tell them better. And that's why it kind of brings in a lot of ethnicities and a lot of cultures, so that's good that way. The one thing that did surprise me was gender diversity. It's very women-centric -- not that it's a bad thing! It's awesome that there's a field that's women-centric, and maybe it's because women are more open to sharing feelings and sharing thoughts, and I think that's why they're better communicators as well, but that's the only thing that surprised me.
Sarah: When we look higher up, when we look into the C-suite, despite the PR industry being so filled with women. What are your thoughts on that?
Fatyma: I think that's absolutely true. And it's overwhelming in the sense that you need to like: one, any human being wonders what you need to do or how you need to get ahead. But at the same time, there's... I think it's important to be mindful of what are the factors that have played or have shaped that basically. So women in general are still fighting for equality in workplaces, whether it's like pay scale. Women are, a lot of women have started working and are working, but there's still that gap, an unsaid gap that women are better leaders because they're considered more emotional beings. It's funny how their emotion is not seen as a personality trait or a leadership trait, because now we know that emotional intelligence is a huge thing. And that kind-of plays a really important part in how the team dynamics or team structures work. It's true, but that doesn't mean it cannot change.
Fatyma: It can change because you need extra, you need more skills, you need to be a little more immersed in your professional life. At the same time, it's about the simple nudges. You work within your organization to nudge executives and remind them that, "Hey, there's a little imbalance here. Do you notice that imbalance? Here are the things that you can do, here are the things that you're doing wrong."
Fatyma: Or maybe you've not thought about these things. We usually gravitate towards people that are similar to us, and that's also true with leadership positions. Like men gravitate towards having men at the round table, like the board of directors at the round table. But that needs to change -- just because something is familiar and has been done for a long time, it doesn't mean that it has to repeat itself. It's a learning process; it's not going to happen overnight, but it has to happen nonetheless.
Sarah: So speaking of that and diversity, what is your definition of diversity and why do you think it's important for any organization, but specifically for PR communicators?
Fatyma: Diversity can mean a lot of things and I think we're still exploring and fully exploring what diversity means. In a nutshell, it means diversity in terms of colour, ethnicity, backgrounds, nationalities. It means giving everyone a fair chance to speak their mind or share their opinions, I think, at the end of the day.
Fatyma: And why is it important to have diversity in PR is because when as a communicator, you were communicating to a number of audiences, like to take [your audience] into perspective: who are you speaking to and what do you need to say to them? And so as communicators, you need to be able to know what words are the right words that would like touch your audience, convince your audience or encourage them to think differently. And as communicators, it's very important because not only do we have different perspectives but we also have language, [which] has a different way of connecting two people than everyday words would be, because you have, like, a cultural perspective, you understand the different influences a person has. And with diversity, you're able to like tap into those influences to like move someone, if anything.
Fatyma: And communications is about telling the story and hoping for specific actions. So if you are not communicating in the right words to the right audience, it is basically lost, which is why diversity is essential, I think, in that sense.
Sarah: I agree. As a woman of colour in PR, can you speak to any challenges or any successes you've had moving through the industry?
Fatyma: I wouldn't say I've had any struggles per se, I believe I got decent chances in life and even with my current employers, it wasn't relevant to them whether I was new to Canada or whether I wasn't white or whether I didn't fit to start and stop text or whatever it's for. What would matter were my qualifications and my analytical skills. But I'm sure that's not true for the entire industry. I'm sure that's not true for everyone's life. Everyone has a different journey but I do know of other friends and colleagues who are struggling and it's not just in communications. Communications is a broad thing. It's just, struggling to get ahead in certain places, just because they don't fit that certain box or that criteria.
Fatyma: Early in my days when I moved to Canada, I was like meeting people and I was trying to like do informational interviews and like to get to know the industry, there were some odd questions and I was like, "How do you not see past that?" I remembered a person who asked me if I could speak English and I just looked at the person, that I don't believe we were conversing in any other language right now. How do you assume that I do not speak English or can write English since we're talking? We've been talking for the past 30 minutes. And I just started laughing, because that same person didn't realize how silly that was. But we all have these underlying assumptions about people, because they are... Either, they're born and raised in Canada. I think that's only one that I always tell people about, 'cause it's really funny, and I still laugh. I'm not offended at all; I'm just laughing at how silly that person was to ask if I could speak English when we were already conversing in English. But I'm sure there are other bad, worse stories out there.
Sarah: What do you think are some common mistakes that organizations make in their approach to diversity?
Fatyma: My opinion is just my opinion alone, just to be absolutely clear about this. Some organizations go like, "Okay, we need to be diverse, so next time when we are hiring people, a person needs to be of this ethnicity or this background, this colour." But that's not how diversity works. It's a learning process, it comes with the fact that you need to train the organization, say, "Hey, we need, we should be mindful of these things, but at the same time, don't give the person a job just because they fit a box of that ethnicity," right? I think that's an incomplete thing, you trying to like… It's really important to, when organizations are looking to be more diverse, that merit is equally important, because we want people to be role models that are worthy of being role models. At the same time… Yes, I think that's one thing that most organizations do wrong.
Fatyma: And the other one is they just got an audit and some people were asking about how diverse our board of directors are, and I think we need to like, fix that right now. That's not how it happens, it's not like a bucking that you turn on and off.
Sarah: Do you have any inspiring tips for young BIPOC communicators emerging into the professional PR world?
Fatyma: Where are the gaps? How do we work towards filling those gaps, and making sure the right people get the right job? I think one thing that we all need to do is being able to respond better rather than react. I think when people ask me questions about my culture or my culture or my life, I try not to react like they should have known something. I always tried as I think back to give them a little contest and give them a better response, so that they don't feel shy asking those questions. Because half the time, people don't know things because one, they're shy to ask. And then if they do end up asking a question, they feel attacked.
Fatyma: As a part of our community, it's our equal responsibility to make each other feel safe, and that's also the person who's asking the question and also the person who's answering the question. So I think as a BIPOC communicator, don't react to something. Give that person the benefit of the doubt, help answer their questions as best as you can because you will be remembered for being calm and patient and collected with them.
Fatyma: Passion is absolutely important, is essential.You should be [passionate] about what you believe in, but this is this is how I think: you are talking to a five-year-old and you want to like get them interested in what you think about, how you feel and where you come from. I think that's the one thing I would say don't react/respond. It's still not easy, like I say it, but sometimes, it does rile up all your feelings in there. But yes, I think it's an important reminder.
Sarah: Why do you think representation is important?
Fatyma: There's no one way of life I think and there's no one way of thinking either, and representation actually helps us see that. Representation helps us identify that no one person has lived the same life or had the same life experiences, and there's something to learn from each other. And because we want, we're willing to share their stories, we become vulnerable and we show another side of us that another person hadn't imagined or expected. I think that makes us much more kind and compassionate to each other.
Fatyma: Also, telling our stories makes us all the more interesting. Representation makes us more humane, I think. The more you know about a person, the more you are willing to just be a little more kinder and more respectful for each other, and I think that's what representation teaches us.
Rebecca: Next up, a current student of Centennial CCPR program is Sia, she will be recounting her conversation with Meghann Cox.
Sia: Hi, I am Sia Papadopoulos, a Centennial College CCPR student in Toronto. I'm really excited to just jump in today's episode, an enriching virtual chat with Meghann Cox, the manager of communications at Sportsnet. Meghann is a McGill alumni who studied history and Poli. Sci. It wasn't until her fourth year that she started questioning her career after graduation. Her athletic background in sport led her to an interest in reporting and media in sports. Meghann was quick to jump on an internship opportunity at Tennis Canada, where she played both a journalism writing role and a PR promoting and planning role. This role really encouraged Meghann to pursue sport PR.
Sia: Despite the PR industry being predominantly women, Meghann was up for a challenge entering an industry that is dominated by men. She was let into another internship, a 6-month internship at Sportsnet, and it was only six months after the internship ended that Sportsnet called Meghann back. She landed her first position in the communications department and continued to climb the ladder upward from there. Meghann has been part of meaningful and successful initiatives over the years. She recalls and is proud of launching the Ryerson Sportsnet inclusion and diversity initiative. The initiative gives funding to students who are pursuing journalism at Ryerson and identify as a visible minority, a person of colour or a woman. The initiative was launched to empower the next generation of journalists and hopes to reflect the diversity in Canada. As a woman in sport, this initiative is quite near and dear to her heart.
Sia: Another initiative Meghann worked on that I was really excited to hear about was Hometown Hockey and Cree.
Meghann: I worked with APTN to do NHL hockey broadcast[s] in Plains Cree. That was really exciting and interesting; it's the most amazing language. We were listening to it and you know how your brain always tries to identify that... And the team they have at APTN are so passionate about it, and it's a way that they're able to use their language to connect with the younger generation.
Sia: Meghann left me with some clear advice. She told me to make solid connections, both professionally and personally. Relationship-building is such an important part of PR. Being a trusted advisor, a strategic thinker, PR is more than the definition encompasses.
Rebecca: Next, we'll be hearing from Hamzia, a current student of Centennial CCPR program about her conversation with Jeannette Holder. At the time of their conversation, Jeannette was the communications manager at PWC Canada. She is now a senior communications specialist at CAAT Pension Plan. So now, I'll turn it over to Hamzia.
Hamzia: My name is Hamzia Bawa-Zeba and today, you will gain some insight into the world of internal communications. I spoke with Jeannette Holder, an internal communications manager at PWC. Jeannette graduated from Western University with a degree in media information and technoculture. A PR course in her final year peaked her interest enough for her to pursue a postgraduate certificate at Seneca College in corporate communications. With 12 years of experience under her belt, Jeannette has worked in spaces across the board: the Bay Street Law Firm, the not-for-profit, and now the corporate. She joined the PWC team in July 2019. A major organization like PWC cannot operate without a solid team of professionals and how does one ensure that all employees are on the same page? By having a group of PR and communications professionals dedicated to internal communications. This is what Jeannette does.
Jeannette: It's a great place to work, to be honest. I feel supported by my manager, I feel supported by my colleagues. It's nice to be part of a larger team as well, not just me being the lone communications person or the most senior communications person. It's nice to have colleagues to bounce ideas off of and that kind of thing.
Hamzia: One of Jeannette's proudest moments at work was the role her team played in facilitating the transition for employees from working in the office to working from home full-time.
Jeannette: The average age of an employee at PWC is 26 years old. People might be living in small condos downtown, or with roommates or on their own. Or there's a lot of people who are from overseas and might not have family, so helping them feel connected to members of their team in a virtual environment was a big accomplishment for me.
Hamzia: Covid wasn't the only pandemic plaguing the world; anti-Black racism has been impacting the Black community for centuries. The death of George Floyd spearheaded a litany of protests across the U.S. and the world. It also forced organizations to hold a mirror to themselves and reflect on their corresponding values and response. Diversity and inclusion has become a hot topic issue in many organizations. However, PWC isn't late to the game -- they have a diversity and inclusion officer who sits on the executive level of the company. Following the civil unrest, leaders at PWC gave employees the opportunity to share their lived experiences with racism in and out of the workplace. They set up a task force to tackle challenges with their Black community. They plan to take their key learnings and apply it to other BIPOC groups within the organization and other diversity and inclusion groups that exist.
Hamzia: As a black woman, Jeannette says she feels more empowered to speak of now than she ever did.
Jeannette: Just telling the stories and talking about it. I think for a long time, I was probably raised to not talk about those types of things, and now, it's okay to say things and now, it's maybe my one and only opportunity for people to listen and that my voice matters.
Hamzia: All of this boils down to trust. It is imperative that as a PR professional, we build relationships based on trust. Jeannette says being trustworthy is one of the biggest parts of the job. That is our currency, all we have is our integrity. The PR Industry is ever-changing and if 2020 has taught us anything, it's that adaptability and continuous learning are key. During unprecedented times, the importance of internal and external communications is only magnified.
Rebecca: Finally, Sarah had the opportunity to sit down with Mubashira Farooqi. She's a recent alumni of the CCPR program (in 2020), and is an active advocate for diversity within the industry. We'll let her tell you a little bit more about herself
Mubashira: Hi, my name is Mubashira Farooqi and I'm a communications fellow at FleishmanHillard HighRoad, and I'm also the host of Colour Me PR podcast where I interview women of colour who are breaking the ceiling with what they can do. I also helped lead IABC Toronto's Student Communicator Circle, which just launched in 2020, and is aimed at connecting students from across Toronto for professional development opportunities and really. just to build a community of students.
Mubashira: I think one of the things that I've learned from the guests on my podcast is that for really, a very long time, there hasn't been a lot of significant representation in the PR industry or even the media industry and that's something that kind-of hasn't changed for a long time until recently. Which you know, of course, I'd love to give credit to our generation for helping bring about that change, but you know, it is hard to speak on what exactly it was before. But I can say that I'm extremely excited to see the direction that we're going in now.
Mubashira: So I myself am pretty new to the field of public relations and communications so really, only I can speak to the time from when I started my program in late 2019. And from what I could see from the beginning was that there definitely was a lack of representation in PR especially in senior and executive roles. And you know throughout your time as a student, what you think about is where you're going to land afterwards, what your workplace is going to look like, and when I looked around, I just really didn't see anyone that looked like me. I can say though that from the point in time that I started my career in PR, I've seen a lot of effort being put into diversity, equity and inclusion work, sometimes honest and sometimes a little bit surface-level, but the effort is there. And I think that organizations are finally beginning to realize the true value of inclusion within their workplaces and in their client work.
Mubashira: I also think that communicators and especially communicators of colour are now beginning to realize, also the value of using their voices and the value that they bring to the table. I think we're learning to be a little bit more confident and find a community that can support us and understand us, and it's a really big step that's only going to get bigger as we go.
Mubashira: So I'm the type of person that when I see a problem or a gap or barrier, I try to find solutions. And sure, I too experience the same levels of fear and hesitation that someone usually does when trying to change things, but I also have the sort of excitement and passion for bringing about positive change. And so when I entered the PR industry and realized that there isn't a lot of diversity, I decided that I wanted to do something about it. So right when I was in my communications program, I decided to focus some of my work projects on diversity work, and when I would network with people that you can speak with classmates or teachers, I would let them know that diversity, equity and inclusion is something that I'm passionate about and that I want to continue into my career. And so of course, in the work that I do on a professional level, I try my best to bring a diverse perspective and to remind my colleagues about how we can be more inclusive in our approaches.
Mubashira: But I also launched my podcast for this very purpose. I again was terrified at the idea of putting myself out there, asking for people to join me every two weeks for a new podcast episode, but I also realized that you know, if I don't use my voice, how can I ask anyone else to? If I want people to feel inspired and engaged, I have to feel inspired and engaged. And I have to do something about it, so really, what I can do to make the PR industry more diverse is by putting myself out there, and that's what I asked others to do as well. Honestly, whether or not there is acceptance in the industry or not right now, it doesn't matter. It doesn't lessen the value that people of colour bring to the table.
Mubashira: Like I said, while organizations are realizing the value of inclusion more, the fact is that there will always be space for more work to be done and there will always be ways that we can make people feel more accepted for all of who they are when they're at work and when they're in their professionals are closed so you know, I think that there is beginning to be a bit more acceptance in the PR industry. But there is a lot of room for there to be more work done to help people of colour, diverse people feel more included and feel like they're part of a team that understands and values them. And it's not just about you know, your internal HR processes and making someone feel like "Oh yeah, you know my religious holidays being celebrated. That's great." Know it's about far more than that, it's about connecting with people on a human level, that are checking in on them or asking them what you can do to support them and help them feel included. And honestly, everyone benefits from that kind of acceptance and inclusion so you know, we have to work hard ourselves to help bring that about. But we also have to remind our colleagues of when and where that's missing and that means speaking up for ourselves, whether or not that acceptance is there.
Mubashira: I think one of the really important things that our PR industry can do to bring about more inclusion is to really break down those walls between quote on quote professional and personal, because the fact is that when you come to work, you're still bringing everything with you. You're still bringing everything that's on your mind, that's happening in your life, and that impacts the work that you do, and it affects your mental health as well. And so, I think at workplaces, if we begin to be more personal with our teams and asking them about their lives and their you know, accomplishments, and ask them if they need to take a minute to talk or to vent or just to connect, I think that that will really help in making diverse people feel more comfortable sharing their experiences and sharing their journeys. And also then sharing their insights because all of that brings about unique perspectives that teams may not have been considering before and that can be really interesting for them to know. I'm really beneficial for them to know on a professional but also personal level is just being more human with your team.
Rebecca: These voices represent the views of emerging and established professionals. We hope their stories give some insight into public relations and corporate communications as a good career choice for those who want to be part of an industry that embraces diversity, equity and inclusion. We are challenging all PR professionals, new and experienced, to pay it forward, or #PRItForward by sharing your story, acting as a mentor and encouraging others to consider the possibilities and importance of a career in PR.
Rebecca: Follow @Centennial_PR on Instagram and [@Centennial_CCPR] Twitter for more information on how to #PRItForward. Next week, we have a conversation with established industry professionals, current students and diversity educators to discuss the future of the communications industry and how we can strengthen it by advocating for diversity, equity and inclusion initiatives. Make sure to subscribe to the Centennial College podcast on Soundcloud, Apple podcast, Google podcast and Spotify.