QUESTIONS
P.O. Box 631 Station A
Toronto, ON, M1K 5E9
Episode 3: The Future of PR and GCE Education
Episode 3: The Future of PR and GCE Education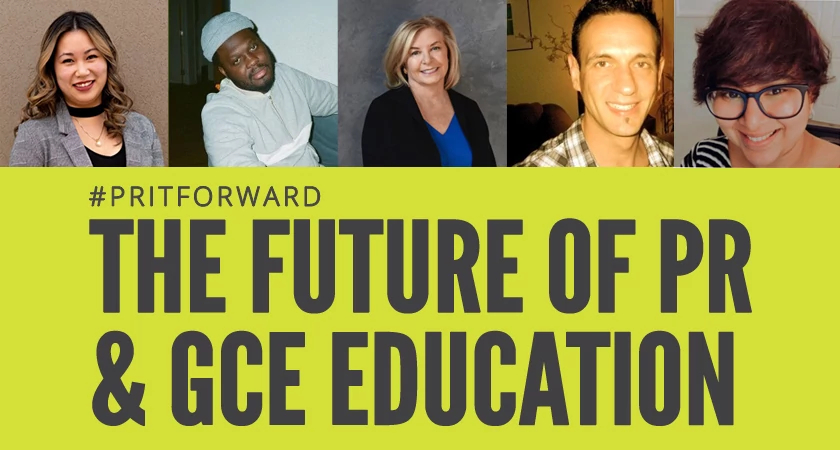 Summary
Today's episode will close the series with an open discussion between PR professionals, students and diversity educators. We speak about what we envision the industry to be like in the future and the hopes we have for diversity in PR. We discuss how organizations like the Canadian Council of Public Relations Firms (CCPRF) are encouraging others to prioritize diversity, equity and inclusion, and are working to eliminate discrimination from their practices. We also discuss how education initiatives like Global Citizenship Education and Inclusion (GCEI) at Centennial College plays a role in priming new professionals to contribute to inclusive workplaces.
Today's episode will feature voices of Judy Lewis (Chair of CCPRF, co-founder & partner of Strategic Objectives), Michelle Nguyen (co-founder, lead writer & social strategist at Super Duper Studios), Ananya Mani (senior internal communications specialist at Ingram Micro), Gabriel Bedard (human rights and equity advisor and GCE instructor/facilitator at Centennial college), Jerome Kitenge (student in Bachelors PR program at Centennial College). The conversation was moderated by Charmaine Blair, a student of the CCPR graduate program at Centennial College.
This stimulating discussion is only the beginning. We must continue the conversation to build understanding around the value of DE&I in the workplace and in career development. Don't forget to read our blog post this week where we provide more nuance and dialogue on today's episode.
Also available in Google Podcasts, Apple Podcast, SoundCloud, and Spotify.
Resources
Transcript
Rebecca (podcast intro): Welcome to the Centennial College Podcast Season Six: The Future of PR Looks Like Us! Join our team of students in the Centennial College public relations and corporate communications program in this third and final episode of the season. For this series, we partnered with the Canadian Council of Public Relations Firms to explore diversity, equity and inclusiveness in the PR industry. We are looking at the past, present and future of public relations and communications through the eyes of experienced and emerging PR professionals.
Rebecca: Today's episode is about diversity in PR's future. We sat down with diverse students, educators and professionals to discuss perspectives on DE&I in the industry and how it's evolved. Today's conversation is moderated by Charmaine Blair, a current student of the CCPR program at Centennial College. You will also be hearing the voices of:
Judy Lewis (Chair of the CCPRF and co-founder and partner of Strategic Objectives),
Michelle Nguyen (co-founder, lead writer and social strategist of Super Duper Studios),
Ananya Mani (senior internal communications specialist of Ingram Micro),
Gabriel Bedard (human rights and equity advisor and GCE instructor and facilitator at Centennial College),
Daisy Uy (a current CCPR student at Centennial College),
and Jerome Kitenge (a current student of the Centennial College Bachelor of Public Relations program).
Charmaine: So I'll start with Jerome, will you just do a brief introduction for us?
Jerome: Sure, no problem. Hi everybody, I'm Jerome, I'm a first year student at Centennial in the BA program for public relations. I've worked in social media and content creation; I also do content creation and social media gathering for brands outside of school as my own business, and yeah, a little bit about me, I was born in Congo, I lived in South Africa, I lived in Paris, I moved to Canada when I was 12... And yeah, I'm really into creating and shaping narratives of brands and telling their story.
Charmaine: Thank you, Jerome, and Ananya?
Ananya: So hello everyone, I'm Ananya, part of our internal communications so I'm kind-of proudly representing internal comms today. I've been in this profession for about seven years now; I actually started off in HR and kind-of stumbled my way into communications and that's when I realized that this is my passion. So I do have a passion for storytelling and creating amazing employee experiences. I moved to Canada two years ago from India and I've been fortunate to work with global brands like Walt Disney Company [and] LinkedIn, and I'm currently with Ingram Micro Canada.
Charmaine: Thank you, Ananya! Gabriel, why don't you do a brief introduction?
Gabriel: Hi everyone, my name is Gabriel Bedard and I work at the Center for Global Citizenship, Equity and Inclusion at Centennial College. My primary role at the college is to work with faculty in integrating global citizenship and equity outcomes into the curriculum. For those who don't know, Centennial College, when you graduate, you actually graduate with an added credential which we call global citizenship and equity. So I really worked with faculty in creating those assignments and rubrics, and then on top of that role, I do a lot of equity and inclusion work around the college, doing workshops, trainings and seminars for both staff and students.
Charmaine: Thank you, Gabriel, appreciate that, and we'll move to Michelle.
Michelle: My name is Michelle Nguyen. I'm a soon-to-be alumni at Humber for the Bachelor of Public Relations. I'm currently a social media strategist, I've been doing freelance for the last couple years and i've spoken on behalf of brands like Nespresso, Toronto International Film Festival, L'oreal Paris and, most recently, I am the lead TikTok strategist of Big Brother Canada, so I'm a little bit more on that specialized public relations side of social media. I'm also a first generation immigrant, as my parents moved to Canada as teenagers in the Vietnam War. And I often find myself putting that level of diversity throughout all of my communications to the world and considering how other people are interpreting my words on the internet, so that's me.
Charmaine: Wonderful! Thank you, Michelle. And last and certainly not least, Judy Lewis.
Judy: Thank you very much, and thank you for having me. I'm Judy Lewis, and I am the partner and co-founder of [a] PR agency called Strategic Objectives. Strategic Objectives is Canada's most award-winning public relations firm. We have a great tradition of advancing women and speaking out on behalf of equity, and over and above the great consumer work that we do in our agency. I am also the Chair of the Canadian Council of Public Relations Firms, which has brought together more than 20 of Canada's premier agencies in support of anti-racism, diversity and inclusion, and I'm very happy that our industry is advancing along that road.
Charmaine: Thank you very much, Judy.
Judy: A pleasure.
Charmaine: I have to just mention that we are going to continue finding out more about what you do, but I'm going to move into the questions and in the course of answering these questions, you'll certainly be referring back to your role, and you know, how this comes into play for you, okay?
Charmaine: So we'll continue to talk about that, but the subject of women in the industry, it's come up, so PR is known to be a female-dominated world, yet it has a reputation of older males and executive roles with you or none being of colour, so first question I want to pose to you all is do you see this changing? We know that it's a slow evolution, but I want to know as people in the profession right now, what you see, how you see this change or this evolution happening. I'm going to start with Ananya.
Ananya: Absolutely, I believe that this is changing and changing for the better. I think, an important trend that I'm seeing now, and rightly so, I think it's due time, that everyone's kind of deliberately being more inclusive, which is really, really important. So for example, when I step into a room, I don't worry about whether I'm a person of color or I'm from another country. For me, I think it's all about the profession and I bring a certain amount of skills or certain specialized skills to the table and I kind-of like to focus on that.
Ananya: So I feel like that shift is happening, it will take some time, but I'm sure that we can all as professionals kind-of help the industry drive towards a more equitable, and I think, a more powerful way of telling our own stories, so that we can truly be a diverse profession.
Charmaine: Thank you, Ananya! Michelle, would you like to add anything to how you see it changing?
Michelle: So it's actually a funny story, because that's actually what my capstone thesis is about — this, the dynamic between women and men in the PR industry, and whether that sort of pay and equity has any any role in it, and the secret is yes, of course, I think everyone knows that. But I think from my research, I had discovered this previous, like, long-term history of how women got into the public relations industry in the first place. If you go back to, you know, the 1980s and 1970s, there was something called the Velvet Ghetto, which was essentially this like entrance of women in public relations where they were, you know, finding their space and the work in and finding this sort of glorified secretarial work, which is essentially what they had considered it at the time. And that sense of you know, as women started to get into public relations and started to learn about sort of the capabilities and being able to communicate and being empathetic and all of these great things that we know public relations is all about. It had transformed into this change, where men were using public relations as a stepping stone to get into these bigger managerial, certain leadership roles. And then women continued to stay in public relations in the long term as sort-of a long game of what they would do in their careers.
Michelle: So I think that that's like the stemming of where my thesis is going, but essentially, I have been discovering that as PR has been changing and finding that women are staying longer and being sort-of the pinnacle of what public relations is seen as today, the way that it's changing is that a lot of women are actually exiting the traditional industry and moving into freelancing, into owning their own shops and agencies and things like that, where they find that they have more control, they have less of, sort-of an oppression of the men who are always above them that they can never seem to reach. So I think that that's something that I definitely see changing in the industry, is that women in public relations are no longer sort-of staying with the traditional ebb and flow of how the public relations world has existed in the past, and that we're actually carving out our own space to be the leader, to have control and have these choices. So I really see that that is where, while being a female-dominated world of public relations practitioners, it's actually moving a little bit outward, which I think is really interesting, so that's where I see the public relations universe transforming into for women.
Charmaine: That is interesting, and as the ladies have the floor... For a lady who has been in the industry and has done a lot of work in this area, I'm actually going to ask Judy how you see the industry changing for women at this point.
Judy: I think change is coming and it's coming very quickly, so I think that that is really good news. There is no question that we are still a female-dominated profession. I think that that is good in one way, but I also think that diversity is also gender as well. We need men in our profession, we need to have balanced views and perceptions of what is happening in this world, so that we can bring the best of the creativity forward no matter what the products. Men buy a lot of products, so we need that point of view, and that is important.
Judy: However, to address the issue of women in senior roles… You know, Michelle's touched on an important point about how women are, you know, at the mid-level fleeing the profession and starting out as freelancers or their own business. The Globe and Mail had a huge article about the number of women who are leaving the workforce and never coming back. I'm a little bit concerned about that, because I do believe the world's biggest and Canada's biggest brands will still look to the leaders in our industry. And it is very important that we have women in those leading agencies, in those important roles that can influence, and while I do believe that you can — and we proved it in the pandemic — that you can work virtually and do quite well, you do need the strength of a brand and the collaboration with other great communicators to be able to deliver the best to your clients. It is very hard, and even at my level, I cannot brainstorm with myself all the time. You need to have people to collaborate with, and therefore, the agency still needs women.
Judy: What we need to do is create cultures that are accepting of women and welcoming of women, so that you can have babies, you can look after your elderly parents and everything else that goes along with being a woman -- men too, but women more -- still, to be able to have the balance between career and life -- I won't say balance -- I should say the integration of career and life, while at the same time, being able to strive for the most senior positions, because that's where women will gain the most strength and influence in our society.
Charmaine: Yes, thank you, Judy, we definitely need to be there, we really do, and gentlemen, we really want your perspective as well. Gabriel, this time, to maybe give us his view on where he sees women being positioned right now, and how you see it changing.
Gabriel: I'll speak more general, not just specifically women, but more general, I see not from this perspective of PR... I obviously don't work in PR, but even just in the school, at the college, like we're getting a lot more calls from programs, professors and faculty to come in and start talking about inclusion, start talking about anti-oppression, anti-racism, anti-Asian racism, anti-Indigenous racism, like all these topics are becoming really top of mind. And so we've seen even, I think what it's been, it's been this combination of COVID-19, Black Lives Matter, #MeToo and a huge push from the queer community for queer politics, we're seeing the sort-of merging of all of these issues that are happening, and so we've seen this sort-of heightened awareness from our faculty and teachers.
Gabriel: So we're being inundated by these asks, so in one way we're really, really busy, and another way we're really, really excited, because before we used to have to really struggle to get into classrooms, and you know, we would ask faculty to get us in there and let us talk about these issues, let us start engaging students in these issues, because they're going into a workforce that is looking like this, right? And the workforce is changing and we can't expect the workforce to change if we're not educating diverse students to go in there and help make that change, so that's one place where I'm seeing a huge huge difference for sure!
Charmaine: Yes, thank you, Gabriel. Jerome, you're entering the industry, and as a PR student, I'm sure you've been exposed to a lot of conversation around this topic. Can you give us your perspective as someone coming into the industry?
Jerome: Yeah, I mean I'm here for it, I think that, like Judy said, there should be a balance of creativity and storytelling that propels us forward. So everybody should have the ability to tell their story, and we can only do it together rather than apart, right? So I think, not knowing much about the industry, any good change is worth adopting, in my opinion.
Charmaine: The last talking point that we really wanted to address was talking about the role we can play to shape the future of diversity in PR, and this is huge, of course, and this involves all of us. And it doesn't matter if you are already a PR practitioner, you know, if you've been in communications for years, if you're just coming into it, the whole thing is that we all have a role to play in shaping the future of PR, so I'm going to actually start this one off with Judy. I'm going to ask you to talk about the role that we can play to shape the future of diversity in PR.
Judy: I would like to first lean into discussion of the CCPRF anti-racism commitment that we developed and why we did it. We did it, because we are aware that our organization is not as diverse as it should be, and that is reflective of the fact that our organization are the owners of, the general managers of large PR firms in the city or in the country. So it is a mix of male and female, but it is predominantly white because that's who was working in public relations and who has risen. That doesn't mean we have shirked our responsibility, if anything we feel more responsible for doing more. And having always been a little bit of an activist and a feminist, I've really taken this to heart.
Judy: But what we put into the commitment was that we had to look at leadership. In other words, there's a lot of discussion of the pipeline and who is of colour in the pipeline and how do we get people into the pipeline? And we have learned very much that there is a pipeline and that there is a responsibility for us as business leaders to find that pipeline, so that's important. Recruitment: we have worked very hard with the recruiters to make it very clear that we don't want them to recruit people who necessarily act and speak and look just like us, because I don't look like all of Canada, and therefore, on behalf of my clients, I must have a representative population working in my agency, and that has become very important. And that will have lasting impact for our profession, because the recruiters are such a major part of who gets through to those jobs.
Judy: Training and development: we have put a focus on training and development, because if we are going to bring people into our profession who are not necessarily schooled in PR, how can we help people transition into our profession to bring all of their experience with them? The other areas: Working with clients, and this is very, very important work, because I believe that communicators have a huge role to play in diversity and inclusion and anti-racism, because words are our business and words truly, truly matter — how we say it and what we tell our clients, how we mold our clients' messages, how we create visualization of their consumers and so on, so forth, is very, very important, so we work with that and as an agency, but also all our members, we take that message to our clients. Social investment and philanthropy: we have made that as a priority and being accountable, we are doing research on the profession to find out what that looks like.
Judy: Then within my own agency, we've created something called SOAR, SO being Strategic Objectives Alliance and Representation, that is an employee-driven committee. Every two weeks, they come up with an email that lists resources. We have a podcast club that discusses issues, we bring in speakers, so we are working very hard to educate ourselves. We have reviewed our suppliers list. We have eliminated some suppliers, because they were not aligned to our diversity values. We have adopted new suppliers to really give, to engage, you know, businesses that are run by people of colour -- very important. So we are trying to be role models and to bring our staff along, because they are the leaders of the future, so if we can have a role in influencing their views, that will continue to take the profession in a good journey.
Charmaine: Wow, that's amazing. I didn't realize how much you were all doing.
Judy: We're very busy.
Charmaine: I can see that. Let's ask Michelle.
Michelle: Of course, so I think that there's a lot of things that we can do to sort-of shape what the future of PR can look like, especially for women, especially for people in any sense of you know intersectionality and all the ways that people can identify in this bright robust world that we live in. I think that there's two ways we can do it, sort-of directly and indirectly. In the direct sense in my world as I start to, you know, scale my business and I run out of hours in the day that I need to start to outsource to other people.
Michelle: I'm finding myself sort-of making space for more diverse juniors who are under my belt. So these are, you know, women, individuals who identify as BIPOC, or people who are just transitioning from other interests, like other industries into mine, so people who are looking for second chances, people who are looking for their first big break, but then you know never are given the opportunity, and then, it just becomes this sort of self-perpetuating idea that they can't make it. And I find that those types of diverse opinions really create sort-of multifaceted strategic content that always seems to have a new lens on it, or you know, a new fresh perspective on the communications that I put out and the things that we talked about become more robust, they become more holistic in the way that they're created. So I find that in the direct sense of how you can change the future of PR. It's for the people who work with you and the people that you allow into the bubble and have, like, have as a seat at the table
Michelle: And I think indirectly too... For me as a practitioner, I'm very aware of things like imposter syndrome, or you know feeling overwhelmed and all of these kinds of emotional components of what it takes to be a woman business owner and things like that, and I think that the power of transparency in my wins, and also my losses, is something that really helps to break these ideas that you know, a woman can do it all, and like a woman can have a child and work 10 jobs and she's so cool and all of these things. I find that breaking those types of stigmas really makes it more realistic and makes this transparency sort-of its own power and making room as a role model for people to see, you know, like you can see all my wins, you can like celebrate with me, but you can also see my losses and my struggles and then understand that that's really what the future is, is these human, very normal people who work really hard as opposed to these sort-of unattainable people who work in this industry who were just so savvy, so smart, I can never be like them and things like that.
Michelle: But [these stigmas] eventually seem to stop juniors to stop people from entering the industry because they believe they can't even do it before even starting. So I think that having those types of components can really help to shape who can get into the industry, who's allowed at the table and the types of voices that we continue to amplify as we continue to grow the industry into what it is.
Charmaine: Very true! Good point, Michelle. Jerome, coming into the industry again as male, how do you use see it from any perspective again, you know, how do you see the future of PR shaping?
Jerome: The future of PR, I mean, sky's the limit, right? How else can I say... Just on my perspective, from my side from just being a person of colour, I just want that the content that is produced, that is able to resonate with a campaign that I'm producing for any client, being able to let people tell their true story organically rather than something that's rushed just for a client. There's a lot of people coming in, who have different point of views and different narratives, but not to kind of put them in a box and let them creatively explore new ways of telling great stories that can resonate from one segment of what a client is looking for to the whole mass, so it can actually reach everyone as well.
Jerome: Yeah, the future? It looks bright, because we have students like myself. I mean, it's all about acceptance in the end, right? If the industry is able to accept us and we're able to change it to a new direction, I would say, yeah.
Charmaine: That's wonderful! You know, to be honest, Jerome, when you get to know me, you'll understand, I always have a lot to say, especially when it comes to subjects, you know, diversity and just the industry, i'm very passionate about as well. So yes, yes, thank you very much. Ananya, can you give us your thoughts and where you see the future of PR going?
Ananya: So I think as communicators, we are influencers. Whether you believe it or not, we are! So I think a couple of things that kind-of come to mind in terms of the role that we can play in shaping the future of comms and PR... The first one is, I think you need to tell your own story; you need to put yourself out there. So it could be social media, it could be your own company. Tell your authentic story, just like Michelle said, the good, bad and the ugly. I think it's important to be your authentic self and put yourself out there, because what that does is it kind-of inspires and tells people, or tells students that want to come into the field that there are people like me there, and it's not always that you know, I need to have a certain way of approaching the industry, it could be a different way, but I still see people like me up there, so I think that's super important.
Ananya: The second one that I truly believe in is, I think we need to pay it forward. We do have, we do bring, you know, a unique skill set based on our experiences, based on who we are as people. I think it's important to find those opportunities to mentor someone or even just have a simple chat with someone, help brainstorm their thoughts or just be a sounding board for someone. And also, ask for mentorship! I think you never realize the value of mentorship until you get into a relationship with a mentor, so it's super important to even seek mentoring out, because it helps broaden your perspective as well.
Charmaine: That's some really good advice, and I will say that I always go back to Spiderman saying, "With great power comes great responsibility." So you know, we do have to pay it forward. Gabriel, again, you may not speak specifically to PR, but I'm going to ask you if you could talk about training and how important it is in influencing diversity in the workplace and preparing students for the workforce, and this would also kind-of lead into where we are in here and in the future as well. From a diversity and equity training, can you give us your perspective?
Gabriel: Sure! At Centennial College with the GCE integration, students really leave the college with six main skills that we talk about, and we really ask the students to talk about those skills when they're looking for work and when they're having those interviews and to really highlight those skills, because they're really, really important skills. So some of those skills that students are getting just by doing the GCE is that they're getting skills like global mindset and self-awareness, recognizing diverse perspectives, strategic communication, personal -- the social responsibility, intercultural intelligence, empathy and global citizenship -- like, these are all the skills that students are getting just by going to Centennial College.
Gabriel: But the assignments, we try to get them to do that self-reflection. There's lots of work around sort-of personal identity and how that identity is connected to power and privilege, so it's really getting students to do that deep dive, do that self-reflection. Because without that self-reflection, we'll just continue that same cycle over and over, so we really need to start looking at, you know, anti-Black racism, anti-Asian racism, we need to look at Islamophobia, we need to really kind-of look at a lot of the intersectionality of a lot of these -isms that are out there. They're very much interconnected. We've got to look at whiteness, we've got to look at dismantling whiteness, looking at colonization and decolonizing. So this is a lot of the deep work that students will kind-of touch on, I mean, it's not like they're taking a full course, a full program in this.
Gabriel: But it really gets them to start learning that language and connecting it to their industry, and it starts to get students really excited about making the changes they leave. I want to talk a little bit about, also, about the CCPRF. I read that, I probably say, about five or six months ago, and I was really excited. I think it came out during the whole Black Lives Matter movement that was happening over the summer. And I was really excited to see this. I said, this is really deep work, and Kudos to the organization for doing that. There's some really rich, six sort of levels of accountability that the organizations are really looking at.
Gabriel: I did want to point to some of this work, and I think one important thing to include in maybe some of these pieces is to look at work culture, because a lot of stuff that we get from students is that they go into these organizations and they're faced with lots of microaggressions, they're faced with lots of structural issues that are happening within the organization that makes it very unsafe and very unwelcoming to a lot of BIPOC and queer students. So I would really start looking at what is that work culture, what are microaggressions, and how does that affect the culture of the workplace? So yeah, GCE, it's really exciting, it's been part of Centennial for about 10 years. And we're really starting to kind-of see the benefits and we're starting to see a lot of the activism that's coming out in a lot of the students, and we're starting to kind-of see that pipeline changing a little bit because of it.
Charmaine: Thank you, Gabriel; that's some really good perspective. We could be on this topic forever, because there's so much out there that we still have work to do, I mean, as a general society and it's certainly ongoing for us. But yes, we decided we had to focus in on diversity in PR and some of the challenges that this specific industry wanted to address.
Charmaine: Do you see acceptance in the industry now for people of colour, for diverse, like more diverse acceptance in the industry? And I'm going to let... Michelle?
Michelle: Particularly, I would suppose in my sort-of demographic of 20-something, in that sort of realm, I find that a lot of us are very aware and very... You know, we consider different types of intersectionality, we consider mental health, consider all of these things when we spend time with the people around us, with our friends, with our family, with our colleagues and things like that. I find that that sort of acceptance that we have of each other is very aware, we think about it pretty often.
Michelle: And then I find that that level of acceptance that we have in our personal lives tends to find ourselves sort-of in an outward life. I… As myself, like, I am a woman of colour, I am a first-generation immigrant, so I grew up in a very small town where most people were White and nobody looked like me, so I found myself sort-of putting my own types of morale, like my own ideas of self-acceptance on this pedestal of like, but I'm not White and I don't look like these people, so does that mean that I'm not smart? Does that mean I'm not, you know, a beautiful person? Like all of these things. So I think that having this acceptance, and especially being in Toronto, being in the multicultural community where you see people who don't look like you, which is really refreshing, to be quite honest.
Michelle: I think that the levels of being a person on the different spectrums of things that are not the traditional able-bodied person, you know, having mental health concerns and experiencing life in these different ways and being a person of colour, being different types of people of colour, and then all of these ways that we can identify ourselves differently from others... I find that that's really interesting in the way that we find acceptance in each other.
Michelle: And I think that that is probably the most important thing, you know, like if everybody in public relations -- as sort-of the gatekeeper of all communications that come out in the world -- if everybody looked like me, for example, that's not great. If everybody looks like any of us and solely us that wouldn't be great either. We couldn't identify with each other, we couldn't communicate with each other, and all of the ways that we can, you know, find these nuggets of truth and find these moments of connection would really be lost, so I think that finding the acceptance of each other as these different levels of you know, maybe somebody has ADHD, like how does that change their perception of life? If somebody is a person of colour, how does that change... All of these components, I think, really add up to how accepting we are as a community, and it sort of excites me on what happens next from here, of like, what does that future communicator look like? Is it just a plural? Like is it just many future communicators, because everybody has their own unique story to bring to the table. So I think that acceptance is more than fulsome, and is well on its way to being the norm, I would say.
Charmaine: That is good news. Alright, Jerome, do you see a more accepting industry?
Jerome: It's funny, because I also had a project, I had to speak with a gentleman from Edelman and I asked him the same question. But I think it depends on who you ask and what their perception is. I bring this up, because I have a conversation with my friends about these affirmative actions in, like, the early 80s and 90s was, I don't think it was really ever accepted, it was more tolerated, right? So there's this new trend that every company has a diversity coordinator, so I think we really have to hold companies accountable for these things, so if you have that position set, actually do what you're going to say, don't just do it for the look, right? So I would, I honestly want to believe that the industry is accepting and that there is a change just upon the horizon, but at this point, I will obviously find out when I get there. I mean, everybody else has more experience in the industry than I do, so I'm optimistic. I'll say that much.
Charmaine: I think we all are. I think we are. Ananya, I'm going to ask you the same thing, do you see an acceptance for more diverse professionals in the PR industry?
Ananya: Absolutely, I do see that change and I'm glad it's happening right now. I also feel that this acceptance is happening, because I think companies are seeing the value of diverse stories and diverse viewpoints, especially because no two people are alike. Each one of us brings a very different unique perspective, and I think companies are seeing the value in that, because I think we're stronger when we're diverse.
Charmaine: Thank you, well said. Judy, I know you alluded to this actually, in some of your previous comments, but I'm going to ask you again from a point of view as someone who has been in the industry and seen all of the changes happening, do you see a more accepting industry for diverse professionals?
Judy: I think that the industry is ready and open to change, no question about it, I do think that it is really, really important for the schools to help people, all students understand how to do great interviews, and how to really project their confidence and how inspired they are by the profession and what they can bring to the profession. I think that, very often, when, you know, and I compare this to, you know, women starting in the industry, like we had to fight really hard, we had to present ourselves differently, because people assumed that we were pretty little girls that were very soft spoken and we wore pink and we didn't really know much about anything other than fashion. And that was wrong, that just did not capture what a professional PR strategist was.
Judy: And I think that, no matter who we are, no matter what we look like, we have to bring forth those qualities that employers are looking for: Are you curious? Are you a continual learner? Are you confident in your ideas, and willing to project yourself with that confidence with clients? Are you inspired and know what is going on in Canada, so that you can put your program in the context of what is going on in this country? And I would also say, and I'm a great believer -- I am not an extrovert, I would not call myself an extrovert although most people who meet me say, "Oh man, are you ever an extrovert!" Well, it is important to project an image of confidence and, like it or not, our world is influenced by either extroverts or introverts who have learned how to project their extrovertedness. So I would say, like, as I said before, grab the brass ring and go with it because the world is waiting for you, it really, really is. So I am completely optimistic about that.
Charmaine: Thank you for those motivational and inspirational words. I think I'm ready to grab that brass ring, and I know my classmates are. Before we wrap up, I want to say thank you to everyone, you are all wonderful storytellers. This was actually not only an easy process to really get genuine, heartfelt and good perspective and good answers from you, because I think we've all learned today. And I would personally like to thank the CCPRF, the Canadian Council of Public Relations Firms, for you know, partnering with Centennial College to do this. It has presented an opportunity for us to get, as I said, more insight into the industry, to look at it through broader lens, to put ourselves out there as well, as you know, you were just saying.
Charmaine: Before we wrap up, I would like to open the floor just a bit first to my classmates because I have been the one doing all the talking. As I said, Jerome, I can talk. But I'd like to extend it to my classmates, if you have anything that you wanted to comment on, please feel free. Daisy, did you want to add something?
Daisy: Yeah, that the research, the ongoing research CCPRF is doing and our own research shows that there is some -- and we're hearing it from all your perspectives -- there is some more work to do, even as we do all acknowledge that there are developments in the industry that have not been there, like, years back. And it's just, yeah, it's just nice to all be on the same page that diversity isn't just something that you check off because it's part of the zeitgeist now and everybody wants to, you know, everybody's asking about it. But it's something that'll actually inform our projects and really lead to more connection with our audiences. And it's also something that really makes us all better at our jobs, not just as communicators but also in the case of Gabriel, in other industries. And we do see that in our work, that when we're very open to these different perspectives and information sources, the different backgrounds, that we end up with work that can connect to a broader range of people. And yeah, I'm excited to be part of this industry, even with how things continue to change with online and whether we all meet in person again one day -- we have that great hope -- but yeah, that's still a part that is so exciting right now, and no matter what medium we're going to end up speaking on in future.
Charmaine: Yeah, thank you for that, Daisy, and that's I think, well said on behalf of all of us. And yes, I, as a black woman and I will say this very openly, as a mature black woman, I am not just fresh out of college, I have, I entered this post-grad program with my own fears of... Is there any point to me doing this now? What challenges will I face? I knew, you know, that diversity on the whole could be a challenge in the industry, and I was enlightened on that even more so after starting to do this, but I will say that I also feel more encouraged and more excited. And the more I talk to people like all of you, the more encouraged and more excited I am.
Charmaine: I think that goes on behalf of all of us, because when we looked at our team, and I know Daisy, Becca, Sarah and myself, we actually have four different backgrounds and the four of us really truly believe that the future of PR looks like us.
Rebecca: Thank you so much to Gabriel, Jerome, Judy, Ananya and Michelle for their participation in this conversation. This stimulating discussion is only the beginning. Let's continue the conversation. We need to, if we want to appreciate the full value that DE&I can bring to the workplace and career development. Everyone can influence change, so we encourage you to #PRitForward. We are challenging all PR professionals, new and experienced, to pay it forward or PR it forward by sharing your stories, acting as a mentor, and encouraging others to consider the possibilities and importance of a career in PR.
Rebecca: Follow @Centennial_PR on Instagram and [@Centennial_CCPR] Twitter to keep up with the campaign. We would like to thank all of the students, professors and PR professionals who contributed to this podcast series. We are proud to say that the future of PR looks like all of us! Make sure to subscribe to the Centennial College podcast on Soundcloud, Apple podcast, Google podcast and Spotify.