QUESTIONS
P.O. Box 631 Station A
Toronto, ON, M1K 5E9
Episode 2: One Thing at a Time
Episode 2: One Thing at a Time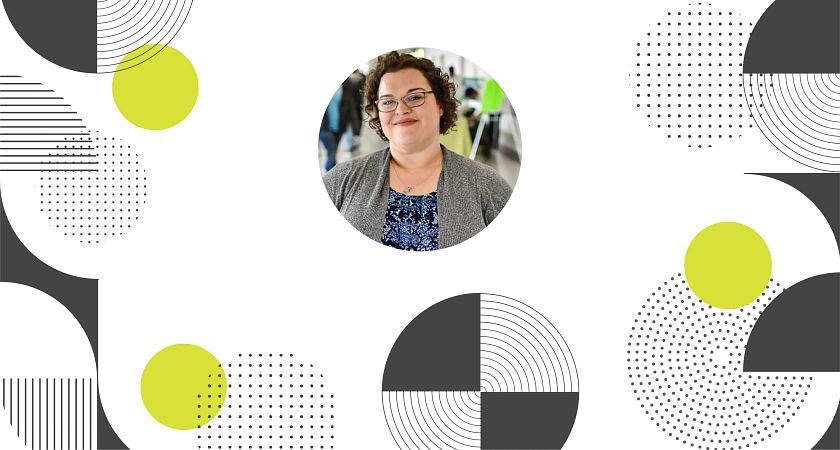 Summary
Engaging in UDL is a process. Processes need steps. In this episode, Child and Youth Care Faculty member Paola Ostinelli discusses her journey through understanding UDL, and offers a beginning step: Choosing one thing at a time and building from there. With the tools we have available, it is doable!
Guest Speaker
Paola Ostinelli
Faculty, Child and Youth Care program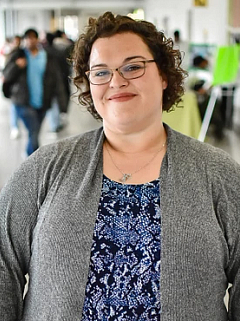 Paola is a faculty member in the Child and Youth Care Program at Centennial College since 2016. Paola has been teaching since 2010 and has worked in the Child and Youth Care field for over 15 years. Prior to teaching, Paola has worked in various settings with children, youth, and families in schools, community settings, residential treatment and mental health programs, hospitals, and in private practice. Paola is excited to share her journey of understanding UDL and incorporating elements to support students and remove barriers to their learning and access to course content.
Transcript
Teresa Lee 00:02
Welcome to UDL conversation cafe. Universal Design for Learning a podcast where we hear from people who are designing and implementing strategies with the diverse needs of learners in mind. I'm your host Teresa Lee. In the last episode, we gain insights from the Centennial College students, Sima and Lou, on how UDL approaches can reduce barriers to learning, engaging in UDL as an educator as a process. At first, it can feel overwhelming how you might go about incorporating the principles of UDL into practice. And this episode will join all of us to Nelly, a faculty member from Centennial College, as she discusses her journey through understanding UDL and offers a beginning step, choosing one thing at a time and building from there. Paola is a faculty member and the child and youth care program at Centennial College since 2016. Paola has been teaching since 2010, and has worked in the child and youth care field for over 15 years.
Paola Ostinelli 01:14
Hi there. Thank you so much for joining me today on the UDL conversation cafe. My name is Paola smelly, and I'm a faculty member in the child and youth care program at Centennial College progress campus.
Today's episode, I'll be talking about starting small and taking one step at a time. I'll be sharing stories from my own journey through learning about UDL, and share some resources I've come across along the way. But this episode, I'll be focusing on one element of the UDL framework, how information can be shared. My hope is to share an easy first step in engaging with UDL, and hopefully plant a seed or two for faculty to get excited about adding content, how we can create options for students understanding more about the elements of UDL, trying one thing at a time. And also rekindling your passion for content creation.
Paola Ostinelli 02:12
My own journey through UDL has been a few years in the making. as faculty, we may sometimes get stuck on doing the same thing. We're using the same material using the same format, then we come across something new, we want to try and don't know what to do from there, how to incorporate it, where when how often it can feel overwhelming. I do my best to stay current and add new things as I go. And when I first started teaching, I used techniques and strategies that I was familiar with ones that I'd experienced as a student, but I always felt I could do more. After a while they kind of started feeling repetitive. I wanted to do better. With that self-reflection. I'm always seeking new techniques, new elements that can fit into my pedagogy into the way I teach how I share information with students. I like to find new things and add them to an activity or to the information I post on the core shell. With new information, my hope is to rekindle that passion not only for learning but for staying current, keeping content updated and having it feel doable all at the same time.
Paola Ostinelli 03:25
I remember during a department meeting a few years ago, we had a presentation about UDL. And I began reading up on it, looking for information, finding out what I could. I continued reading about it learning more what it was what it meant for students, and also what it meant for me as an educator. To be perfectly honest, it felt overwhelming. Thinking about having to update all my content, add so many things to all the material that I've already posted, really was a lot to take in. I was looking at the big picture and thinking about all the courses I teach and everything I have going on, in addition to assessment, grading, prepping for class all at once, it was a lot. Now I'm the type of person I like to gather information, and I get excited about it and keep reading and continue gathering. But there's so much out there. I don't really know where to start. Now that I have all this stuff. What do I do with it? I didn't really understand how I could apply it in a way that worked for me how to start.
Paola Ostinelli 04:40
Then I attended a few workshops through Colts and I understood a bit more. College started sharing more information, put out a standard and I also found some videos and examples online. tools were being shared more information was coming out. I kept on gathering. I'd like to share Some of that information that I came across things I've tried that are hopefully helpful to you, as well. Think of it as an overview, with a little backstory a little less than when you search for a recipe. And there's a novel length introduction about how the idea of the recipe was discovered in a Tuscan vineyard in 1996. Great year, by the way, on a honeymoon when they were in search of the perfect lunch, and came across a fabulous pairing and this ingredient and that other ingredient. And then you have to scroll to find the recipe hidden among six other anecdotes that aren't really relevant, but they're still included. Well, I promise I won't do that I want to rekindle your passion, not bored out of you.
Paola Ostinelli 05:46
Let's start with talking a little bit about the UDL standard. Centennial College put out a UDL standard, which is based on the guidelines developed by caste, it contains three overarching areas, engagement, representation, and action and expression. The section I started with was multiple means of representation. I've included a link in the resources for this podcast to the UDL standard, as long as, as well as some other material and readings if you'd like to adults. Now, students learn in different ways. They also consume information in different ways. They're auditory learners, visual learners, kinesthetic learners, or a combination. How we share that information for them to learn is important. many variables go into how students understand information. So options become important.
Paola Ostinelli 06:47
As I mentioned, Centennial College has a lot of resources on UDL, they have a great infographic that gives a one page overview of the standard for the college. Again, I've added a link to the resources so you can look at it too. Now, college offers lots of workshops through cold resources through tap in within Centennial Central. And I gathered as much as I could I kept learning, the more familiar I became with the information, the less overwhelming it felt. And I decided to start small with one element and then build from there. I looked at the courses that I was teaching at the time, and I decided I'm going to pick just one. So I chose one course. And a lot of the material for thiscourse had PowerPoints.
Paola Ostinelli 07:38
I had information posted on the course shell. And I thought, How can I make this moreaccessible for students? How can I increase content and keep updating it? The first thing I did was I took one of my PowerPoint slides. And I recorded a mini lecture. You know how student accommodation letter sometimes mentioned having access to notes beforehand. At the time, I didn't really have that. I figured it would be helpful for all students, not just those with accommodations. Though my classes are usually based on discussions and activities and less so on full on the lectures. Ideally, the students come to class having already read the material. And then in class, we focus on one area and pocket so students can have a better understanding. So I took these slides, and I used PowerPoint, the feature is already included in PowerPoint. And what I did was I recorded an audio file to go along with my slides. It was a mini lecture just me expanding on the information of the slides as if I was in the classroom. I then took that file and uploaded it to the course.
The first time I did this, I uploaded the PowerPoint with the audio embedded and looked at the file size and felt Wow, that's pretty big. students aren't going to want to download 80 MGs onto their devices, computers, laptops, whatever devices they use, they may not have that size or that space. So what I did for the next class, I recorded the audio the same way in PowerPoint. At the time, the feature was called Office Mix. Now it's incorporated directly into PowerPoint under the recording tab, which is really helpful. When I finished my recording with the voiceover now there are other features you can explore, but I use this one at the time. Once I finished, I saved it as a video uploaded it to YouTube. I have an unlisted channel and the materials only accessible for those who have link. So I posted the link on the course show. And then students have access whenever they'd like. Students have another option. This fits into the UDL framework with multiple means of representation. It gives students choice, they can choose from multiple formats to learn the information. Essentially, it's up to them what they prefer. I then started thinking about captioning, my video should have captions. One more thing, one more layer.
Paola Ostinelli 10:19
In the past, I've tried uploading videos to YouTube, and then tried editing the captions. And it was a little frustrating because the captioning didn't exactly caption what I was saying a lot of the time. But since then the functions have greatly improved, captions are much more accurate. They start off auto generated, and then I just edit it, and it takes much less time than it did before. YouTube now also has a transcript function. So I posted the slides, the video, as well as transcript that was created through YouTube. And the video already had the captioning. I posted all of that on the core shell. And then I asked students for feedback the next week, different students like different things, but they all said yes, please, please keep going. So I continued.
Paola Ostinelli 11:13
The next class, I did the same thing. I learned from what I did before. And I thought well instead of just posting the slides in the core shell. Now it's one more element. Well, technically two, if you think about it, because the transcript has the visual text. So I guess I did two things in one. And I went from there, one step at a time, one element. And then I built from there.
Paola Ostinelli 11:41
Recently, I came across a book by Thomas Tobin and Kristen baylin, called reach everyone teach everyone Universal Design for Learning in higher education. In this book, they talk about the plus one approach, which is all about progression, rather than looking at updating all your information at once. They've mentioned to look at one more option, adding just one more element to what you already have. I've included a link to Tobin and baylands book in the resource list as well. And I also included a link to the interview with Tobin or to an interview, not the interview, but an interview with Tobin on the Thank you The owl podcast. It's very helpful information, it really helped me confirm that I was already doing something I wasn't starting from nothing. One of the elements that Tobin and Balan talk about is the fact that faculty are the experts. You know your course best, you know the content. So when you think about that content, ask yourself, where do students have the most questions? Where did they get stuck? Or maybe there's something that they need a different explanation for? Let's say you post something on the course shell, or they come across something in the readings, and then they come into class, you're talking about it. And the students still have questions. Tobin and baylin, call these pinch points.
Paola Ostinelli 13:18
One way to look at adding to the content you already have, is starting from one of these pinch points. By providing multiple means of representation, you're giving students choice, they can choose one or more ways that you've shared the information that works for them. They can try things out. Maybe they can take information, or sorry, take the information in better using another technique. Maybe they find something new that works for them. But ultimately, they can choose. You might be asking, Well, what does this look like? I don't really have PowerPoints. I can't create a video with a mini lecture. So I've gathered some options to give you a better idea of what multiple means of representation can look like what adding one more thing using the plus one approach to add to what you already have. The example I gave earlier of the slide deck using PowerPoint to record the audio lecture uploaded to YouTube. The captions are auto generated, you can edit them then download the transcript and then you have the PowerPoint, the video and the transcript posted for students choice.
Paola Ostinelli 14:46
You can also use features like h5p using different elements to create interactive activities.m And these are another way for students to learn the content instead of just reading it, now they have a sort of mini game that they can play. So each VIP is amazing, I strongly encourage you to look into it, you can create multiple choice questions matching fill in the blanks, they have a lot of really different options for creating activities from the content that normally you would just post in written form.
Paola Ostinelli 15:31
Now students have a choice, they can interact with the material in a different way. Let's say you have a graphic or a picture that you post in your core cell. adding one more thing, you can provide a description. You can share a blurb, or even a video of you going over the graphic, graph, table image, whatever it may be, and then post that as well. Now students have one more thing to learn from. If you like to post written information on the core shell, let's say you have really lengthy content or text that you post for students to read, you can chunk the information break it down into smaller segments. For example, if you have video that you post, you can timestamp the content and include this in the description. I've posted recordings of classes on zoom that I've done. And in the description, I list the timestamp of where we talked about a certain topic, where we did an activity, where I discussed more details on the assignment. Again, it gives students choice in what information they feel they need to take in in a different way it's adding one more element. I've also used the segment of the recording where I talked about an assignment, and posted that as a standalone video. Again, one more option.
Paola Ostinelli 17:07
Another idea of representing the information in different ways, is through the use of note taking, you can use a shared google doc or shared Word document in OneDrive. And what I've done is I've created a basic template and shared the link with students and mentioned that they can choose to take notes individually. Or together. I've done this both where they just take notes as they participate and experience the class. I've also used guided notes with either headings or questions from the class content. And students can either fill it out individually do it together as a class. And what I found is students are able to recall more information. They're able to apply their learning and demonstrate their understanding of the material, if they're interacting with the information. That's worked really well for me as well.
Paola Ostinelli 18:14
As I continue adding to my content, you know, one more elements here and there, start building on it as the class goes on, by new elements to incorporate, I started moving beyond just how I share information instead of just putting it out there posting it. And that's it. I started sort of evolving, what I had made available to students. I'll give you one more example. As we near the end of our time together. A few years ago, a student kept asking for more time on an assignment, they kept asking for extension after extension. And in talking with them, I asked them what was happening, how can I help? And they mentioned that they were struggling with the writing. They have the information, but they didn't know how to write the paper. So I asked them, What would you prefer? What has worked for you? And they said, I like creating videos. So I agreed lungs, they followed the assignment instructions, the rubric that I had, I was happy to grade it. What they submitted was so much better than a paper. It was rich in content. It demonstrated their learning. And it kind of got me thinking about the assignments about choice. I've started adding choice in how students take in the information. So I thought well, what else can I do? What's one more thing I can do? So the next semester, I just did the assignment to include choice. Students could choose to write a paper or record a video or even an audio file, it was the same assignment had the same expectations. But it was adjusted to include student choice.
Paola Ostinelli 20:11
The rubric that I had to grade the assignment was the same because I was evaluating the same content. It just looked different for students. I remember, one student wanted to do an interview with a youth worker in the community. And last minute, the youth worker cancelled, they were unable to attend. So their plan fell through. And the student instead did a video reflection on their learning. It was such a great video. Even though their original plan didn't work, they still did really well on the assignment, they were able to show me what they learned, pivot in the moment and still hand in their assignments on time and meet the objectives and learning outcomes. It was such a great video. One of my favorite sayings is, if Plan A doesn't work, there's still 25 other letters in the alphabet. And I feel that offering this choice, that student didn't feel stuck. All they needed to do was to change gears, but they still were able to complete the assignments.
I found out a year or two later that what I was doing with adding twist this assignment was also part of the UDL framework, providing multiple means of action and expression. giving students choice and how they're assessed. It can be done as well on a smaller scale in the classroom using individual work, group work small and large group discussions using various multimedia. But as I talked about it that might be better suited for another podcast for another day. Through the overview I have given the examples I've shared, and also sharing my own journey. I hope that I have planted the seed for getting you to think about one more thing you can add to provide choices for students to build from there. One class at a time, one module at a time, one week at a time. One more thing. Thank you so much for listening. Have a great day.
Teresa Lee 22:34
Thank you for joining our UDL conversation cafe. I hope our time with Paola has inspired you to find your pinch points as an entry point to your UDL journey. And the next episode, we'll meet more faculty members and a student from the electrical engineering program at Centennial College. To learn more about how UDL approaches can make teaching and learning more fun. We invite you to listen and subscribe to the Centennial College podcast on SoundCloud, Apple podcast, Google podcasts and Spotify.