About ARIES
About ARIES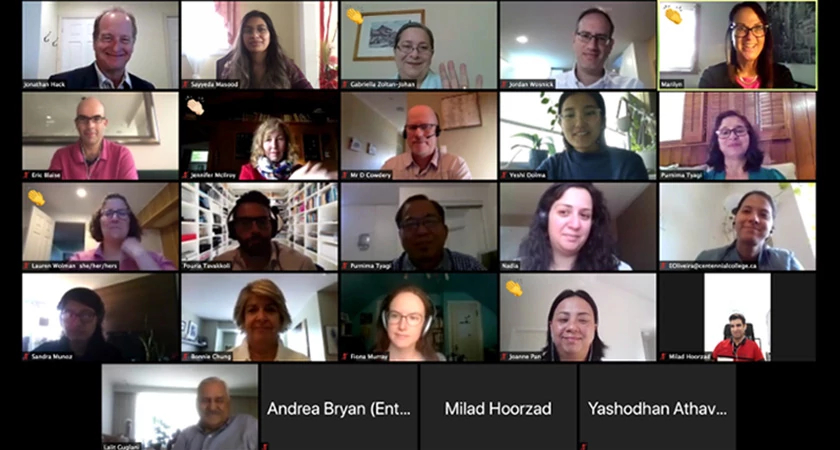 Driving research and innovation, inside and outside of the classroom.
Our History
Centennial College is located in Ontario's Greater Toronto Area, which is one of the most ethnically diverse urban areas in North America. Centennial attracts students from around the world - including countries like China, India, South Korea and Brazil. This rich international heritage impacts our awareness of diverse perspectives, enhancing our innovative approach to partnership building and industry-facing applied research engagements.
Centennial is one of Canada's top colleges for research, innovation, and entrepreneurship. Leading Centennial's applied research activities is the department of Applied Research, Innovation and Entrepreneurship Services (ARIES), which brings together multiple research centres and entrepreneurship activity with a physical presence in three of Centennial's five campuses. In this integrated form, ARIES serves dozens of industry partners each year, helping them to solve research-related challenges and grow their businesses.
Our Role
ARIES brings students and faculty together to solve practical industry problems, providing real-world experience in the process. Our focus is on providing solutions that are both practical and cost effective.
ARIES also works to support a consistent college-wide approach to the research enterprise, through the Centennial Applied Research and Innovation Fund (ARIF) for faculty-led projects, research and training workshops held throughout the year, the activities of both the Centennial College Research Board (CCRB) and the college's Research Ethics Board (REB). We seek to empower our students to become changemakers by exposing them to research and entrepreneurship opportunities through paid internships and experiential learning opportunities.
Our Priorities
With our new research initiatives, we strengthen our commitment to addressing the changing world of work. Our research seeks to recognize the issues facing our community, and to champion issues faced by marginalized groups – pushing the limits of what a college can do. We map all of our activities to the global canvass of sustainability as defined by the United Nations' Sustainable Development Goals (SDGs).
Our entrepreneurship activities focus on both social entrepreneurship and traditional entrepreneurship offerings, and are also mapped against the UN SDG framework. We also support established business ventures through our business innovation and growth program.
Our Applied Research activities focus on real world solutions for industry partners and our community. Our impact is directed on then embedding research project outcomes into curricula, to provide students with the most up-to-date skills needed to excel in their careers.
Visit our Areas of Activity to see how ARIES is driving research and innovation inside and outside of the classroom.
---
Our Team
In addition to our core team members below, ARIES also includes hundreds of dedicated students, faculty, staff and industry partners who support projects advancing Centennial's work to change lives and transform communities.
Administrative Team
| Team Member | Position |
| --- | --- |
| Jonathan Hack | Executive Director |
| Bonnie Chung | Administrative Coordinator |
| Joanne Pan | Manager, Finance Operations & Risk |
| Yeshi Dolma | Finance & Administration Officer |
| Sayyeda Masood | Marketing & Communications Coordinator |
Research and Innovation Team
Team Member
Position
Dr. Eric Blaise
Director, Applied Research & Innovation
(Aerospace, Advanced Manufacturing)
Dr. Purnima Tyagi
Director, WIMTACH, Data Analytics & Digital Health Technologies
Dr. Jordan Wosnick
Manager, Research & Innovation Engagement
Jeziel Vidad
Research Project Manager, WIMTACH
Dr. Lauren Wolman
Manager, Social Innovation Research
Dr. Pouria Tavakkoli Avval
Research Associate
Majura Maheswaran
Research Associate
Dr. Yashodhan Athavale
Research Associate
Erika Oliveira
Project Coordinator
Sandra Munoz Ortegon
Project Coordinator
Milad Hoorzad
Project Coordinator
Entrepreneurship Team
| Team Member | Position |
| --- | --- |
| Lalit Guglani | Manager, Business Innovation & Entrepreneurship |
| Gabriella Zoltan-Johan | Manager, Startup Programs & Services |
| Jennifer McIlroy | Lead, Story Arts Entrepreneurship |
---
Current Areas of Activity
Centennial has a priority to equip our students to be agile self-navigators and resilient in their educational and career journeys, and ARIES' ongoing research activities are evidence of these priorities.
These are just some of the many areas where we are engaged with local, provincial and national organizations in research-oriented activity with real-world applications.
We are also interested in projects that fall outside these sectors. If you have an idea for a market-ready solution that changes perceptions, all while impacting the lives of our students, our faculty, our partners and the world at large, e-mail us at aries@centennialcollege.ca.