QUESTIONS
P.O. Box 631 Station A
Toronto, ON, M1K 5E9
Aerospace
Aerospace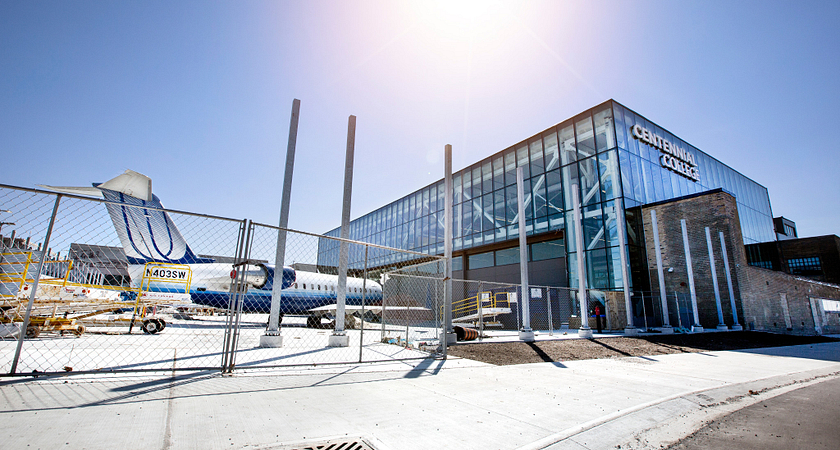 Canada is home to many aerospace companies that have a well-deserved global reputation for quality, value, performance and reliability, and according to the Government of Canada, aerospace companies employ over 89,000 skilled professionals alone. We are excited to be working with Ontario's aerospace industry to provide direct experiential learning to students while helping to keep Canada at the forefront of aircraft technology R&D.
Centennial has been a leader in aviation for more than 40 years, and we continue to move forward in aviation and aerospace as a focus area of activity. Centennial is a founding partner of the DAIR (Downsview Aerospace Innovation and Research) hub, which is led by our Strategic Initiatives and External Relations (SIER) team. In an era of change, our students and research teams are using technology and science to change the world.
ARIES works closely with a strong pool of expertise from Centennial's School of Engineering Technology and Applied Science (SETAS), and School of Transportation (SOT) to advance aerospace research projects, and our newest campus is the first phase in the development of an Aerospace Hub at Downsview Park, which will bring together academic and industry partners to catalyze new research and development initiatives.
---
Our aerospace partners include, but are not limited, to:
The Ontario Aerospace Council, which consists of 200+ member companies, mostly SMEs, representing 70%+ of the Ontario aerospace industry employment base.
Bombardier Aerospace, a world leader in the design and manufacture of innovative aviation products and services for business aircraft.
Watch: Bombardier donates a state of the art Global 7500 flight test vehicle to Centennial.
Safran Landing Systems, the world's largest manufacturer of aircraft landing gear.
Marsh Brothers Aviation, a Burlington, ON-based SME that delivers innovative solutions for aircraft landing gear, flight controls and actuation systems.
FIBOS Inc., founded in Toronto, Canada in 2016, who intend to disrupt the industrial sensing market by offering an optical alternative to tradition electrical sensing solutions.
Lynch group of companies, dedicated to designing and manufacturing hydraulic motion control manifolds and integrated hydraulic systems.
Downsview Aerospace Innovation & Research, an incorporated not-for-profit, consisting of companies and academic institutions building an aerospace hub at Downsview Park in Toronto, Ontario.
Centennial College ARIES is a member of the Southern Ontario Network for Advanced Manufacturing Innovation (SONAMI), a Niagara College-led consortium of postsecondary academic institutions that provides competitive, disruptive and innovative solutions to Ontario's manufacturers.
---
Recent aerospace research project updates:
NC-led SONAMI Soars With New Member Addition
Student Researchers Wrap Up Final Phase of 3D Printing Project
Design Underway for Phase Two of Additive Manufacturing Project
---
For more information on aerospace innovation and collaboration, contact Dr. Eric Blaise, Director of Applied Research and Innovation, at eblaise@centennialcollege.ca
---
What our student researchers say
"This was a good experience because it provided an environment that I could actually face after college."
– Suhaan Vyas
"I thought I was just going to apply a lot of theoretical skills, and I particularly am doing that, but there's a lot of new things I am learning, too. [The project] has given me practical exposure and really helped me polish my leadership skills and become a successful project manager in the future."
– Manav Jitendrakumar
"I didn't have experience working in Canada before so it was great to have this first-hand experience, and not just be studying or working somewhere unrelated. It enriched my college experience. It's going to be great to start [in-person] at the college because I already have connections here, and I can leverage that as I am starting to look for a career."
– Gustavo de Souza