QUESTIONS
P.O. Box 631 Station A
Toronto, ON, M1K 5E9
Centre of Entrepreneurship
Centre of Entrepreneurship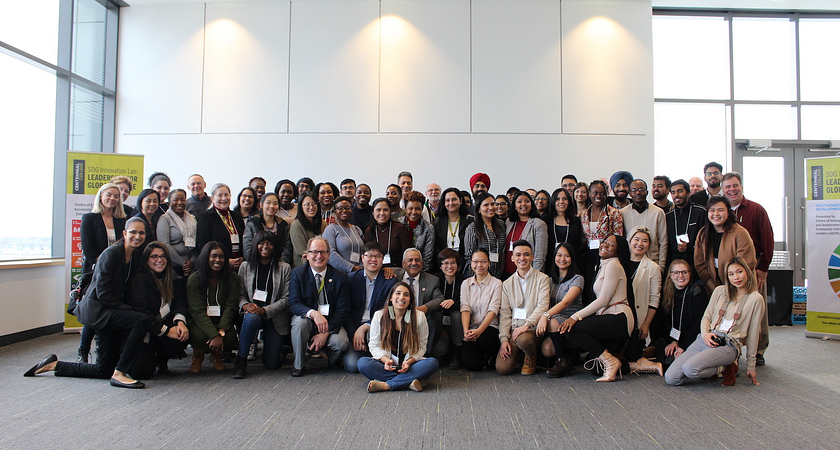 Our Entrepreneurship programs embody a relentless focus on innovation for transforming lives and communities to make the world better. Click here to learn more about our agile, experiential and sustainable entrepreneurship initiatives, designed to develop the mindsets and key essential skills to future-proof careers and develop change leaders.
Ready or start or grow your business? We're here to help.
Learn more at accel.centennialcollege.ca.
---
Recent entrepreneurship activity updates:
Centennial Students and Staff Contribute to Innovative COVID-19 Solutions at Nationwide Online Event
Global Leaders help to launch Sustainable Development Forum at Centennial College
---
What our Entrepreneurs say
"I really encourage anyone who loves learning new things to take part in [COE] events, it gives you a whole new level of perspective and understanding of how we can make a difference in this world, regardless of our chosen career."
– Chloe Cayabyab, Ambassador for SDG Innovation Lab, and International Development student
"The one-on-one coaching I received ... was invaluable and has supported me in developing the process and tools to make my venture market-ready."
– Roxanne B. (Owner, Hollis-Newton, and community entrepreneur)
"Centennial's entrepreneurship services have helped a lot; been able to lend a hand when we run into problems or needed a second opinion on a problem that we have never been through… so overall it has been a really good experience."
– Matthew J. (Co-Owner, Exactus Energy, and community entrepreneur)
"[COE] has been very helpful in my personal and company's development in many ways, coaching me from day one and widening my knowledge of the startup ecosystem. [COE] taught me the value of understanding the core elements of your company before bringing it to market."
– Tiquan B. (Owner, TravelBug App, and recent Centennial alumnus)