Black History Month
Black History Month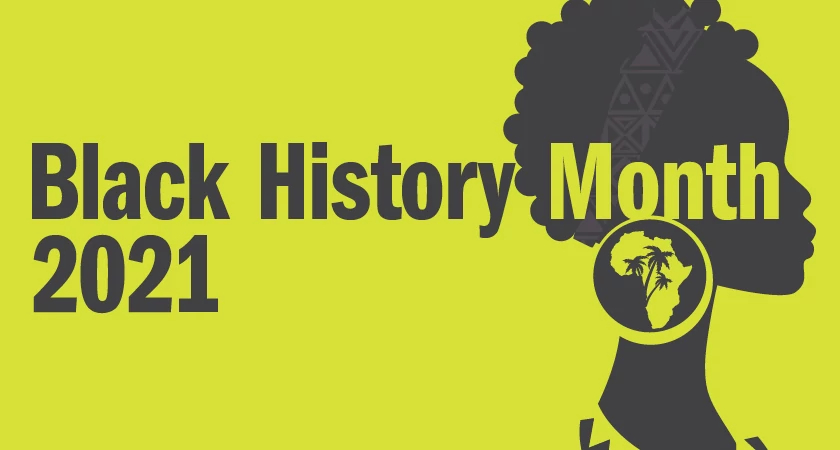 Join us virtually for Black History Month 2021 celebrations throughout the month of February!
Centennial College is proud to celebrate Black History Month, an opportunity to engage our community in honouring the experiences, histories, contributions and achievements of diverse Black communities.
As we engage in celebration, it is also imperative to acknowledge a historic year which has emphasized institutionalized and systemic inequities that continue to perpetuate anti-Black racism in society. As a community, we are called to accountability and action to address and challenge anti-Black racism in all its forms. We invite you to join us for learning, reflection and celebration that can activate change as we continue to build a College community that values inclusion, diversity and principles of social justice, not only in the month of February but throughout the year. 
This year we are excited to share with you programming that highlights storytelling. Upcoming events include:
Date: Online throughout February
ACCEL, Solv. and the Centre for Global Citizenship Education and Inclusion have come together to present Centennial College's Black Business Showcase. Featuring over 40 Black-owned businesses in fashion, food, art and more, the Showcase offers multiple ways to engage with and support the innovative work of Black entrepreneurs from Toronto and neighbouring areas. We need local as much as local needs us. During the month of February, we invite you to celebrate Black History Month and join in the #CCSupportsLocal campaign by supporting these dynamic Black-owned businesses!
Date: February 25 from 5:00 pm - 6:30 pm  
An evening with talented black poets, writers and artists shedding light on the culture, success and hurdles of black people and culture in North America. Enter a brave space to discover, discuss and dive deeper into the personal stories and experiences of Black Canadians. The event will feature artists including Randell Adjei, Keosha Love, Scribe, Jaida Salmon and Dwayne Morgan.
Date: February 16 from 10:30 am - 12:00 pm  
ACCEL and the Centre for Global Citizenship Education and Inclusion invite you to join in celebrating Black women in entrepreneurship, bringing together four dynamic entrepreneurs who will share their unique journeys to entrepreneurship as Black women. From what inspired them to start their own businesses to the advice for new entrepreneurs, the guest speakers will enlighten the audience with key insights and valuable experiences. In sharing their personal entrepreneurship stories and the impact of the important work they do, the speakers will reinforce the importance of celebrating and supporting Black women's entrepreneurship.
Date: February 24 from 11:00 am - 1:00 pm  
Join Centennial Libraries in celebrating the power of stories, starting with a storytelling session with Itah Sadu, from A Different Booklist, an independent, Black-owned bookstore in Toronto. This will be followed by a screening and discussion of three short films. The session will end with the launch of a book club for Centennial students and employees with a chance for students to win copies of the national bestseller, They Said This Would Be Fun by Eternity Martis.
Check out this daily calendar curated with activities, resources and inspirations for each day of February. Did you participate in the Daily Activity Calendar? Share with us what you learned using the hashtag #CCBlackHistoryMonth on social media!
View the Interactive Calendar as a PDF.
You are invited to join a Centennial College community discussion, hosted via Flipgrid. In 2 minutes or less, let us know what Black History Month 2021 means to you. You can view other submissions and record and edit your video using Flipgrid. Please note, you must use your Centennial College email to participate.
Philip is the instructor of Centennial's first African studies GNED course. Learn more about his journey in developing this new curriculum and the significance of this course.
This guide was created by Centennial Libraries, including videos, articles, books and more which can be accessed using your myCentennial login.
This Community Resource list includes a curated selection of free events and resources within the greater community.  
This is a 3-part workshop that examines the pervasive nature of racism in teaching practice and considers ways to address and challenge racism in both pedagogical practice and in course delivery.
Follow and visit us on social media for updates, facts and Black history stories.
Twitter: @CentennialEDU
FB: @Centennialcollege
IN:@Centennialcollege 
Date: February 25 from 3:00 pm - 4:30 pm
As part of "The Resilient Community" virtual event series, join Paul Taylor, Executive Director of FoodShare Toronto as he presents on "The Interconnections Between Food Insecurity and Anti-Black Racism in Canada". Reserve your spot today as there is limited availability. You are welcome to add other sessions in this series to your order, however when registering for this specific session you will need to choose the ticket type "Food Security Session (Thursday 3-4:30pm)" and follow the prompts to finalize registration. The Resilient Community series is hosted in partnership by Sustainability at Centennial and Solv. Sector Sessions (SX3)
#BlackHistoryMonth | #CCBlackHistoryMonth
Questions about Black History Month initiatives? Email gcei@centennialcollege.ca