Centennial Comes Out Stories
Centennial Comes Out Stories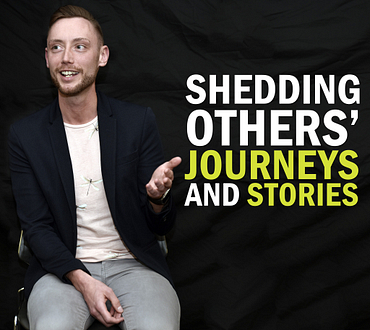 Sterling Crowe
Manager, Centre for Accessible Learning and Counselling Services – CALCS
I came out in stages — testing the waters with family and friends, strategically drawing lines between and within my networks and support systems. Looking back, that was largely about other people's journeys and stories. When I shed that, I found that my family and friends had no issue supporting and accepting my sexuality because they already accepted me. I'm very aware of my privilege to have experienced such love. The confidence that came from (slowly) freeing myself of someone else's shame has made me a stronger, reflective and more determined person who can now be a better advocate for myself and others.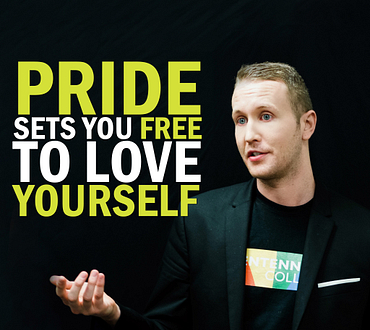 Greg Long
Recruitment Manager – International Digital Engagement
Coming out was my way to a happy life. Pride sets you free to love yourself. I love being gay! I'm proud to be me, with the support of my family, friends, my school, my community, and my loving boyfriend!
I am excited to be a role model and mentor, especially for newcomers to Canada! I came out after my first year of high school. I never lost a friend. Then as a hate crime victim/activist, I learned to be safer about when I speak up. I have helped changed minds and hearts. And learned that no one can take your pride away, you don't need permission. We all want acceptance. We all want love. As an LGBTQ2+ person, a happy life starts with the conversations you have with yourself.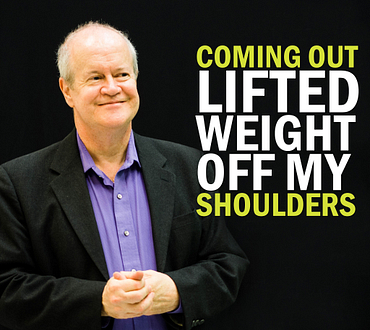 Barry Waite
Chair, Communications and Media – School of Communications, Media, Arts and Design
I finally decided I had to stop fighting who I really was when I was in university. Coming out lifted a million pound weight off my shoulders. And everyone told me it didn't change anything. They loved me for who I was. It certainly changed me for the better!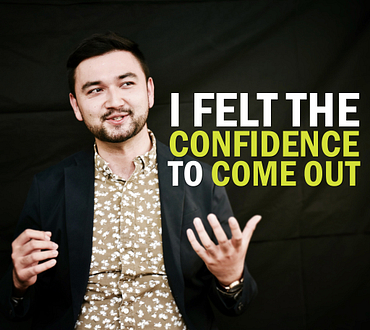 Mezart Daulet
Grants Coordinator – Office of Strategic Initiatives and External Relations (SIER)
10 Years ago, I marched with Tokyo Pride Parade and walked down the busy streets of Shibuya without hiding my face. I still remember this moment because it was the first time I felt the confidence to come out as a gay man.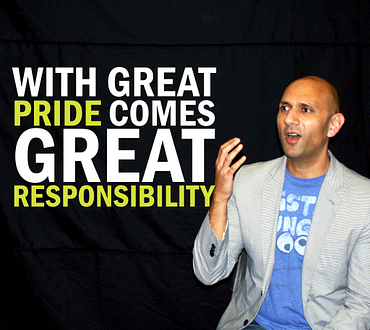 Neil Buddel
Vice President, Student Success
Being gay during my youth was not always easy. I was called a fag a few times, before I even knew what gay was, but I knew it was meant to hurt. It was also a directive to not be authentic me — to act more "masculine." The closet was my safe space.
There are intersections with being a racialized minority, but that's another story.
Fast forward and looking back, I realize that my journey was quite fortunate, which includes being born in Canada. For this I'm thankful. My journey also awakened me to hegemonic social narratives that allow me to be a critical educator. For this I'm appreciative. Living my authentic self — a privileged for many — has enabled me to live a great life with great communities. For this I'm proud.
I believe that with great pride comes great responsibility and this moment in time — to educate, to change, to care, to save, and to love…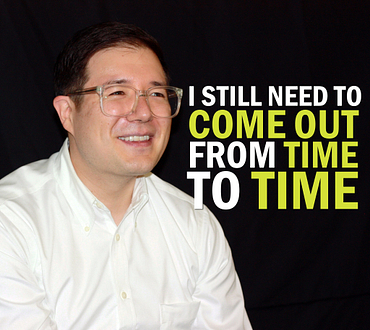 Scott Tanaka
Professor, Office Administration – Legal – The Business School
I still need to come out from time to time. Even though it used to be dreadfully awkward, nowadays it's kind of fun.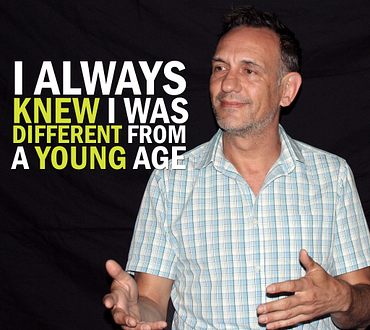 Gabriel Bedard
Global Citizenship and Equity Learning Advisor – GCEI
I always knew I was different from a young age but didn't come to terms with being gay until I was 18. That's when I started leaving very subtle hints to my parents. One day my mom asked "are you gay?" My answer was YES!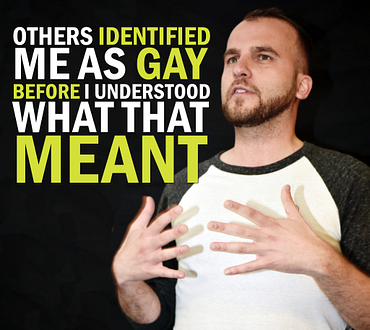 Manny Rodrigues
Manager, Compensation and Job Evaluation – Human Resources
As a kid, the other children at school identified me as being gay before I even understood what that meant. I just knew it was something to feel ashamed about. It wasn't until University when I first kissed another guy that I truly accepted my sexuality.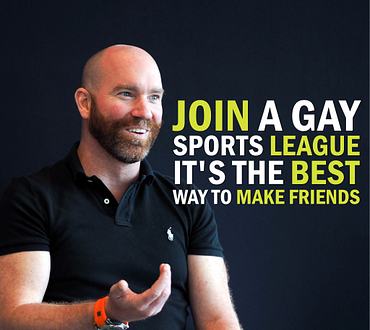 Darren Stevens
Contract Faculty – School of Community and Health Studies
I came out to my friends by throwing myself a coming out party. If I had to do it all over again, I'd join a gay sports league sooner! It's the best way to make friends!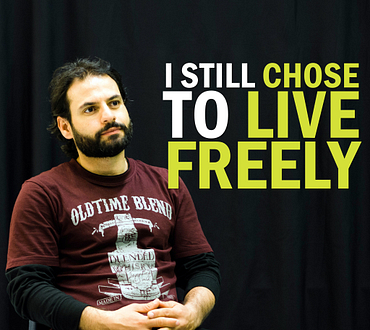 Giscard El-Khoury
English Instructor, ELL – Eglinton
I came out at the age of 24. My head coach found out, so he kicked me out of the National Taekwondo team for a year. I lost my skills, my friends and my teammates. Still, I chose to live freely, found my husband and now looking forward to adopt children here in Canada.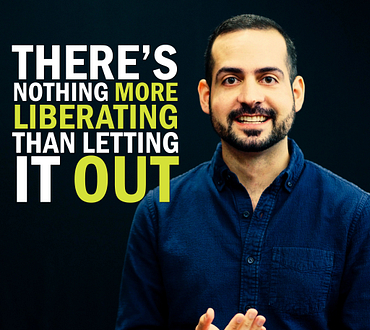 Angel Arraiz
Digital Media Designer – International Education
The first person I came out to was my Mom when I was 17. I was terrified that she would find out I was gay, so I decided to be the one to tell her. Her response to me was "It's all good, instead of apples you like oranges!" After hearing that, I felt like the huge weight on my shoulders was gone! There's nothing more liberating than the feeling of letting it out. I still remember that day as one of my greatest acts of bravery!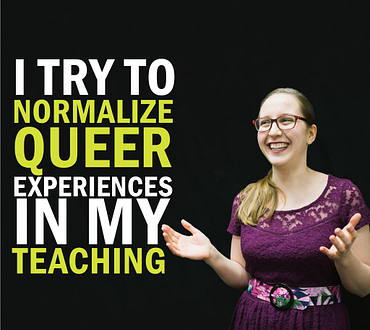 Genevieve Cohen
Professor, Applied Biological and Environmental Science
I first came out to my mother (as bisexual) by telling her about my new girlfriend. She excitedly exclaimed, "My first girlfriend was a Jewish lesbian too." Many questions followed.
As a science professor, I now try to normalize queer experiences in my teaching and ask even more questions.
When looking at genetics…Do we have to say "you get one copy from your mom and one from dad??"
When learning about reproductive anatomy… How many people's identities are we erasing by saying 'men have penises and women have vaginas??"
Asking questions is the foundation of critical thinking…so if you're questioning – you're probably in the right place!!
#LGBTSTEM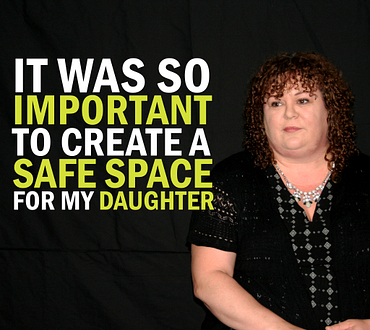 Melanie Richardson
Coordinator – Co-operative Education
At 16 my daughter came out to my partner and I. It wasn't a surprise for me. I had always suspected, so I spent my entire life infusing our dinner table discussions with talk of equity, inclusion and LGBTQ issues as human rights. I made it clear where our family stood on these issues and that love was love. I felt it was so important to create a safe space for her to be herself. I have always know my job as her Mother was to love her unconditionally and create a safe haven, a space for her to be who she is and love her for it.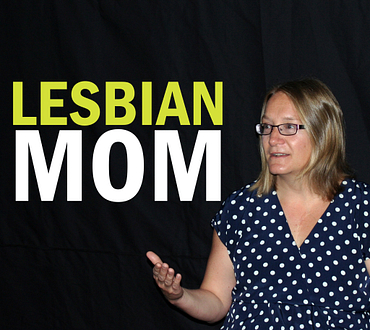 Jennifer Woodill
Chair, Community Service Department – School of Community and Health Studies
I came out 20 years ago, but I come out every day when I challenge people's assumptions that I'm straight. When my family is out and about, people always assume we are two straight friends with our kids. I come out every time I let someone know that my wife and I are a married couple, and we are one family with two kids.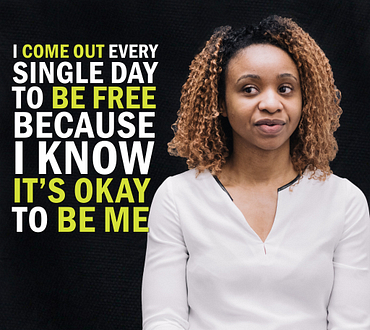 Linda Mhora
Office Assistant – School of Engineering Technology and Applied Science
Sticks and stones may break my bones, but words will never hurt me. I have decided NO ONE can hurt me by calling me names.
Coming out has been the hardest thing I have had to do after years of persecution and abuse, but I decided nothing kills my soul more than having to live a lie just to satisfy the expectations of other people on how I should live my life.
I came out every single day to be FREE because I know it's okay to be ME!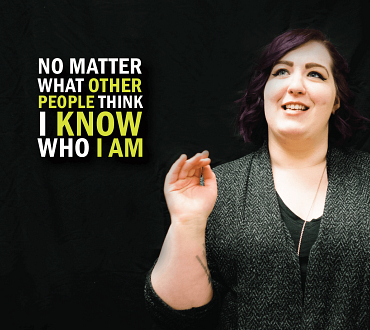 Morgan ( Emm ) Charron
For me, "coming out" was, and sometimes still is, a process of accepting myself as a Queer, Non-binary person. Being yourself is radical! People make lots of assumptions about who I love, who I am, and my gender. No matter what other people think, I know who I am; I know my own truth. To me, that's more important than being out to the world.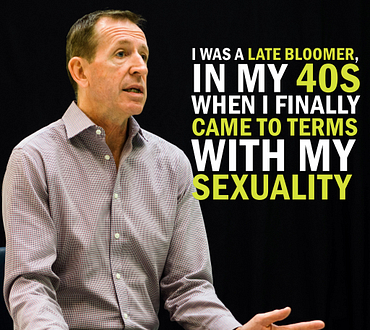 Dean Cowell
Coordinator/Professor – School of Communications, Media, Arts and Design
I was a late bloomer, in my 40's when I finally came to terms with my sexuality. My family was supportive, including my 3 kids, and I met the man of my dreams. We'll be celebrating our 10th wedding anniversary this year as we raise our 11-year-old adopted son. Never imagined I would have walked in 5 Pride Parades, won a gold medal at the OutGames, and been President of the largest LGBTQ sports league in Canada.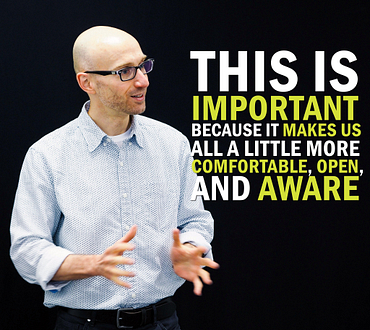 Ron Schafrick
Contract Faculty – School of Advancement
For 10 years I taught English in South Korea, a place where I was more or less forced back in the closet. That experience continues to affect my life today, particularly in terms of coming out professionally. IT's still something I approach with a certain amount of trepidation. Doing something like this is important because it makes us all a little more comfortable, open and aware.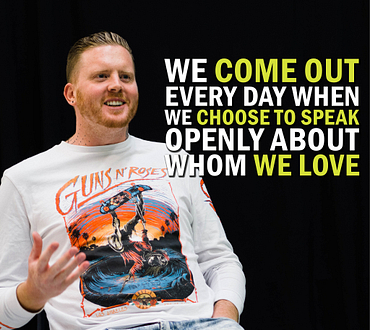 Mike Countryman
Professor/ Coordinator, Communications and Media Fundamentals – School of Communications, Media, Arts and Design
We don't come out only once. We come out every day. When we choose to speak openly about whom we love. We can't forget that this is still a political act, but a necessary one. It gives courage to those still struggling to live their true selves.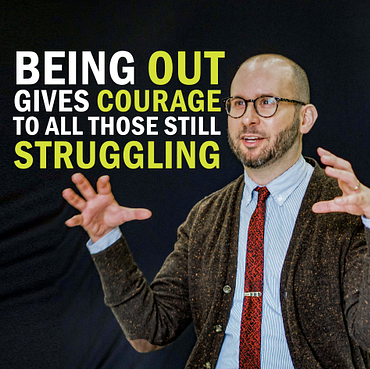 Paolo Zinatelli
Instructor, School of Communications, Media, Arts and Design
I've come out multiple times over my life. I came out at 18 to myself. At 23 to my friends. And after that to my family. It took many years of learning to love and accept myself before I could tell others. Even today, I still occasionally have to come out, including when people see my wedding ring and assume I have a wife, instead of an (amazing and very loving) husband! I hope that being out gives courage to all those still struggling to live as their authentic selves.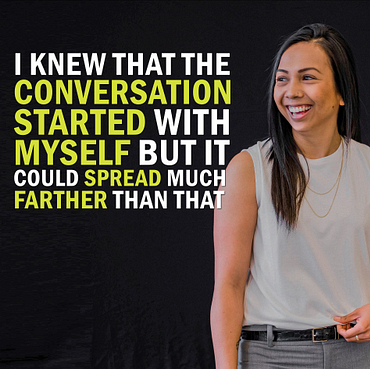 Via Dulay
Sports Information and Marketing Officer – Athletics and Recreation
As part of the LGBTQ2+ community, there isn't a story that isn't worth sharing when it comes to helping others with the process. Although I don't have much of an "exciting" coming out story, I learned a lot about what it meant to accept who I am and who I love, and everything else that was meant to happen in my life would follow. I came out to my parents on New Year's Eve in 2011 because I didn't want to start off another year trying to hide the fact that I had been dating someone for almost 7 months. But of course, it wasn't "news" to my parents as they already guessed, and that was that. No drama, there were more tears on my end than my parents had, and more importantly, I felt a big weight off my shoulders and could finally live without hiding who I am.
I'll never forget the words my mom told me after a brief but awkward silence: "As long as you have a good head on your shoulders and you aren't hurting anyone along the way, then I don't care who you love."
Although, I know my journey wasn't over right there. I knew that the conversation started with myself but it could spread much farther than that. I know that not everyone has a pleasant story like I do, and that if I could be of help to just one person who was going through it a little harder than I was, then I knew that I could live up to what my mom said that night.
Even after all this time, I'm still discovering who I am and I'm enjoying every second of it. I've been pretty fortunate to have such supportive family and friends who teach me invaluable lessons every single day. My partner and I do everything we can to support and fight for the LGBTQ2+ community in any way we can, and I'll continue to be that point of contact for someone at any age who isn't quite sure if it does get better. I think it's our responsibility to make sure that we stand supportive, side by side, and show everyone what a true community is about.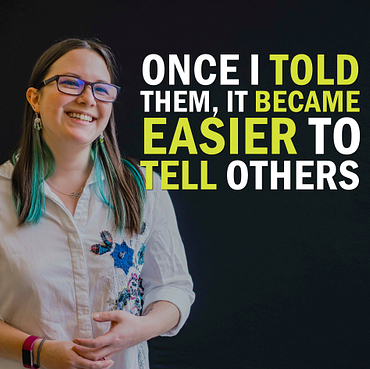 Alison De Boer
Purchasing Administrative Officer – Finance
As a teenager, I first came out as bisexual. Later in life, I realized that pansexual was the correct orientation for me, as I had previously dated girls and trans-people and had never really thought of gender as something that would restrict my being attracted to someone. When I first came out as pansexual, the first people I told were my father and best friend. I was very lucky that they were both open minded. Once I told them about my new/preferred orientation, it became easier to tell other people that I identify as pan. In 2018, my best friend and I ran together in the Toronto Pride run, and I cannot think of a more supportive LGBTQ2+ ally than her.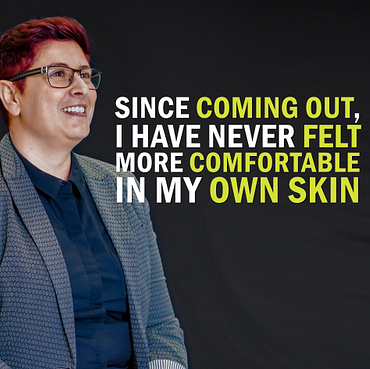 Marianne Sipione
Success Advisor – School of Communications, Media and Design
Growing up in the suburbs and going to a Catholic school in the '80s, I didn't know a single person who was openly gay. And anything I heard about gay people was extraordinarily negative. I never really acknowledged any of my girl crushes. And since I had crushes on boys too, it never occurred to me that I could be anything other than straight.
When I first had the courage to start dating a girl, I was in my early 30s. The weight of my parents' expectations still weighed heavy. I will never forget my mother's reaction when I finally told her I was dating a woman; it went from shocked silence to a near breakdown. When I met my wife, I kept our relationship secret from my parents for a year.
The reality of my coming out was bitter-sweet. It was one of the hardest things I have ever done and also one of the things I am most proud of. Since coming out, I have never felt more comfortable in my own skin. Often I get frustrated that my parents are not where I want them to be. But I am so grateful that they are trying.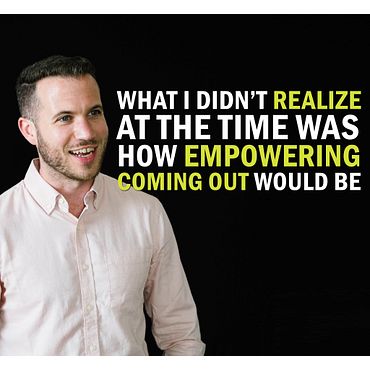 Rick Ezekiel
Director of Equitable Learning, Health and Wellness
I grew up in a small town, within a relatively conservative school and family environment that was often not inclusive of minorities. The attitudes, language, and opinions expressed made it an unsafe environment for me to acknowledge that I was queer and share that with my friends or family until several years after I moved away from home, and had established myself independently. It was a tough journey at times, and I remember the initial fears I had about coming out – fear of rejection, losing family or friends I loved, people thinking of me differently, loneliness and isolation, among many others.
What I didn't realize at the time was how empowering coming out would be. While there were lots of bumps along the road and it was a difficult process, coming out led to deeper, more authentic relationships with my friends and family - especially those I was most worried about! I also realized (after a bit of therapy and lots of self-reflection) the gifts I received from growing up as a queer kid in an environment that wasn't all that inclusive: a sense of resilience, commitment to action to better our society, and a dedication to my current research and professional work that focuses on eliminating barriers and creating safe educational environments for marginalized communities.
I'm happy to be part of a community at Centennial that celebrates the strength and beauty of diversity, and know that we can keep supporting each other in where we're at in navigating our individual journeys.
Christopher Jackman
Chair, Arts and Design School of Communications, Media, Arts and Design
Even though I had always considered myself a queer ally, realizing I was bisexual still inspired a lot of fear and shame. It felt like a huge, devastating secret that threatened my whole family; I thought it would be selfish to jeopardize my marriage by coming out. It was only in the middle of a major mental health crisis that I realized I just had to lay that burden down. What had once felt impossible was now inevitable.
I was personally lucky to have been met with tremendous love and support, but I have since learned that depression, anxiety, and suicide is epidemic among bisexual persons. Most of us never fully leave the closet. That is why I now take every opportunity to celebrate my whole self with full, unabashed joy. Bisexual visibility saves lives, and all of us deserve to find community, acceptance, and love.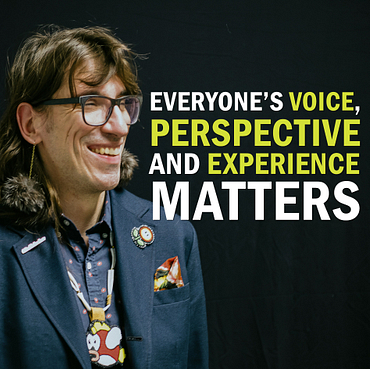 Sean Kinsella
Director, the Eighth Fire Place of Reconciliation for All Our Relations, Student Success Portfolio, Centennial College
As a crip/2SQ/ENBY human, I feel like I am constantly having to come out, because people make assumptions about who I am based on what they see. A really important piece about creating inclusion, for Indigenous folx especially, is to know that there is not one way we look, there is not one way to be non-binary or trans* or crip and that everyone's voice, perspective and experience matters to creating the kind of community at Centennial that is truly inclusive of everyone.
Danika Hussey
Student: Introduction to Communication Media and Fundamentals
Being rooted in a strong West Indian culture that was against homosexuality, my sexual feelings were quite the contrary. I felt wrapped up in chains and locked without a key to release myself from the question of "the foundation" that was taught when I had those "unacceptable feelings." I battled the most after I had raised 3 children "in adulthood." I needed those chains to be unlocked. After intense thoughts, one thing stood out the most: I can't make everyone happy. I've been out "fully" after 4 years and marching in the Pride Parade 3 years running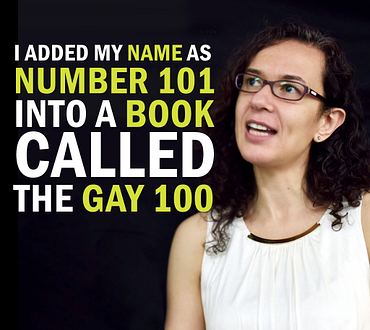 Onar Usar
I added my name as number 101 into a Turkish translation of a book called "The Gay 100: A Ranking of the most influential Gay Men and Lesbians, Past and Present" and left it in the living room for mom to find and read.