UDL at Centennial College
UDL at Centennial College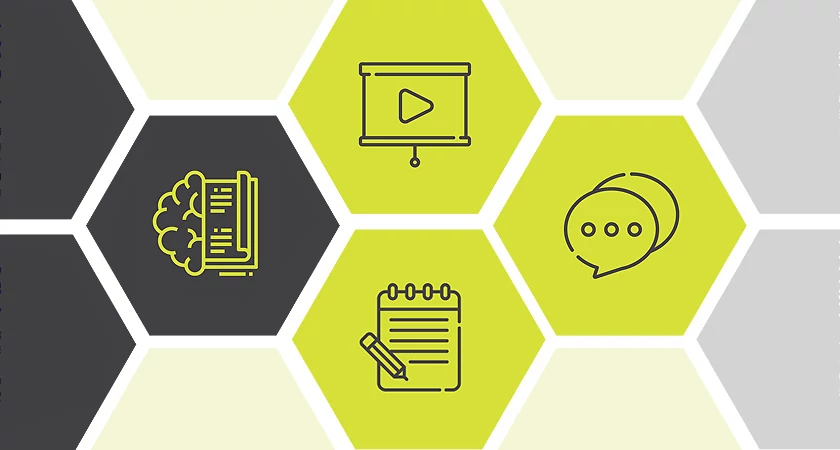 Download the UDL Standard Infographic
"Universal design for learning (UDL) is a framework to improve and optimize teaching and learning for all people based on scientific insights into how humans learn." (CAST, 2018)
Universal Design for Learning (UDL) strives to design inclusive learning environments that enable participation of all learners through flexible routes for learning. It offers principles and guidelines for curriculum design, teaching methods, materials and assessments that work for all students based on their unique strengths and needs. UDL recognizes that there is no one-size-fits-all solution to creating inclusive learning environments and strives to prevent barriers, protect students' rights to equitable opportunities, and support academic success for all students.
Below is a list of learning opportunities and resources available to faculty and staff to guide the integration of UDL.
This course introduces strategies and concrete applications to propel you into implementing the principles of Universal Design for Learning (UDL). The course consists of 4 modules: UDL Principles, Course Design, Content & Delivery, and Assessment & Evaluation. Each module comes with a list of resources and interactive opportunities to test your knowledge. You will be awarded a digital badge upon completion of the course.
The UDL Stanard at Centennial College offers a starting point for those who are at the early stage of integrating UDL in their teaching. It highlights key principles and suggested methods for integrating UDL practices.
Faculty are encouraged to complete the self-reflection tool to help assess their current understanding and use of UDL and establish future UDL goals.
This resource offers a how-to guide for faculty to integrate UDL principles into their teaching practices. The guide describes and explains key UDL strategies based on the UDL Standard at Centennial College. It includes detailed information, video tutorials, sample strategies, and interactive self-assessments.
UDL Workshop Series
This 5-part workshop series offers synchronous and interactive workshops through guided facilitation. For May/June 2021, they will be offered on Tuesdays at 12:30 PM – 2:00 PM. Please see the descriptions below to learn more and register.
UDL Learning Series
Special Topics in UDL and Accessibility
Wednesday, October 13 - Roadmap to Career Readiness: An Interactive Guide to the Toolkit
Time: 12:30 PM - 2:00 PM
Faciliator: Teresa Lee, Accessiblity and UDL Lead
Roadmap to Career Readiness is a toolkit created to provide faculty, career advisors, success advisors, and other staff with information and resources to support students with disabilities in seeking and maintaining employment. The toolkit equips faculty and staff with information and worksheets to guide students with disabilities in navigating the employment landscape and address issues of disclosure, accommodation, and interviewing. In this interactive workshop, we will discuss how you can use this toolkit to further empower students with disabilities in advocating for themselves and their career success.
By the end of the session, participants will be able to:
Understand unique challenges for students with disabilities to find and keep employment.
Support students with disabilities to prepare for disclosure, accommodation, and interview using worksheets and exercises included in the toolkit.
Thursday, November 4 - UDL Best Practices for Math
Time: 12:30 PM - 2:00 PM
Faciliator(s): Matthew Cheung, Math Learning Strategist
Teresa Lee, Accessibility and UDL Lead
UDL provides a framework for inclusive teaching to support our diverse students. In this workshop, we will explore how best to embed these principles when delivering math courses. This workshop is brought to you in collaboration with Libraries and Learning Centres.
By the end of the session, you will be able to:
Create accessible learning content for math, and
Choose one or more UDL-based strategy to create engaging math learning opportunities
For more information, please contact Teresa Lee, Accessibility and UDL Lead, at: tlee@centennialcollege.ca