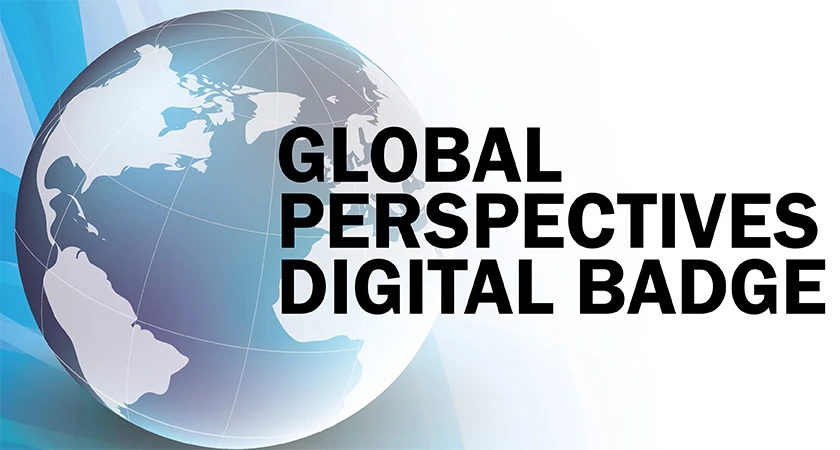 Global citizens get hired
As a part of our Signature Learning Experience, Centennial College students gain a competitive edge in the jobmarket through engaging in global citizenship experiences. These experiences provide an opportunity for you to gain marketable skills and earn a digital badge you can highlight on your resumé, cover letter, LinkedIn profile, portfolio and in a job interview.
What is a digital badge?
A digital badge is a visual credential that verifies a particular achievement or the attainment of a specific skill or competency. With the increasing digitization of resumés and talent recruitment practices, digital badges enable a job seeker to show a potential employer a more holistic professional representation.
Did you know?
Global Citizenship is one of the eight must have skills identified for the future of work.
How do I earn my Global Perspectives Digital Badge?
First, you need to register yourself with the Global Perspectives Digital Badge program by completing and submitting the online registration form below. Once you are registered with the program, it's time to begin the three-step process to obtaining the Global Perspectives Digital Badge.
1
Step One: Education
Gain highly relevant global citizenship, equity and social justice knowledge, skills and practices.
2
Step Two: Action
Put your knowledge and skill into action by participating in changemaking opportunities.
3
Step Three: Reflection
Engage in self-reflection to analyze your actions, thoughts, values and identities as it relates to equity and inclusion.
Part One - Education
You will be required to take an introductory workshop and then take an additional five workshop from the list below. The Centre for Global Citizenship Education and Inclusion hosts The Changemaker Institute each semester to provide the opportunity for students to participate in these educational opportunities. Please submit this Self-Tracking Sheet as proof of participation.
Adopting an Equity-Based Approach (Required)
Choose five from the following:
Unpacking Unconscious and Systemic Bias
Positive Space – 2SLGBTIQ+ Inclusion
Addressing Microaggressions
Anti-Oppression, Allyship and Solidarity
Challenging Anti-Asian Racism
Environmental Justice
Ableism in Higher Education
Building Faith-friendly Workplaces
Anti-Black Racism: Addressing Systemic Bias
Coaching and Strategic Communication Skills
Cultural Humility in a Globalized World
Part Two - Action
This is the experiential or action part of the Global Perspectives Digital Badge. Students will need to participate in putting their skills into action through community involvement or co-curricular opportunities available at the College. Prior approval of your ACTION component is required before completing. Some examples are privided below:
Leading a Social Action Fund project
Global Experience Programs (virtual)
Global Citizens Take Action project
Campus student group Participation (equity related)
Organized Community-based service activity
Part Three - Reflection
Self-reflection is a practice where we analyze our actions and behaviours, our values, our identity, our thoughts with the end goal of aligning our life with who we ultimately want to be.
To obtain your Global Perspectives Digital Badge, you must submit a self-reflection in which you engage in a personal exploration of the knowledge and skills that you gained from the Global Citizenship and Equity initiatives you participated in as well as how your new knowledge and skills impact your personal and/or professional life.
You may submit your reflection in one of the following formats:
Audiovisual (Ex. podcast, animation, dance, theatre) – 2-5 minutes
Graphic (Ex. graphic design, painting, photography)
Written (Ex. essay, poetry, screenplay/script) – 250-500 words
Please contact gcei@centennialcollege.ca if you wish to submit your reflection in a format not listed here. Please use the guiding questions below to complete your self-reflection.
What impact did obtaining the Global Perspectives Digital Badge have on you?
Based on the education and activities you engaged in through this program, what new knowledge or skills did you gain in advancing global citizenship, social justice and equity? How do these new knowledge or skills affect your personal and/or professional life? In what concrete ways do you intend to embed the principles of global citizenship, social justice and equity in your personal and professional life? Please share examples where possible.
For more information check out the Global Perspectives Digital Badge Manual.