Racially Responsive Leadership Summit
Racially Responsive Leadership Summit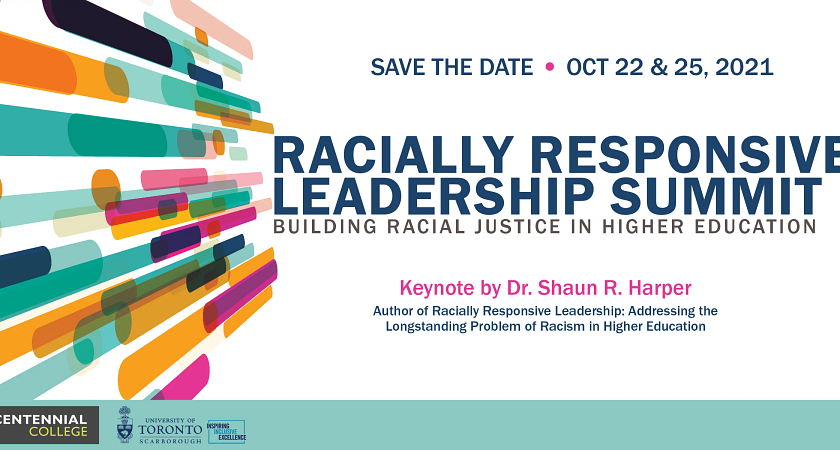 Centennial College, in collaboration with the University of Toronto Scarborough, is inviting higher education leaders from across Canada to Canada's first Racially Responsive Leadership (RRL) Summit to build capacity to courageously confront and correct systemic racism within their institutions. Inspired by the work of Dr. Shaun Harper, this virtual event will engage leaders in Canadian higher education on how to develop a Racially Responsive Leadership Framework complete with actionable recommendations for their own respective institutions. Participants of the RRL Summit will engage with the following learning objectives:
Identify, develop and strengthen organizational outcomes within postsecondary institutions that further build trustworthy feedback systems, increasing psychological safety within teams that address systemic racism among diverse racialized groups.
Increase understanding on how best to acknowledge and actively redress all forms of racism through the re-allocation of funds, dedicated human resources and a range of institutional response strategies.
Determine how higher educational leaders can build capacity and skills rooted in authentic leadership to confront intersectional racial injustice across diverse contexts.
Virtual Event Dates
October 22, 2021 1:00pm-4:00pm (EST) & October 25, 2021 10:00am-1:00pm (EST)
Summit Outcomes
Following the event, leaders in higher education will be invited to submit one organizational practice under the 5 principles of Racially Responsive Leadership. Their submissions will be used to further dialogue and advance the collaborative development of a Racially Responsive Leadership Framework for higher education institutions to utilize and modify accordingly.
Call for Exemplary Evidence-informed Racially Responsive Leaders
The RRL Summit working committee is inviting Canadian higher education leaders to submit exemplary evidence-informed practices based on the principles of RRL. If you would like to submit an idea to be presented at the RRL Summit, please see attached for additional information.
Keynote Address - Dr. Shaun Harper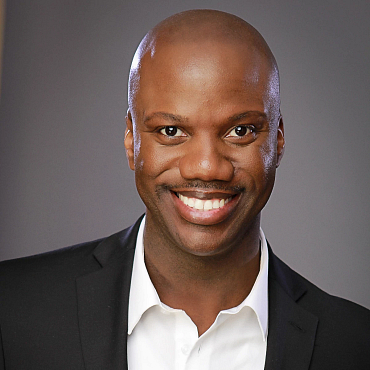 Dr. Shaun R. Harper is a Provost Professor in the Rossier School of Education and Marshall School of Business at the University of Southern California. He also is the Clifford and Betty Allen Chair in Urban Leadership, USC Race and Equity Center founder and executive director, president of the American Educational Research Association (AERA), and a past president of the Association for the Study of Higher Education (ASHE). Dr. Harper's research focuses primarily on racial and gender equity and inclusion in educational, corporate, social, and organizational contexts. He has published over 100 peer-reviewed journal articles (please see attached). His research has been cited in more than 13,000 published studies across numerous academic disciplines. Johns Hopkins University Press is publishing his 13th book, Race Matters in College. He has been interviewed on CNN, ESPN, and NPR, and featured or quoted in The New York Times, Washington Post, Education Week, Chronicle of Higher Education, Inside Higher Ed, and several thousand other news outlets. He has testified to the U.S. House of Representatives, and presented his research at various White House and U.S. Department of Education convenings. He was appointed to President Barack Obama's My Brother's Keeper advisory council in 2015, and recognized in Education Week as one of the 10 most influential professors in the field of education in 2017.
Call for Presenters
We welcome submissions from:
Higher education leaders/professionals
Researchers
Faculty/Scholars
Students
Industry leaders, community-based agencies and organizations
What is Racially Responsive Leadership?
Based on several studies and research, scholar Dr. Shaun Harper (2017) argues that higher education leaders fail to adequately address racial inequities, as most leaders do not comprehend the severity and harmful impact of racism, resulting in a lack of empathy or will to tackle systemic racism. Harper (2017) indicates that most leaders in higher education tend to focus their attention on issues based on the belief that it will be of benefit to them, selecting priorities that could bolster global rankings, garner interest from high-profile donors, or boost relationships with valuable industry leaders. In line with Harper's findings, the majority of senior leaders in higher educational institutions do not believe addressing race matters provide these kinds of profitable gains. Canadian critical race scholars have also demonstrated a large majority of higher education leaders lack the racial literacy, confidence, capacity, and—to a degree—the will to authentically address systemic racial inequities embedded within leadership structures (DasGupta et al., 2020; Dua, 2009; Eisenkraft, 2010; Fuji Johnson & Enomoto, 2007; Green, 2018; Henry et al., 2017; Henry & Tator, 2009, 2018; James, 2018).
Outlined below are Harper's (2017) principles of RRL that will serve as the foundational elements of the RRL Summit. Each principle will allow RRL Summit participants to develop new organizational outcomes for their respective institutions. The principles of RRL are comprehensive and provide a basis for the higher educational leaders to introduce anti-racist leadership behaviors, practices, and sustainable accountability mechanisms across distinct divisions.
Principles of Racially Responsive Leadership
| Principle | Description |
| --- | --- |
| Authentic Leadership to Confront Race Problems | Authenticity, honesty, and courage are used as a proactive approach to confront and correct racial injustices, instead of looking for an expedient solution that merely has temporary and symbolic value. |
| Institutional Accountability | Requires acknowledging the longstanding existence of racial injustices and the multiple layers of accountability; demands the serious engagement of executives and persons from all racial/ethnic groups, including White leaders. |
| Redress Racism with Intentionality | Works to acknowledge and understand and then redress historical, personal, cultural, and structural racism in collaborative ways and with high levels of intentionality. |
| Build Racially Just Workplaces | Attempts to responsibly enact diversity values that are espoused in mission statements and elsewhere, to effectively prepare all students for participation in a racially diverse democracy and to drastically improve compositional diversity and equitable workplace environments. |
| Achieving Equitable Outcomes | Aims to improve the lives, experiences, and outcomes of racial/ethnic groups that postsecondary institutions systematically disadvantage and underserve, understanding that trustworthy feedback systems and a range of institutional response strategies are always necessary. |
Compiled from Harper (2017).
The RRL Summit will provide an opportunity for higher educational professionals to examine and engage in discussion, share empirical research and advance theory and practice to collaborate on ways to increase the integration of racially responsive leadership in post-secondary institutions.
Submission Guidelines
We invite abstracts for 10 minute panel presentations that demonstrate and address the above principles of racially responsive leadership through evidence- informed practices within Canadian higher educational institutions. Submissions can include more than one author across multiple institutions and/or organizations.
Deadline
Abstracts must be submitted to gcei@centennialcollege.ca by July 2, 2021.
Submission Format
Microsoft Word document, using a standard font, single-spaced, 250 words maximum and please include the following:
Title of Presentation
Presentation Summary (250 words max.)
Specific RRL principle(s)
Presenter(s)
Biography (50 words max.)
Email Addresses
Organizations/Affiliations
Phone/ Numbers