QUESTIONS
P.O. Box 631 Station A
Toronto, ON, M1K 5E9
Program Advisory Committee
Program Advisory Committee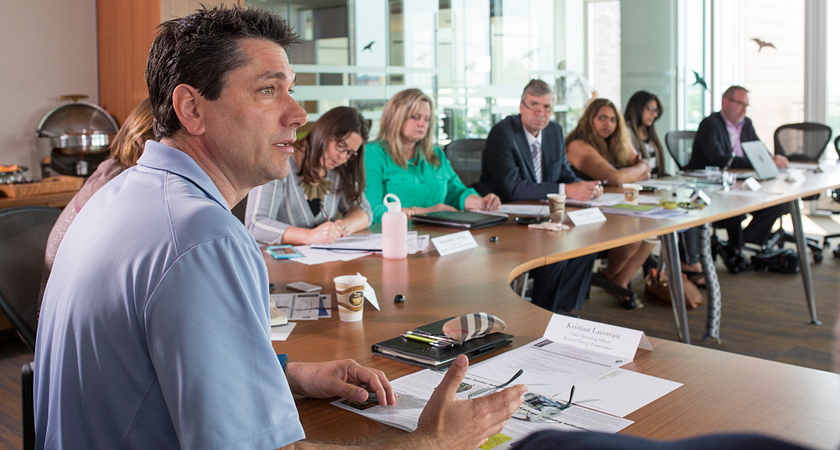 What is a Program Advisory Committee?
Program Advisory Committees (PAC) provide an essential link between Centennial College and the community they serve. PACs assist in evaluating the effectiveness of the College's programs and in the identification of future trends and changes in the industry to ensure program relevancy. PAC members inform programming with respect to industry trends and thus any changes in skill and knowledge requirements, keeping curriculum aligned with industry needs.
Watch the Program Advisory Committee Video.
Benefits of being a PAC member
Your active participation can:
Help build program quality and reputation, and ensure students are well prepared to contribute materially to industry advancement and success
Enhance student learning and satisfaction
Imbue programs with relevant learning and training beneficial to industry practice, and
Connect your company or organization with Centennial students and graduates.
PAC members may also benefit from serving on a PAC through expansion of professional experience, networking with colleagues, exchange of knowledge, etc.
Watch PAC members talk about their experience volunteering at Centennial College.
Become a PAC member today!
If you're interested in becoming a Program Advisory Committee member or email us at PAC@centennialcollege.ca.
About the Solv. service
Solv. is Centennial College's catalyst for growing and strengthening partnerships with industry. This free service seamlessly connects companies to a variety of business-enhancing opportunities and services across the College with the goal of building mutually-beneficial partnerships that advance industry relationships and enhance the student experience.
For more information, visit the Solv webpage.
Contact information
solv@centennialcollege.ca
416-289-5022
Already a member?
Download the Program Advisory Committee Member Guide.
PAC Celebration is an annual event to recognize and celebrate our community and industry partners who are members of our Program Advisory Committees, for their commitment and support of our students and programs.
PAC Event Archive