QUESTIONS
P.O. Box 631 Station A
Toronto, ON, M1K 5E9
Program Quality Review Processes
Program Quality Review Processes
Centennial has in place a two-step program review process: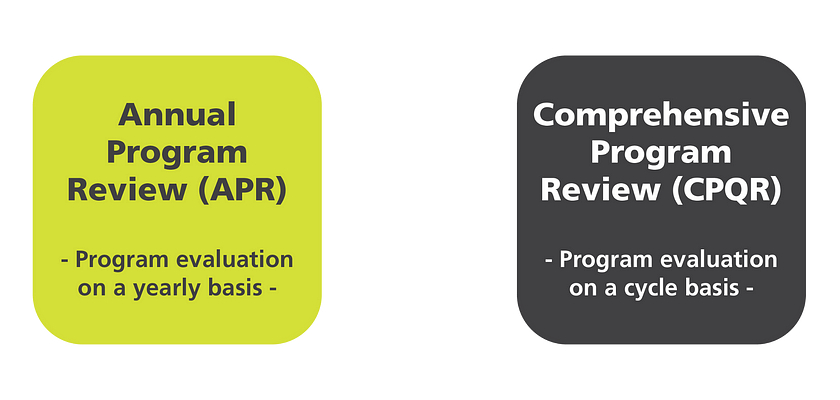 Benefits
Program Quality Review ensures that each program takes time to step back from everyday challenges to identify its strengths, areas of improvement, and culminate in the implementation of corrective measures (action plans).
Annual Program Review
All full-time programs are required to conduct Annual Program Review (APR) each year. The process involves reviewing and ensuring the program's curriculum is current and considers program performance metrics such as enrolment, retention, graduation rate, graduate employment, Key Performance Indicator Surveys (KPI), student course evaluations, etc. The implementation of Action Plans from previous years are also reviewed to ensure they are being implemented successfully or to identify changes and/or corrections.
The APR process supports a culture of quality and collaboration. It is designed to respond to provincial requirements and an increasingly competitive educational landscape that demands continuous improvement, but also to ensure alignment with strategic institutional directions and our own internal goal of providing high-quality programs that meet student needs. The APR process encourages a deep understanding of program quality data, the development of evidence-based action plans, and the identification of areas of strengths and areas for improvement.
Comprehensive Program Quality Review (CPQR)
The CPQR is a process by which an academic program undertakes a critical and objective self-study involving an in-depth analysis of the program to determine currency, viability, and occupational relevance.
The CPQR is to be conducted following the below cycle.
Cycle
Recommended CPQR Cycle:
New Programs
1 & 2 year Programs
3 & 4 year Programs
External Review
After 3 years
After 4 years
After 6 years
Required for all Baccalaureate programs and recommended for programs having any significant challenges