QUESTIONS
P.O. Box 631 Station A
Toronto, ON, M1K 5E9
Academic Technology at Centennial
Academic Technology at Centennial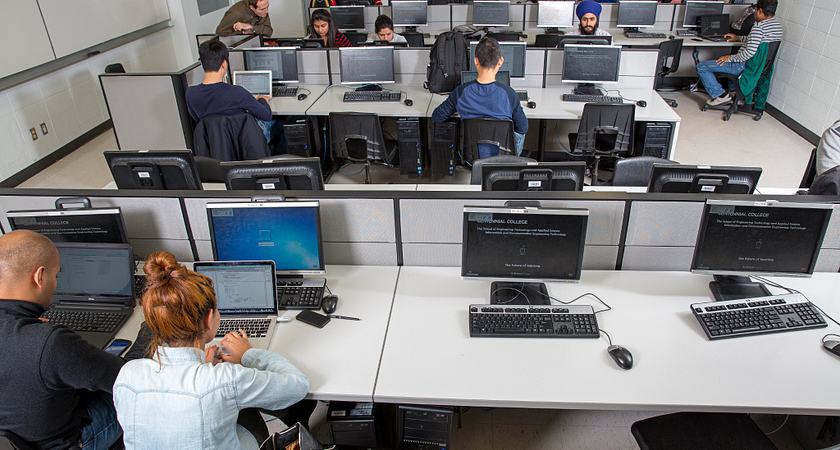 Overview
The Centre for Organizational Learning and Teaching (COLT) supports student learning by working with faculty and academic managers to promote the thoughtful and effective use of educational technologies.
We are committed to providing technological resources in pursuit of academic success for our students. We achieve this goal by working in partnership with various areas of the College to:
Implement technologies and services that create richer teaching and learning experiences;
Provide professional development opportunities on effectively integrating innovative educational technologies into teaching practices;
Work collaboratively in identifying the needs of Schools and their faculty and students as it relates to the College's Book of Commitments and Academic Plan.
Services Available:
Face-to-face Workshops
Specialized Workshops
Scheduled Drop-in Sessions
Consultation
Webinars
Self-Paced Online Learning
Online Video Tutorials/Documentation
One-to-one Appointments
24/7 Phone, Email & Chat Support for eCentennial
eLearning Strategy
Centennial College has developed foundational guiding documents that define our approach and guide our practice. The College's mission and vision statements, book of commitments, academic and organizational learning frameworks, statement of diversity, and the Signature Learning Experience, effectively serve to provide a comprehensive foundation for the work of the College. This eLearning strategy is aligned with these guiding documents to ensure relevance, continuity, engagement, and commitment to all stakeholders.
This document outlines the principles of our eLearning strategy. The main points made are:
The principles of eLearning are aligned to Centennial College's approach to learner-centered education. The use of clearly understood and effective operational mechanisms at the institutional, curricular, and classroom levels to enhance the learning experience is essential.
A culture of practice that includes eLearning needs to be supported to develop and grow and to be sustained by communities of practice that involve faculty, school teams, and service areas
All departments of the College have a responsibility to support the use of eLearning in the classroom as part of a commitment to student success.
To learn more read our Centennial's eLearning Strategy
Blended and Online Learning and Teaching (BOLT)
The 7-week Blended and Online Learning and Teaching course prepares learners to design an engaging, student-centered online or blended course and provides opportunities to view online learning through the lens of a student, experiment with a collection of educational technologies and progressively apply what is learned. Participants will also consider online pedagogies, engage in discussion with colleagues, and participate in hands-on learning experiences that will guide their transition to online or blended teaching. The emphasis on developing practical strategies that build on individual strengths, suit learners and align with course learning outcomes will help participants discover the teaching approaches that are best for them.
For more information watch the course trailer, BOLT Online
Learning Outcomes
By the end of this course, learners will be able to:
Use knowledgeable skills to locate, filter, sort, analyze and share educational technology information.
Critically reflect on assumptions about online teaching and learning
Effectively infuse an authentic presence into an online course to improve student retention, engagement, and learning
Organize course content into modules that are consistent in design, easy to navigate and aligned with learning outcomes
Create engaging learning experiences that support the learning outcomes and build a strong sense of community
Explain the step-by-step process of designing an online/blended course
Storyboard one online module (class) for an online/blended course
Please note that this course is currently offered to Centennial College employees only. For registration information, please visit the iLearn/COLT Calendar.