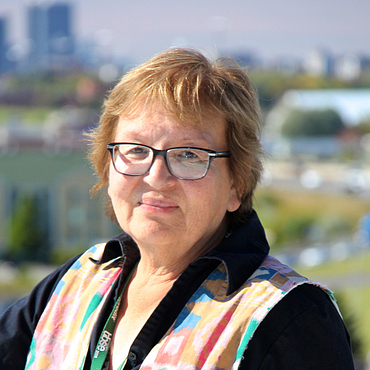 Carolyn King
Member, Mississaugas of the Credit First Nation (AEC Member 2012-2020)
She is the sole proprietor of JDI Business Services which she operates business from home. Her goal is to be a facilitator / resource person for Aboriginal / First Nation people in Canada. She has been engaged by government, colleges/universities, businesses and community organizations to do cross-cultural training sessions / presentations to help people develop a better understanding of Aboriginal - First Nations people in Canada. Over the past 10 yrs, she has delivered her unique, informative, "Indian 101, Who Are the Aboriginal People in Canada Today" across Canada.
Carolyn just finished a 4-year contract working for the Mississaugas of Credit First Nation on a mapping project that will assist the First Nation is identifying the significance of current and historic sites within their traditional territorial lands. This project is part of the duty to consult and accommodation office.
She has been a Board Member with the Hamilton Niagara Haldimand Brant, Local Health Integration Network (LHIN). Her appointment covered 2006 to 2010. LHIN's are a part of the Ontario government's reform of the Ontario health system. It has been an exciting and challenging appointment for her.
She is the current chairperson or co-chair for several community-based organizations such as the New Credit Public Library, New Credit Cultural Committee and SONICS Inc., the Six Nations /New Credit Community Radio Station.
Carolyn is also a board member with the Toronto Historical Association (THA) since its inception (1999); and the Caledonia Old Mill Corporation and in 2010 she joined the Ontario Historical Society Board and is in her last term there as the (volunteer) Executive Secretary to the Board.
The most recent contract work included the updating of the Mississaugas of Credit First Nation's Comprehensive Community Plan (June 2008) as an associate with a Cambridge consulting firm.
Previously she was employed for 6-years as the Partnership Development Advisor at Two Rivers Community Development Centre, Ohsweken, where she assisted in helping develop the business environment for the members of the Six Nations of the Grand River and the Mississaugas of Credit First Nation communities and had a key role in the marketing and promotions activities.
Carolyn has over 25 years of work experience in the community economic development field. Her experiences include community development, public relations, economic development, planning policies and procedures for the environment. As a First Nation employee for over 14 years (1980 - 95, and now 4 years more (2010-2014) in the Consultation and Outreach office she has 'hands-on' experience and an in-depth knowledge of the First Nation communities. Her life and work experience brings a life-long commitment to the development of her First Nation community.
She is the former elected Chief of the Mississaugas of Credit First Nation. She completed one two-year term in political office. Carolyn was the first woman ever elected as Chief in her First Nation and served from December 1997 to December 1999.
Carolyn has been involved with establishment of the local community radio station (CKRZ, 100.3 FM) since its inception as a board member, an on-air broadcaster, fundraiser, and even a/manager.
On a national level in 1996, Carolyn was elected to the National Aboriginal Capital Corporations Association and served as the Executive Secretary until her election as Chief of her community.
Carolyn completed a one-year contract with the Association of Iroquois and Allied Indians as the economic development coordinator for its eight member First Nations which provided a first time involvement with regional initiatives for an Ontario First Nation political organization.
Past community/economic development activities include: Past Chairperson for: Two Rivers Community Development Centre (10 Yrs); a founding member for Mississaugas of Credit First Nation Community Trust; Six Nations/New Credit Community Futures Committee; Fourteen Nations Circle Fund; Mohawk College Aboriginal Education Council; a past member of the Advisory Committee for the Small Business Management Program at Mohawk College.
Carolyn resides on the Mississaugas of Credit First Nation, she is married, has two children and 5 grandchildren.
Awards and Acknowledgements:
2012: the Queen Elizabeth II Diamond Jubilee Medal, (in recognition of her support for First Nation history and advancement of the Aboriginal peoples)
2007 Shining Stars Tourism Award Winner: Lifetime Achievement Award in supporting area tourism
2005: Mississauga Heritage Foundation Inc. Special Recognition Award – significant contribution to heritage in the City of Mississauga
2005: Ontario Heritage Trust Award, with the City of Mississauga
2004: Ontario Volunteer Award (5 year pin for Board membership with Toronto Historical Association
2007: Mississaugas of Credit First Nation Community Trust – acknowledge founding Trustees
2007 Mississaugas of Credit First Nation Council: letter of recognition for 20 years of volunteering; and the recipient of an eagle feather (in the First Nation community - equivalent to receiving the Order of Canada)
2000: Industry Canada, Certificate of Appreciation, 10 years of volunteer service for Community Futures