QUESTIONS
P.O. Box 631 Station A
Toronto, ON, M1K 5E9
Indigenous Strategic Framework Pillars
Indigenous Strategic Framework Pillars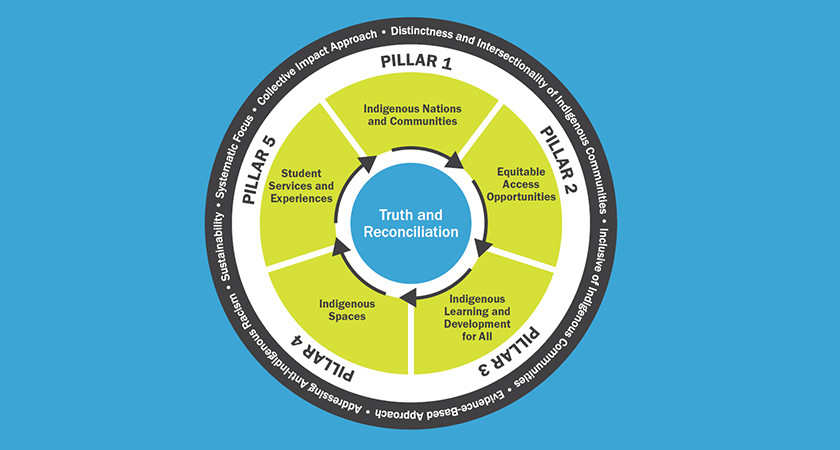 Under each pillar we have identified a key strategy. In addition, included in the Indigenous Strategic Framework there are 13 commitments and 44 calls to action all of which are informed by Indigenous Education*.
Approach to Indigenous Education
"[Indigenous Education] is the transformation of the existing academy by including Indigenous knowledge, voices, critiques, scholars, learners and materials... so that these become an essential element of the [college]. It is not limited to Indigenous Peoples, but encompasses all learners, staff and faculty, and encompasses both our knowledge space and physical space."
-University of Regina's Indigenous Advisory Circle
The College recognizes that historical and persistent inequities and barriers to equitable participation exist and are well documented in society. The College also believes the individual and systemic biases contribute to the marginalization of Indigenous communities. It is within our core values and guiding principles to prevent, remedy and redress these inequities.
Our approach to Indigenous Education aims to promote dialogue to foster dialogue that integrates the following:
Systemic Focus
To further integrate Indigenous education in the College, our goal is to ensure all levels of the institution are engaged and committed to work, by doing so, our strategies will work to remove systemic barriers and root causes of inequities preventing the success of Indigenous Education/Indigenous communities.
Collective Impact Approach
We recognize that working across divisions and departments is required to advance the goals of the Indigenous Strategic Framework.
Distinctness and Intersectionality of Indigenous Communities
We acknowledge the diversity in Indigenous communities and the experience in, through and out of College is experienced differently by diverse Indigenous groups, and within groups along intersectional lines, including gender identity, creed, class, sexual orientation and history of colonization.
Inclusive of Indigenous Communities
For the development of all strategic initiatives related to this work, Indigenous people will be involved. Their perspectives and guidance will inform strategy and decision-making.
Evidence-based Approach
Our approach will be evidence-based, driven by measurement goals and outcomes that are consistent with all College directional documents.
Addressing Anti-Indigenous Racism
We recognize how institutional and systemic racism is a major factor affecting the personal and professional success of Indigenous communities and will work systemically to develop/integrate anti-racist interventions.
Sustainability
The framework will set the groundwork for the College's long-term effort and commitment to integrate an Indigenous Strategic Framework across all levels of the institution.
*Adapted by the Ontario Anti-Racism Strategic Plan