QUESTIONS
P.O. Box 631 Station A
Toronto, ON, M1K 5E9
Pillar 2: Equitable Access Opportunities
Pillar 2: Equitable Access Opportunities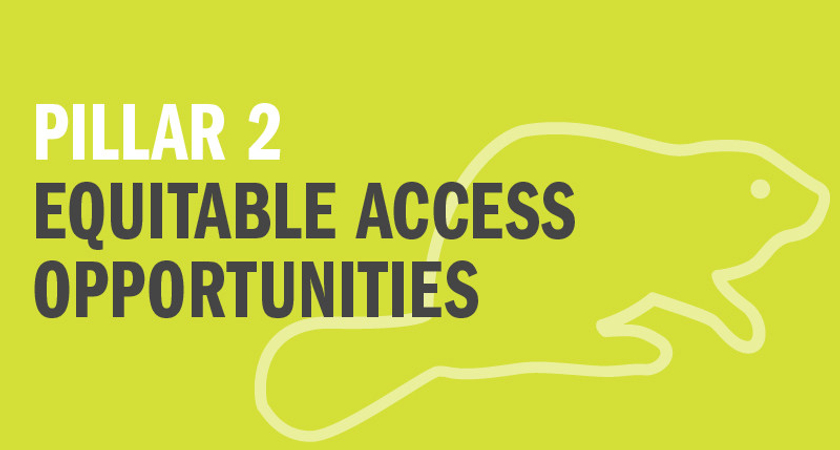 "Ensure equitable access to jobs, training and education opportunities."
- (Truth and Reconciliation Report, 2015)
---
Provide equitable access opportunities for prospective Indigenous learners and employees.
Commitments
Continue to move in circular and cyclic patterns of relationship-building with citizens of Indigenous nations and members of Indigenous communities and be led by their wisdom and knowledge for reconciliation.
Engage with Indigenous learners in their communities and with their families at their current stage of life who are less ready to consider post-secondary education.
Increase the number of Indigenous employees with hires throughout the institution, including Indigenous faculty, learner facing positions and management and ensure the appropriate on boarding and culturally relevant, transition supports are in place to ease adjustment and transition
Calls to Action
Strengthen our outreach to Indigenous community groups, associations and reserves and ensure specialist Indigenous recruitment literature, messaging and artefacts are visible and embedded in all high school and other recruitment presentations.
Communicate messages to Indigenous learners that promote the College as a learning environment that is welcoming and supportive where they will experience relevance, reciprocity, responsibility, and respect.
Institute a holistic application process for Indigenous learners that places less weight on academic credentials and a greater emphasis on skills such as work and volunteer experience.
Increase our Indigenous presence on our website to promote our activities to prospective Indigenous learners and their families.
Continue to create an institutional culture and process in which Indigenous learners feel safe, invited and encouraged to self-identify.
Enact targeted recruitment strategies to Indigenous communities, families and learners with sufficient levels of readiness and capacity to experience success.
Continue to reach out to Indigenous communities, families and learners who are less ready to consider post-secondary education in a transformational way by reaching into the community to hear their stories, elicit their dreams and inspire them to see the pathway from their dreams to reality though post-secondary education.
Ensure all employee job postings are welcoming of Indigenous candidates using inclusive language and promoted heavily within Indigenous community circles, venues and publications.
Expand interview practices to respect personal forms of expression and experiences acquired through Indigenous culture and tradition.
Apply appropriate on-boarding and culturally relevant transition supports including mentoring and access to Traditionalists and Elders.