QUESTIONS
P.O. Box 631 Station A
Toronto, ON, M1K 5E9
Pillar 4: Indigenous Spaces
Pillar 4: Indigenous Spaces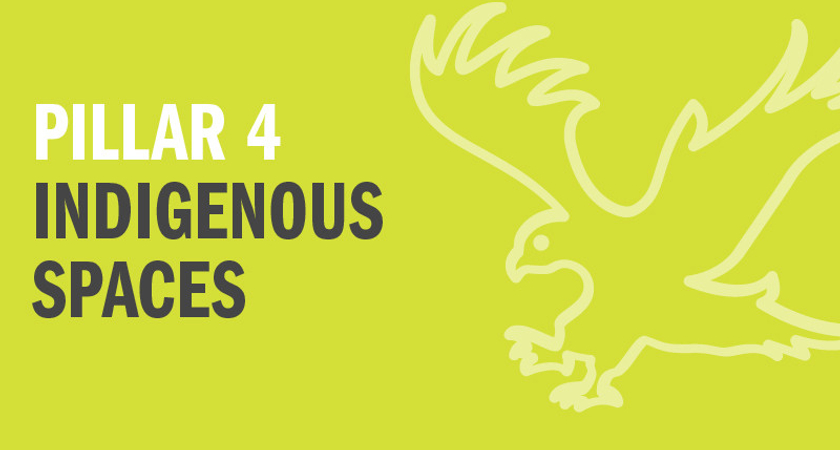 "Healing centres to address the physical, mental, emotional, and spiritual harms caused by residential school and eliminate barriers to healing lodges."
- (Truth and Reconciliation Report, 2015)
---
Affirm Centennial College as a physical, emotional, intellectual, and spiritual space that values Indigenous culture and tradition and in which Indigenous people experience a sense of belonging.
Commitments
Acknowledge the presence of Indigenous knowledge, traditions and culture at all public events.
Identify relevant physical spaces (existing and future, within buildings and in open spaces) to incorporate Indigenous artifacts, signage, art, symbols and design elements and to create additional safe, meaningful spaces for Indigenous gatherings and ceremonies.
Calls to Action
Adopt an institution-wide practice to acknowledge the territory and lands on which Centennial College is located and integrate Indigenous language at public events.
Develop a toolkit of traditional Indigenous practices to honour the physical, emotional, intellectual, and spiritual space at the College (opening words/prayers, feasts, drum dancing, healing / sharing circles, storytelling)
Establish permanent and rotational displays on all campuses which display Indigenous symbols, arts, stories and Indigenous languages on all Indigenous displays as appropriate.
Build additional outdoor gathering spaces (a healing garden).
Classrooms and meeting rooms – flexible learning spaces that allow for the re- orientation of physical elements to be conducive to Indigenous models of teaching/learning.