QUESTIONS
P.O. Box 631 Station A
Toronto, ON, M1K 5E9
Orange Shirt Day
Orange Shirt Day
National Day for Truth and Reconciliation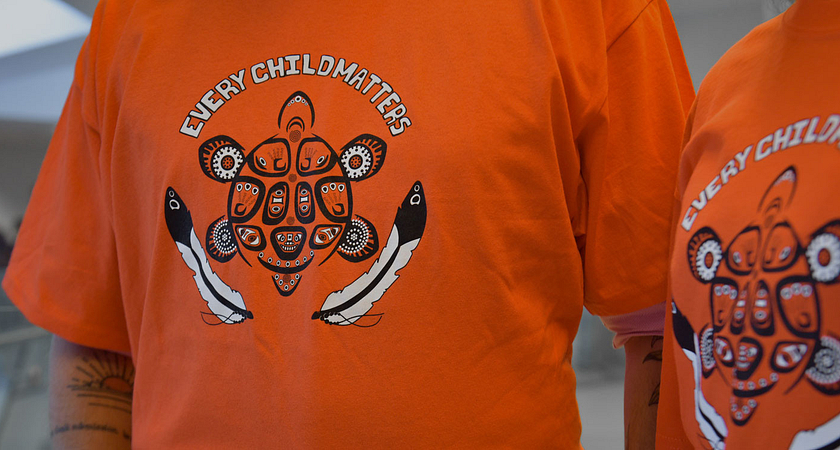 Every Child Matters is a yearly commemoration event tied to remembering that for more than a century, Indigenous children were sent to Indian Residential Schools that were funded by Canada and operated by the churches. The process of remembering is anchored in what has become known as Orange Shirt Day.
Orange Shirt Day started as a response to the legacy of the St. Joseph Mission (SJM) Indian Residential School in Williams Lake, BC, Canada in the spring of 2013.
It grew out of Phyllis' story of having her new orange shirt taken away on her first day of school at the Mission. In sharing her story, Phyllis mobilized people to action and as a result, Orange Shirt Day / Every Child Matters was created. September 30 was once a day tied to the removal of children from their homes to attend Indian Residential Schools far from their families and communities. Thanks to Phyllis and Williams Lake, it is now a day of commemoration and remembrance - a day to learn the history and truth of Indian Residential Schools.
In 2021, after the finding of the unmarked graves by the Tk'emlúps te Secwépemc First Nation, on the grounds of the former Kamloops Indian Residential School, and in response to a long-standing call from the 2015 Truth and Reconciliation Commission's Final Report, the federal government declared September 30 as the National Day for Truth and Reconciliation, and that it should be recognized as a federal statutory holiday.
In consultation with Indigenous community members across the College and our Aboriginal Education Council (AEC), and in recognition of our commitment to reconciliation as captured in our Indigenous Strategic Framework, Centennial will dedicate September 30, 2021 as a day of reflection, engagement and learning for all of our students and employees, and will, as a result, be cancelling classes and suspending campus operations.
It is the expectation of the College that all members of our community will be engaging in a day of reflection "to honour survivors, their families, and communities, and ensure that public commemoration of the history and legacy of residential schools remains a vital component of the reconciliation process."
In addition to Thursday, September 30, we encourage our College community to wear orange on September 29, 2021, and to reflect on, review, and utilize the resources below. Information regarding the programming on September 29 is coming soon.
We as a College are deeply committed to providing our community members with transformative education on "the history of Aboriginal peoples, including the history and legacy of residential schools, the United Nations Declaration on the Rights of Indigenous Peoples, Treaties and Aboriginal rights, Indigenous law, and Aboriginal-Crown relations" (Call to Action #57). We take this responsibility seriously to honour our commitment to the Mississaugas of the Credit and to the members of all other Indigenous Nations that have called this area home and "accept our responsibility to honour all our relations" as treaty people, because it is on their lands that we exist.
We are also committed to amplifying the mandate of Centennial's Place of Reconciliation for All Our Relations and our calling to Light the Eighth Fire: "The prophecy is a traditional teaching that should and will be honoured within our strategy: to honour all our relations…to honour the legacy of the generations  whom  are to follow and rekindle the embers of times past. Also, it is meant to give direction and develop opportunity to strengthen the ties between two worlds who are dedicated to educate about the Seventh Fire prophecy and give way to the generations who carry the legacy of our Indigenous ancestors' teachings" (Joseph-baa McQuabbie). 
On September 30, we encourage you to engage in a day of reflection with the resources below:
Resources
Wear Orange Shirts that are purchased directly from Indigenous organizations or those who have relationships with them such as:
Attend one of the honouring gatherings for Indian Residential School/ Day school and the intergenerational survivors either online or in person on September 30 – i.e. Toronto Indigenous Harm Reduction is hosting a Healing Gathering
Watch the story of a survivor and learn more about the timeline and history of the residential and day school systems
Read the executive summary of the TRC
Read something on this list of books curated by David A. Robertson author of "When We Were Alone"
Take the time to review these resources for talking to children about Residential Schools and why this is important:
To learn more about Orange Shirt Day and Phyllis's story, please visit the Orange Shirt Society website.
For more information about Centennial College's commitments to build awareness and to bring the college together in the spirit of reconciliation, please read the college's Indigenous Strategic Framework posted on the website.