QUESTIONS
P.O. Box 631 Station A
Toronto, ON, M1K 5E9
36th Annual George Wicken Memorial Awards Reception goes virtual, November 19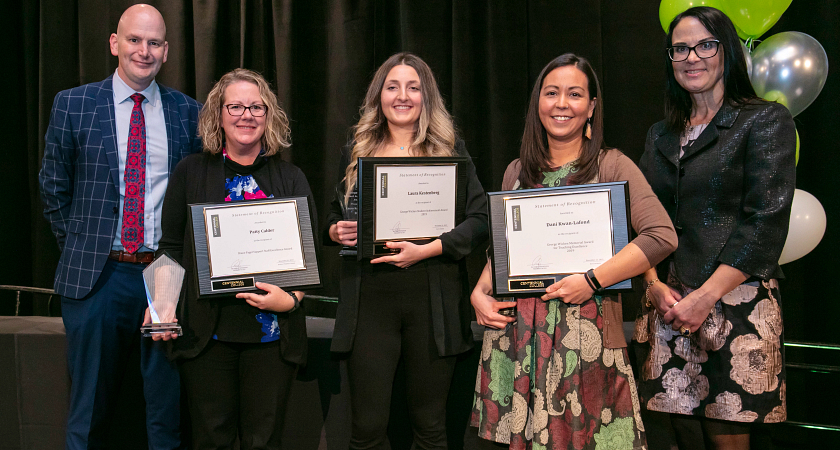 At the 2019 George Wicken Memorial Awards Dinner, Patty Calder received the Diane Fagel Support Staff Excellence Award, Laura Kestenberg collected the George Wicken Student Achievement Award, and Dani Kwan-Lafond received the George Wicken Memorial Award for Teaching Excellence (left to right). The winning trio are flanked by President Craig Stephenson and Marilyn Herie, Vice President Academic and Chief Learning Officer.
---
On behalf of the George Wicken and Diane Fagel Selection Committees, we are pleased to recognize this year's faculty, support staff and student recipients, as well as all our nominees, for their outstanding contributions to teaching excellence at Centennial College. All have demonstrated passion, dedication and exceptional quality in the work they do in support of teaching and learning – exemplifying the ideals of the late George Wicken, a Centennial College English professor who was revered for his innovative teaching methods and tireless dedication to students.
We invite you to join us on Thursday, November 19 to honour and celebrate our distinguished nominees and recipients at our first-ever virtual George Wicken Memorial Awards Reception. This online event is taking place from 4 pm to 5:30 pm on Thursday. Please register now to receive a Zoom invitation.
George Wicken Memorial Award for Teaching Excellence
Congratulations Professor Tanya Domize, who is the 2020 recipient of the George Wicken Memorial Award for Teaching Excellence. Professor Domize works in The Business School, Centre for Legal and Administrative Studies, as a full-time Professor and Legal Program Coordinator. As the recipient of this award, she will also be honoured with a Certificate of Recognition at the upcoming Board of Governors' Awards of Excellence event, reflecting the strategic commitment of the College to transformative learning and teaching.
Professor Domize graduated from Centennial's Paralegal Graduate Certificate program and is honoured to return as faculty. As a teenage mother, Professor Domize understands the difficulties that many students face whether it is financial, housing, caregiver responsibilities and the school-life balance. She established the Veleta-Samuels Jackson Scholarship in 2019 to assist with the financial needs of legal students in The Business School.
With the support of a great mother, family, friends and professors, she earned the Centennial College Canadian-Federation of University Women Scholarship, completed a university degree (Political Science and French Studies, York University) and received a Master's Certification in Adult Education, also from York. Prior to her role at Centennial, Professor Domize worked in Toronto's criminal courts as a Victim Witness Services Worker for the Ministry of the Attorney General.
As the Legal Program Coordinator, Professor Domize takes pride in mentoring staff and students while creating an inclusive, happy and engaging classroom and work environment. During the COVID-19 pandemic, she has conducted virtual court visits, interviews and legal student events. She has always been interested in law and social justice. Her career reflects her passion to help others achieve their goals and bounce back from setbacks. "Each one, teach one."
Professor Tanya Domize was selected from a slate of exceptional nominees across five schools.
School of Communications, Media, Arts and Design
Professor Dennistoun Russel
Professor Jung Lee
Professor Patrick Robinson
School of Community and Health Studies
Professor Christine Dickie
Professor Janice Walker
Professor Meh Jabeen Lenzo
School of Engineering Technology and Applied Science
Professor Brent Preston
Professor Saber Amini Baghbadorani
Professor Reza Assasi
Professor Yi Lu
School of Hospitality, Tourism and Culinary Arts
The Business School
Professor David Parent
Professor Franca Mule
Professor Rajvinder Singh
Professor Susan Kerr
Professor Tulsi Dharel
Professor Victor Sousa
Diane Fagel Support Staff Excellence Award
Congratulations to Lisa Jones from the School of Hospitality, Tourism and Culinary Arts, who is the 2020 recipient of the Diane Fagel Support Staff Excellence Award. This award is presented to a support staff member in recognition of their support to teaching and learning excellence at the College.
Lisa Jones has been with Centennial for nearly 14 years. She began her career in Enrolment Services, first supporting students in the Call Centre before moving to the front counter at Ashtonbee Campus. She then transitioned to Student Records where she supported Continuing Education graduation and grew into the Curriculum Maintenance and Special Projects role. Lisa concurrently pursued an undergraduate certificate in Counselling Women, volunteered with StepStones for Youth as a mentor, and at The Scarborough Women's Centre as a tutor, workshop host and mentor.
In 2018, Lisa transitioned to the role of Student Success Advisor, joining the School of Hospitality, Tourism and Culinary Arts. Working with a bourgeoning student base, she and her teammates developed and implemented initiatives such as Student Success Hubs, STHCA-specific tutoring collaborations, a Student Success Instagram page and Marketplace Advising, which made advising services and success tools more accessible to students. Lisa undertook a certificate in Brief Coaching at OISE, and in collaboration with fellow graduates, developed an initiative called Breathing Room, which offers deeply discounted coaching services to front-line workers.
As a Success Advisor, she recently transitioned to the School of Community and Health Studies, and is excited to learn and grow with its students and staff. Lisa approaches her interactions with warmth and humour, and is grateful to have built so many lasting friendships within the College community. Lisa lives in Uxbridge with her partner, daughter and two dogs, and has recently rekindled her love of writing.
Lisa was selected from the following outstanding support staff nominees this year:
Centre for Academic Quality
Centre for Part Time and Online Learning
Centre for Organizational Learning and Teaching
Galuh Savitri
Shana Molto
Centre for Students with Disabilities
School of Community and Health Studies
Ann Vasilopoulos
Mede Ovbiagele
School of Hospitality, Tourism and Culinary Arts
Evelyn Cheng
Ijeoma Ekoh
Marva Auld
School of Engineering Technology and Applied Science
Student Life Engagement and Development
Linda O'Donovan
Robert Hurtubise
George Wicken Student Achievement Award
Congratulations to Giselle Azadeh from the School of Advancement, who is the 2020 recipient of the George Wicken Student Achievement Award. This award is presented annually to a Centennial College English student and celebrates the accomplishments of a student who has not only attained high academic standards, but whose presence has contributed to the quality and vitality in the classroom. Giselle is presently in her second semester of Centennial's Early Childhood Education (ECE) program.
As far back as elementary school, she enjoyed interacting with and supervising young children by helping the kindergarten teacher during recess and watching over younger children during lunch breaks. Memorable experiences and the fulfilling purpose she feels when interacting with children and teaching them something new has led her to return to school and pursue a career path in the ECE field.
Prior to attending Centennial College, she had obtained a Bachelor of Arts (Sociology) from York University in 2010 and an Accelerated Paralegal Diploma from Seneca College in 2015. Throughout her previous work and school experiences, she was always happy to help a colleague and share her knowledge with them. She is now looking forward to becoming a Registered Early Childhood Educator and making a positive and memorable impact on the next generation as she guides them through their early childhood development.
George Wicken Awards Virtual Reception
Our virtual Zoom event is taking place from 4 pm to 5:30 pm on Thursday, November 19. Register to receive a free Zoom invitation. For more information, please contact Carla Gallego at cgallegolima@centennialcollege.ca.