QUESTIONS
P.O. Box 631 Station A
Toronto, ON, M1K 5E9
40 Years of Impact: Scherry George's Legacy of Leadership and Generosity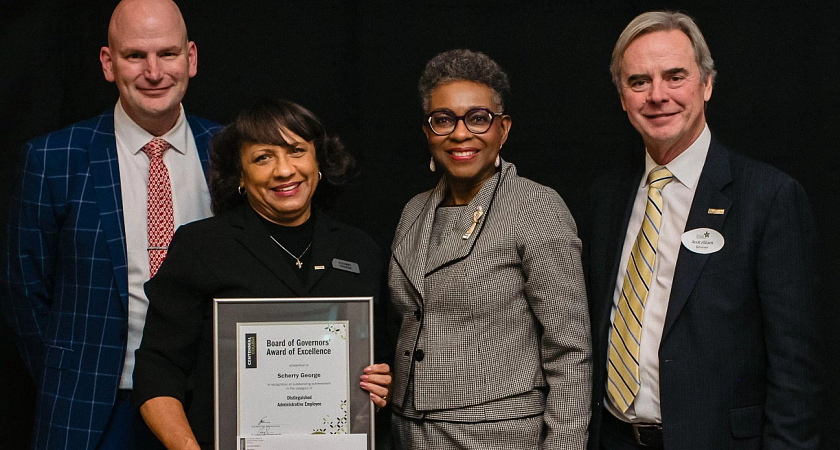 On August 31, 2020, Scherry George logged out of her Centennial College email account one last time. She was closing the books on an incredible 40-year career with the College, culminating with her leadership role as Director of Registrarial Process & Quality Assurance Enrolment Services.
Scherry joined the Centennial team in 1980 as a scheduling clerk after moving to Toronto from New Brunswick with her husband, Ed. In 1981 she moved into a role as a student financial aid officer and never looked back, remaining a dedicated member of the financial aid team for the rest of her career.
Over the years, Scherry has worked with generations of students who have faced obstacles to education and employment but are driven by a deep desire to pursue meaningful careers and financial stability. She has also witnessed first-hand the incredible impact of donor support in the lives of marginalized students.
"For many of our students, receiving a donor-funded scholarship may be the first time they've ever received positive reinforcement for their hard work," she says.
In 2001, Scherry joined Centennial's donor community with the creation of the Verdena Frances Momb Incentive Scholarship in honour of her mother, who recently passed away at the age of 94. The scholarship, which was the first in a series of scholarships honouring various family members over the years, was a fitting way to pay tribute to a woman who had inspired Scherry and her siblings with her work ethic and dedication to her family in the face of adversity.
"Mom, not having an opportunity to complete high school herself, worked three jobs to put a roof over our heads when my dad left," says Scherry. "She expected us to do our best because she was out there doing her best for us in very challenging circumstances."
The $1,000 scholarship was awarded annually to a student from Centennial's Helping Youth Pursue Education (HYPE) summer program, a six-week, tuition-free initiative that seeks to engage young people from underserved communities with pathways to a post-secondary education.
At an orientation for the HYPE program several years ago, Scherry spoke with students about her own experiences living in underserved neighbourhoods in east Scarborough. During her talk, she listed five of her former addresses upon arrival in Toronto – many of them familiar to young people growing up in low-income communities. She then poignantly shared one more address on Wilcox Creek Pathway: the address where her son, Michael, was inexplicably killed by gun violence in 2007. A possible case of mistaken identity, the motives and the perpetrators both remain unknown to this day.
Scherry leaned on her faith, her family and her many friends at Centennial and found the strength to move forward after Michael's death. Determined to keep his memory alive, she and her husband established the Michael Henry George Memorial Scholarship with support from Centennial College and their community of family and friends. Until this past year, the scholarship was awarded to a number of students in the Business Management Program – the same program Michael graduated from in 2005 before securing a part-time role at the College.
In 2019, Scherry realized she wanted to create a different kind of impact in Michael's memory.
"The last people to see him alive were the paramedics and the police," she says. "They did everything they could for him in his last moments. So this was the first year we awarded the scholarship to a student in Centennial's Paramedic program." Going forward, Scherry and Ed will support the Michael Henry George First Responder Memorial Scholarship to keep Michael's memory alive by honouring the paramedic and police foundation students and the service they have chosen to pursue as their life's work.
Looking back on her 40 years with Centennial, Scherry is grateful for the opportunities she's been given and proud of the legacy she's leaving behind. Most of all, she is honoured to have served countless students as they pursued their own paths, to have witnessed time and time again the impact of donor support and to have had the opportunity to make a difference as a donor herself.
"The life-long impact of scholarships on students cannot be measured in dollars and cents," she says. "And just like for the student, once the money is gone, the donor can rest in their generosity by knowing they have made a positive contribution to a deserving student's journey."
Join Scherry by giving the gift of education today! To learn more about how you can create a scholarship at Centennial College, please contact Linda Barlow at lbarlow@centennialcollege.ca.