QUESTIONS
P.O. Box 631 Station A
Toronto, ON, M1K 5E9
Leaving on a High Note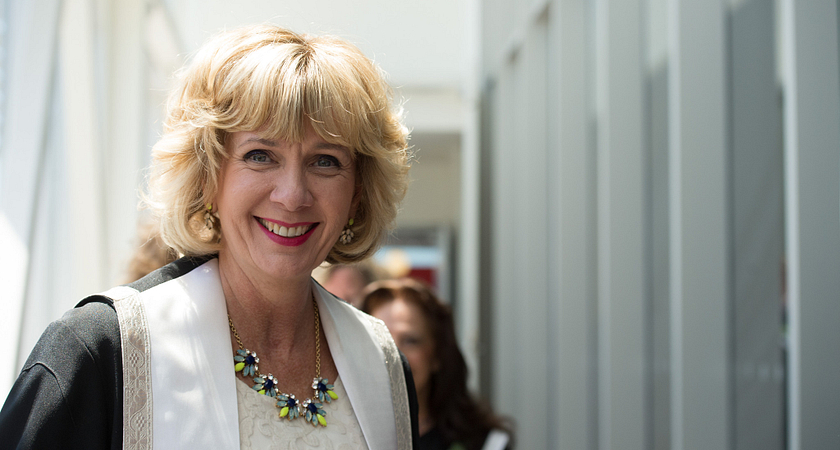 Ann Buller, our longest-serving President, recounts her 30-year relationship with Centennial
Like many of the Centennial College students whom she inspires and leads today, Ann Buller was the first in her family of newcomers to Canada to pursue post-secondary education.
With limited finances, she opted for an affordable education that would prepare her for the world of work. Yet the path Ann had selected – community college and not university – would give her so much more.
In a world where education leaders are expected to graduate from the best ivy-covered schools, her personal journey informed her own governance goals for Ontario's first college. Centennial became a vibrant institution under her leadership, one that celebrates students' resiliency, values diversity and honours Indigenous cultures and traditions.
The Early Years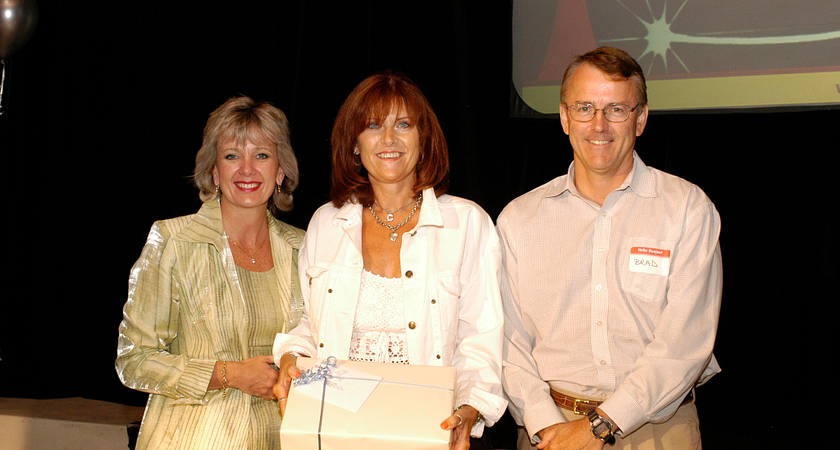 Ann Buller with professor Christine Gauthier and CFO Brad Chapman at Centennial Day, 2004.
Ann originally joined Centennial as a recruitment officer in 1989, with a public relations diploma she had earned from Humber College along with some experience working in student government. Centennial had just established a marketing office for the first time.
"The president called us together and said we're down 13 per cent in applications. I remember the energy around that, the creativity, and getting the resources to be able to do some interesting things," she recounts. "It was an amazing experience of working bizarrely long hours, but doing good things and having fun."
Despite being around more than 20 years at that time, Ontario's colleges of applied arts and technology were not always top of mind for students and their parents and teachers. Just arranging visits to talk to high-school students sometimes proved challenging.
"I remember calling to book appointments and having high schools tell me: 'No, we don't send our students to college.' It shocked me; I didn't expect to get that response."
Fortunately, Ann had a flair for giving high-energy presentations and it wasn't long before she was an in-demand speaker. After all, she believed in the product.
"I always felt that if I could get that group riled up about college, then I had succeeded." And after Centennial began tracking where its students came from, she discovered that "our students don't go to college" was a misconception.
"I remember calling some of the high-school guidance counsellors back and saying 29 of your students are here at Centennial. You're not helping them get here, but they are getting here," she recounts. "We had tremendous results from that."
Ann and her team were the first to visit summer schools to talk to kids who had failed one or more credits and were writing themselves off. With Centennial's remedial studies, she told them that they could attend college in the fall if they wanted, a novel recruitment approach that boosted enrolment.
Taking on New Challenges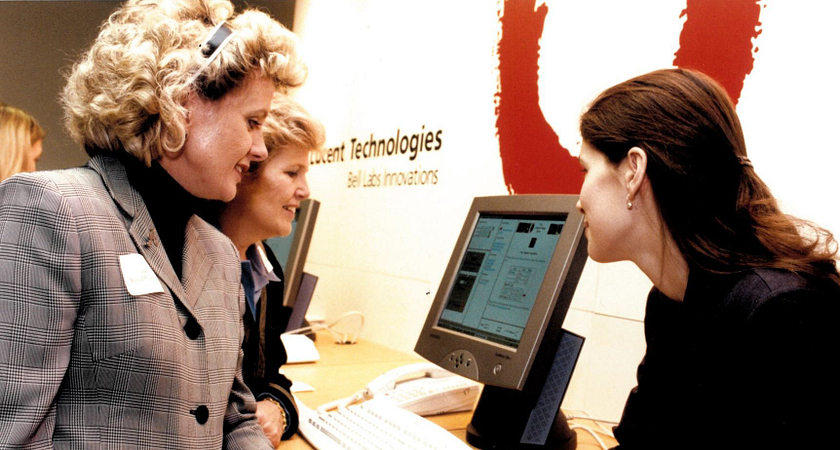 Ann Buller visiting a Lucent Technologies display, 2000.
Promoted to Manager of Liaison and Community Relations, Ann developed strategies to meet enrolment targets, including personalized direct mail, focused customer service training and closer ties with high-school teachers and guidance counsellors.
As Director of Student Services, Ann broke new ground by instituting student retention strategies, including student success surveys, work that earned the college a coveted Noel-Levitz Retention Excellence Award. She was named Centennial's Vice President of Student Services and Advocacy in 1999. A year later she got a phone call that would change her career trajectory.
"A search firm called and asked me if I was interested in a Vice President position at Nova Scotia Community College. I said no. But they kept calling, saying my name kept coming up."
Ann eventually relented and flew to Halifax to see what NSCC, with 13 campuses across Nova Scotia, was all about. What was supposed to have been an informal chat became a full-fledged job interview, and Ann grew excited about the tasks they had laid out, including implementing a strategic review and career education policy for the province.
"The president had told me that it was not a matter of having NSCC catch up with everyone else, but to leap-frog ahead with some bold ideas," Ann recalls. She relished the challenge and took the job. "It was an unbelievable roller-coaster ride, and the pace of change was huge."
Within months of her starting, two airliners collided with New York's World Trade Centre on 9/11 and the repercussions were felt in Nova Scotia, where thousands of air travellers were redirected after the U.S. closed its airspace.
"We sheltered 1,500 airline passengers by opening Akerley Campus to them," she says. Much like the scenes from Come From Away, the hit musical about the travellers who were directed to Gander, Newfoundland, the personal stories of the stranded passengers were extraordinary, as was the response by the local community. Ann and her volunteers worked around the clock to look after their unexpected visitors for an unforgettable week of heartache and friendships.
A Return Engagement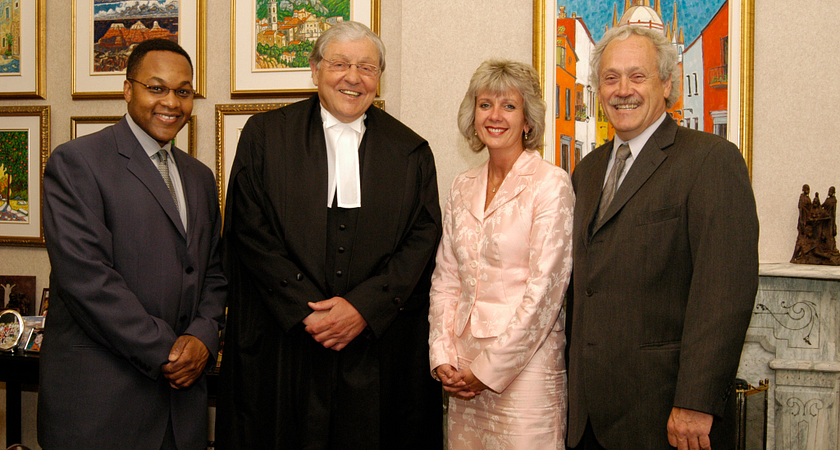 Ann Buller with Judge Michael Tulloch (left), the Hon. Roy McMurtry and former Centennial College President Richard Johnston, 2004.
In 2003, Centennial College President Richard Johnston announced he would not be renewing his contract for a second term, and the search was on for a new leader. Word got back to Ann in Nova Scotia. Centennial was not in great financial shape and enrolment growth had waned. Ann knew that if she wanted the job, she would have to bring a daring proposal.
"We needed to catalyze change at the college, something profound to make it a standout in the marketplace," she says. "I came up with the 'signature academic experience' at my kitchen table."
Ann travelled to Toronto in late 2003 to make her pitch. Knowing Centennial's strength is its diversity, Ann intended to amplify it by building students' understanding of equity and social justice issues, and by giving them portfolio learning and cultural competencies to prepare them to work in an increasingly global economy.
Ann's audacious vision won her the position. The renamed Signature Learning Experience (SLE), the product of extensive consultation with more than 1,000 faculty and staff members, became a bold statement of distinction that would set Centennial apart.
Ann began her new role at Centennial President and CEO in June 2004. Among her first tasks was to unveil a new summer program that provided tuition-free courses to "at-risk" youth living in the Malvern neighbourhood in northeast Scarborough.
Toronto Mayor David Miller attended the project launch and later told the Globe and Mail that Centennial's community outreach effort was the highlight of his first year in office. The summer college experience was eventually renamed HYPE (Helping Youth Pursue Education), which continues to receive funding and produce positive results.
Gaining a Global Perspective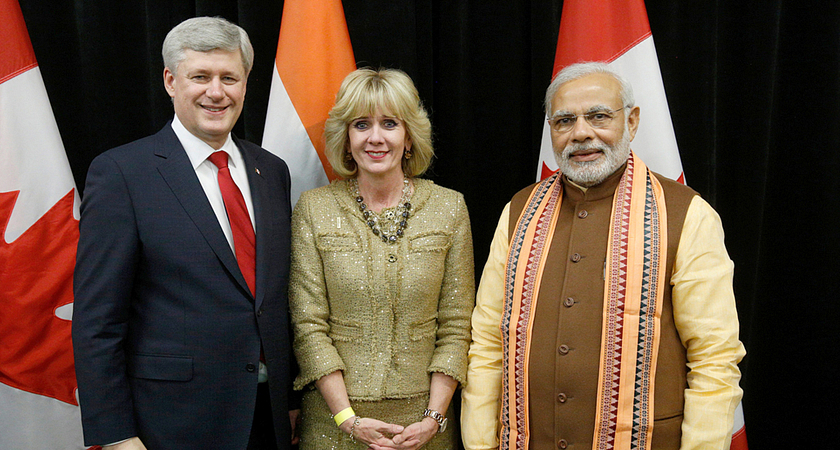 Ann Buller with Prime Minister Stephen Harper and Narendra Modi, Prime Minister of India, 2015.
As the SLE took shape – requiring every full-time student to take the innovative GNED 500 Global Citizenship course – Ann mused about offering opportunities for students to travel overseas.
"We know from studies that just eight days in another environment can fundamentally change you – and that's what we set out to do," she says. "We want our students to go abroad and see the world, to democratize education so that everyone, regardless of their means, can have a chance to get out there."
The first group of students and faculty/staff advisors travelled to work in rural Dominican Republic. The college paid for the flights and accommodations, and many of the meals were provided by the local agency that was orchestrating the service work.
"We try to partner with established non-profits on the ground that may have experience hosting students. That way we're assured of a safe place in which our learners can perform their work," says Ann.
Increasingly bold adventures have dispatched students to exotic destinations such as the Amazon River basin and the Great Rift Valley in Kenya. Participating students develop leadership skills and work to create positive social change in rural places that barely register on a map. And, as promised, students come back profoundly changed.
"What's incredible is that our international students have really taken advantage of these trips. And the Indigenous components have grown; we want more opportunities for students to learn about Indigenous cultures right here in Canada."
Powerful Achievements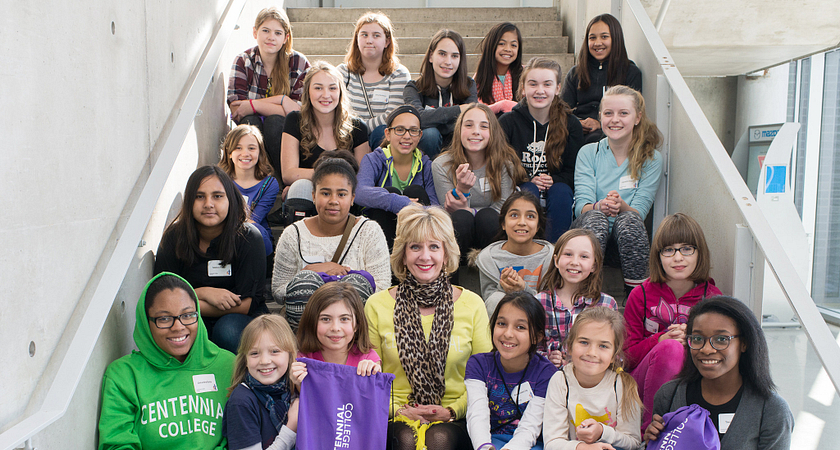 Ann Buller with a group of young girls visiting from Toronto middle schools, 2015.
Ann has long wished to empower girls and women through education, outreach programs and mentorship. Toward that end, she created the first Women in Skilled Trades Office and introduced the Women's Skilled Trade Opportunities Program. In 2012, she launched Strong Girls Strong Women to inspire girls between the ages of 9 and 14 to explore non-traditional career options through engaging on-campus programming and demonstrations.
The Sloan Leadership Academy was established to expand student leadership development offerings. All Centennial students are automatically registered for a Student Leadership Passport program, and those who complete the requirements receive a Distinction in Leadership, a co-credential that appears on their academic transcripts at graduation.
A key achievement under her watch was the establishment of the Downsview Campus: Bombardier Centre for Aerospace and Aviation. The $72-million project repurposes the historic, former de Havilland of Canada headquarters to include a modern hangar, new classrooms, high-tech workshops, composites labs, and a campus resource centre to accommodate the expected enrolment growth in support of Canada's aerospace industry.
To list all of Ann's accomplishments, awards and accolades since taking the helm in 2004 could fill an encyclopedia volume. Suffice it to say that her vision to transform Centennial has been both realized and entrenched. With her guidance, the college community has authored three Book of Commitments, comprehensive strategic plans that lay out the college's roadmap in five-year increments.
"Our strategic plans describe a college with bolder commitments, reflecting the confidence in, and passion for, the work of transforming lives and communities through learning," notes Ann. The most recent edition includes a commitment to "Indigenize Our College," ensuring that reconciliation with Indigenous people endures as an institutional priority.
She has demonstrated how leadership and global citizenship competencies can be embedded into the curriculum across a wide range of disciplines, opening students' hearts and minds to the vital societal issues. In one recent example, the college and the Student Association worked together to make feminine hygiene products available at no cost in campus washrooms, addressing a longstanding gender equity issue that requires women to pay for necessary hygienic products while men do not.
Having attained her own career goals, Ann Buller will leave Centennial, reluctantly but by choice, as its longest-serving and most impactful president. She pledges to stay connected to the institution she's inspired and led for most of three decades.
"I have a deep emotional connection to this place. But it's the right time for a change in leadership," she says, as a tremor of emotion crosses her face. "It's going to be hard to leave the building when that day arrives."
A Farewell to Ann Image Gallery
View photos of President Ann Buller throughout her career at Centennial College.