QUESTIONS
P.O. Box 631 Station A
Toronto, ON, M1K 5E9
A long road of success: Réal Carré's life in Recreation and Leisure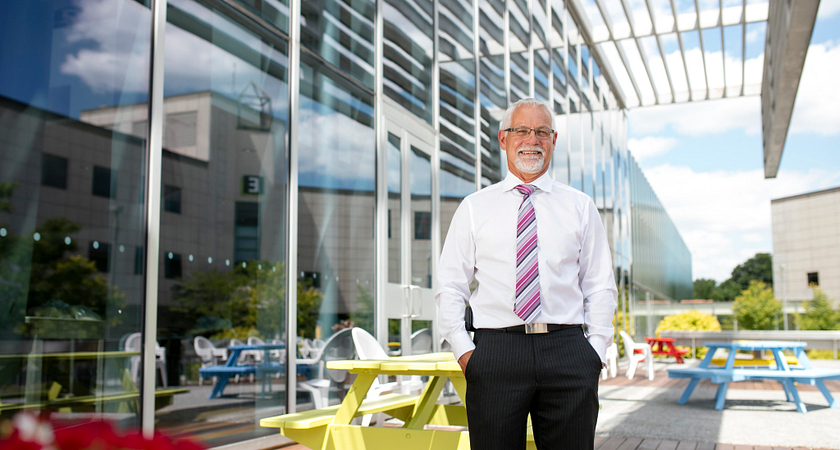 Centennial College's 50-year history is that of setting its graduates up for long, rewarding careers. Réal Carré is one such alumni. Réal took our Recreation and Leisure program in the 1970's, and managed to jumpstart a career in the industry that spanned over 40 years, which he finally just retired from. Recreation and Leisure is one of Centennial College's oldest programs, stretching back to the college's founding. While it was a different time, his story isn't terribly different from that of the students in the program today.
A small town
Réal comes from the town of Matachewan, located in northeastern Ontario.
"It's a very small community, approximately 250-300 people living there," Réal explains. He initially graduated high school with an interest in welding, but soon found himself pulled into recreation, out of concern for his community.
"There wasn't a whole lot there beyond a little ball field, and an outdoor rink that was later abandoned," he says. "I got myself involved in volunteering my services in that community to revive the outdoor rink, and got a bunch of young folks together in the community, because certainly temptations were there in regards to not having much to do, and getting into trouble."
Soon enough, he'd decide to turn his volunteer work into a career.
Coming to Centennial
"I can still see myself in the Kirkland Lake public library of all places," Réal narrates. "I'd pulled out hard-copy information on educational institutions that specialize in careers in sport and leisure. I put my finger on Centennial College in Scarborough." He'd get in contact with the college, and begin encountering what would be a trend: The kindness of the school's faculty and students.
"I heard back from Scarborough, at that time there was a huge amount of people applying to get into the course, and the vast majority of them would be called in to do a personal interview," he says. "I got this call from Centennial, and they said to me, 'I know you're living way up north, so I don't think I need to bring you in for a personal interview. I'll do the interview over the phone with you.' So we engaged in a conversation about my interests, and they said to me, 'you know what, if you're really interested in coming to Centennial College, I will grant you approval over the phone, no need to come down.'"
The big city
Canada was far less interconnected in the 1970s, meaning that Réal had never been to a large city like Toronto, and had an experience similar to an international student today, having quite the culture shock when he arrived.
"I took the train into Toronto," he says, "landed at Union Station, and if you could only picture this little Frenchman from this small community up north coming out of Union Station and looking at this gigantic city, I just wanted to turn around and get back home. In fact, I brought a map with me, trying to see where Scarborough was, and thought initially that I could walk from Union Station to Scarborough, not realizing how big Toronto was." Generosity would help him out again, though.
"I didn't even have a place to stay at the time," he says, "but a second-year student was nice enough to house me at his place for a few days until I could find a posting for accommodation."
"So many times, having left this small community for this large city, I felt like I needed to go back home," he admits, "but another little voice told me stay there, be persistent, it's the right thing to do."
In School
Réal attended Centennial's old Warden Woods campus in 1974, graduating two years later. Aside from the practical learning he received in Recreation and Leisure, he credits the program with helping him come out of his shell at a time when he was too nervous to even present to people.
"The two-year program at that time gave all students, including myself, opportunity to socialize, and make presentations in front of smaller and larger groups," he explains. But more importantly, the school directly helped him get his career going, thanks to its field placement.
"I was very fortunate at the time, in my second year I was able to secure a placement in the East Scarborough Boys and Girls Club," he says. "That experience was absolutely phenomenal. It really gave me that work experience that was necessary to carry on. And it turned into a full-time opportunity."
Kickstarting a career
"I did my placement for that full year, and was fortunate enough just prior graduation to secure a job with East Scarborough Boys and Girls Club as program supervisor," Réal says of his career. "I worked with them for a few years, then an opening came up at the West Scarborough Boys and Girls Club, and was able to be successful in that venture as program supervisor and executive director."
Réal would work there from 1976 to 1981, before heading back up north, becoming a Recreation Program Supervisor and Assistant Director in the town of Royside all the way up until 2000, when he became the Director of Recreation for the City of Greater Sudbury. He'd work there until his retirement in April of 2016.
"If you add everything up," he says, "I was hovering close to 40 years of full-time employment in the field of recreation."
Looking back and forward
"A lot of people have asked me since I retired, whether I miss my work," Réal says, now that it's over. "I don't miss the politics, but I miss the staff, we were very close, and I miss the variety of projects that I involved myself in while I was there."
"The best part about the field of recreation is being able to make significant impact in the quality of life of the residents that live in these communities," he adds, "through looking for opportunities to increase and improve recreational facilities. In the last 15 years of my career, I was able to get new facilities made and upgraded in Sudbury." He's proud of both his big and small accomplishments in the industry, as well.
"There was a lot of major projects, but while they're important, I also felt it was critical to look at improvements to neighbourhoods, neighbourhood parks and communities," he says. "And that, in my view, is just as important as building a new arena." Having spent almost 40 years watching the industry change, he has a good idea of where it's going, too. People are more busy, and so put a greater value on family time.
"As we move forward, we were taught people would have more disposable time, and that was really embedded in our minds," he says. "When you look at folks today, the way the economy is, people are taking second jobs to keep up demand. Instead, people who use their time use it wisely, and try to embed a lot more family time. When you look at those opportunities, you have to set up recreation to be a family activity."
By Anthony Geremia