QUESTIONS
P.O. Box 631 Station A
Toronto, ON, M1K 5E9
A woman on the road to success: Shaddeah Perrotte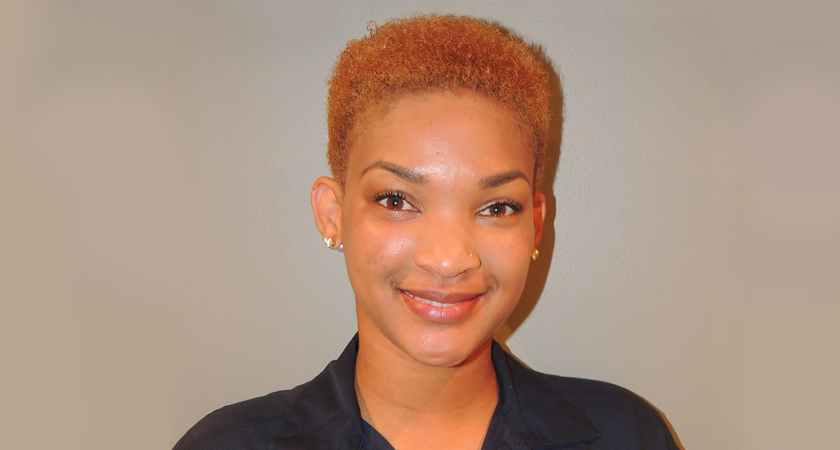 When your car breaks down, who do you call? With the number of cars circulating in the GTA, becoming an expert that repairs vehicles will put you on the fast track to a lucrative career. More importantly, anyone with the right drive can become a transportation expert. Shaddeah Perrotte was one such example, an international student who recognized her passion for working on cars, and came to Centennial College to realize that passion thanks to our Motive Power program.
A childhood dream
"Ever since I was a little girl, I was always interested in cars," Shaddeah says. "I'm originally from Grenada, and back there my dad owned a garage, where he does body work. So I was always in the garage with him, trying to repair things and help him, so that got me interested in mechanical auto work."
The automotive world wasn't just something she grew up with; it also fit her preferred kind of work.
"I love being hands-on," she says. "If I had a desk job, I'd fall asleep at the desk." A trip to Canada would soon show her the way to that hands-on career.
"When I finished schooling back in my home island, I came here on vacation, and I said, you know what, maybe I should try and apply for school up here," she says. "So I spoke to a friend of mine. She was attending Centennial College for business, so I asked her about the school, and they had what I was looking for."
Despite being an international student, Shaddeah had no problem adjusting to life in Canada.
"Because I used to come here on vacation when I was smaller, it wasn't that new to me," she says. "It was like a second home."
A career in motion
Shaddeah would study Motive Power at our Ashtonbee campus, practicing vehicle repair and diagnosis in one of Canada's largest transportation training centres. Motive Power at Centennial College teaches you everything about the inner workings of a vehicle, through theoretical and practical training programs designed to teach you trade skills. You can use this training to kickstart an automotive apprenticeship, since it meets the requirements for Level One and Level Two in-school apprenticeship training.
"We had studied both practical and theory, so we covered everything," she says. "Engines, transmission, electrical, alignment, brakes, everything. You also had to learn the business part of it, too." This practical experience would connect her to her dream career before even graduating.
"While I was in school, I was looking and found a position," she says. "I used to work part-time while in school, and now I'm here full-time doing my apprenticeship. It's a private shop, a small shop, G R Auto Care."
"They don't limit me to anything," she gushes about her position. "Brake jobs, oil changes, engines, transmissions, they allow me to do everything." They're also supportive of her entering the transportation industry as a woman, something she hopes to encourage other women to do.
"People don't judge me, or say I can't do things," she says. "In the shop here, they treat me the same as the other guys here. They're nice to me, they speak to me, they ask me what made me get into transportation, and I try to be an inspiration to the women that come here, to make them say, maybe I should get into this."
Driving to the future
When asked where she wants to take her career, Shaddeah just laughs, saying, "I want to get my licence, then maybe even take over this business here!"
More importantly, she encourages any other student, be they international, a woman, or both, to go right ahead and enter the field.
"Trust me, just go for it," she says. "People say what they want to say, but at the end of the day you're doing it for yourself and nobody else, and if you're truly passionate about it, go for it."