QUESTIONS
P.O. Box 631 Station A
Toronto, ON, M1K 5E9
ACCEL helps entrepreneur succeed with the EVO Kickstarter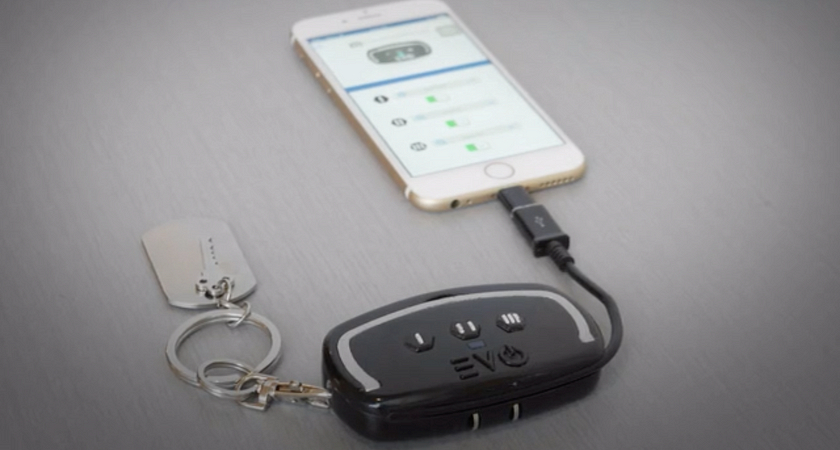 Centennial College works to connect both alumni and current students to success in whatever they aspire to. Among the avenues the college aims to support are entrepreneurship, which is why we launched ACCEL, the Accelerator for Centennial Community Entrepreneurs and Leaders. It takes potential entrepreneurs with ideas and links them to mentors and resources in the GTA. One such entrepreneur is Andrew Ranjan, a Centennial College alumni who partnered with ACCEL to develop his product, the EVO, which is currently being Kickstarted.
As you can learn in the Kickstarter video, EVO is designed to be a one-stop all-purpose accessory for your smartphone, combining a charger, battery, a Bluetooth tracker, a remote, and SD Card reader, and a stand. It's a replacement for the pile of accessories your phone usually requires for a fraction of the price.
Inspiration
Andrew Ranjan was a Centennial alumni who enrolled in our Computers and Communications Networking program, before moving on to work in I.T. The EVO was a side project, something born from his hobbies.
"This is my passion, tinkering with electronics," Andrew says. "I solder stuff, take things apart, put them back together, and this was a side project I was doing." He'd create the EVO as a result of trying to fuse multiple phone products together.
"Initially it was nothing more than me wanting to combine a regular USB cable with a full charger," he continues, "because it didn't exist on the market."
"I observe people every day at work or wherever I go carrying around USB cables and chargers," he says, "and some people actually fear not having a USB cable with them, and their phone dying. It's funny, but it's true that in the world we live in, smartphones are an essential part of our daily lives."
It grew in the making, though, into what would become EVO. "The core of it was to simplify your daily life by combining all your accessories into one," he adds. "You just take EVO with you, and forget about everything else, because you don't need anything else."
"I built an initial proof of concept, and then partnered with an engineering company in Toronto," Andrew explains. "We made the first prototype, and iterated on it a few times, then arrived at the final version, where we're at now."
ACCEL lends a hand
ACCEL reached out to Andrew first, through email. According to Andrew, the timing was fortunate.
"I was at a stage where I needed some help from mentors," he says, "and some advice on the business process itself, to validate my thinking."
"What's different about ACCEL is that they're much more hands-on," Andrew explains, "and that's something I needed at that point, that personal feedback on your progress as you try to get your business on the road."
Among his mentors was David Cowdery, who helped him market his product, among other things.
"It's not just about business," Andrew says. "David got hands-on involved with our day to day activities, including design. He's one of the main reasons we arrived at this new design. It's good to have someone else with experience and common sense to point out very simple things." He'd also help Andrew produce his Kickstarter video, and other marketing materials.
"As an entrepreneur, you need every single skill set," Andrew says. "You need to be a marketer, you need to be a finance person, you need to have legal skills, you need to have interpersonal and public speaking skills. All of those are basic necessities, but what I would say Centennial offers that other Accelerators don't strive as much is common sense about real businesses."
What's next
According to Andrew, Kickstarter as a source of funding was always the plan going into ACCEL.
"We didn't want to go into equity right away to get initial capital," he explains. "We have to go to the manufacturing phase, and Kickstarter seemed to be the way." They'll be filling orders in August or September, then looking for a partnership with Amazon to get it out in stores.
Past that, he has ideas for other products, though EVO is his main focus at the moment.
"We have a couple of different products in the line," he says, "having to do with energy and making our spaces more connected using bluetooth, but with EVO itself, our next phase is manufacturing. We are fully prepping that, getting the modifications ready, getting the designs for the circuit board ready, and testing."
You can visit EVO's Kickstarter here.