QUESTIONS
P.O. Box 631 Station A
Toronto, ON, M1K 5E9
ACCEL Helps Student Dive Right Into Her Tourism Business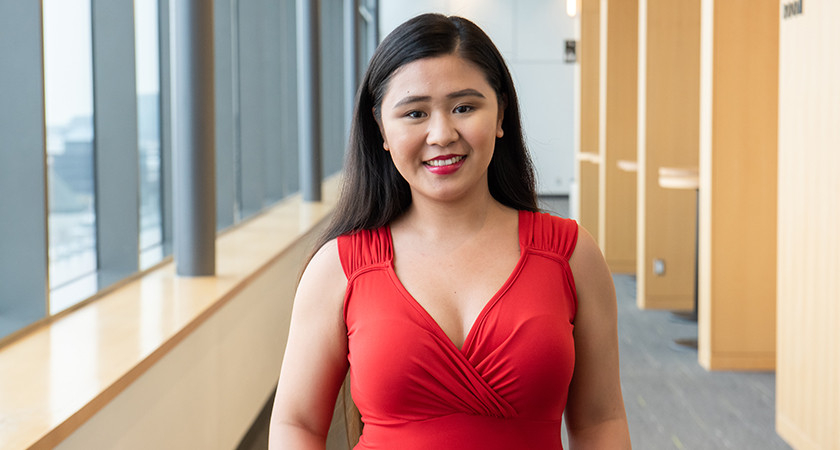 At Centennial College, if you've got a business idea, we can help you make it happen through ventures like the Accelerator for Centennial Community Entrepreneurs and Leaders (ACCEL). ACCEL unites students, alumni and members of the community, and gives them the resources and support to turn their business ideas into reality, or grow the ones they already have. Once a year, ACCEL gives a group of students a chance to show off their newest ideas at its Student Pitch Competition, with this year's happening at the end of November. Mila Monica De Leon is a Hospitality and Tourism student at the college, and she was one of this year's winners, with her pitch for "Travellers of Tomorrow," a different kind of tourism that includes environmentalism and education aspects, and helps clean the ocean. Here's her story, what her pitch means, and how Centennial College and ACCEL will help her take the next steps.
An International Perspective
Mila's no stranger to the tourism industry, and came to Canada from the Philippines to get an international perspective on her career.
"Before I came here, I owned a home-based travel agency back home, and I've been travelling throughout Asia," Mila says. "I feel like I'm not actually experiencing growth if I'm just stuck in one place, so I felt like I want to grow more by actually studying here in Canada.
"I came here to study, and learn about the tourism industry on this side of the world," she says, "And I'm loving it. I understand the perspective here about tourism and hospitality in general, it's completely different."
Pitching Her Idea
"The student pitch competition is an annual event ACCEL is running," Mila explains. "It doesn't matter what program you are in, as long as you have a bright idea, you can go and pitch it to the judges, and audience, and other students who will vote."
"First, I saw the posters around campus, and said, ooh, there's a cash prize," Mila says about deciding to take part in the competition. "To be honest, though, my main goal wasn't the cash prize, or the exposure, but to me, it's validating my idea, and seeing if people are interested in it."
So, just what was this idea?
What It's All About
Travellers of Tomorrow is a unique kind of tourism and travel package. In Mila's words, it merges "sustainability, business and tourism," and is designed to help clean up the ocean.
"It's about voluntourism," Mila says. "That means travelling, while at the same time, being a volunteer. My idea was that you book a trip with me, and you go to the travel destination. I used the Philippines because that's where I came from. You undergo seven-day scuba dive training, and then, after you are licensed and trained as a scuba diver, there will be a four-day cleanup drive on the coastlines, and then after that, the rest of the time is spent on touristy activities. You go home as a licensed scuba diver, so you did not just burn your vacation money. You made an impact. Because you cleaned the coastlines, you made a difference in the world, and you earned credentials and transferrable skills."
"There are lots of tour packages around the world," she adds. "The difference is what you gain from it as a customer. You don't just come home and dream about your next vacation. You are actually a better person who's just made a difference. You earn a transferrable skill that no one can take away from you."
The idea for Travellers of Tomorrow came from Mila's own love of scuba diving, and a wish to help clean the oceans she loved diving in.
"I've been scuba diving for a decade now," Mila says. "I'm really in love with it. When I started scuba diving, I saw how beautiful the underwater is. But I also saw how polluted it is. There must be something we can do about this."
Giving Support
Needless to say, her pitch went over very well with the judges and crowd.
"After the pitch, people were like, are you already selling this tour package?" she says. "I want to book now. I'm reassured that my idea is actually sellable, and that people actually like it."
More importantly, though, her win means that ACCEL is going to work with her to make it actually happen.
"ACCEL is supporting myself and my husband's venture into business," Mila says. "They want us to launch this, and they are excited. They really think the idea is cool, and we're excited to start the business. They'll help to connect us with the right networks, the correct marketing people, accountants, and all the correct technicalities and legalities that comes with starting a business in Ontario."
Mila's Future
As for Mila's plans, she's going to finish her Hospitality and Tourism program, and then dive right into her new business.
"I have three more semesters," Mila says. "After I finish my education, I will help my husband to actually launch the business. While I'm studying, I'm laying out the marketing, the budgeting, where the office will be, everything."
Entrepreneurship also means something important to Mila, a chance to have a career that also lets her be a parent.
"I already have a daughter," she says, "and one of the main reasons I want to be in the business was because, let's face it, when you're employed, you can't be your own boss, and you can't really manage your time the way you want it. As a mom, I wanted to be there for my kid whenever I want, and as my own boss, I could do that."
By Anthony Geremia