QUESTIONS
P.O. Box 631 Station A
Toronto, ON, M1K 5E9
Accounting for success: Akhy Bhowmik thrives at Centennial College's The Business School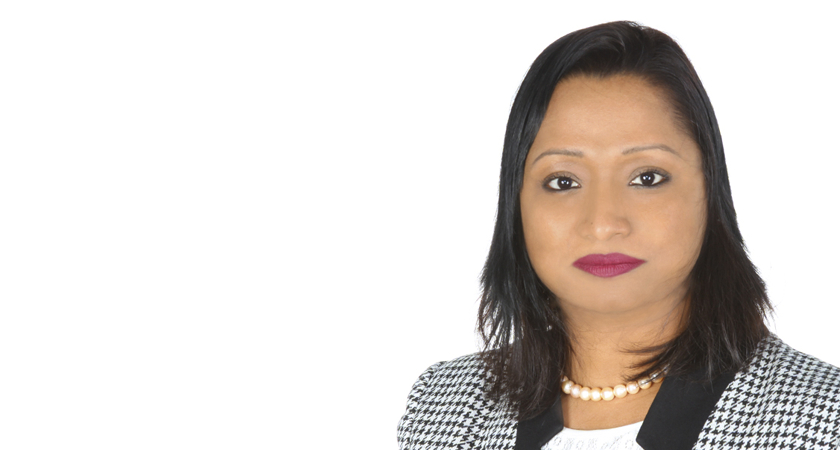 Centennial College is all about connecting you to the industry of your choice, while offering a variety of programs that'll fit your needs as a learner. And if you want to get into the accounting industry, we offer several different accounting programs, with many different pathways to success. No matter the educational path you want to take, our accounting programs give you the technical and practical skills you need to succeed in the industry, as taught by faculty that know the field of accounting from personal experience. For example, Akhy Bhowmik is a mature student looking to break into the accounting industry, who ended up taking two different accounting programs at Centennial College, beginning with Business Accounting, using it as a stepping stone to switch into the co-op version of Business Administration: Accounting. She'd then be connected to the industry through an eight month co-op work term with a major accounting firm, and connected to Centennial College through ARIES (Applied Research, Innovation, and Entrepreneurship Services). Now, her program's almost finished, and she looks back at how far she's come, and what brought her here.
An international education
Akhy came to Canada from Bangladesh for her children's education. "Canada has one of the world's best education systems with outstanding programs in virtually all fields and I feel fortunate that we had this opportunity" she says. "Once I got here and started exploring different options, that's when I thought of advancing my career and how I could develop myself to become a part of this diverse and multicultural job market." She'd studied accounting previously, and wanted to continue her education as a mature student through Centennial College, thanks to positive word-of-mouth from the local community.
She'd initially taken our two-year Business Accounting program, before transferring to our three-year Business Administration Accounting program, with its co-op component, as it was not enough to only acquire classroom knowledge, but at the same time essential to step into the workplace and apply theory to practice, to contribute to the fulfillment of her career goals.
Classroom versus Co-op
"Being a mature student, the two-year program helped me remember what the accounting curriculum is actually about," Akhy says about Business Accounting. "They gave me a foundation that made the transition easier and quicker when I transferred to the three year program." So, why the move?
"As I was progressing through the two-year program," she explains, "my academic advisors and experienced professors looked at how I'd been performing as a student, and they believed I'd do better in a co-op program that involved an extra year."
"When I got into the co-op program," she says, "I received great support from the co-op department. They prepared us for the job market, facing those interviews, preparing the resumes and cover letters. That's something that I feel is extremely necessary as a newcomer to Canada. We have the theoretical and practical knowledge and can apply our expertise in the respective areas, but Canada has its specific requirements and techniques of preparing us for the competitive job market."
Gaining real experience
"Through the co-op program, I had the opportunity to work and learn alongside a wonderful team of professionals for eight months," Akhy says. She worked in the transfer pricing department, getting to practise her accounting knowledge in the real world. The experience improved her research, analytical and report-writing skills.
Her practical experience would continue after that, as she'd work part-time at Centennial College's Applied Research department, ARIES, while finishing her final courses.
"Later, I had the opportunity to work at Centennial College as a Student Researcher with the ARIES Team," she says. Akhy would help them with research and evaluation on grant management software, budget tracking and creation of worksheets on educational and research surveys. She's working there to this very day, though her time as a student will soon be up.
Looking to the future
Akhy's nearly done her program, but is already looking into great career prospects with the help of resources available at Centennial College, including its career fairs, and its job board, HireCentennial.
As she prepares to enter the industry, Akhy is grateful for the knowledge and skills she'll have with her from Centennial.
"One valuable thing would be the classroom knowledge I'm taking with me," she says. "Additionally, I would say that my decision of getting into the co-op program was very wise, and the support I got from the co-op department and from my co-op advisor were great."
Following in her footsteps
Akhy has good things to say about the two different Accounting programs she took part in, and recommends each of them for different types of students.
"Someone who doesn't have an accounting background, but who is dedicated and hard-working, I'd suggest they go into the two-year program," she recommends. "They can get a feel of what the program is all about, and develop a great foundation in accounting, along with essential skills."
"If you're someone who already has an accounting background, with additional skillsets that the job market seeks, I definitely recommend that you go ahead with the three-year co-op program," she says. "No matter what you take, though, you're in for a great education."
"Centennial has been very positive for me, from every aspect, in terms of academics, in terms of getting experience, and building some great networks, too," Akhy says. "All the knowledge and skillsets I developed at Centennial College have helped me achieve my career goals."