QUESTIONS
P.O. Box 631 Station A
Toronto, ON, M1K 5E9
Apply now for tuition-free pre-apprenticeship training starting in March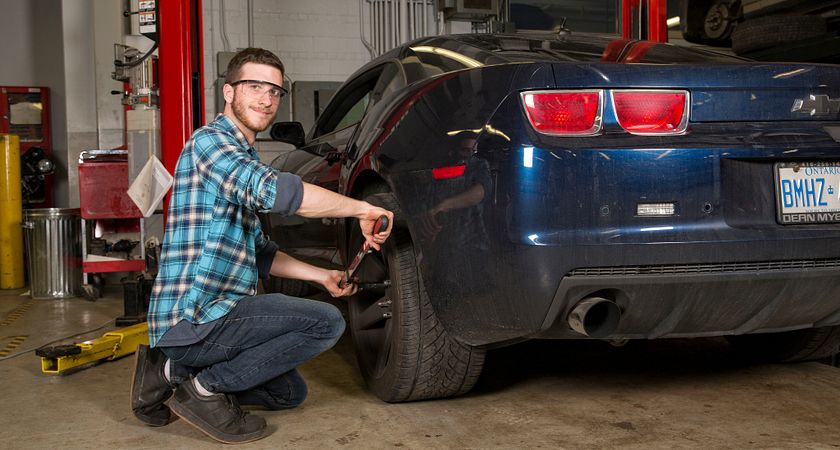 Interested in pursuing a career as an automotive or heavy truck service technician? Centennial College is offering two pre-apprenticeship training programs to help students improve their literacy and job-search skills, as well as assist in arranging a job placement at an auto repair shop, car dealership or truck repair facility.
Centennial's Automotive Service Technician, and Truck and Coach Technician pre-apprenticeship programs are designed to ease entry into the field as an apprentice. More than 90 per cent of last year's participants were successfully placed with an employer - the first step in starting an apprenticeship.
The programs are tuition-free thanks to funding by the Ontario government. Participants are required to pay a small deposit on textbooks (deposits are returned when the program ends) and students who successfully complete their studies are given a starter set of tools to keep upon completion of their work placement. Students may be eligible to collect employment insurance or Ontario Works while at college.
Graduates will receive course credit for Automotive Service Technician Level 1 or Truck and Coach Technician Level 1. To be eligible for entry, candidates must have their grade 12 diploma or equivalent, possess an Ontario driver's licence and be available to attend full-time classes for 36 consecutive weeks.
Apply now for classes that begin on March 7. Space is limited. For details, call Janna Erichsen at 416-289-5000, ext. 7256, or email jerichsen@centennialcollege.ca.