QUESTIONS
P.O. Box 631 Station A
Toronto, ON, M1K 5E9
Architecture student recognized for sustainable design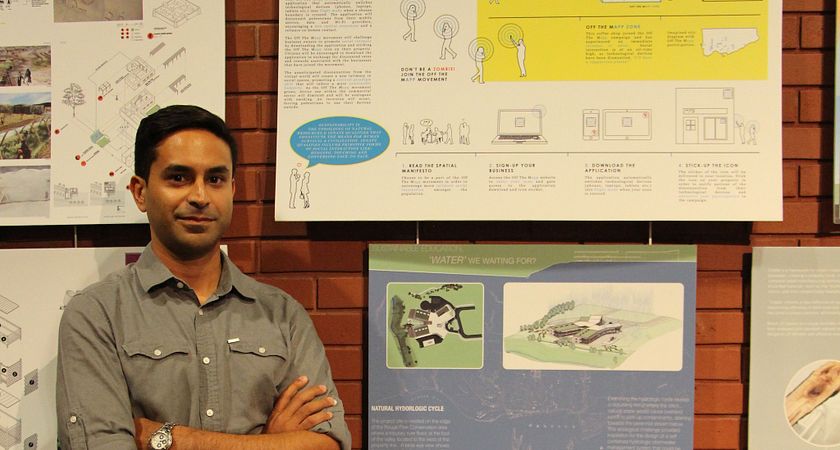 Architectural Technology student Faiyaz Khan was selected as a finalist of the 2015 Sustainable Design Awards (SDA) for his elementary school design that respects the sensitive watershed of the building site at the edge of Scarborough's Rouge Park Conservation Area.
The 5th annual SDA competition celebrates postsecondary students who view their formal education through the lens of environmental sustainability. An expert panel judges the broad range of design submissions for their commercial, cultural, social and environmental value. The jury typically divides the $10,000 in prize money into three cash awards and one or more honourable mentions.
Third-year Centennial student Faiyaz Khan did not finish in the top three, but he was recognized for his exceptional work, garnering an honourable mention. His project will be publicly displayed for six weeks at Toronto's Evergreen Brick Works, which hosted the awards presentation on September 24.
Khan's project situated an elementary school on an environmentally sensitive site flanked on two sides by natural protected areas with a ravine that contains a perennial stream. The building site presented an opportunity to incorporate water management features and to establish a teaching environment in the form of a self-contained hydrologic cycle.
"Incorporating visible sustainable technologies will provide teachers and students with an opportunity to contemplate and interact with natural systems, giving rise to inspiration and creative thinking towards problems, with solutions that are truly sustainable because they are roused by the natural environment," he wrote in his submission.
"Unfortunately I didn't win, but I did gain some tremendous experience and I made some great contacts," Khan recounted after the presentation. "The feedback that I received from the panel was that my school project was very feasible and that the current trend in sustainable design is to move from sustainability as a word to an idea that's embedded into daily life."
Just being one of the finalists of the 2015 Sustainable Design Awards amounted to a top honour in the postsecondary sustainable design community, noted Khan. This is the second consecutive year that a Centennial student was nominated among numerous competing universities and colleges – a reflection of Centennial's strong emphasis on sustainable design in its architecture programs.
Photo by Teodora Mladin