QUESTIONS
P.O. Box 631 Station A
Toronto, ON, M1K 5E9
Ashtonbee Campus addition wins OLA New Library Building Award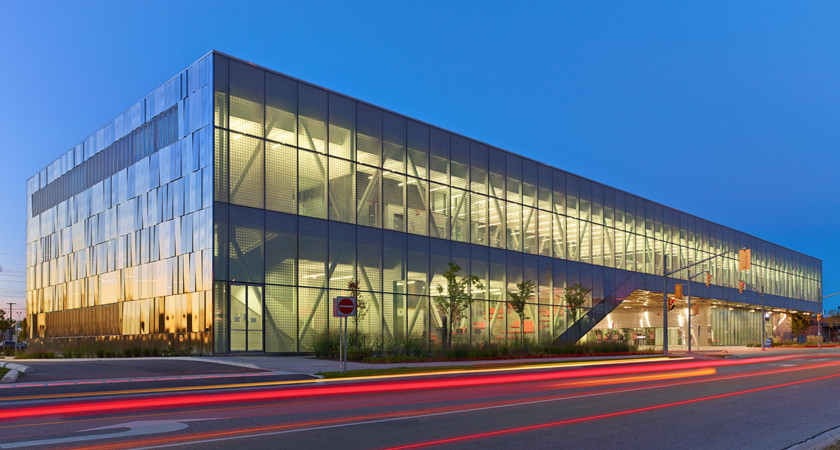 Centennial College's Ashtonbee Campus Renewal Project is one of five new buildings to receive the 2016 Library Building Award, presented by the Ontario Library Association (OLA) on July 7. The OLA Library Building Awards showcase excellence in architectural design and planning of libraries in the province. The bold rejuvenation of Ashtonbee Campus was developed by Centennial College and MacLennan Jaunkalns Miller Architects (MJMA) of Toronto.
Centennial's stunning campus addition, which opened in 2014, is clad in triple-glazed curtain wall (glass) and an innovative system of asymmetrically mounted stainless steel panels. The result is an elegantly proportioned structural steel truss system that supports 40,000 square feet of new library and program space in a 90-metre-long continuous edifice that physically adjoins the existing campus building.
The Ashtonbee Campus addition is one of two Scarborough library buildings that earned acclaim from the OLA; the second one is the new Scarborough Civic Centre branch of the Toronto Public Library, designed by LGA Architectural Partners in a joint venture with Phillip H. Carter. The other OLA award recipients include the Toronto Public Library Fort York Branch (KPMB Architects), the Ryerson University Student Learning Centre (Zeidler Partnership Architects in association with Snøhetta) and the Haliburton County Public Library (HavenCraft Designs).
"The award recipients, along with their architectural firms, have created wonderful spaces that have become tremendous community assets," remarked Shelagh Paterson, Executive Director of OLA. "They have shown that libraries can be well-designed places for play, energy, serenity and excitement."
The OLA Awards celebrate multi-functional library buildings that serve the needs of their communities and organizations, as well as committing to being environmentally friendly. In addition to the OLA award, Centennial's Ashtonbee Campus Renewal Project earned the following awards and accolades from juries in Canada and the U.S. over the past two years:
2016 Lieutenant Governor of British Columbia – Award in Architecture – Merit Award
2015 Toronto Urban Design Award – Public Building in Context – Award of Excellence
2015 Society for College and University Planning AIA/CAE Excellence in Architecture – New Building – Honour Award
2015 American School & University's Architectural Portfolio Award – Special Citation
2015 Association of Interior Designers of Ontario (ARIDO) - Award of Merit