QUESTIONS
P.O. Box 631 Station A
Toronto, ON, M1K 5E9
Auto apprentice solves a mechanical mystery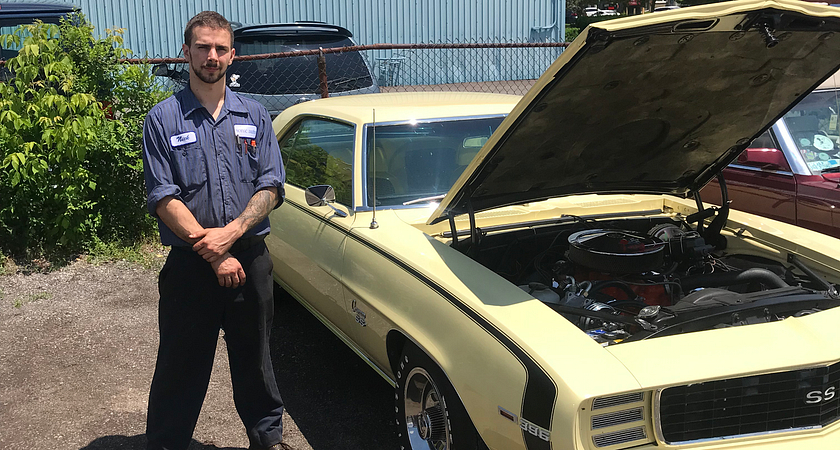 To say Nic Duncan likes to solve automotive tech problems is an understatement. As an apprentice in Centennial College's Automotive Service Technician program, he works in a busy auto repair centre in Burlington and spends some of his own time to solve technical challenges that can stump even seasoned professionals.
"I like to learn when I can at work," says Duncan, who has a natural curiosity regarding all things automotive. "Sometimes I invest my own time after hours to research and find out all I can about a problem."
Such was the case when a 2007 Chevrolet Uplander minivan came in with driveability issues. It could start, but then the engine would stall, backfire, attempt to start, run for a second, and stall again. Duncan could tell it had ignition problems, despite the fact the dealer had already performed a tune-up and replaced the knock sensors, crank sensor and the related wires. Despite $2,200 in repairs, it was still not fixed.
Hunting down ignition issues requires sophisticated equipment including a PicoScope, a high-tech oscilloscope that can capture waveform analyses digitally to reveal subtle problems in the engine that might escape a technician's notice otherwise. Duncan had purchased his own PicoScope after hearing just how valuable the tool is from his professor, Allen Playter.
"It's a game-changer when it comes to solving engine problems like this one," says Duncan. He had scrutinized the waveform from the Uplander's V6 engine and discovered a small "dropout" coming from the crank sensor. He had to verify it wasn't a circuitry problem, so with the oscilloscope he could verify the reference voltage and ground were good. Once confirmed, he knew there was a problem with either the new sensor or – what he was soon to find out – an undetected gap.
He reached out to his friend and mentor, Mick Jones, from whom he had purchased the PicoScope. Jones had sent Duncan a waveform image showing the same kind of pattern, and told him it was related to the crank sensor having a gap. For Duncan, it was the all-important clue that cracked open the mystery for him.
When he examined the Uplander's engine again, Duncan noted a slight rise in the crank sensor. So he removed it and took some photos. Using a small needle de-scaler, he was able to clean up the hole in which the sensor sat in the engine block.
"The V6 engine block is cast iron and susceptible to corrosion. I heard the minivan had been sitting around for a while so rust had formed, pushing the sensor out of the block a little. It was enough to form a gap that impaired the sensor, causing the engine to run poorly," Duncan explains.
By smoothing out the mounting surface, the sensor could be seated properly and do its job. The minivan started and ran as good as new.
Duncan credits his PicoScope analyzer, as well as the "phenomenal community" of auto technicians who share observations and advice online to help each other solve tech problems like the one in the Uplander. He also credits Centennial College for his practical training.
"The training – especially the electrical and electronics lessons – is really strong at Centennial. And it's very important as vehicles adopt more and more sophisticated technology."
Read more about Nic Duncan's problem-solving case study here.