QUESTIONS
P.O. Box 631 Station A
Toronto, ON, M1K 5E9
Baking students earn silver and bronze medals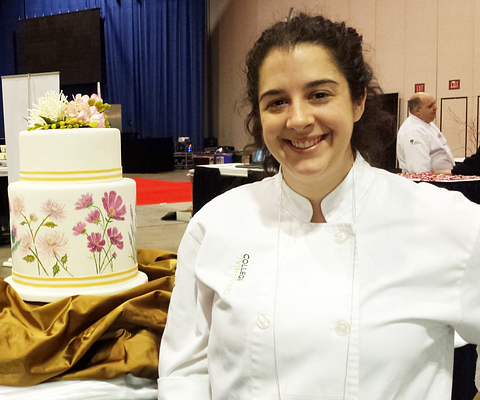 Centennial College Baking and Pastry Arts Management student Michelle Shariff and her award winning wedding cake
For Centennial College students Michelle Shariff and Brittany Robson, competition is no easy feat, but neither is it new to them. Last year the duo from the Baking and Pastry Arts Management program entered the Baking Association of Canada's Bakery Showcase and brought home the cake, literally. This year, entering as novices in the Wedding Cake category, Michelle and Brittany brought home silver and bronze wins, respectively, at the Culinary Arts Salon, which took place on February 28 at Toronto's Direct Energy Centre.
The Wedding Cake competition required participants to create a two-tier cake in any configuration and shape, but it was required to be entirely handmade from raw ingredients. Michelle took her inspiration from a visit to the lush greenhouse at Allan Gardens in downtown Toronto - a respite from the grey, frigid weather this season.
"I had recently gone to get away from winter and loved being surrounded by all the colours and greenery. So when it came time to choose a theme, a botanical theme seemed perfect. I love painting and so I decided to paint the flowers [on to the cake]," she says

Centennial College Baking and Pastry Arts Management student Brittany Robson and her award winning wedding cake
The revered competition provides the opportunity to experiment with new ideas and products, gather and share concepts, and raise the level of professionalism for individuals, teams and the industry. With specific and measured judging criteria and strict competition rules and scoring, Michelle and Brittany's work were subjected to the highest standards imposed by the same judges who preside over the esteemed Culinary Olympics.
Congratulations to Brittany and Michelle for their outstanding work, and to Chef Vita Giglio for her mentorship. Their success is a testimony to the great things happening in Centennial's School of Hospitality, Tourism and Culinary Arts!