QUESTIONS
P.O. Box 631 Station A
Toronto, ON, M1K 5E9
'Beyond the Rim' outreach program wins community award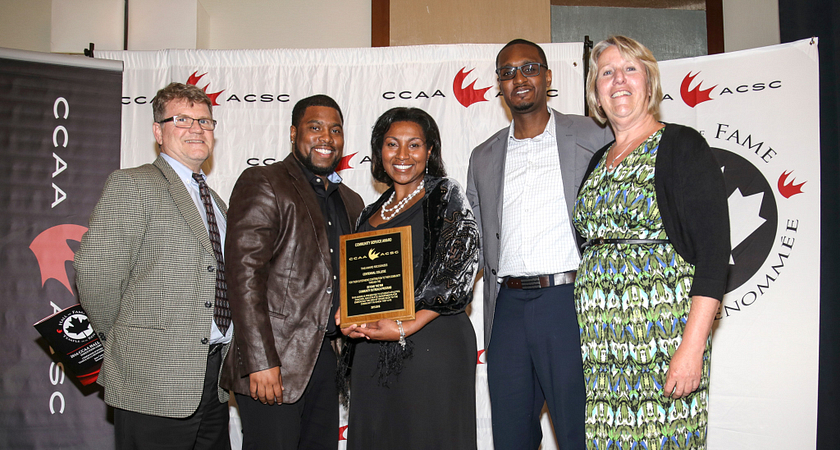 Centennial College has earned the Canadian Collegiate Athletic Association (CCAA) Community Service Award this year for the college's innovative Beyond the Rim program that offers neighbourhood kids some valuable life skills training coupled with fun and dynamic basketball skills development.
Beyond the Rim, a completely free program, is offered in partnership with the Maple Leaf Sports & Entertainment Foundation and supported by Centennial's Athletics and Recreation department and Enactus Centennial. Youth between the ages of 7 and 13 living in three Scarborough communities are provided one hour of education and another hour of on-court play on Saturday mornings.
The program helps encourage children to continue along a path of academics, as well as gain positive health benefits through basketball. The classroom lessons focus on empathy and self-awareness, environmental awareness and financial literacy, depending on the age category. A group of Centennial student coaches and volunteers mentor more than 60 boys and girls on average per week.
"This initiative is a great example of how CCAA student-athletes are giving back to their communities and making a significant difference in the lives of children and youth, while at the same time deriving the personal satisfaction and growth that comes from volunteering," said David Munro, CCAA VP Sport Development. The award was presented at the CCAA's Hall of Fame Banquet in Toronto recently.
Kareem Rodney, the Colts Extramural Basketball Head Coach who is the lead on the Beyond the Rim program, was presented the Citizen Community MVP by the Toronto Raptors last November for his leadership. Rodney has been volunteering with the Centennial College program since 2009.